Amanda Barnes takes off on a two-day online tour of Italy's UNESCO-listed sparkling wine region as part of the Circle's Let's visit … series, and takes in plenty of ciglione and enjoys the Rive, Cartizze and sui liveti wines that hail from them.
A patchwork of vineyards and villages nestled between woodlands and hillsides, Conegliano Valdobbiadene Prosecco Superiore DOCG is the most esteemed wine region for Prosecco, where Italy's famous sparkling wine has been produced for 150 years. So much so that in 2019 the region was awarded the recognition of being a UNESCO world heritage site, one of the few wine regions in the world to earn it.
From the virtual tour I took via Zoom with the Circle last month, it certainly looks like a beautiful wine region to visit. Pre-pandemic, it was receiving almost 500,000 visitors a year. The impressive 'hogback' hills run across the region, allowing over 3,000 growers to grow their vines on unique sites with different slopes and often on ciglione, which UNESCSO describes as 'small plots of vines on narrow grassy terraces'. But perhaps most importantly of all, it's a wine region which is still pushing innovation and the further refinement of its wines. Despite the enormous global success of Prosecco, it seems that many of the producers in Congeliano Valdobbiadene Prosecco Superiore DOCG are not resting on their laurels but are rather pushing to distinguish themselves from the larger Prosecco region.
From a macro appellation to micro appellations
Congeliano Valdobbiadene Prosecco Superiore DOCG is so named because the 'Prosecco road' connects both towns and the region is recognised the top region for the Glera grape variety and Italy's famous sparkling wine. The 'Prosecco road' was in fact part of Italy's first 'Wine Road', which was marked out in 1966, making it a rather historic region. The region has 15 different communes with 3,357 growers. It has been recognised as Italy's first sparkling wine region, with records dating back to 1876, and it currently produces around 85.7 million bottles a year.
But within the region there are also 43 recognised crus, or Rive. These Rive (Riva in singular) were recognised when the entire DOC was first acknowledged in 1969, and singled out for having top quality vineyards on certain slopes and with particular soils. Rive wines translate to about 2.3 million bottles a year (compared to the 85.7 million for the generic appellation). Additionally, there's another appellation or recognition within the region — the crème de la crème, the wines from the Superiore di Cartizze. A sub-zone of just 107 hectares, which makes around 1.3 million bottles each year.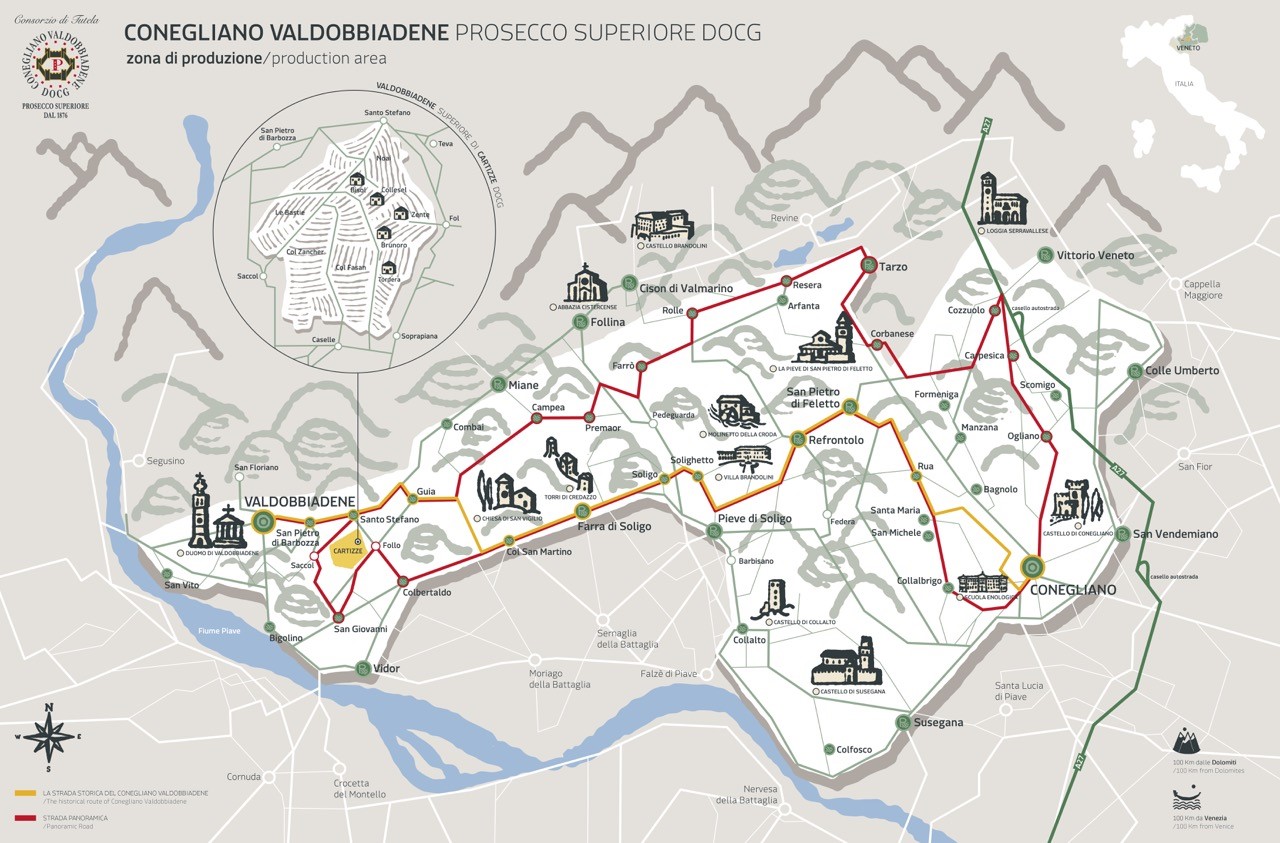 The hills and terroir of Prosecco
The key to understanding this region is in the steep hills which offer the distinctive sites and character of the region. The steep hills offer slightly cooler temperatures (an average of 25ºC to 30ºC, according to producer Roberto Merlo), are usually facing east to west and range up to 600 metres above sea level. The hills also offer the benefit of washing the annual 1,250 millimetres of rain a year down the slopes. "But the rain is also better for sparkling wines, if it was drier they would have a very different style," adds Merlo.
Crus and sites can range quite a lot in soil composition. Although the majority of the region is planted to sedimentary soils, with stony alluvial soils accounting for over 60% and grey marl accounting for around 30%, there are other pockets of different soils in the region, including terra rossa and, specifically in Cartizze, deep marine soils (the only non-sedimentary soils) with limestone. Many producers put the different character of their wines down to their different soils, and the most prized are the wines of the limestone soils of Cartizze, where they believe the greatest finesse is to be found.
"The morphology of Congeliano is very different to Valdobbiadene," explained soil expert and author of The Power of the Terroir: the Case Study of Prosecco Wine, Diego Tomasi, "the hills are much more gentle in Congeliano, whereas in Valdobbiadene, vineyards are on very steep slopes. Which is also why we have very narrow terraces in Valdobbiadene, where we need 700 hours per year to manage a vineyard versus 200 on the other side of the region. If we combine soil, climate and variety, we can create a great diversity of wines in the region. In Congeliano for example the wines are typically fruitier versus the more floral wines of Valdobbiadene."
A growing range of wine styles
It isn't only the soils which offer a more diverse range of wines but also a greater diversity in winemaking. Although the typical sparkling Charmat-method Prosecco is most common, since 2019 the region has also been permitted to produce sui liveti styles. This style is retained on the lees as a slightly cloudy wine, which was previously known as the Col Fondo style. Although the regulation and permission into the appellation is new, the style isn't. "This is the Prosecco we had hundreds of years ago," says Alessandro Samogin of Borgoluce. "We pick a bit later with riper grapes, and leave it with more time on the lees in a traditional bottle to ferment. I think this wine represents what Prosecco was and shows the potential of Glera."
I tend to agree, and of the wines we tasted I think that Borgoluce's Sur Liveti Brut Nature showed great complexity and a compelling creaminess. It was one of my standout wines. But the different Rive wines were also eye-opening: from the tension and freshness of La Farra's Extra Brut from Rive di Farra di Soligo, to the softness and blossom notes of Spagnol Col del Sas from Rive di Solighetto.
And as for the Cartizze wines, the finesse and delicate mineral notes of Colesel from the Superiori di Cartizze certainly was notable, but one of the most exciting wines of the tasting for me was Drusian's Dry Superiore di Cartizze. I'm not usually too enamoured by slightly sweeter wines, but this family producer (now in its fourth generation) managed to strike a beautiful balance between a soft sweetness (20 gr/l RS), refreshing acidity, creamy texture and a complex expression with notes of honey, pear and blossom. It opened my eyes to the potential of Prosecco's Dry styles — and was a highlight that called for creamy Buffalo mozzarella cheese from the region. Or, as the owner Francesco suggests, lobster.
After the two-day virtual tour, which took place 11th-12th October, I've certainly been left with a hankering to visit the hills and vineyards of Congeliano Valdobbiadene in person, but Sarah Abbott MW, Michèle Shah and the producers we met over Zoom have also instilled in me a greater understanding that Congeliano Valdobbiadene is so much more than just Prosecco…