Oldenburg Vineyards Masterclass and Tasting
September 19 @ 10:30 am

-

12:30 pm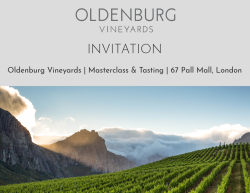 Belleville Marketing invite you to join Oldenburg Vineyards Masterclass and Tasting
Oldenburg Vineyards is situated in an elevated valley of outstanding beauty. At the heart of the farm lies Rondekop – a spectacular round hill which influences the vineyards planted on and around it, creating an extraordinary terroir.
The unique location benefits from the camouflage of 8 Natural Elements, creating a distinctive terroir that truly reflects the place. The philosophy of working in harmony with nature provides the cornerstone for all their vinicultural activities, believing that wine is an encapsulation of what nature dies best.
Oldenburg Vineyards aims to produce stunning wines with balance and elegance at their core, taking great pride in their vineyards, team and mission to create Exceptional Wines from an Extraordinary Place.
Join Nic van Aarde – Winemaker, as he demystifies and translates Rondekop, the 8 Elements and the distinctive terroir that is found at Oldenburg Vineyards.
RSVP to: [email protected]