Veenus at the Amathus annual trade tasting
September 5 @ 10:30 am

-

6:00 pm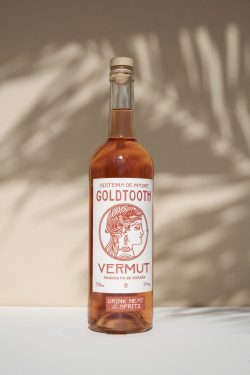 Su-Lin Ong PR introduce Goldtooth Vermouth, which will launch in the UK this Autumn.
This range of small batch vermouths is blended from wine made with Spanish Parellada and Xarello grapes, and aromatized by a herbalist's blend of wild and farmed botanicals from Ibiza.
Goldtooth was created by herbalist-blender Veenus Vortex and now partners with Amathus for UK distribution.  Goldtooth Original and Goldtooth Springtime, both 15 percent abv, have gained a strong following in their Mediterranean Balearic home of Ibiza, and now also in Mallorca and Menorca.  They will be the first two styles for the UK, and a new, limited edition third style specially for the UK will be released by the end of 2023.  Guide retail price is £29 to £32 for a 75cl bottle.
Launch plans for the UK comprise a solid schedule of trade tastings, led by Veenus visiting individual on and off-trade outlets.
They hope you may like to come and meet Veenus at the Amathus annual trade tasting in Piccadilly, London W1 on 5 September 2023.
She'll be there all day but if you want to fix a time please contact Su-Lin Ong direct.  Veenus used to own Pinch, a wine shop in East London
https://www.eventbrite.co.uk/e/amathus-drinks-trade-wine-and-spirits-portfolio-tasting-tickets-652604767427