Amanda Barnes examines AXA Millésimes' two very different but complementary estates, Château Pichon Baron and Domaine De L'Arlot, which became the first two members of its now six-strong portfolio.
When the insurance broker AXA made its first foray into the world of wine portfolios, it picked two estates to get the ball rolling in 1987 – Château Pichon Baron in Bordeaux and Domaine De L'Arlot in Burgundy. One can very much be seen as a yin to the other's yang and represent how diverse the portfolio of this growing wine magnate, now named AXA Millésimes, has been since the beginning. AXA Millésimes has gone on to bring six more properties into its fold since then – ranging from the sweet wines of Disznókő in Tokaj and Château Suduiraut in Sauternes to the bolder red wines of Quinta do Noval in the Douro and Outpost in Napa Valley. I had the opportunity to go back to AXA Millésimes' roots by getting a taste of both founding properties and discovering what makes them each uniquely part of the family.
Château Pichon Baron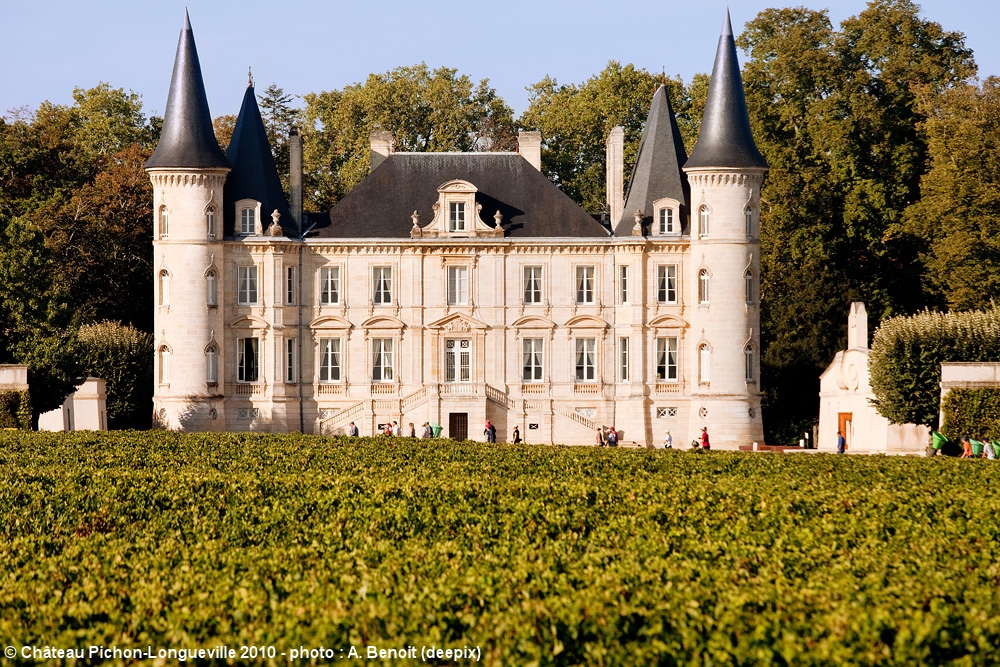 One of the great success stories of AXA Millésimes, Pichon Baron needs very little introduction to wine lovers. Coming from one of the great second growths of the 1855 Grand Cru Classé in Bordeaux, the château is situated on prime Pauillac territory – just on the border of Saint Estèphe, and boasts deep gravel soils that are ideal for producing concentrated yet fresh Cabernet Sauvignon. It's this terroir – the vineyard surrounding the château – that has helped bring the reputation of Pichon Baron up to now being recognised as one of the key Pauillac estates, with consistent quality despite variable vintages. The gravels help trap heat overnight and retain the cooler temperatures of the night during the day, while draining away any excess rainfall and humidity.
Part of the key to the quality is not only the soils but also its position not far from the Gironde, which brings fresh breezes (aiding in vine health), gives a more consistent temperature with less thermal amplitude — which can be beneficial for Cabernet Sauvignon in more extreme years.
On tasting a vertical of the Château Longueville au Baron de Pichon-Longueville wines, it's certainly clear that there is a certain ilk to the wines and terroir of Pichon Baron. Of recent vintages, the 'blockbuster' years of 2010 and 2016 certainly showed the greatest potential for ageing and an exciting combination of both power and elegance with firm but fine tannins, a freshness and deep black fruit expression with savoury overtones. The 2010 is only now opening up and will undoubtedly cellar beautifully for many decades to come.
The warmer years of 2014 and 2015 certainly had a greater approachability and silkier tannins, but didn't lack that trademark minerality and freshness of the Cabernet Sauvignon from their vineyard. The cooler year of 2011 showed more savoury qualities but equally unwound, after some decanting, into an elegant expression with trademark notes of blackcurrant and pencil shavings (which were present in all of the vintages I tasted).
The top terroir of Pichon is however limited, and so it was with the intention of creating a second label that the estate purchased its second vineyard in 1986. The more compact clay soils there offer an altogether different wine, and Les Tourelle de Longueville, if tasted blind might be much more readily associated with a Right Bank wine. A dominance of Merlot is certainly a part of that, but there's also a very smooth mouthfeel and softer fruit-forward profile which makes it quite a different breed to the Pichon Baron wines. Here, the winemaker also plays with adding not only Cabernet Sauvignon but also Cabernet Franc and Petit Verdot.
In 2012, Château Pichon Baron expanded its horizons further by purchasing another vineyard and developing another second line – Les Griffons. This is much more classic Pauillac in style with some floral notes and blackcurrant aromas, with slightly more Cabernet Sauvignon than Merlot in the blend. With its fine tannins and crunchy minerality, it is clearly a baby brother to Chateau Longueville au Baron de Pichon-Longueville and a great entry point to understand the personality of this noble estate, which is quite rightly given the moniker of being a 'super second' growth.
Domaine De L'Arlot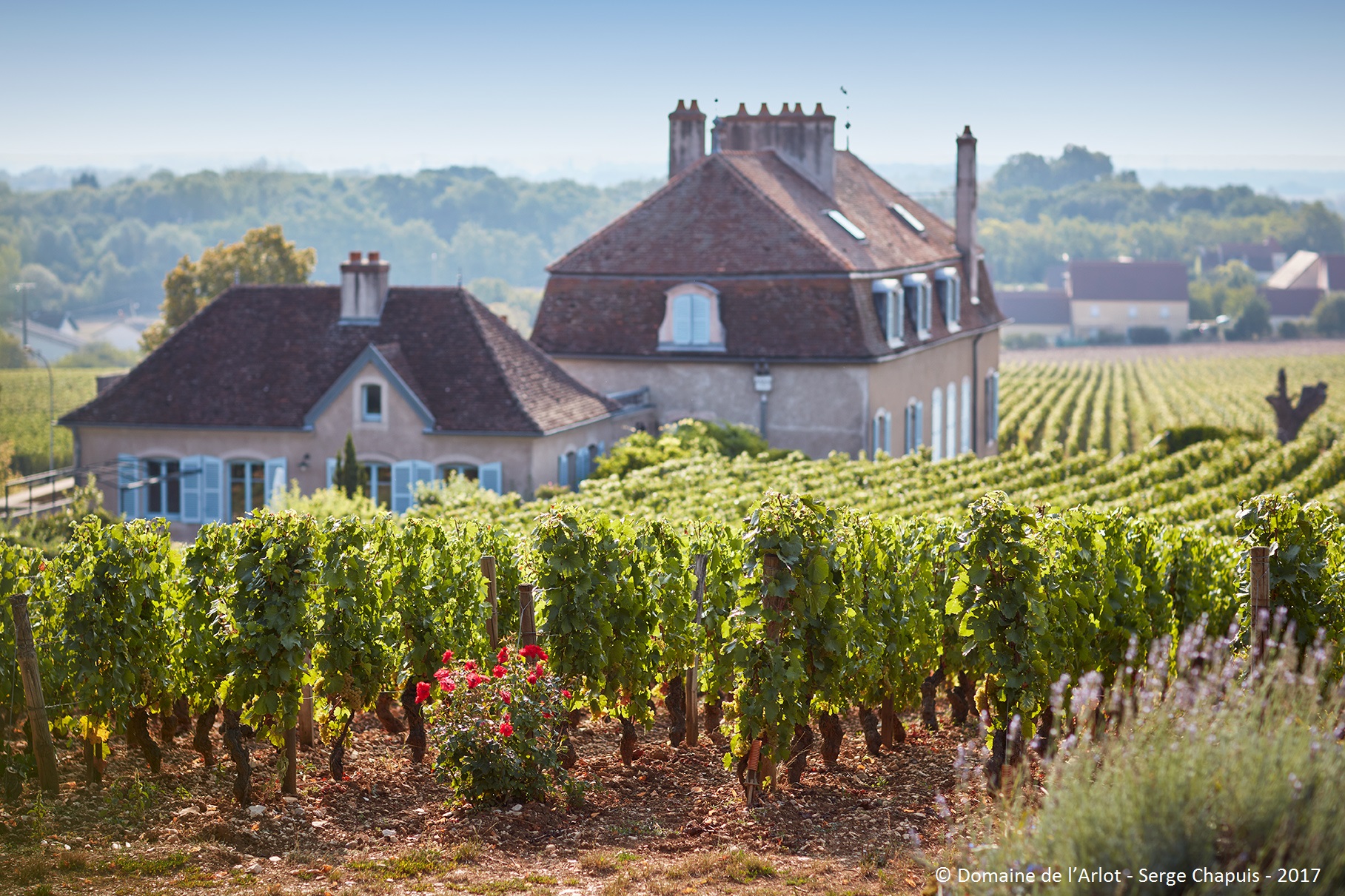 As far as similarities go, Domaine De L'Arlot couldn't be much more different to Chateau Pichon Baron. What interests me most about the relationship between them both is how they reflect their place and their terroir, rather than their owner. Domaine De L'Arlot has remained a remarkably Burgundian property.
Domaine De L'Arlot has only come into light recently as one of the AXA Millésimes star properties, but it was actually one of the founding properties of the portfolio which they acquired in 1987, along with Chateau Pichon Baron in Bordeaux.
Géraldine Godot has been the winemaker since 2015, taking over the mantle from the preceding winemakers Jean Pierre de Smet 1987 – 2007; Olivier Leriche 2007 – 2010; and Jacques Devauges 2011 – 2014. She has followed her own individual approach to the winemaking, making radically different decisions in terms of winemaking each vintage and for each plot. There's no standard winemaking note that you can use across the board for these wines, as they all vary notably in time, format and manner, and Géraldine quite simply explains it as using her intuition each year.
"In all those phases there have been lovely wines made at L'Arlot," says AXA Millésimes' managing director Christian Seely, "but I do think that Géraldine has taken L'Arlot to higher plains. I think what she's brought to L'Arlot is a precision and faithfulness to place. Each of these wines is an expression of the place, and also an expression of each of the different vintages."
A recent tasting in London provided an exceptional opportunity to taste these places, or crus. The first came from L'Arlot's Clos de l'Arlot, which is its property in Nuit Saint Georges, a 1er cru site mainly comprising limestone and marl soils. "It is not necessarily a lighter wine but one with a distinct character," explained Géraldine. "Here, we normally have more red fruit, compared to the black fruit in Clos des Forêts. This appellation shows more red fruit – maybe because of the soil, the vineyard, or maybe all these factors but it is typical of this appellation. We are in the last village in Côte de Nuits, immediately afterwards is the Côte de Beaune. It's more similar to Chambolle or Volnay in its elegance than the other wines of Nuits Saint Georges."
L'Arlot's other vineyards include its Nuits Saint Georges Premier Cru Clos des Forêts Saint Georges vineyard of 7.2 hectares, from which Géraldine makes a much more firmly structured wine, as is typical of this region. "This is very typical of the appellation of Nuits Saint George – we have black fruit, we have tannins, we have structure and a lot of body," she explained. "It's a long wine that's persistent and fine and delicate, but more masculine compared to Vosne Romanée or Clos de l'Arlot. We know we are in the village of Nuits Saint George."
It was certainly more structured but also with a great complexity of aromas that took more time to open up. For me, the vintage that stood out was 2015 for its rich dark fruit aromas and briny minerality with body and freshness. The 2018 showed a more flamboyant and bold vintage, while the 2019 was probably my favourite of the line up with complexity, length and precision, with a pure fruit expression, mineral nuances with bolder tannins and freshness.
The last of the cru wines we tasted was the Romanée Saint Vivant Grand Cru. This is a very small production for them and their only Grand Cru vineyard, making just three to four barrels. "We normally have a wine that is very complex," explained Géraldine. "It is not as austere as my image was previously; it is complex because we need time [for the wines to age]. We have characteristic cherry and floral aromas, with spices too; it's very fine of course but we can also imagine the future with this appellation."
The older vintages (2015, 2016) were really beginning to show more complexity as they opened up. With a very precise minerality and focused acidity, they were still incredibly youthful but beginning to unwind. The 2018, a riper vintage, was certainly the most expressive with riper cherry notes, although the 2019 showed much more potential – even though it was still very much in the cradle of its youth.
It was a fascinating tasting that showed not only Géraldine's sensitive touch in the winery and reading of the vintage, but also the very artisanal approach of Domaine De L'Arlot which is by all means a very Burgundian affair. It's indeed a perfect yin to the yang of AXA's other founding property, Château Pichon Baron in Bordeaux. Both have a very regional identity, a unique approach, and they are both properties that have come on leaps and bounds since they were purchased by the insurance group in 1987. Undoubtedly, they have both required a lot of work and investment, but they both seem to have been absolutely worth it.