Many members will be well-aware of Circle Member Trevor Gulliver and his partner Fergus Henderson's popular St John restaurant in London, where offal and the humble pig took the centre stage, and the wine selection came a close second. Earlier this year, they released their book, The Book of St John, which reflects their 'nose-to-tail' ethos of holistic eating (using every part of the animal) and finding the right moment and wine to celebrate each morsel. The book also shares some of their personal experiences in the kitchen and restaurant, with entertaining and sometimes very personal anecdotes of the highs and lows of being a restauranteur in London.
Fergus' catchphrase is 'If you are going to kill an animal, it's only polite to use the whole thing', a sentiment I'm sure anyone who buys this book will share. More than just polite, it feels like the only ethical and sustainable way forward for meat consumption in the future. This book celebrates every part of the animal, from the brain and heart to the tongue and trotter, but it takes the reader beyond recipes and preparations through also to butchery and handy tips for how to prepare — or dissect — the cuts.
Divided by parts and processes, this cookbook also invites you to combine techniques with fish, seafood and vegetables too. The book covers all the major and minor angles of proper British cooking, from using fat as a preservative to using it as a cooking technique or spread, to brining and making stock. The photography is wonderfully authentic and British too — a lot of shots of butchers in pin-stripe aprons and pictures of offal in all its many forms. My favourite image of the book is a chef pouring custard straight from the jar down their throat, something I'm sure we've all done behind closed doors…
Desserts are clearly a very big deal for Fergus and Trevor as a large section of the cooking book is dedicated to their favourite puddings and ice creams. There are also a diverse host of side dishes and sauces on offer too (from homemade brown sauce to pickles), and a rather large section of pies and pastries — which gives the reader plenty of space to manoeuvre and experiment with their own twists on the St John classics.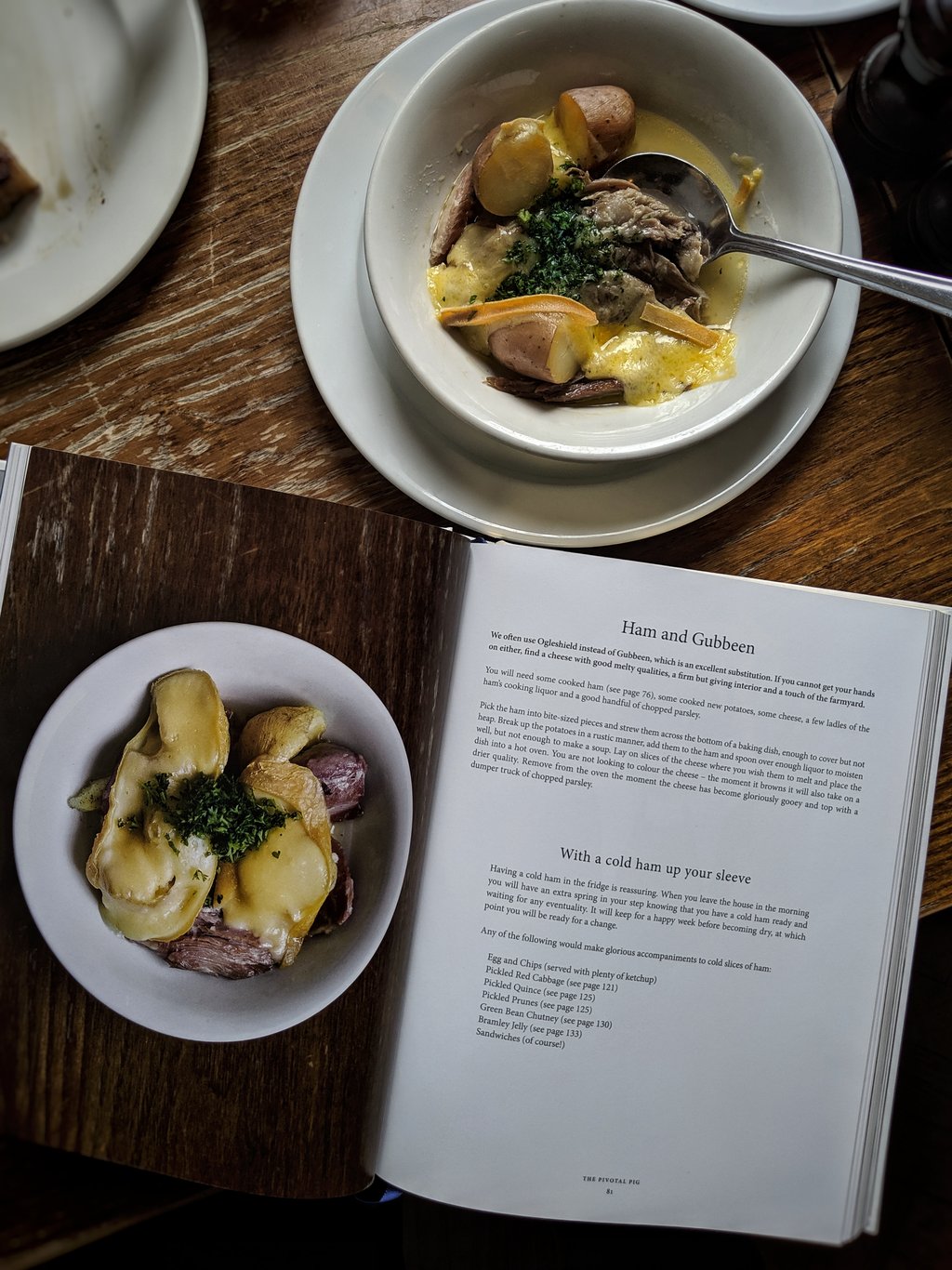 The second half (or third, really) is dedicated to everything that happens on the other side of the pass (or beyond the kitchen in layman's terms). This section also includes recipes (breakfast and lunch dishes mainly) and a handful of wine pairings for guilty pleasures: seed cake and Madeira, doughnuts and Champagne, Welsh Rarebut with a Black Velvet cocktail… (two parts Champagne and one part Guinness, in case you were wondering).
This isn't a cookbook for everyone. Vegetarians need not apply, and anyone shy of offal might need a PG warning before flicking through the pictures, but it is a cookbook which has its own style and very clear taste. Some cookbooks can feel wishy-washy, trying to be everything and yet ending up as nothing. The Book of St John, however, marks its personality, identity and individual taste right from the first pages and recipe (Grilled Lamb's Heart, Peas and Mint). It is unabashedly British in its style and invitingly indulgent in its love of local ingredients and proper, homemade food.
As Trevor writes in the epilogue, 'And no, we never cook salmon or scallops. These things may be easy sells, but they have no magic. It is the magic that keeps St John alive.' I doubt their book is the easiest sell, but it certainly does have magic. And the experience of Trevor and Fergus with their culinary and life adventures at the St John restaurant brings each and every one of these pages alive.
Review by Amanda Barnes
The Book of St John by Fergus Henderson and Trevor Gulliver is available from Ebury Press and Penguin Books at £30 a copy.