Michèle Shah, our very own Italy-based CWW member, introduces the Marche – which although now visited several times by the Circle, continues to serve up very pleasant vinous, gastronomic and cultural surprises.
Our trip to the Marche generously sponsored by Marchet, Azienda Speciale della Camera di Commercio delle Marche took place 19th-23th May. The trip was especially well-organised by Francesco Martini from Marchet, who graciously accompanied us throughout the trip and put together a very enjoyable and comprehensive program, incorporating the main areas of production from north to south of the region.  We also had plenty of opportunity to sample the local cuisine from fresh fish to black truffles and a number of artisanal products which bring a sense of pride to the region. Our visit also included some cultural visits, such as to the wonderful Renaissance city of Urbino, the city of Jesi, heart of the Verdicchio production, as well as to the picturesque hilltop town of Torre di Palme, and Sirola which sits above the sea overlooking the white chalky cliffs of the Monte Conero.
Verdicchio put Marche on the wine map decades ago with its green, amphora-shaped bottle. But as the amphora gradually went out of style, Verdicchio grew well beyond its role as an astutely marketed, simple white wine to become one of Italy's most multifaceted and dignified whites with amazing ageing potential.
Verdicchio still firmly dominates the Marche's wine production. Neighbouring whites in this peaceful region between the Apennines and the Adriatic Sea are for the most part light and insubstantial, the main exception being Bianchello del Metauro from its more northerly part and the increasingly 'trendy' white varieties Passerina and Pecorino from Offida in the Ascoli Piceno hills, which are growing in quality and popularity.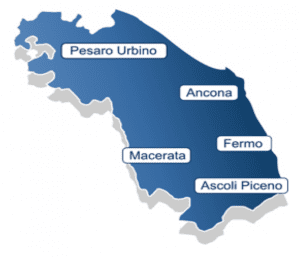 Verdicchio is an extremely versatile wine, it can be made as a still wine, as a sparkling both re-fermented in tank (Charmat) or in bottle (method classic), as well as being made into a delicious passito. Control of the harvesting time and vinification method can produce a crisp, youthfully lively wine with a succulent heart or a deep, rich, buttery one that develops slowly and ages with aplomb – or various stages in-between. The rise in quality in the larger appellation of Castelli di Jesi (2,762ha) and smaller appellation of Matelica (300ha) has generally outstripped the price rise, so that Verdicchio remains a well-priced, healthy cut above the general level of Italy's popular whites.
Three elements distinguish Verdicchio di Matelica from that produced in the Castelli di Jesi area. The first refers to the quantities of grapes produced. The area under vine in Matelica is roughly one-tenth of that of Castelli di Jesi. The second element refers to the climatic conditions. The area surrounding Matelica is the only area in the Marche region that runs parallel to the Adriatic coast, so that there is no direct link to the sea. Consequently, the climate is continental. The third element which distinguishes this wine is that the enclave of Matelica has over the years produced a particular clone of Verdicchio as a result of adaptation to the soil and weather conditions. Compared to the Jesi version, it usually has fuller body, slightly higher alcohol but the same acidity that makes it very suitable for ageing.
Reds in the Marche are very much in second place, in terms of quantity, but production is often quality led. Rosso Piceno is very old and its name dates back to the pre-Roman Piceno population. It is grown mainly in the southern part of Ascoli Piceno and is based on Montepulciano (35-85%), Sangiovese (15-50%), and characterised by its purple hue and dense fruity quality with a firm tannic structure. 
Rosso Conero can include up to 15% of Sangiovese, but most producers opt for 100% Montepulciano. It comes from a fairly small area of production (350ha) that's limited to the Conero Mountain, the only hill on the Adriatic coast between Trieste and Gargano. The unique climatic conditions with excellent sun exposure and sea breezes, not to mention the chalky clay soils produce well balanced reds with elegance, structure and ageing potential, as well as fruit driven youthful wines.
More recently producers tend to use less wood on the reds to show the fruity, young, consumer friendly style for enjoying as everyday wines. Much as wine aficionados may search out the weird and wonderful Lacrima di Morro d'Alba or the curious sparkling red DOCG Vernaccia di Serrapetrona, again they remain primarily local. Red or white, though, in general the Marche's wines retain the flavours of local varieties.
The Cornero Mountain

DOC IN THE MARCHE
Verdicchio dei Castelli di Jesi

Verdicchio di Matelica
Colli Pesaresi
Colli Maceratesi
Esino
Bianchello del Metauro
Falerio
Terre di Offida
Rosso Conero
I Terreni di Sanseverino
Lacrima di Morro d'Alba
Pergola
San Ginesio
Rosso Piceno
Serrapetrona
DOCG IN THE MARCHE
Castelli di Jesi Verdicchio Riserva

Verdicchio di Matelica Riserva
Offida
Conero Riserva
Vernaccia di Serrapetrona
Day 1
Soon after our group assembled, Marisa D'Vari gets straight down to work at the centuries-old Malacari winery and also meets other members of the organically-oriented terroirMarche organisation.
Our Marche experience began with a visit to the Malacari winery, in Offagna. The Malacari family has owned the land here since the early 1500s. Greeting us in his "castle" was Alessandro Starrabba, the present-day owner. The drizzling rain and fog only enhanced the romantic appeal of this 350-year-old estate, a red brick edifice set against a charming courtyard and garden. Like many ancient castles it has an impressive exterior, and a sort of faded charm on the interior.
Malacari is one of the oldest estates in the famous Rosso Conero appellation, located in the middle of the Marche region. The roots of wine production here date back to the Etruscan period in the 10th century BC. It is interesting that even then the Etruscan people could recognise how the tapestry of soils, proximity to hills, mountains and the sea, were beneficial for winemaking.
Alessandro ushered us into the cellar, where a table was set up for a tasting amidst the barrels.  The tasting included Malacari wines, as well as the other wines from the members of the terroirMarche group. The terroirMarche is a group of Marche winemakers that share the same principles and philosophies. The fundamental principal is that all the winemakers practice organic grape growing. Currently, there are also a few practicing biodynamic winemaking. As the name of the group implies, they are also deeply focused on the terroir of the Marche region.
As the tasting commenced, each of the winemakers stood up to give a presentation of two of their wines. Generously, Alessandro let the other winemakers give a presentation of their wines before he introduced two wines from his cellar.
Malacari location and terrior
Malacari is located in Offagna, in the heart of the Rosso Conero appellation. The soils of his vineyards vary slightly, but are a mix of limestone, chalk, clay, and sand. Malacari makes both a white wine from Verdicchio and red wine from Montepulciano. Malacari's top wine for the Rosso Conero DOCG appellation is called Grigiano. This wine is aged in a mix of new and used tonneau. The Villa Malacari Rosso Conero is aged in large, neutral oak.
Villa Malicari Rosso Conero DOCG 2014
This red wine is a garnet colour, with a powerful aroma of spice and black fruit. On the palate, vibrant acidity balanced by ripe concentrated Morello cherry fruit. There is a long length of finish and velvet tannins.
Grigiano Rosso Conero DOCG 1999
This wine is a near translucent garnet, very youthful despite its age. Aromas of violet and spice, silky tannins and still racy acidity. Very long on the finish. The wine showed the potential of the Montepulciano grape to improve with age.
More about the Malacari Estate
Alessandro has turned the Malacari Estate into a Bed and Breakfast, that can be found on booking.com. The house has a charming library filled with ancient books, and many souvenirs from the past. "At first, we thought visitors would come for a long weekend," Alessandro says. "But people began to stay for a week to 10 days."
It is easy to see why a stay at the Malacari is so attractive. First there is the charm of Alessandro himself.  Next are the lovely grounds of the estate. Here guests can take breakfast outdoors in fine weather, and wander around the garden. As Malacari is centrally located, guests are able to drive around the region to visit other winemakers, and also have dinner at one of the cafes in the nearby village. Though a car is necessary for visiting other wineries, the village is within walking distance.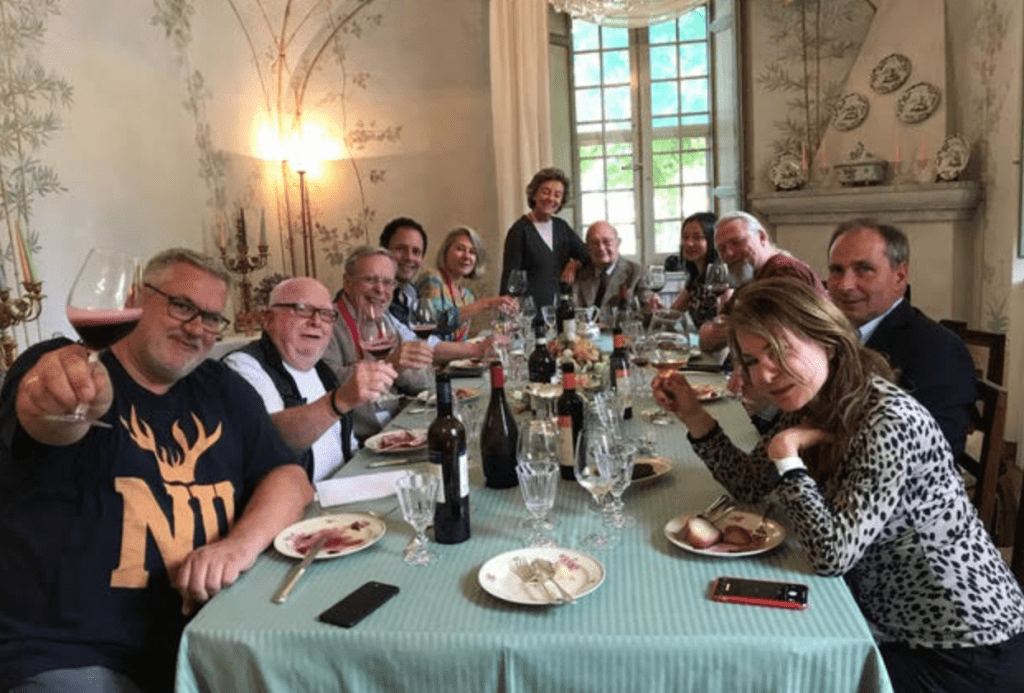 Stephen Barret elaborates on the terroir Marche tasting, where he finds wines well worthy of exporting to the UK.
Our tour started by discovering exactly which (style of) wines were represented in Marche. Being in an Adriatic location I hoped for some exciting white wines that would match some of the noted seafood in this province. Most provinces in Italy are blessed with good fortune as their wine industry nurtures often ancient and spectacular varietals with almost 'secret' styles that tantalise and delight.
So pencils and palates sharpened off we went. Our first tasting was not to disappoint as we ventured to the magnificent historic premises of Malacari in Offagna. Here we met eight winemakers and principles from the prestigious group known as terroirMarche (Vignailio bio). These eight winemakers representing 19 members of their group and each had (at least) two samples to show us.
All were eager to meet us and were looking for UK representation…
Tomassetti – Situated near to the sea to the north of the region, we were showed his Verdicchio 2016 that exuded fresh herbal notes that rolled effortlessly into a brilliant mouthfeel of stone fruit over lime! Elaborated in concrete it presented a quality that we were to experience throughout the tasting.

Broccanera – Again this winery is very near to the sea and is influenced by it. The winery is comparatively new, being established in 2011. Their 3.5 ha are cultivating Verdicchio, Syrah and Merlot. The 2016 Cantaro (Verdicchio) is as fresh as a breeze! Using tank (fermentation) followed by 10 months in the bottle before entering the market. This 2016 sample is full on the palate with pronounced lime scents abound.

Pievalta – Heading towards the Appenine Hills, Peivalta vinifies his 100% 2016 Verdicchio in rather plump terracotta vessels of 300 litres capacity. The resulting wine shows a smoky note followed by a lime and stone fruit finish. A gentle saline note appears too that becomes the hallmark of these terroir-influenced Verdicchios

La Marca di San Michele – Situated nearby Pievalta, the specialities here are both Verdicchio and Montepulciano. Showing their Bastion Contrario 2016 100% Montepulciano was eagerly anticipated. This singular meaty style with a pronounced cherry scent was a serious wine of distinction. High in acidity with moderate tannins, it offered the wine hunter a different wine experience.

Failoni – Again farmed nearby, this 4 ha winery established in 2018 offers a range of wines with several grape varieties grown (as others) on light clay-based soils. My choice of wine was the elegant Verdicchio, sporting a full-on nose of salinity, lime and almonds with a great mouthfeel and textured finish.

Fattoria Nanni – Verdicchio 2017 offers citrus (orange and lime), exotic perfume and grassy notes in a simple swirl! A touch of salinity makes an appearance as this wine of quality takes a shine.

Moroder – Situated near to Ancona to the top of a calcareous cliff-top location, Moroder are able to elaborate beautiful wines in a unique environment. With lots of work undertaken in the winery their wines are held in high esteem. We sniffed, swirled and sipped their 100% Montepulciano that offered complexity, hidden fruit and glorious spice throughout its silky (Riserva) style.

Malacari – A short distance west of Malicari's ancient castle, home to their famous wines where the vineyards are 250 m above sea level. Fastidious selection of Montpeulciano berries after which they are pressed and interned for three years in large oak format. We tasted a 2014 and a magical 1998, showing just how quiet development can tame the high acid/low tannins of this red grape in Marche.
Wines are either DOC and DOCG in origination, some Superiore and Classico all now sporting organic, biodynamic and sustainability throughout the range of the wines from this exclusive terroirMarche wine group.
It would be excellent to see these wines in the UK, perhaps at an organic wine specialist?

 Video coverage in Italy of the Circle trip to Marche
Day 2
Marisa D'Vari continues at Cantina Bruscia, where the organic roots run really deep. 
Bruscia is a picturesque winery in San Costanzo, a town located in the province of Pesaro-Urbino, Marche. This family-owned company has been growing grapes organically since the 18th century – which is to say they have been following organic practices since before the recent organic trend. Yet they are also quick to describe themselves as today using "ancient methods combined with modern technologies". This means they have all the modern equipment necessary for the production of perfectly delicious and stable wine.
The vineyards
The picture-perfect vineyards are a great testament to their organic philosophy. Very lush green vines planted on rolling hills. As we walk through the vineyards, we are told that the grapes are harvested at different stages by hand, to ensure the optimal ripeness.
The Family Today
Dino Bruscia is head of the company, and works with his sons Davide and Paolo, as well as nephews Stefano and Modestino, to keep the winery running smoothly. Other family members are in charge of the tasting room, lead visits and take on other roles. It is Stefano who leads us on our visit.
Establishing a label
2007 was the first commercial vintage for the family under their own label. In the past, they owned these same vineyards yet had just sold the grapes.
Sangiovese is the major red grape in the province of Pesaro-Urbino, where it is often blended with different local red varieties. The major white grape here is Bianchello, also often blended with different local white varieties.
One interesting note about Bruscia is that they name their wines after real-life residents from the town in history.
The Sampled Wines
2017 Bianchello Still Wine
This wine is made without sulphur, so it has a slight orange tinge. It also has an apple cider, somewhat saline aroma and flavour on the palate. 
2015 Bianchello Sparkling Wine
This wine is made via the traditional method using Bianchello grapes. 24 months on the lees. The aromas are warm straw and fresh almond. The wine has brisk acidity.
2016 Bruscia 'Lubac' Bianchello di Metauro DOC
This wine spends 24 months on the partially-fermented lees, and then is matured in large oak barrels. The wine is rich and concentrated, coming from 40-year-old vines. It is straw in colour, with aromas of apples and almonds. Crisp acidity and long length on the finish.
2017 Bruscia Incrocio Bruni Cinquantaquattro' Marche IGT
This grape is an interesting crossing of Verdicchio and Sauvignon Blanc. It sees no wood and is fermented in stainless steel, though a version is also fermented in wood. 
2017 Il Famoso Grottino IGT
This is made from a local grape called Famoso, from Pesaro. It had been cultivated for thousands of years, yet was only classified in the 1960s. Typically Famoso was used as a blending grape, bringing structure and perfume. At Bruscia it is made into a single variety IGT wine. It is sold exclusively at the winery shop.
2015 Pikler Selezione DOC
This Sangiovese-based wine is aged in oak for a year, then an additional six months in the bottle. Very rich ripe concentrated fruit offset by vibrant acidity and velvety tannins, and a long finish. 
C'rasa Wild Cherry Organic Wine
This unusual wine is a blend of Sangiovese grapes and wild cherry jam macerated with sugar. It is a wine so delicious many CWW members rushed to buy a few bottles.

Final Thoughts
Bruscia is an excellent example of a family-run winery which is promoting native – and ancient – grape varieties from the region. The winery sells the majority of its products to people visiting the Marche region from their tasting room.
Though many people outside of Italy may not consider Marche a 'beach vacation region', it is famous for its beaches as well as its biking paths. The local tourism bureaus are promoting the region as great for beaches, biking, and winery visits. This is one key reason why wineries such as Bruscia can prosper.

Magnus Reuterdahl savours beauty and flavours at Cantina di Santi.
There are vineyards and there are vineyards. This is the kind of vineyard that could be used as an illustration for what most folks think of when they imagine a vineyard. Cantina di Santi is situated in the hilly landscape that is typical for Marche. The scenery includes vineyards, olive trees, small villages on top of hills, forests and the sea. It is one of those places where you wonder how they manage to get any work done at all. I would just stand there getting lost in the scenery.
Cantina di Sante is a family-run business that started at the end of the 19th century. Today, Roberto di Sante, his wife Gigliola, and their son Tommaso, are running operations. We visited the recently built winery near the village of Carignano, about 6km from Fano and the sea. They have about 34 ha of vineyards, which include grapes such as Biancame, Sangiovese, Montepulciano and some international varieties. In the vineyards we found old clones of Sangiovese and Montepulciano, the same his grandfather planted. Since the year 2000, the production has been organic, and a few new vineyards are on their way to being certified. The wine production is about 100,000-120,000 bottles a year. About 60% is sold directly to customers, i.e. bulk and about 10% is sold by export to Denmark, Norway, France and Belgium.
A few of their wines you shouldn't miss include Giglio 2018 Superiore, made of Bianchello. Fresh, aromatic with nice fruit and some almond notes. Great with grilled fish or chicken. Gazza Rosso 2018, made of 85% Sangiovese and 15% Montepulciano, is a clean fresh wine that is perfect for summer, made in steel tank. Timòteo 2016 is made of 70% Sangiovese and 30% Montepulciano. This a wine with depth, dark fruit, nice structure, elegance and complexity.

Day 3
Jolanta Smiciene checks out Ciù Ciù, the region's largest family-run winery.
Ciù Ciù was founded in 1970 by Natalino Bartolomei, aka 'Ciù Ciù' (pron. choo-choo) and the Italian translation of 'Drink Drink'. Actually, this is a family nick name. The winery is set in the countryside of Offida and is a 100 % family run and operated business and they are biggest family-run winery in the region with the 180 hectares of vineyards, producing 1.5 million bottles in 2018. All Ciù Ciù wines are made from own grapes from family vineyards and in 1996 it was certified organic.
They also have two wines, which are not yet certified. Next year, the winery could get the Demeter biodynamic certification for some wines in Abruzzo. They add sulphites far below the limit of the organic certification.
From the first generation, Ciù Ciù has focused on indigenous varietals such as Trebbiano, Passerina, Pecorino, Montepulciano and Sangiovese. The second generation took over and expanded the business to give it an international flair. Recent owners have a goal to expand vineyards. They have also started with a new project in Abruzzo. They upgraded the production techniques by investing in modern technologies like cryomaceration (a winemaking technique in which the crushed grapes are held at a low temperature of +4C before fermentation in order to preserve fresh aromas). The goal is to avoid oxidation of wines in any step of production. They also deployed a cross-flow filter in 2008, which enabled vegan wines to be made. From the 2014 vintage, all the wines have the vegan logo on the back label.
During our visit, we were welcomed by Paolo Agostinelli, Ciù Ciù's export manager. Thanks to his professional knowledge, we had the chance not only see the winery equipment, but also receive a full explanation of the technical details. We were also pleased to visit some of Ciù Ciù's beautiful vineyards, which is always useful to fully understand the philosophy of the company and in particular the wines. We were so charmed by the vineyards and while stopping to take pictures, Paolo warned us about snakes and foxes.
Ciù Ciù produces 15 labels. The tasted wines:
ALTA MAREA sparkling wine
Passerina 100%. Brut 4-6 g/l. Prolonged Charmat method (4 months in autoclave). Citrus, green apple aromas. Very fresh, nice acidity.
EVOÈ Marche I.G.P. Passerina 2018
Fruity and white flower aromas. Salty.
MERLETTAIE Offida D.O.C.G. Pecorino 2018
6 months in oak barrels. Fresh cut grass, floral aromas, some pastry hints. Fresh and soft.
BACCHUS Rosso Piceno D.O.P 2018
50 % Montepulciano, 50% Sangiovese. No oak. Red berries, blackberries, sweet fruits aromas, fresh acidity, medium plus tannins. Youthful, pleasant flavours.
GOTICO Rosso Piceno Superiore D.O.P.  2015
70 % Montepulciano, 30% Sangiovese. 1.5 years in 225 litre barrels. Fruit, floral aromas, smooth and full-bodied. Complex, elegant wine. Great ageing potential.
OPPÎDUM Marche I.G.T. Rosso 2014
100% Montepulciano. Late harvest. 30% in wooden barrels, 70% in small wooden barrels for 12 months. A powerful, long wine. A good alternative to Primitivo.
Janet Z. Wang on one of the largest cooperatives, where she finds some excellent organic wines and is also treated to a memorable sweet finish.
Cantine di Castignano is situated in the historical commune of Castignano, and is one of the largest wine cooperatives in Marche. Founded in 1960, it currently has 350 members and 500 hectares of vineyards situated between the Sibillini Mountains to the west and the Adriatic Sea to the east. 
The vineyards produce 40,000 hectolitres annually, which splits roughly into 600,000 bottles and the rest are sold locally in casks. Only 10% of the production is exported, notably to Norway, the Netherlands, and a few pallets even find their way to China, Japan and the USA. It is worth mentioning that in Italy, Vino sfuso – cask-sold 'loose' wines, or bulk wine, do not have the connotation of inferior quality – they are simply an economical and environmentally friendlier way of selling ready to drink wines locally. This partly explains why wines enjoyed in Italy are often excellent and great value.   
The local varieties grown here are Passerina, Pecorino and Verdicchio for whites, and Montepulciano and Sangiovese for reds. These white wine grapes are particularly noteworthy for the Marche region. Passerina is a rare ancient variety of the Trebbiano cultivar, originating from a genetic mutation of Biancame (another local grape). It gives good acidity and minerality, which is typical of the region. Pecorino is a low-yielding grape and was close to extinction until a 'rediscovery' in the 1980s. It is enjoying a revival thanks to its aromatic, firm and mineral character. It makes an excellent pairing with its namesake cheese made from ewes' milk.
Verdicchio is arguably the most characterful and exciting grape from this region. What it lacks in aromatics, it makes up amply for in salinity and complexity of flavour and texture. It can evolve and age very elegantly. 
We tasted seven wines here, of which four were certified organic, and were excellent. 'Organic' and 'biodynamic' were two running themes during our trip, and the organic range is certainly a growing line for Castignano. 2018 is the first vintage for the organic range to be bottled – they were previously only sold in casks.
Passerina, Spumante Brut, Terre di Offida DOC, NV, 100% Passerina, 12% ABV.
Sparkling wine made via the Charmat (tank) method.
Appearance: light yellow with a tinge of green, fine and persistent bubbles.
Nose: citrus flowers, green apple, fresh lime.
Palate: crunchy apples and pears. Clean, bright acidity.
Drink with: aperitif or light seafood starters.
Offida Passerina, DOCG, 2018, 100% Passerina, Organic wine, 12% ABV.
Tank fermented and 6 months on lees.
Appearance: pale straw-yellow.
Nose: meadow flowers, fresh citrus.
Palate: lime and lemon notes with stony minerality and a hint of fennel. Round and medium- bodied with plenty of freshness and good acidity.
Drink with: grilled fish, white meat.
Offida Pecorino, DOCG, 2018, 100% Pecorino, Organic wine, 13% ABV.
Tank fermented and 6 months on lees.
Appearance: pale yellow.
Nose: jasmine, citrus, green apple, almond.
Palate: very fresh acidity, mouth-watering. Quite elegant and long. Well balanced.
Drink with: Pecorino cheese, seafood, fish soup.
Rosso Piceno, DOC, 2018, 60% Montepulciano, 40% Sangiovese, Organic wine, 13% ABV.
Tank fermented, no oak contact.
Appearance: bright ruby.
Nose: dark crushed fruit, bitter cherries.
Palate: Fresh and fruity with lots of dark, juicy berries. Smooth and supple mouthfeel.
Drink with: Oily fish, light meat, local dishes with tomato sauce.
Rosso Piceno DOC Superiore, 2017, 50% Montepulciano, 50% Sangiovese, Organic wine, 13.5% ABV.
Aged 1 year in large (500 litres) barrel.
Appearance: dark ruby.
Nose: Intense nose of dark cherries and dark chocolate.
Palate: a bold wine that fills the mouth. Soft and supple tannins. Great balance and a long finish.
Drink with: truffle dishes, flavourful meat and strong cheeses.
Gran Maestro, Offida DOCG Rosso, 2014, 85% Montepulciano, 10% Cabernet Sauvignon, 5% Merlot, 14.5% ABV.
Aged 2 years in old barrique and 6 months in bottle.
Appearance: deep ruby red.
Nose: fresh dark berries that evolve into dried fruits, dark chocolate and black pepper.
Palate: smooth, luscious, well balanced and full-bodied. Long and persistent.
Drink with:  substantial meat dishes.
Vino Cotto, NV, 12.4% ABV.
A sweet wine made from 'cooked must' of various grapes. The must is heated and reduced in a copper container. Raw must is then added for fermentation. Vino Cotto can be barrel aged for a long time, and is usually topped up and blended with cooked must from other vintages.
Appearance: hazel-nut brown.
Nose: honey, caramel, dried apricots, figs, hazelnut.
Palate: velvety almost creamy in texture, decadent but not sickly.
Drink with: Cookies, chocolate puddings, panna cotta, poached pears, aged blue cheese.
For me, a great tasting should preferably end with something sweetly divine and this Vino Cotto was singularly memorable!
Day 4.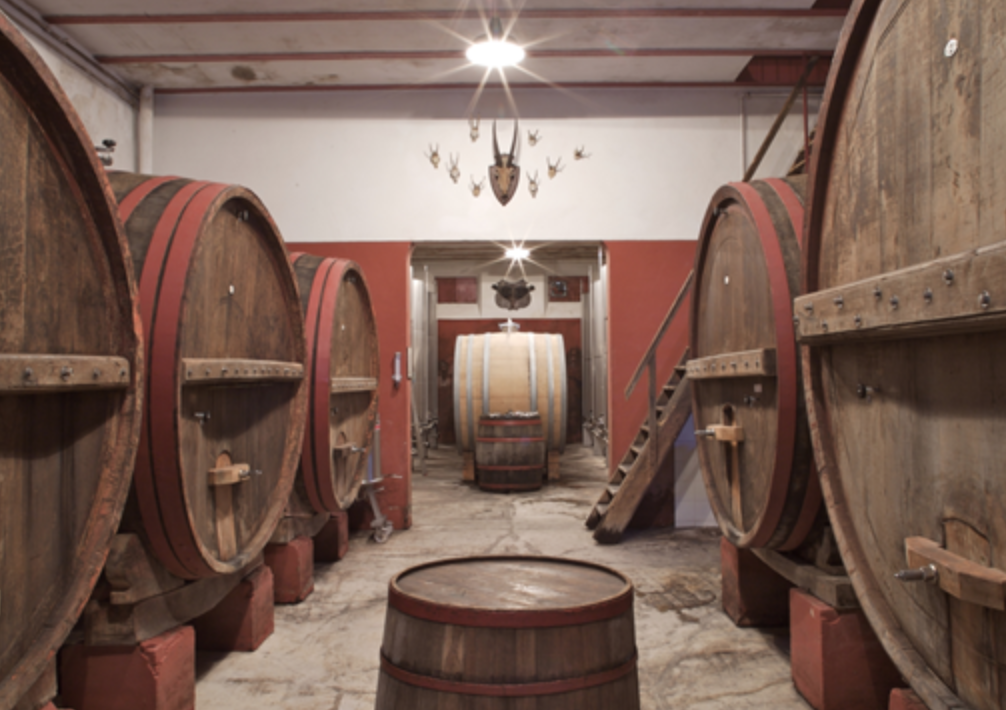 John Ducker gives some background to the trip, before diving into iconic Villa Bucci.
Four hugely enjoyable and intensive days of winery visits and presentations in Le Marche, taken recently, revealed not only a winemaking groundswell of energy, youth and dedication from the local winemakers themselves but also a 'kaleidoscope' of the region's wines in a tour meticulously arranged by Michele Shah S.R.L. on behalf of the Circle of Wine Writers under the aegis of 'Marchet', the region's Chamber of Commerce for Special Projects. One's feet had barely touched the ground, as a palate-opening presentation by no fewer than eight members of the 19-strong Consorzio Terroir Marche, working in the organic and biodynamic spectrum, sharply underlined the state-of-the-art and the benefits of minimum intervention winemaking in the Castelli di Jesi.
Tradition too, as exemplified elsewhere in a tasting of outstanding and subtle wines from Ampelio Bucci's iconic family estate around Ostra Vetere, Verdicchio occupying 26 hectares of the family's 31-hectare property. Admittedly Marche's Verdicchio grape variety offers many clonal selections to choose from and is one that can be crafted across a wide range of styles, but take this leading winery's organically certified Verdicchio di Castelli di Jesi Villa Bucci Riserva, a wine which must surely count as one of Italy's white 'flagships', redolent of the unique terroir of the Marche rather than that of the Veneto where the cultivar is also grown to a lesser degree.   
Textbook Verdicchio, the result of a combination of factors: old vines, green harvesting, the strictest grape selection (down to about half the 140 quintal permitted norm for the DOC), a finish in huge age-worthy Slavonian oak barrels, and an obvious respect by owner and consultant alike for the health and quality of the product. The result in the glass? Absolutely classic: a deep soft golden yellow in colour, a wealth of subtle aromas spanning the citric to the peachy, and the peachy to the herbaceous – even a hint of iodine somewhere. A richly textured ripeness on the palate the platform for a magnificent and subtly revealing taste performance including a final whisper of saltiness, a factor I'd noticed in a number of other Marche wines sampled across this valuable tour. This is what I'd call a 'long' wine indeed. 
From what I have written here you wouldn't be blamed for thinking I was describing a single cru wine, but I understand that the Bucci tradition has been to blend across the family's six Verdicchio vineyards scattered the length and width of the estate, each having its own different sun exposure/elevation to allow complexity when being blended, vintage by vintage, in the cool cellars beneath the Bucci cantina.
Here again, given the surprising age-worthiness of Verdicchio, Ampelio Bucci and his oenologist Giorgio Grai (another significant name!) finds them not feeling compelled to craft a riserva every year – although this particular slice of Marche wine production proved to me just how special (and utterly delicious) the indigenous Verdicchio of the Marche, produced in such experienced hands, can be.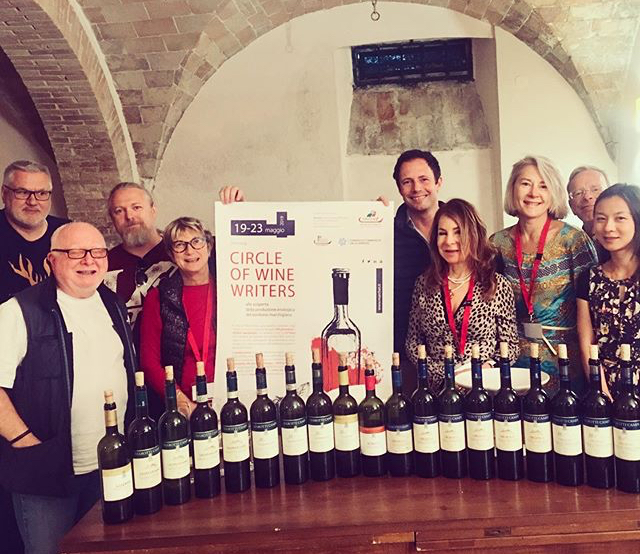 Jolanta Smiciene laps up rare wine, some going back years, made from the elusive Lacrima grape at Marotti Campi.
The estate was founded in 1860 as a farm by Cesare Marotti, while the modern winery was built in 1999. The estate is now owned by the Marotti family. They currently own 70 hectares of vineyards in Morro d`Alba and produced around 260,000 bottles in 2018. They mainly grow Verdicchio and Lacrima, which are indigenous varieties of the area. All wines are made from estate-grown grapes.
They do not use irrigation, the winery runs on solar power and they minimise the use of synthetic chemicals.
The most impressive wines we tasted were made from the Lacrima grape. Marotti Campi makes one of the region's best examples of the intensely perfumed, exotically aromatic red Lacrima variety. Lacrima is a challenging grape. Until 1985 it was not economically viable. At that time there were just a few vineyards (7 ha). It is very sensitive to virus(es) and rootstocks were not optimal to Lacrima. Replanting and experimenting with the roots finely brought results. Now there are 60 Lacrima producers and 300 ha vineyards of Lacrima in Morro d`Alba. Marotti Campi is the largest supplier for other wineries. They focus on this rustic grape variety. They also make sparkling Lacrima as a sweet wine, using the Charmat method.
We were welcomed by Lorenzo Marotti Campi, the current owner of the estate. Between the walls of the beautiful manor house, we were treated to an exclusive vertical tasting of Lacrima Morro d`Alba. According to Lorezo, no other winery could arrange a tasting like this, as others do not have such old vintages. After a distinctive tasting, we were welcomed by Francesca and Giovani Marotti Campi, the parents of Lorenzo. In a cosy family atmosphere, we had a most delicious lunch, followed by fluffy lasagna,  juicy veal chops and aromatic pear, cooked in red wine sauce. All dishes were made by Francesca.
Tasted wines:
RUBICO Lacrima di Morro d'Alba DOC 2018
Stainless steel. Very fruity, floral notes (rose, violets), peppercorns.
ORGIOLO Lacrima di Morro d'Alba DOC Superiore 2017
Ageing: used barriques. Herbs, spices, lavanda, balsamic. Nice bitterness.
ORGIOLO Lacrima di Morro d'Alba DOC Superiore 2016
Some gamey, sweet aromas. Juniper.
ORGIOLO Lacrima di Morro d'Alba DOC Superiore 2015
Good vintage. Very complex, balanced wine.
ORGIOLO Lacrima di Morro d'Alba DOC Superiore 2014
Poor vintage, but nice wine. Still fruity, more linear.
ORGIOLO Lacrima di Morro d'Alba DOC Superiore 2012
Large. More tertiary aromas. Charming.
ORGIOLO Lacrima di Morro d'Alba DOC Superiore 2011
Gamey aromas. Well structured. Peppery. Silky tannins.
ORGIOLO Lacrima di Morro d'Alba DOC Superiore 2010
Blackberries, roses, menthol, salami aromas. Soft, silky.
ORGIOLO Lacrima di Morro d'Alba DOC Superiore 2006
More harmonious, elegant expression. Touch of balsamic notes, Nice acidity.
ORGIOLO Lacrima di Morro d'Alba DOC Superiore 2004
Blackberries, medical herbs, tealeaf aromas.
ORGIOLO Lacrima di Morro d'Alba DOC Superiore 2002
Baked beetroot, earthy aromas. Nice acidity. Still alive and has a spine.
The last red – entry level Lacrima 2000 vintage
Cinnamon, cloves, earthy aromas. Still vibrant.
White wines
LUZANO Verdicchio dei Castelli di Jesi Classico DOC Superiore 2018
Stainless steel. Very nice salinity. Fruity mid-palate. Needs some time to develop.
SALMARIANO Castelli di Jesi Verdicchio Classico DOCG Riserva 2015
Ageing: 20% barrique, 80% stainless steel, 12 months sur lie. Touch of patisserie, exotic fruits aromas. A memorable wine.
SALMARIANO Castelli di Jesi Verdicchio Classico DOCG Riserva 2013
Acid moves to salinity. Chamomile, yellow flower aromas.
SALMARIANO Castelli di Jesi Verdicchio Classico DOCG Riserva 2012
Strong feeling, strong character. Herbs, tea, honey notes.
SALMARIANO Castelli di Jesi Verdicchio Classico DOCG Riserva 2010
Exotic fruits, peach, pineapple aromas. Waxy notes, 'auslese' notes. Sweet and sour.
SALMARIANO Castelli di Jesi Verdicchio Classico DOCG Riserva 2009
Very balanced. Long finish. Delicate.
SALMARIANO Castelli di Jesi Verdicchio Classico DOCG Riserva 2006
Burgundian style.
SALMARIANO Castelli di Jesi Verdicchio Classico DOCG Riserva 2004
Aromas of old matured champagne. White mushrooms, honey notes. A little flat on the palate.
The tasting was finished by a legendary comment by Lorenzo: "People of the World! Stop drinking Pinot Grigio and Lugana! Enjoy Verdicchio!"

Janet Z. Wang visits the Marche Institute of Food and Wine and is treated to some prime examples of Verdicchio dei Castelli di Jesi and Verdicchio di Matelica. 
The historical town of Jesi lies along the Esino River, southwest of Ancona. It boasts an elegant Old Town from the Medieval and Renaissance period, built upon Roman foundations, and is the accidental birthplace of the Holy Roman Emperor Frederick II, while his heavily pregnant mother, Constance, was en route to Puglia. But don't restrict your exploration within the 14th-century city walls – just beyond, the lively and charming town offers a gem of a place to discover Marche's wines and gastronomic delights.
Step into the Istituto Marchigiano Enogastronomia (the Marche Institute of Food and Wine), and you will find a spacious lower ground cave filled with audio-visual displays of the region's best produce, recipes and wines. Nine large tables with touch screens invite you to explore various themes, such as 'the taste of Marche' showcasing classic recipes accompanied by tantalising cookery videos; or 'hidden treasures of Marche' celebrating beautiful local ingredients, such as wild mussels (Moscioli), truffles and artichokes… and of course there is a table dedicated to local wine regions, classifications and grape varieties.
Upstairs is a well-equipped tasting room, complete with by-the-glass self-service dispensing machines. There are 40 wines to choose from, starting from €2.50 a pour, and the wines are changed every 15 days. What a great way to sample the wines of Marche under one roof!
Marche DOCG wine appellations:
Conero Riserva, Castelli di Jesi Verdicchio Riserva, Offida, Verdicchio di Matelica Riserva, Vernaccia di Serrapetrona
Marche DOC wine appellations:
Bianchello del Metauro, Colli Maceratesi, Colli Pesaresi, Esino, Falerio, Lacrima di Morro d'Alba, Pergola, Rosso Conero, Rosso Piceno, San Ginesio, Serrapetrona, Terre di Offida, I Terreni di San Severino, Verdicchio dei Castelli di Jesi, Verdicchio di Matelica
Marche IGT wine appellation:
Marche
We were here for a tasting of some of the region's top Verdicchios from the two best known DOCs – Verdicchio dei Castelli di Jesi and Verdicchio di Matelica.  Overall these fine examples are light and fresh in style, they are palate cleansing and gastronomic wines with pleasant salinity, perfect with local seafood. We also tasted two reds and a Passito for good measure!
Tasting notes
Colognola Spumante Extra brut, Darini, 2013, Verdicchio dei Castelli di Jesi DOC. 12% ABV.
A 'metodo classico' sparkling wine that shows the longevity of Verdicchio. The bubbles are fine, with an elegant nose of dried fruits, bergamots, meadow flowers and toasted almonds. There is a hint of iodine reminiscent of the sea. It still has great freshness and acidity.
Colpaola Verdicchio di Matelica DOC, 2018, 13% ABV.
The Matelica region lies in a valley about 600-700 metres above sea level, where millions of years ago there was a salty lake. The soil is calcareous with lots of marine fossils. This vineyard is one of the highest in the area. There are exotic fruits on the nose, and distinctive flinty notes. It is slightly astringent on the palate, very structured, lean and long.
Bisci, Verdicchio di Matelica DOC, 2018, 13% ABV.
This is a historical vineyard lying 600m above sea level. Notes of lemongrass, citrus, yellow flowers, and again shows the stone mineral character typical of the region.   
Borgo Paglianetto, Terravignata, Verdicchio di Matelica DOC, 2017, (organic), 12.5% ABV.
Slightly tropical nose of mango, ripe peaches, mimosa, chamomile. Fruity and fresh.
Belisario, Cambrugiano, Verdicchio di Matelica Riserva DOCG, 2016, 13% ABV.
This is the first wine so far that has been barrel aged for 1 year (mix of old and new barrels). The colour is a golden hue (whereas those made in stainless steel tanks are much paler). There are notes of saffron, tea leaves, dried flowers. The mouthfeel is softer due to the oak. It is fresh, mouth-watering, long with a hint of garden herbs right at the end.
Conte Leopardi, Castel Verde, Verdicchio dei Castelli di Jesi DOC Classico, 2018, 13.5% ABV.
Herbaceous nose of sage, tomato leaves, curry leaves. Generous and round mouthfeel.
Tenute Pieralisi, Verdicchio dei Castelli di Jesi DOC, Classico, 2017, 12.5% ABV.
Notes of acacia, honey, artichoke. Fine and elegant.
Umani Ronchi, Casal di Serra, Verdicchio dei Castelli di Jesi DOC, Classico Superiore, 2018, (organic), 13% ABV.
'Superiore' indicates special selection of the grapes. This is a blockbuster of a wine from one of the largest producers in the region, and is exported to 48 countries. Intense aromas of ripe yellow fruits, almonds, toast; soft and round on the palate, a little buttery. There is actually no oak contact, but the wine is aged in stainless steel tank on lees for 5 months. 
Montecappone, Muntobe, Verdicchio dei Castelli di Jesi DOC, Classico Superiore, 2017, 13.5% ABV.
To me, this wine has a bizarre nose of pickled duck egg and mild fresh durian! Or perhaps a whiff of Asian meat and veg market, if you have been to one… 'Character'? An oddball in this line up but at least there is that thematic saltiness.
Poderi Mattiou, Ylice, Verdicchio dei Castelli di Jesi DOC, Classico Superiore, 2016, 13% ABV.
This wine shows a good deal of interest and complexity – evolved toasty notes, beeswax, almond, tomato leaf.  On the palate there is a lovely continuation of what you get on the nose. Harmonious and well integrated. 
Ceci Enrico, Santa Maria d'Arco, Verdicchio dei Castelli di Jesi DOC, Classico Superiore,2016, 13.5% ABV.
A delicate and elegant wine with notes of wild flowers, citrus flowers, thyme and ginger peel.
Brunori, San Niccolo, Castelli di Jesi Verdicchio Riserva DOCG, Classico, 2016, 13.5% ABV.
A single vineyard 'Riserva' and a classic, elegant style. It oozes freshness with mineral salinity, with notes of delicate camomile flowers, sage and dill. 
Moncaro, Vigna Novali, Castelli di Jesi Verdicchio Riserva DOCG, Classico, 2014, 14% ABV.
A large co-operative single-vineyard Riserva. Ripe peaches, saffron and balsamic notes. Barrique aged.
Reds:
Lanari, Rosso Conero DOC, 2018, 100% Montepulciano, 13.5% ABV.
Youthful violets in colour. Nose of fresh roses, blackberries and blood oranges. Fruit forward, well balanced with soft tannins.
Angeli di Varano, Primo de Tre, Rosso Conero DOC, 2016, 100% Montepulciano, 13.5% ABV.
Notes of pepper, cardamom, wild cherries and dried flowers. Soft tannins and approachable style made for easy drinking when young.
Casalfarneto, Ikon, Passito, Verdicchio dei Castelli di Jesi DOC, 2013, 100% Verdicchio, 12.5% ABV.
To make Passito, grapes are left to dry for 4-5 months on straw beds after (late) harvest. Then the grapes are gently pressed and the juice fermented. Notes of dried figs, dates, musk, saffron, honey… Good acidity.  Almost like an ice wine in style.  Pairs beautifully with aged cheese.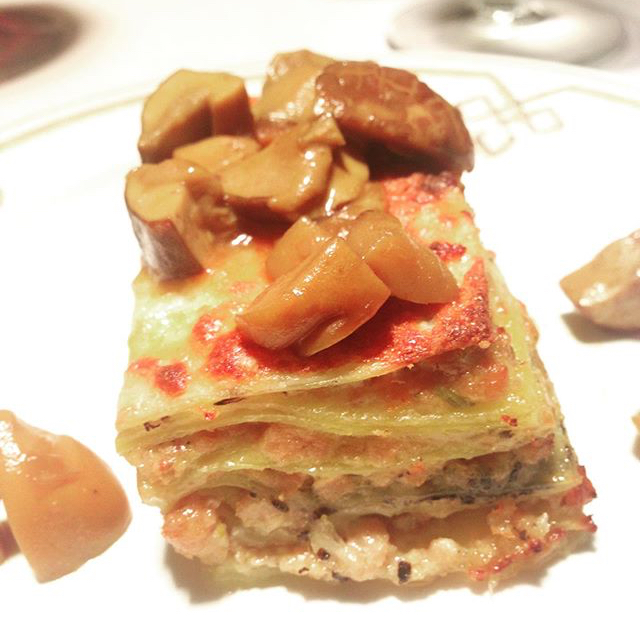 John Ducker goes gastronomic and reports on the fine local food served up for Circle members on the trip.
As our recent visit to Italy's Marche region, blessed with its superb Adriatic seaboard showed, there is not just one Marche, but four: Pesaro Urbino to the north; Ancona; Macerata; and, southernmost, Ascoli Piceno. These areas are naturally divided, one from the other, by rivers winding down seawards from the Appenines. Again, wide gastronomic variation is understandable within each of the areas dependent on its geographical situation, whether the seafood paradise of the coastline or, in contrast, the relative wildness of the game-strewn mountains of the west.     
Many years ago, I was pressed to take part in a competition run jointly by the BBC and Zanussi, the fridge and freezer people, to submit a recipe evoking 'The Taste of Italy' – which, considering 20 different provinces and countless local gastronomic variations within each, is a complete impossibility. Yet somehow I found myself the winner, treated to a long weekend at the Cipriani Hotel in Venice, as a prize – and let's face it – Venetian food cannot simply be called 'Italian' either!
In our restaurant visits on this Marche tour, I was reminded yet again that where Italy is concerned, food is always the star of the table – the star of the show, and that although the country's wines are not exactly relegated as servants to the dishes served, the wines have evolved across the centuries as natural and fitting partners at the table potentially, and quite often, offering a gastronomic 'more than the sum of the parts'. Perhaps Italian wine at the table provides a reverse dynamic to the wines of France, which would appear to take a Gallic pride of place, important in themselves, local food being crafted to help show them off to best advantage.
Our restaurant visits, including the 'fishy' coastal Da Silvio overlooking the beach at Sirolo, Antico Furlo' in Aqualagna, Lu Focarò at Torre di Palme, and Jesi's Hosteria dietro le Quinte, were hugely enjoyed. They underlined not only the freshness and quality of their local ingredients in beautiful settings, but delicious variance place to place in what was brought to our table – a true Italian delight in itself.
A suitably satiated Stephen Barrett adds his thoughts on one of the delectable dishes.
As an addendum to John's excellent alliteration, I would like to add a short note embellishing the outstanding dishes presented to us throughout the trip. The one I felt had some extra merit was delivered by chef and proprietor Alberto Malagrana, who (whilst on crutches!) delivered a succinct discourse on all the dishes we were presented with at lunch in Antico Furlo.
Specialising in Truffles from the locality, he proceeded to explain the difference between white and black truffles. Subtlety was the maxim with Alberto which was brilliantly described and offered with a special pasta dish for our lunch. The dish was handmade pasta formed with minced older bread, flour, eggs, olive oil and seasoning and extruded with a potato – ricer creating saffron-coloured macaroni-shaped pasta on a bed of what seemed a light crème fraiche sauce topped with shaved white truffles! A triumph with three ingredients! Preparation and know-how simply went hand in hand to great acclaim – he matched this dish perfectly with a local Chardonnay (IGT) created in the Burgundy style! Understanding and deliverance of note I say….

The Marche trip also included visits to a number of charming local cities, towns and villages. Michèle Shah gives us a taste of one of these visits here with her description of UNESCO-listed Urbino and its divine Ducal Palace.
The city of Urbino is probably the most famous city of Le Marche and owes its reputation to two great figures, the Duke Federico da Montefeltro, who supported its maximal expansion during the Renaissance, and the painter Raffaello Sanzio, who was born there. Since 1998, its historic center has been a UNESCO World Heritage site. Along with the artistic beauty of its palaces, churches and monuments, the Ducal Palace is a must!
The Ducal Palace in Urbino is one of the most interesting architectural and artistic examples of the Italian Renaissance, housing an impressive collection of works by Raffaello, Tiziano, Piero della Francesca and Paolo Uccello. Construction began in 1444 by the will of Federico da Montefeltro. There are about 80 rooms used as a museum, with works from 1300 to the 1600s, mostly paintings but also furniture, sculptures, tapestries and drawings. The main works are located on the first floor, divided between the apartments where the duke and his family lived. The main highlights include the courtyard of honour and the Studiolo, the private study of the duke, designed by Flemish artists and with walls covered with impressive wood inlays. One of the most famous works of art is a symbolic painting of the ideal City (la Città ideale) which is by the hand of an anonymous artist, however, is said to have been painted by Piero della Francesca together with the architects Luciano Laurana and Donato Bramante between 1480-90, but this is pure speculation!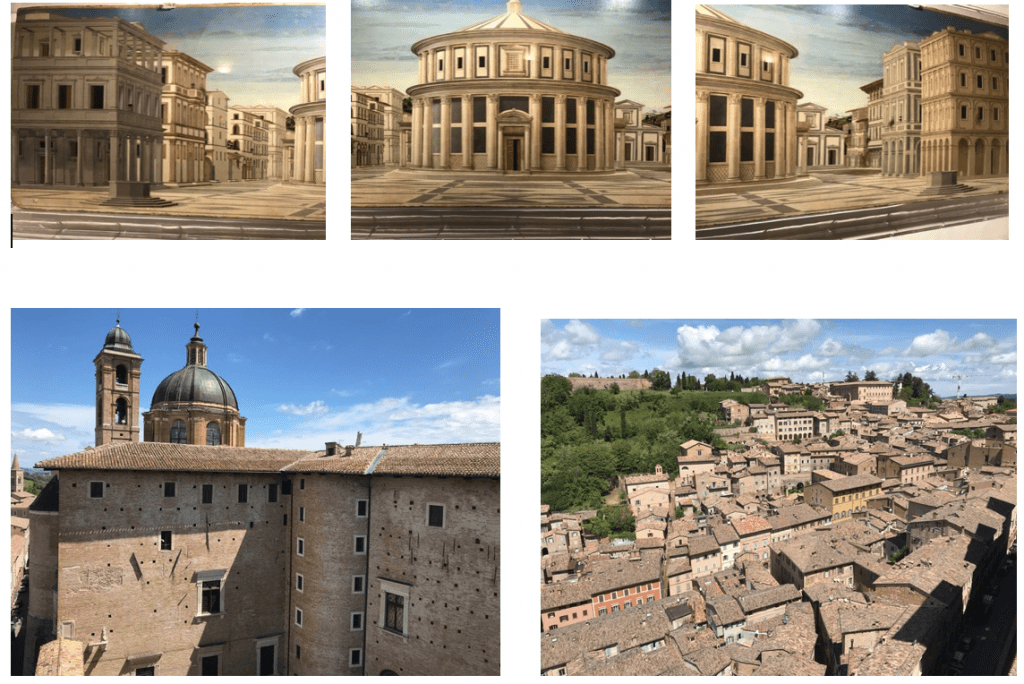 We were fortunate to have the Museum Curator and director accompany us to see the view of the city from one of the towers of the castle!
Thank you very much to Michèle Shah; Marchet, Azienda Speciale della Camera di Commercio delle Marche; and Francesco Maritini for organising the trip. Thank you also to everyone in the Marche who hosted tastings, visits and delicious meals!