Amanda Barnes takes a taste and read through Klein Constantia: The home of Vin de Constance.
Books are always better when they're enjoyed with wine — especially when they're wine books. Even more so when you can drink the very wine described in the book — and so was my experience with the latest release from John Stimpfig's First Press Editions' Klein Constantia: The home of Vin de Constance. The book is distributed by Académie du Vin Library, and the wines by Mentzendorff — both good friends of the Circle.
In an unusual tasting order compared to what I would usually go for, I started with the sweet wine, the wine, of the estate – the famed Vin de Constance, and perhaps the very reason this book deserved to be written in the first place. Gloriously golden with a fine weave of heady honeysuckle, orange oil and ginger biscuit notes, this is one of the world's most sumptuous wines — a late-harvest Muscat with exquisite balance.
Vin de Constance, as authors Joanne Gibson and Malu Lambert detail, was the tipple of choice for Casanova, Marie Antoinette and Napoleon. Jane Austen even commemorated it in Sense and Sensibility as having 'healing powers on a disappointed heart'. This is a wine that makes you travel not only in space, but time. This legacy is really remarkable for any single estate, but even more so for the 'New World'.
Why was this estate so special throughout history? Well, it was most certainly partly due to its location — on the doorstep of what became Cape Town, and the heart of the Dutch then British colony, but also for its terroir par excellence. The cooling impact of the Cape Doctor coastal breeze is what lends it so well to the next two wines on my tasting list — a duo of Sauvignon Blanc wines. 
As I read further about the estate, taking in the beautiful imagery of the vineyards and instantly recognisable Cape landscapes, the estate Sauvignon Blanc 2021 offered a perfect opener for the scene. Notes of gooseberry and pink grapefruit led to a touch of coastal salinity and a thirst-quenching finish. 
My stomach started to rumble for oysters or maybe for the local crayfish, but I wanted to keep reading and tasting. My appetite was instead sated by the Clara Sauvignon Blanc 2021 — much more concentrated in flavour but with added breadth on the palate and hints of woodsmoke from fermentation in large oak barrels. This is a textural Sauvignon Blanc with quite a full body but it still has this striking acidity and lively notes of gooseberries and citrus zest. It would undoubtedly be quite delicious with some of the deliciously aromatic flavours of Cape Malay cuisine, but it was also ideal to accompany further reading.
The story of the estate is so deeply enriched by the people who have taken guardianship of the estate over the centuries. As Lambert and Gibson divulge, there are a plethora of historical characters who have had their part to play in Klein Constantia — including those who were faking the wines of the estate, even back in the mid-1700s. Not all of the owners that have come to pass have been positive for the history of this beleaguered estate. 
But today, of course, the estate is owned by Zdenek Bakala and Charles Harman, who took over the estate in 2011. It is due to their investments in the estate that is has grown and flourished once again, not only renowned for its long-lived Vin de Constance sweet wine but also increasingly for its dry wines. It was time to try the new 2019 vintage of Anwilka…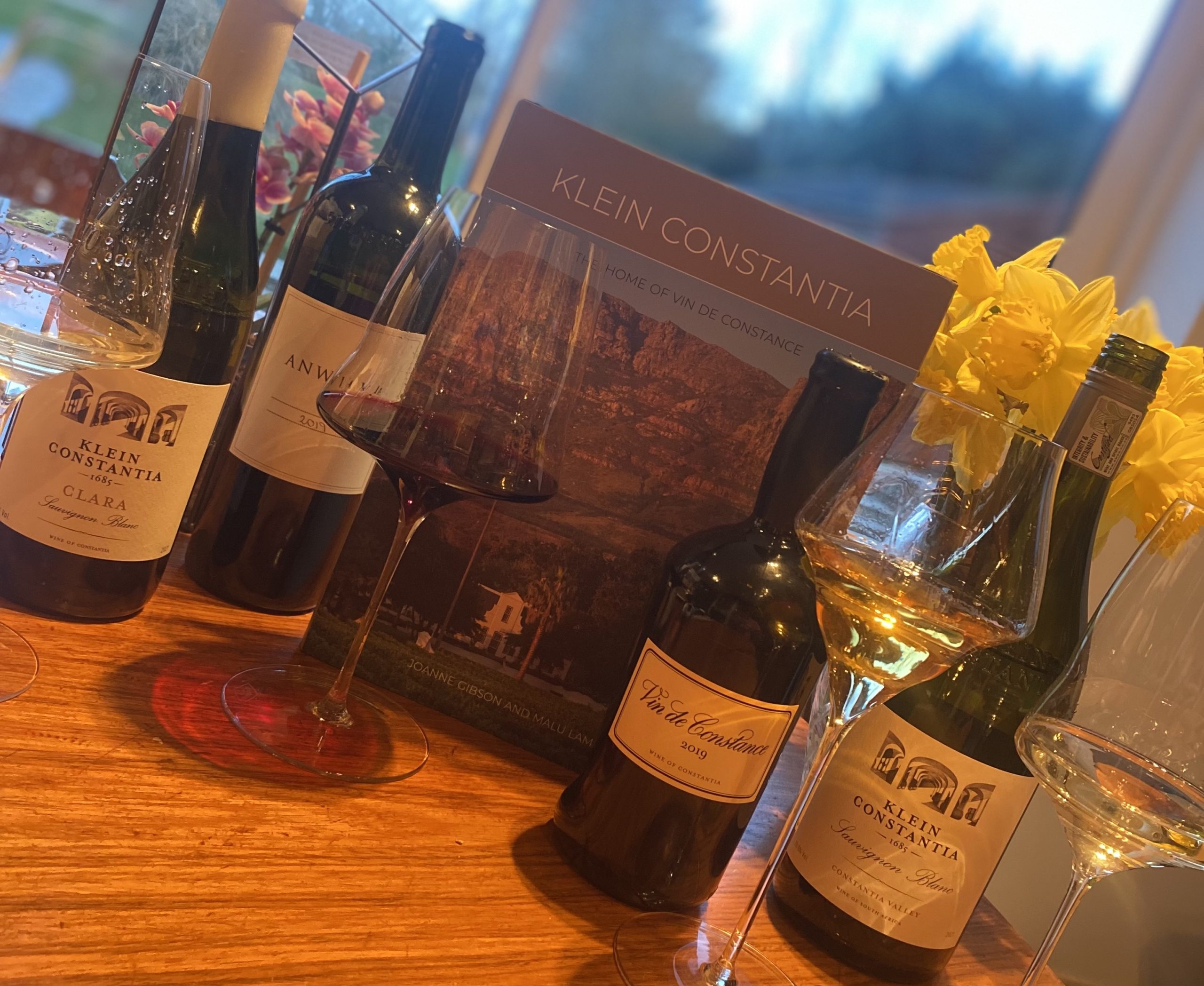 This is the top red wine of the estate, and it has been carefully honed under the hands of some of the other new shareholders in the company — Hubert de Boüard, co-owner of Château Angélus in Saint-Emilion, and Bruno Prats, former owner of Château Cos d'Estournel in Saint-Estèphe. Their pedigree and experience most certainly bring character to this complex blend, but so does the interesting interaction of climate influences and soils in Stellenbosch. As Lambert details in the book, there has been impressively detailed work since 2011 to create a renaissance of the fine wines of Klein Constantia.
Composed of 70% Cabernet Sauvignon and 30% Syrah, the 2019 is svelte and poised with beautifully crunchy black forest fruit notes, savoury aromas of cedar and bay leaves, and just a sprinkle of that fresh black pepper from coastal Syrah. This is still young and will undoubtedly evolve really nicely for well over a decade.
Indeed, evolution over time is most clearly the goal here at Klein Constantia, as the book and wines set out to show. The book is ultimately a testimony to the fascinating history of the estate, but also a promise of what is yet to come. "At Klein Constantia we are merely the custodians of something that is bigger than all of us," says Zdenek Bakala. "All that we do here is for the next 350 years."