Keith Grainger gets in some great Gewürztraminer, which is grown up high in the extreme north of Italy's Alto Adige region, and aged within a mountain. He is joined by four other Circle members as part as a wider press trip.
In the very north of Italy's Alto Adige region (also known as Südtirol), an old silver mine can be found. No mining has taken place here for 50 years, but today deep underground and 4 kilometres inside the mountain, there lies a very precious product. Here, stacked in plastic lug boxes, the Epokale Gewürztraminer, produced by Cantina Tramin, matures in bottle for some six or seven years. The first vintage of the wine was the 2009, which was only released for sale in 2018, but it has already become a legend.  
So why here? Why Gewürztraminer? Why age it for six years or more?  And why is Epokale such a superb wine, so full of surprises? I recently had the opportunity to learn about this most exciting of wines and its flagship producer on a visit sponsored by wine PR Company Studio Cru and Cantina Tramin, in the joyous company of CWW colleagues Marissa Finetti, Paul Howard, Meg Maker and Mike Turner, together with other writers. At the heart of the visit, we were privileged to participate in the first ever vertical tasting of Epokale, comprising all the vintages from 2009 to 2015, with the exception of 2014, which is still maturing in the mine.
The wine is matured in the Ridanna Monteneve mine, which is situated at an altitude of more than 2,300 metres. It is 66 miles (106 km) north of the Cantina Tramin winery, and close to the Austrian border. The mine, which was one of the highest in Europe, operated for 800 years, but was closed in 1978. As well as silver, zinc and lead were also mined from here. The miners had to extract the ore by hand, lived all winter underground, and had to pay for their own oil for lamps. Needless to say, there is total darkness. The humidity is over 90% and the year-round temperature is a constant 11°C (52°F). The ground is covered by several inches of water. It would be impossible to find better conditions for maturing any bottled wine. Wolfgang Klotz, Cantina Tramin's sales director, reckons that the costs of transporting the wine from the winery to the mine, including lugging it the 4 kilometres to the storage area, are more than offset by the energy savings against keeping the wine in a traditional cellar that would still need chilling to 11 degrees. The Tramin team believes that Epokale needs long bottle ageing to develop complexity and reveal all its nuances. They also believe it will keep for over 30 years after release.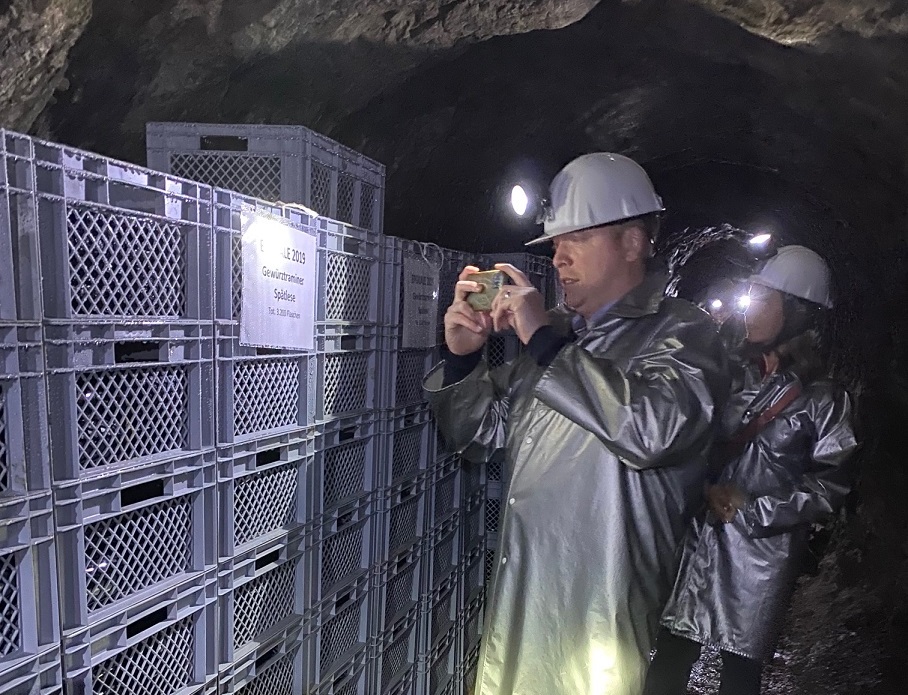 Why Gewürztraminer?
Gewürztraminer is not the first grape variety on wine lovers' minds when considering quality wines. It may not appear on a wine lovers' list of distinguished white varieties. It lies well outside the 'Top 10' list of the world's most widely planted white grapes (Airén, Chardonnay, Sauvignon Blanc, Trebbiano Toscano, Riesling, Rkatsiteli, Macabeo Cayetana Blanca, Muscat of Alexandria, Muscat à Petits Grains)[1]. Indeed, its position in the charts is a lowly No. 29[2]. The variety has aroma and flavour profiles that are distinctive, loud and overtly aromatic. It is not to everybody's taste, and not always to mine. I well recall my then girlfriend projecting a mouthful of 'Christine' across the tasting room at Buitenverwachting in Constantia when I pronounced the 'G' Gewurztraminer as having the overwhelming rosewater and cologne scents of a Turkish brothel. Put simply, Gewürztraminer wines can be very blousy. The variety can be low in acidity, impacting not only wine balance, but also ageability. 
However, many of the perceived issues with Gewürztraminer come down to the variety being grown in the wrong place. On suitable sites the aromas can be delicate with tones of roses, lychee and the spiciness of cloves and nutmeg. It, unlike Chardonnay and Sauvignon, can produce all styles of wine from bone dry to ultra-sweet. The wines can be brilliant with foods where other varieties fail. Asian, Thai, Japanese and other Pacific Rim foods spring to mind. Sydney is one of the food capitals of the world, with many restaurants serving incomparable Pacific Rim food, but the variety is often overlooked on wine lists. For example, Quay Restaurant is renowned. The wine list comprises over 200 whites, with an impressive list of Rieslings but, at the time of writing, there is only one dry (100%) Gewürztraminer and one late-harvest available.'
Gewürztraminer has been grown in the Tramin area for over a thousand years. Indeed, the area is the cradle of the variety. Some of the vineyards surrounding Tramin are perfect. Gewürztraminer likes clay soils and the clay-limestone sites excel. Limestone helps create a vibrant acidity. The Epokale vineyards are at an altitude of 420 – 440 metres. Here, the Ora (a warm wind from Lake Garda) encounters local mountain breezes. The result is a particular Alpine-Mediterranean mesoclimate. The grapes ripen fully in the 300 or so days of sunshine a year. Incidentally, a very detailed research paper, using data from Cantina Tramin's vineyards has just been published: 'Terroir Traceability in Grapes, Musts and Gewürztraminer Wines from the South Tyrol Wine Region'[3].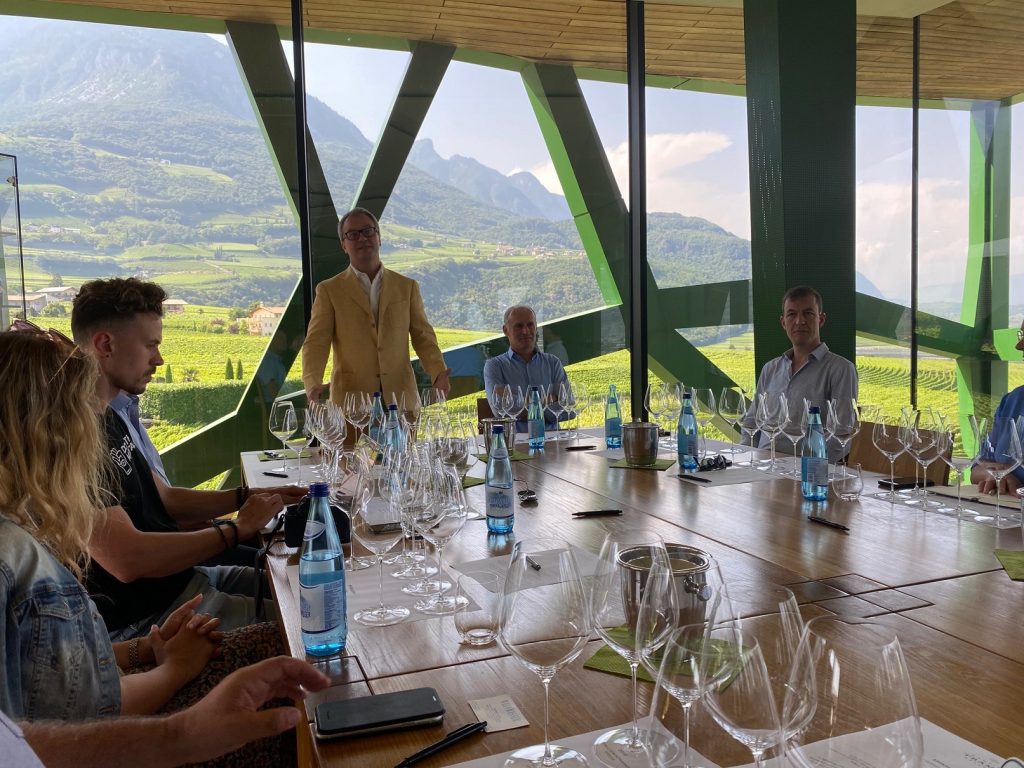 Cantina Tramin was founded in 1898. Like many cooperatives, its original raison d'être was to ensure an income and protect the rights of its small grower members. It is hard for us today to envisage the struggle of small farmers in those times – not just here in Alto Adige, but in most of Europe's wine regions. The German historian and wine lecturer Jens Baumesister describes the struggles growers in the Mosel faced in his excellent book Wie der Wein Karl Marx zum Kommunisten machte (How wine turned Karl Marx into a communist). In 1989, Cantina Tramin began a journey towards achieving the highest wine quality, spearheaded from 1991 by their new winemaker Willi Stürz, who was born and brought up locally. Willi has now completed 30 harvests, and is still in charge of production today. 
Today there are some 170 grower families, who cultivate 270 hectares (667 acres). Ninety percent of these are farmed without the use of pesticides, including organic and biodynamic plots. The vineyards are situated at altitudes of between 200 and 850 metres, benefiting from wind blowing from Lake Garda and a large diurnal temperature range. The cool nights help lock acidity into the grapes and wine, keeping freshness and crispness – particularly valuable in the case of Gewürztraminer which is naturally low in acidity. Soils are basically Dolomite limestone with, in places, porfireo (ferrous) substrate.
Cantina Tramin produce over 30 wines, in two ranges: Selection and Classic. We tasted Chardonnays in the vineyard – real mountain wines with freshness and lift. Gewürztraminer is the most planted variety, amounting to 57 hectares. Epokale is the flagship wine, but there are several other Gewürztraminers. These include Terminum, a botrytised wine with over 200 g/l of residual sugar. This is from a small site, protected from the winds from Lake Garda, ideal for the development of the fungus. Of the dry and off-dry Gewürztraminers, we had the opportunity to taste the 2021 Selida and 2016 Nussbaumer at dinner. The Selida, just off-dry, was very floral, with a palate that oozed mango – it paired well with the home-produced speck. The Nussbaumer, with 8 g/l of residual sugar is nearly 15% abv, but it was surprisingly perfectly balanced. The wine is aged on the lees, giving a creamy texture, and with its gentle spiciness was brilliant with the saffron risotto.
The reds are very much mountain wines. At lunch we tasted a fresh and vibrant 2021 Hexenbichler Schiava (Vernatsch), and the 2019 Maglen, the winery's flagship Pinot Noir. This wine exuded summer fruits, including strawberry and sour cherry flavours. Fermented in large oak vessels, and with 12 months barrel and 6 months of concrete ageing, there's a gentle spice adding to the interest.
And so, it is time to reflect upon the Epokale vertical tasting. This was tutored by Alessandro Torcoli, editor of Civiltà del Bere wine magazine, together with the Tramin team. As usual I asked my nerdy technical questions – it was confirmed that there is no malolactic fermentation and the wines are matured on both gross and fine lees.
It was fascinating to witness to the stylistic journey that the wines have undergone in seven years.  From the hugely concentrated and luscious 2009 (discussed below), the 2010, 2011 and 2012 vintages were less sweet with, of course, higher alcohol levels. The 2013, with 46 g/l of residual sugar saw the beginning of a return to sweetness – a fascinating and delicious wine with tones of jasmine and honeysuckle and an explosion of exotic fruits on the palate.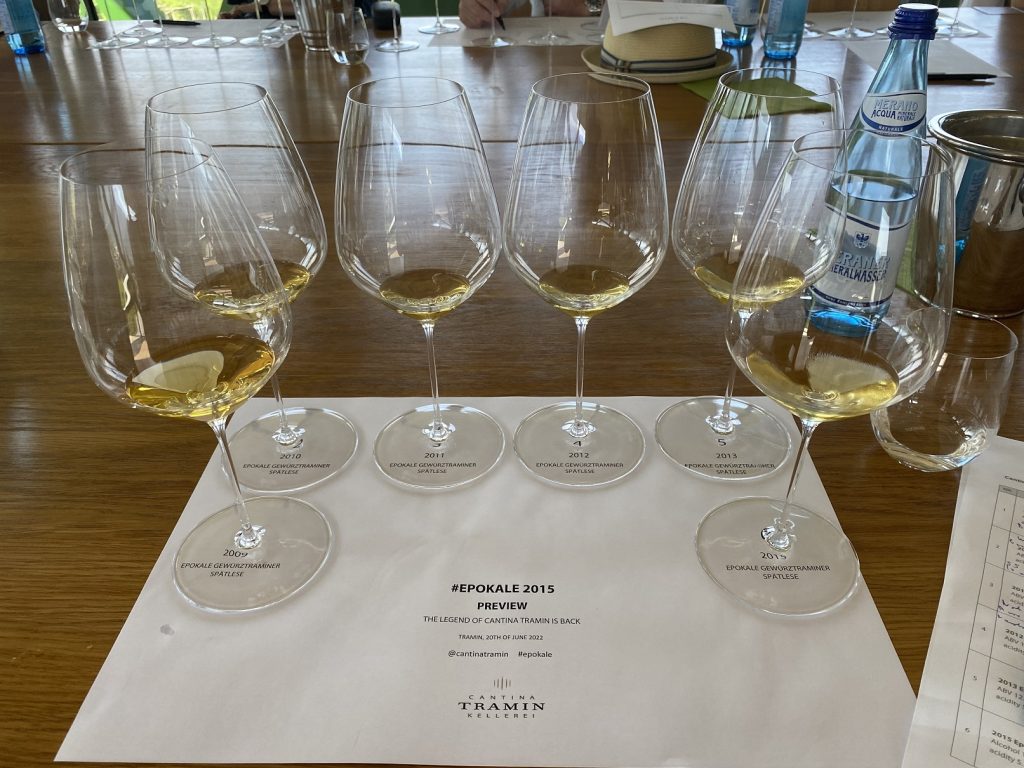 This is the sixth and latest release of Epokale. Just 2,400 bottles were produced – the yield was 28 hl/ha (hectolitres per hectare). The fruit stayed on the vine until the end of October – the wine is a true Spätlese. The harvest was 20 days or so later than usual, largely due to cool, spring temperatures. This wine exudes white peach and Cyprus orange. The palate is rich and concentrated but not heavy. With residual sugar of 55 g/l, the wine is in perfect balance having lively acidity and just 12.5% abv. 
Epokale is a wine designed and built for ageing. I would love to be able to follow this wine through all the nuances of tertiary development over the next 20 years. In a world where so many people, including wine drinkers, seek (and are provided with) instant gratification, the cultural journey that this wine will offer will be beyond compare.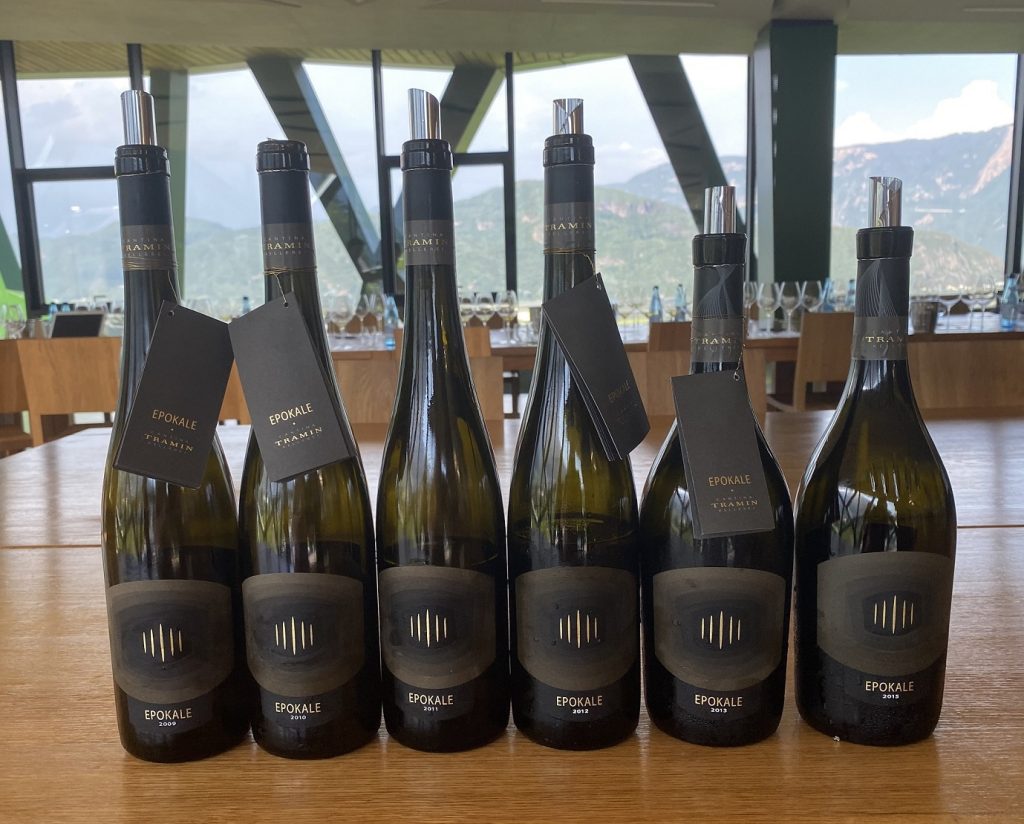 But let us now go back to where the story began: Epokale 2009. This is the inaugural vintage of Epokale, and the only one that can be described as really sweet, although there has been a move back to a sweeter style with the 2013 and 2015. A vibrant 22 carat gold colour, and an incredibly fragrant nose that exudes lychees, roses and acacia blossom. The palate is rich, intensely concentrated, oozing flavours of peaches overlaid with Seville orange. Perfect balance. Only 1,200 bottles of the 2009 were made, which were laid to mature in the silver mine for seven years. In 2018, this wine was awarded 100 Parker points. The irony is that the Tramin team had decided to change the style of the wine from the 2010 to 2014 vintages.  Now my friends and colleagues will know that I am against giving wines scores. Would one 'score' a Titian painting or a Puccini Opera? A superb wine is a work of art, and moves you in a similar way as a wonderful Renaissance painting or bel canto soprano aria. Epokale 2009.
References
1.  Source: Kym Anderson and Signe Nelgen (2020): Which Winegrape Varieties are Grown Where: A Global Empirical Picture.  Revised Edition (2020). University of Adelaide Press.  
2.   The authors position it at No. 28, but Pinot Grigio is more widely planted, and they classify this as a 'grey' variety. 
3.  Carlo G. Ferretti and Stefano Febbroni: Terroir Traceability in Grapes, Musts and Gewürztraminer Wines from the South Tyrol Wine Region.  Horticulturae | Free Full-Text | Terroir Traceability in Grapes, Musts and Gewürztraminer Wines from the South Tyrol Wine Region | HTML (mdpi.com)