Australian Wine webinar: Sommelier insights from USA, UK & Australia
August 24, 2020 @ 2:00 pm

-

3:00 pm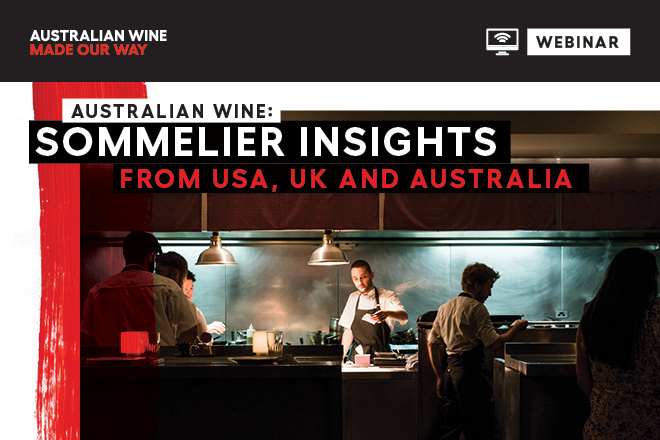 Explore the Aussie wine scene with sommeliers in the USA, UK and Australia.
Three top sommeliers – Mia Van de Water MS, Kelvin McCabe and Emma Farrelly – will share their unique perspectives, experiences and stories. They'll be beaming in live from New York, London and Perth, whilst Wine Australia's Mark Davidson leads the conversation and fields questions.
Discover what excites the sommeliers about Australian wine, which regions they've visited, and which styles they're pouring, buying or seeking out. Find out about their wine list, what has inspired it and how they see it evolving. Hear about trends in their markets, what their customers are enjoying and what they're asking after.
Before and during the webinar, you'll have the opportunity to ask questions. What are they tipping as the wines of the future? What's new or coming soon to their list? What have been the biggest changes or challenges during their time as a sommelier? This is your chance to ask.
This webinar is free and open to all. You're welcome to share the details with colleagues and wine friends.
For more information about the webinar and to register, please visit https://www.wineaustralia.com/whats-happening/events/sommelier-insights-webinar
Please note the timings are BST.