Hallgarten & Novum Wines Annual Tasting
January 28, 2019 @ 10:00 am

-

January 29, 2019 @ 6:00 pm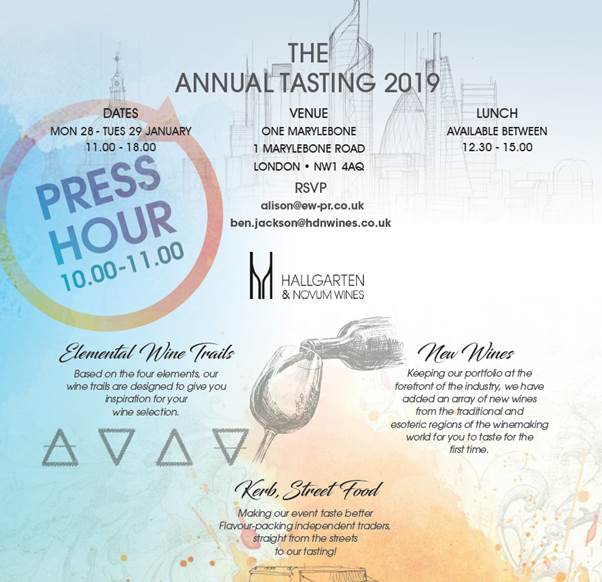 Monday 28th & Tuesday 29th January 2019
NEW!                   Press Hour                    10am to 11am (main tasting 11am to 6pm) on both days
NEW!                   Venue                            One Marylebone, 1 Marylebone Road, London NW1 4AQ
NEW!                   Kerb, Street Food        Lunch available between 12.30 and 3pm
NEW!                   Producers                     including Jim Barry, Tenuta Perano, Lake Chalice
One-To-One Interviews / Tastings?
Let me know if you would like to book time with….
Ø Hallgarten Buyers, Steve Daniel or Beverley Tabbron MW
Ø Visiting Winemakers / Winery Owners, including:
v Bob Berton                           Berton Vineyards, Australia
v Matias Riccitelli                   Matias Riccitelli, Argentina
v Marcos Fernandez             Doña Paula, Argentina
v Roberto Echeverria           Viña Echeverria, Chile
v Maxime Bourret                 Château de Tracy, Loire
v Dermot Sugrue                   Wiston Estate (Goring & Sugrue)
v Jean-Paul Hebrart              Champagne Hebrart
v Samantha O'Keefe             Lismore Estate Vineyards
Plus, winemakers / owners from…
Carpineto l Castello Vicchiomaggio l Cevico l Château de Campuget  l Château de Cîteaux l Château Lestrille l Chéreau Carré l Domaine Antoine Olivier l Domaine de la Rossignole l Domaine de la Solitude l Domaine de la Ville Rouge l Domaine Minchin  l Domaine Nadine Ferrand l Frescobaldi, Tenuta Perano l Hiruzta Txakoli Winery  l Idaia Winery l Jean Goulley l Kozlovic Winery l Kyperounda Winery l Lake Chalice l Olivier Ravier  l  Pazo das Tapias l Península Vinicultores l Philippe Bouzereau l Rabl l Sacchetto l San Silvestro/Costa di Bussia
And all wines from all your Hallgarten regulars including Kayra (Turkey), Frescobaldi (Italy), Saint Clair (New Zealand), Larry Cherubino (Australia), Perez Cruz (Chile), Champagne Moutard, Château Ksara (Lebanon), San Marzano (Italy), Feudi di San Gregorio (Italy) etc. etc. etc.