Lets Taste….. The biological ageing of sherry, with Bodegas Hidalgo-la-Gitana
April 25 @ 10:00 am

-

11:00 am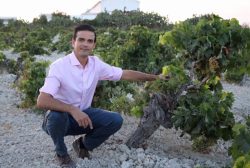 Welcome to the Circle's third Let's taste… of 2023
Widely regarded as the definitive manzanilla house, Bodegas Hidalgo la Gitana was established in the coastal Andalusian town of Sanlúcar de Barrameda by the Hidalgo family in the late 18th century and is one of the few remaining family-owned bodegas.
The tasting will be led by Fermín Hidalgo, one of the eighth generation running the sherry house, and will include six samples of different sherry styles, to understand their biological ageing.
Fermín Hidalgo will explore what makes sherry so special and versatile, sharing knowledge passed down over generations, taking you through the history, the unique production processes to create the individual sherry styles, the power of oxidation, the mysteries of the flor, the art of the solera and the influence of the area around the beautiful town of Sanlucar de Barrameda.
The sherries to be tasted will be:
Las 30 del Cuadrado
La Gitana
La Gitana En Rama
Pasada Pastrana Manzanilla
Amontillado Napoleon
Palo Cortado Wellington VOS
As with our previous 'Let's taste…' seminars there will be a minimal charge of £10 to each CWW member wishing to take part with samples (£15 to non-members) to cover our administrative costs. For UK-based members 20 sample packs are available; unfortunately samples cannot be sent outside the UK.
Full details will be sent out by email.
Zoom Meeting link details to follow.