François Chartier's whole career is a true tour de force. Starting out in the wine world as a waiter in his early 20s, he has gone on to become one of the world's most respected sommeliers. He is an award-winning author of 27 books of wine and flavours, and is a sought-after advisor on wine, beer, chocolate, fragrances and AI with Sony's new gastronomy project. One of his most recent adventures has been to reimagine the world of sake, launching the first blended sake concept with Tanaka 1789 last year. Amanda Barnes interviews him, a Friend of the Circle, to find out more.
How did you get into wine?
It started in 1985. I was in a wine bar in Australia at that time far away from home [Montreal, Canada], but there was amazing wine there and I tasted Pyrus from Lindeman's. I remember saying "this is like drinking blood!" From that day I remember thinking how amazing it was to taste things that can create an emotion in you.
The following year, while I was a waiter at a restaurant and a DJ by night in Australia, in 1986, I was invited to my first tasting menu with wine. I remember there was smoked salmon that the chef had smoked with his own cherry wood and he talked about the wine that he chose and why… Now I know that was the key moment that I chose to get into wine. I became a sommelier, I studied to be a chef and a scientist.
Although I had always been obsessed by flavour as a child… Even back in Montreal when we were playing ice hockey in the freezing temperatures, I would be talking about the aromas of the doughnuts!
Tell me about your approach and journey into food and wine matching.
Since then I wanted to learn about flavours and not only making wine but food too. I don't think you can be a good sommelier without understanding food, and the way you make it for different flavours. I won a place on the only sommelier course in Canada in 1989, back in Montreal, and after that I decided to do sommelier contests to give me a kick in the ass to study more!
In 1990, I decided to go live in Burgundy and work as a sommelier, which is where I believe is still the most complex place for wine. I worked in Les Millésimes, where I learned the language of the vigneron and also food pairings.
For example, if you serve a dish with fresh mint and Sauvignon Blanc, there's a match. It doesn't matter what else is going on – umami or whatever – there's a match. Same with black olive and Syrah, there's always an aromatic match.
In the late 1990s, I realised that we have oenology to understand wine in a scientific point of view, and for cooking there's science to understand more behind cooking. I said to myself, there's no scientific approach to understanding matching wine and food. There's a missing link, we need a scientific approach to matching food and wine.
In 2001, I took a break to go meet food scientists around the world. And I got the idea that I could prove that there were scientific matches between food and wine. It's a bit like music, when you learn music on a scientific point of view that same song you could learn by ear, now you can play in a million different ways. So I thought that if I could understand wine and food by a scientific point of view, I could be more creative with it.
I went to see a scientist in 2002, Dr Richard Béliveau, who was looking at the connection between food and cancer. I learnt that there were molecules with health properties, but also aromatic properties. I wanted to understand the molecules between black olive and Syrah, for example. He opened his laboratory for me to work in. And from this study came my first book on this science — Papilles et Molécules: La Science Aromatique des Aliments et des Vins (Taste Buds and Molecules: The art and science of food with wine).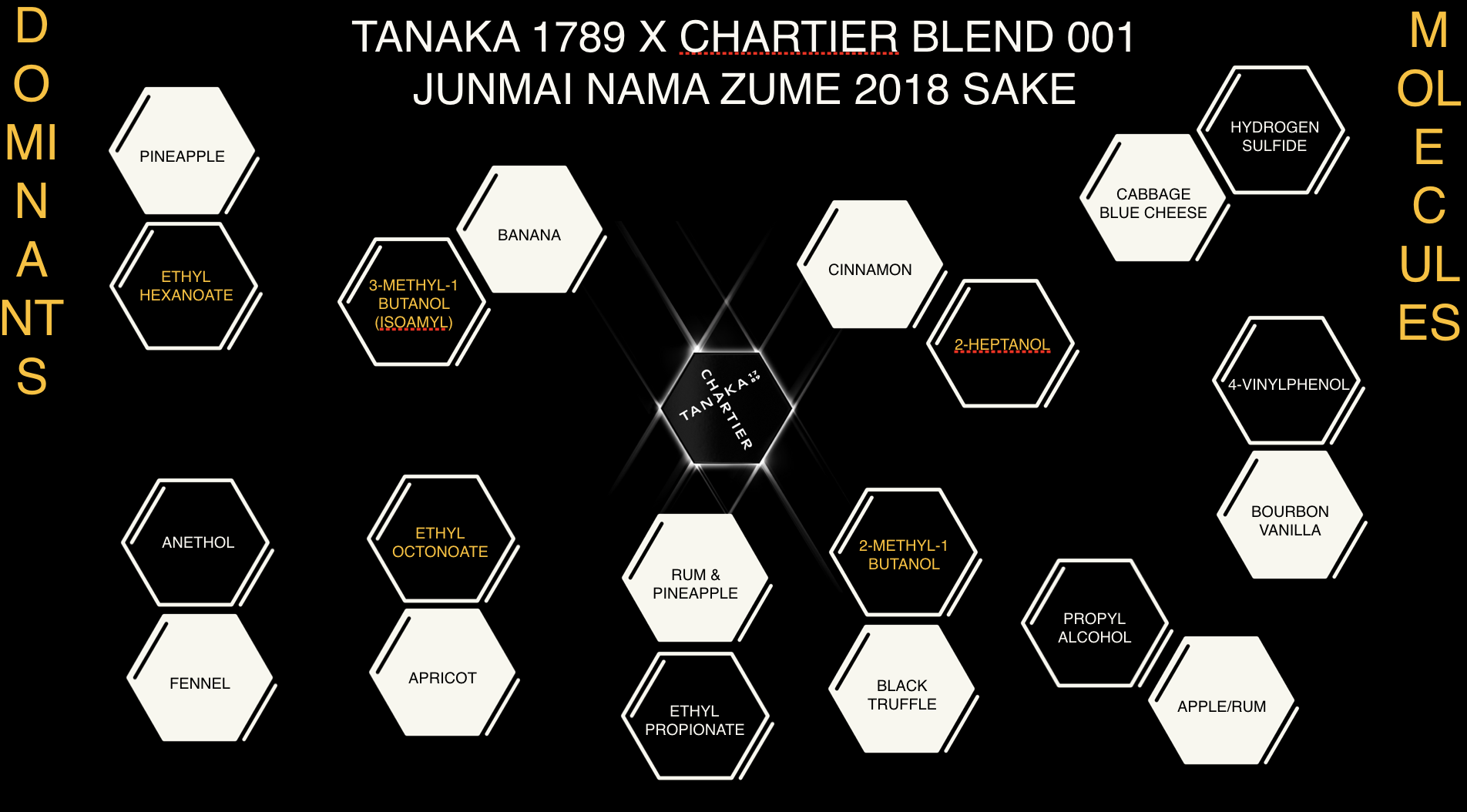 How did you end up in Japan making sake?
I am a big freak of all things Japan and its gastronomy. I first went there on a sommelier competition in 1995 I had been back more than 50 times. And my good friend in Japan, Endo Youichi, in 2016, helped me get Sony Music Solutions as my agent and that's how I met Wakana Tabata, owner of Tanaka Shuzoten Sake Brewery in miyagi, Japan. And with my partner and wife, Isabelle Moren, we made a presentation for about two hours on aromas.
They asked us to make one sake for them, they had just bought Tanaka Shuzoten. But I said no, what can I bring to the Toji [sake cellar masters]? They have been making sake for 500 years with their method! They invited me to come for a week anyway, and to see what they were doing.
After two days, I said to myself that there is no blending story in Japan in the sake business. It's all about purity, so they do one sake in one tank and they bottle it. When they do blends they do blends for a practical reason (eg. they had an extra tank) but not to magnify quality or storytelling for selling. But in the drinks business, like in Champagne and whisky for example, the blending moment is when the drink takes its soul. The moment of the blend is where the magic happens. Even in wine, you blend the soil with the grape vine, for example.
That's when I had the idea of the new art of blending in sake, in 2017. I also saw there was a huge gap in the export market for sake, and one of my goals at the time was that the future consumers of sake were wine people. Wine people are already wine and food lovers, so I thought we need to craft sake for wine lovers.
But sake needed to have acidity. Sake has five times less acidity than wine for example. It's more about umami. I started creating sake with more acidity naturally, and I discovered that if you polish the rice less (which is contrary to the top sakes, which are around 28% polished) you don't pull out as many amino acids, esters, acids… So we only polish around 60% to keep some of those natural acids. I was looking for more body and more acidity, like a wine. This is just one example, but we have worked with the Toji to adjust ten steps.
And then I started blending… and that's when I realised we have something here. A new experience for the consumer, a new sake with some acidity and crafted for the wine lover. When the Toji started to taste my blind tasting, they all thought I had brought the last three samples in my luggage but when I told them it was theirs, blended, they all realised the potential too. It was one of those moments I will always remember.
We released our first Blend 001 in August 2020, delayed because of Covid, but even despite the difficulties we already have it in 17 countries. This is our flagship, which we will make again.
And a few months ago we released Blend 002. This is a more sexy blend, full of fruit and completely different. And there will only be 800 bottles, it is a private collector item. And the next blend will be Blend 003. And we have our Pavilion blend of Blend 001 which is a second label. And soon our Diamond of Blend 001, which is our top label. It is like our Vega Sicilia of sake…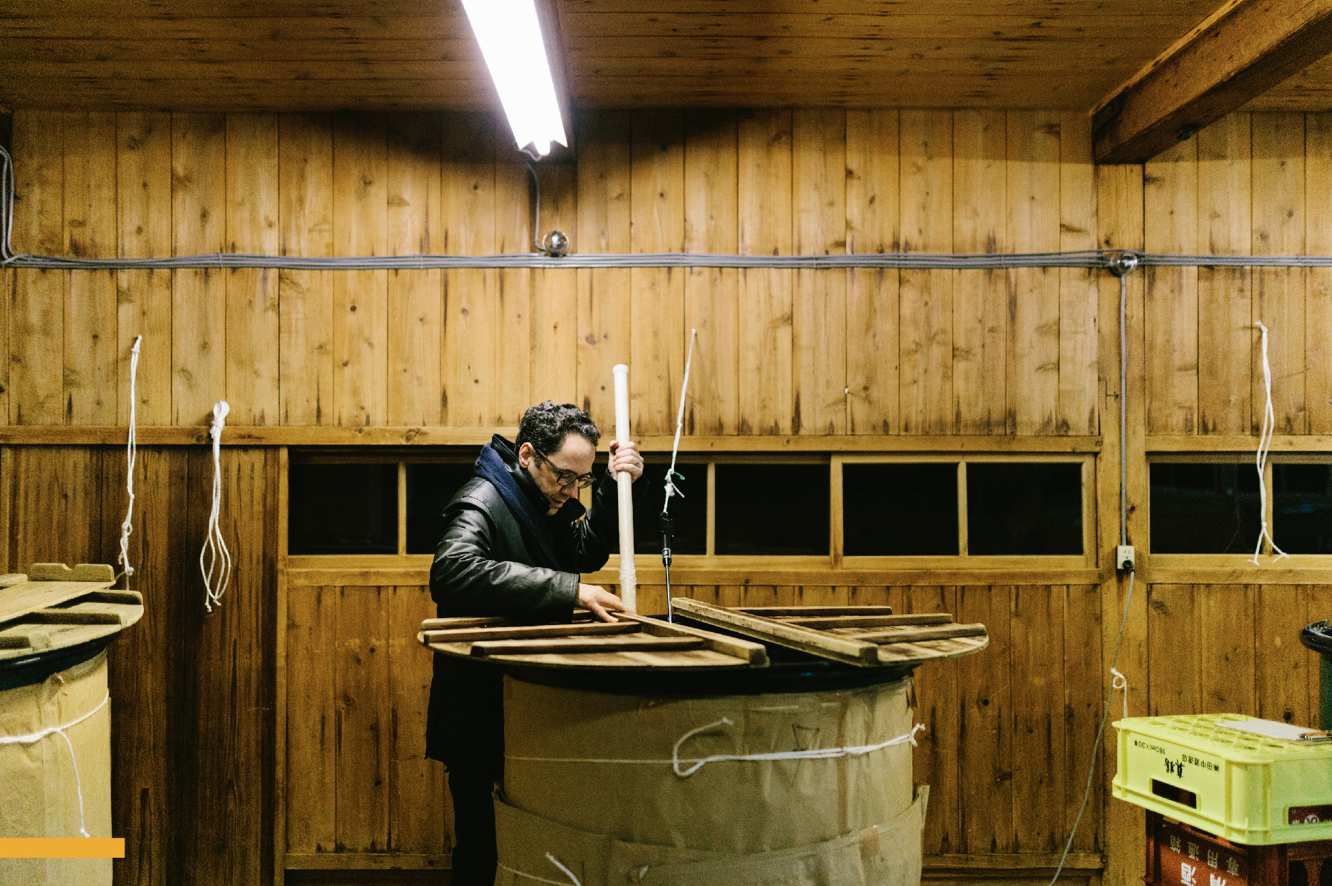 You can find out more about François Chartier online https://francoischartier.ca/en/ and on the Tanaka 1789 x Chartier sakes online https://tanaka1789xchartier.com/en
The flagship Blend 001 currently retails at approximately 80 euros for 500 ml, Diamond will retail for US$1789. The UK importer is Propeller https://propeller.wine/