Hugh Johnson OBE is the world's best-selling wine writer and along with fellow Circle Member, Jancis Robinson, they have just launched the 8th edition 0f The World Atlas of Wine. Amanda Barnes interviews Hugh on his career as a wine writer and how he first came to put together the first edition of this revolutionary wine book in 1971. Hugh shares his thoughts on climate change, the evolution of wine criticism and the oldest wines he's ever tasted.
Your first wine book was Wine, written at the tender age of 27. What was it like as a young wine writer and how did you get started?
Well, I suppose the term wine writer did exist then, but there were very few of us. There were some marvellous characters – Cyril Ray, Raymond Postgate, Eddie Penning-Roswell. Not many people thought they could earn their living at it, and I suppose that is still the case. I started travel writing really and I was a general copy writer on Vogue. My first gig was Condé Naste and I was paid £12 a week. My rent was £4 a week. I just thought that in Vogue that there could be an article about wine, because I loved wine. I knew a little bit about it. As everyone knows, if you want to learn about a subject, you write about it. That was the Christmas issue of Vogue in 1960. Then, I got more involved with Condé Nast.
The chairman was a chap called Harry Yoxhall, a lovely old gentleman and a great Burgundy fan, and he was friends with André Simon, who started the Wine and Food Society. [André] was then in his 80s and I was in my 20s, but we met and we really got along. He was a wonderful old character, with his Maurice Chevalier accent and a halo of white hair. I can still remember shaking hands with him, it was such a big, warm hand. So, in order to help André, who had started a little magazine called Wine and Food, Harry asked me if I would edit it. So, I became an editor at the tender age of 23, which was wonderful because I met writers and found writers, and I was plunged right in.
After reading all that I could find, I realised that I wanted to write my own book, because I couldn't really find the book that told me how to enjoy wine. There were history and geography books, but everything was sort of laborious and old fashioned. I'm not saying there weren't good wine writers – there were. But there was nothing current.
I was really keen on the idea of writing my own wine book, but I wanted an advance as I couldn't afford the research. So, I went to two or three publishers asking for a £1,000 advance and they said: "What, a £1,000 advance for a wine book?" I was then on The Sunday Times, part of the time, and I asked my friend Mark Boxer, who'd just started the first colour supplement for The Sunday Times, if he had any ideas. He said that Robert Carrier had just published the most successful cookery book of all time – the first coffee table cookery book, called Great Dishes of the World. He said: "Go to my friend Jocelyn Baines at Thomas Nelson and say you want to do the wine equivalent." I did and we agreed and they gave me my £1,000.
We set off, unfortunately, in the vintage of 1965 – if there's ever been a wetter one, I don't know. I had some of my best photographs stolen in Portugal, which I'm still angry about – wonderful photos of the Douro when it was all ox carts. I can still hear the creaking and screaming of those great wooden wheels as the oxen towed [the carts] up the hill, with pipes on board. All that was absolutely real then. That's where I started, in the Middle Ages in wine terms. We went from Algeciras [Spain] to Naples by ship. There were no motorways…
It came out in 1966. It was very nicely produced, [with] lots of good photos, too [laughs]. It was very well received. People liked my cheery way of writing and I had done quite a bit of research – first hand stuff, so it was different to most books at the time.
It was not a living, it gave me a great break but I had to get back to doing some work, and I went back to The Sunday Times. Harry Evans, who was editor, to my amazement asked me to be travel editor, in succession to a very famous, long-standing travel editor, Elizabeth Nicholas. She'd been doing it for so long and she could go to Brittany for the weekend and make three stories out of it.
Each week I had to produce a new story, and I hadn't been anywhere really. So, I was leaping all over the world at the same time as we had our first daughter, Lucy. It wasn't ideal for a young father to catch planes all the time. I did it and loved it for a while. I went to places that nobody went to at the time, which would you believe included the Caribbean and Croatia. I think my article on the Caribbean was one of the first.
Out of the blue sky, Jocelyn Stevens, who was then editor and owner of Queen magazine, called me in and said: "Hugh, I'm going to do a supplement on South Africa, and you can do it for me." Before I left the room, he asked if I'd like to edit this magazine. I said: "I'll tell you when I come back."
It was while I was editing Queen that James Mitchell had just started his little publishing company, Mitchell Beazley. He had been at Thomas Nelson when they published my first book and he asked me about the relationship between wine and maps. I said wine is liquid geography. He'd been asked by the company's backers, the map company Philip's, for thematic atlases, and the first one he did was the Atlas of the Universe, and he got Patrick Moore to write it. It was a huge success. There was also the moon landing at that very moment and Patrick wrote that.
[James] had the money to do serious cartography and that is the key. As anyone who knows my World Atlas of Wine knows, it has Ordnance Survey standard maps, which are terribly expensive, but they're totally convincing. You know you're looking at the real thing.
What was the wine scene like then in 1960s London when you were researching the first edition of the World Atlas of Wine?
It was very, very square and traditional. There were the West End wine merchants, the usual St James' Street suspects. The clientele you can imagine. That was the upper class taken care of. They drank Bordeaux basically, and still do. There was the literary undercurrent, and there was the high street undercurrent. And funnily enough in 1966 which is the year that my book Wine came out was also the year that Michael Broadbent started wine sales at Christie's. So there was a sense, a feeling, that time was ripe!
I was watching an episode of your TV series from the 80s, Vintage, in which you were tasting your first wine from a Qvevri in Georgia. Today we are seeing qvevri and clay amphoras coming back in fashion again. Do you think winemaking tendencies are cyclical in nature, or progressive?
I think this is the first era when winemakers have ever had the money and leisure to explore. You had to follow the recipe before. If you were fortunate enough to be in Burgundy, then fine, you could make a living, but most people couldn't. Now, wine has become a global commodity, well much more than a commodity, it has become all of the glorious things that it is, thank goodness. There's a lot of money around and the universities have progressed the science enormously, the new generation's been to school instead of just doing what dad and grandad have done. Obviously, people are curious and want novelty.
I'm sure new ideas will keep coming. Some of them are inspired by old ideas, like qvevris. When I saw it going on in Georgia in 1987, I was fascinated. I mean the science of it. That principle of putting wine in great big dolia, as the Romans called them, in the ground had been going on since before the Romans. There are lots of brave people doing it now, but what they're actually adding to their wine, I don't know, apart from splendid back labels [laughs].
You're one of few people in the world who's had the opportunity to try very old vintages, such as wines from the 16th century. Have we lost the art of waiting for wine, is there a perfect moment to drink a wine?
You don't have to wait 450 years [laughs]. We started [the tasting] with three wines from the 19th century that had gone bad and approached this wine [a 1540 Stein wine from the Würzburg Residence] with a certain amount of scepticism, but there was no question that it was alive.
It was Madeira-ish, but it was kind of somehow German-ish. We sipped it and there was a glow on the palate, a certain sweetness, depth, and then it was gone. The wine died but what fascinated me was that this was a substance that had been alive for over 400 years, it would have been quite old enough when Shakespeare was born. It was the sun of that extraordinary vintage when the Rhine dried up – that ripeness, the energy of the sun that summer was still in that bottle. That's magic.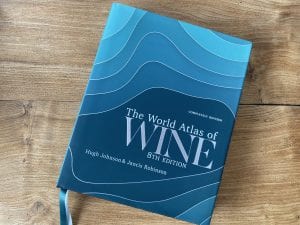 It's interesting how you just talked about that very hot summer of 1540 and in the latest edition of The World Atlas of Wine, you've got a nice overview of the changing climate and graphs showing how harvests have changed. What do you think will be the greatest impact of climate change on the wine styles and wine regions in future?
I think we're all interested but some of us are worried. You've got to remember where the world's greatest wines were made in the first place. It was in France, possibly Germany, conceivably in Hungary in Tokaj. Italy and Spain didn't make great wine, though Spain made great sherry.
It happened in France, basically. Why? Because those regions have that precise marginal climate, where there's a reasonably safe flowering period and a long enough ripening period, so the grapes get ripe just at the moment that it's cooling off, in September or October. They've also got the appropriate soils. So, nature has provided the right scheme for growing grapes, and as they get picked, they're not getting boiled. The natural process ends up with wine that is hopefully stable and in balance, in good years. In bad years, it just doesn't happen. These wines occasionally add qualities that go beyond beauty to something extraordinary.
[The French regions] got their reputations and built on their reputations. Burgundy became Burgundy and Bordeaux became Bordeaux. Their conditions have been reproduced as closely as possible around the world, [such as] in the New World. One of the first things they needed to do was to produce the autumn chill, which doesn't happen naturally in New South Wales [laughs]. Therefore, the introduction of refrigeration was absolutely key. I researched this in my Story of Wine and it was first used in Algeria. That was the biggest single scientific advance.
The future will either be redefining fine wine, which is what's happened in the Napa Valley. I mean the Screaming Eagles of this world are a new definition of fine wine. That crucial, critical, harmonious, just right balance between the ripeness, acidity, tannins and everything else – if you want that to happen naturally, it can only be done in a very few places, so mapping them is essential.
We also see a big change on the commercial side of the wine industry. We're seeing China and Russia increasing their production and consumption, and some of the older wine countries like France, Spain and Italy reducing their production and consumption. What's your prediction for the next 10 or 20 years? How do you see the axis shifting?
On the consumption business, it's high time they reduced their consumption. The amount they were drinking in France was absolutely spectacular [laughs]. There was a case when I was in Paris in the 50s and there was a building labourer who was hauled up for habitual drunkenness. They asked him how much he drunk and he said 16 litres a day, and how much his mates drunk, and they asked them and the average was 10 litres a day. It was Gros Rouge, with nine degrees [of alcohol]. They were perpetually plastered.
We are so sober today. Our ancestors were squiffed all the time. William Pitt the Younger drank two or three bottles of port a day and he always had a bottle of port beside him in the House of Commons, so they took their decisions in an elated state, I would say. 
The future is racing on because Asia is now drinking wine. We're outnumbered, aren't we?
One aspect I really admire about your writing is your ability to weave the science of wine with the magic of wine into the same article. You've been quite outspoken about wine critics scoring wines, such as Robert Parker, which is an important sector of wine communication today. How have you seen wine writing change, and what do you hold sacred in wine writing today?
As a writer, whether I'm writing about wine or anything else – and by the way I write just as much about gardening and plants as I do about wine – I think of the reader. If there is a secret, it's simply that I'm talking to you and I'm writing you a letter. If you get buried too deep in your subject, then you'll write academic stuff and can't expect too many readers. There will be some, and they need you, but if you want to sell a lot of books, you've got to think about the reader first. It's as simple as that. Approach the reader in a cheery fashion, having done a bit of research [laughs], and away you go.
As to the future, and to what is happening now, with above all the internet, an infinite amount of information is available. It's not providing the information, it's organising it that writing must do. It's finding ways into this great morass. You can't know everything, but how much do you want to know?
I remember 1959, it was the great vintage and was the first vintage that got onto the front page of The New York Times. I saw it there and I thought Wow! America is now interested in Bordeaux vintages. Editors started to say: "We ought to know about this. Go and find what's going on". Journalists started to go and quiz wine proprietors and wondered what they were going to ask. Then they started to ask about grape varieties. It was only the bright and well-endowed producers who had studied seriously what the best grape varieties were.
Largely thanks to Jancis [Robinson], varietal consciousness came in on this side of the Atlantic. On the other side of the Atlantic, in the mid 60s, it was Frank Schoonmaker, who was advising Almaden in California, [which is] now extinct and he said: "Why don't you put the grape varieties on the labels?" That was a moment of revolution. I will frankly admit that when I did the first World Atlas of Wine, I wasn't nearly aware enough. We put everything down to terroir.
What do you like to do in your spare time? Do you have any spare time?
I'm a gardener. I'm a keener and keener gardener. When we lived in the country in Essex, we had a big garden and I started an arboretum. The second book that I wrote that was significant, well maybe, was about trees. After I wrote the World Atlas of Wine, James said to me: "Ok, Hugh, that worked well. What's next?" I said "trees". He said: "Oh, yeah, cheese and wine." [Laughs].
I was involved with the Royal Horticultural Society and turned its publications into the magazine The Garden, which was in 1975. I loved the fact that there was I in one part of London planning this new magazine, and in another part of London, not far off, in another basement, there was Colin Parnell doing Decanter.
Now [we have] a tiny London garden, but our daughter Kitty Johnson, who incidentally wrote Wine: A Woman's Guide, lives with her husband down in The New Forest, and so does Red, our son, who is also now in the wine business, marketing among other things English sparkling wine. So, we've got plenty of trees around us and I do a lot of planting still.
Edited by Robert Smyth
Watch the full interview with Hugh Johnson online: