Colin Hampden-White celebrates the small, but beautiful, return of London Wine Fair earlier this month.
It was so good to see the London Wine Fair return this year. I have read various accounts of how this year was very small, and the number of visitors was down on previous years. This all may be true, but I think it was all the better for it. 
Most visitors come to London Wine Fair for two of the three days. I was one of those people, and had the fair been any larger, I would have missed out on much of it. For some, with a specific remit, this might not be a problem; for those people one day will probably be enough. I go to the fair to learn, see what new wines are coming into the UK, which wines are attempting to gain UK representation, and connect with people from around the wine world in one place. 
With a smaller fair I managed to get around most, but still not all, of the stands I wanted to visit. I got to chat to the producers, brand owners or distributers without the usual rugby scrum of others demanding the same people's attention. The fair was relaxed, and I was able to gain far more from it than in previous years. 
Gone are the days of hordes of people at the end of the day picking up bottles and trying to smuggle them out, and the days of every Tom, Dick and Henrietta working in a pub pushing forward to taste the most expensive wines without the thirst for learning about them. This year was laid back and those exhibiting were able to engage with stand visitors in a much more meaningful way. For example, rather than tasting just a few English sparkling wines that I could reach, I was able to visit all the stands and taste them all, from the new vintage of Nyetimber rosé 1086 to wines I had not tried before like Meophams from Kent and their sparkling 100% Reichensteiner. 
Beyond UK sparkling, there were champagnes from the ever-present Taittinger. It was good to see not all the big firms had abandoned the Fair. There were also smaller champagne brands, such as a wine created for The Who's Roger Daltrey by Charles Orban, put together by Eminent Wines, who also had an impressive champagne created for the British Legion, with a percentage of every bottle sold benefiting the charity. 
Continuing on the sparkling front, on day one there was an excellent Burgundy section on the balcony with a table of Crémant de Bourgogne, and a journey through the premier cru vineyards from left to right sides of the river, laid out in a fashion that made one's understanding of the area much clearer. 
On my learning curve, there were excellent masterclasses. I attended the Musar class with wines dating back to 1970, and a fascinating talk from our editor Amanda Barnes on the Condor stand about women making wine in South America. She was joined by Mariana Orofni from Orofni wines, and Martina Galeano from Dartley Family Wines.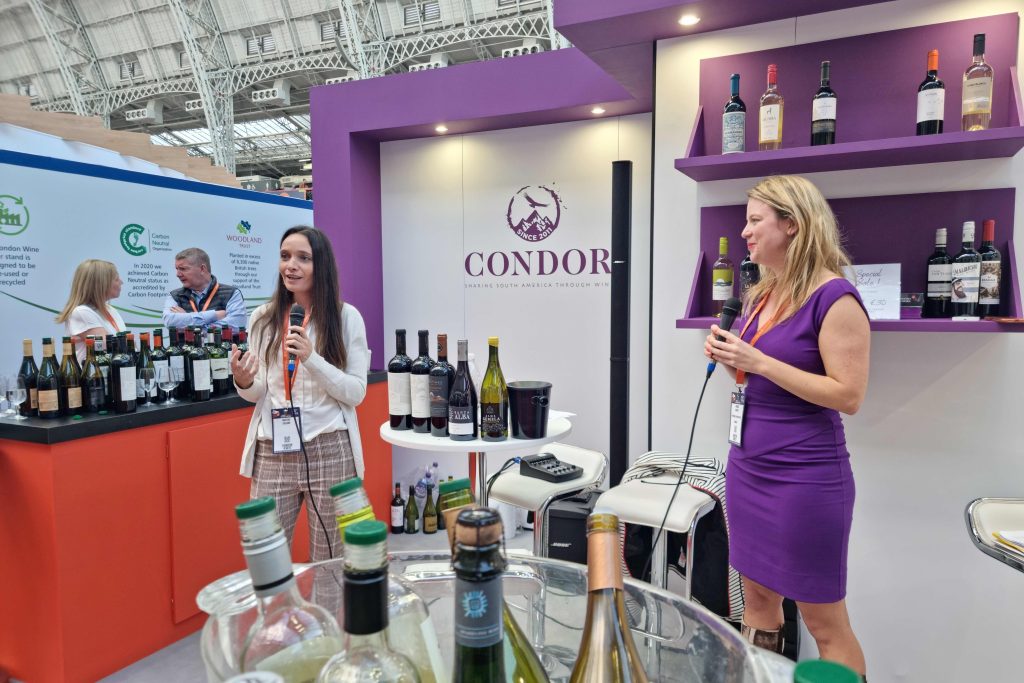 Beyond South America there were wines from Armenia and Uzbekistan and a large number of wines from Greece, including a table dedicated to local varieties from Crete. There were plenty of wines from Australia, with many looking for representation in the UK. From Assyrtiko to Zinfandel, the world of wine was well represented and had there been even more wine, it would have been impossible to discover them. 
Considering the circumstances, Hannah Tovey and her team have done a marvellous job and I hope the wine fair in London comes back next year. I also hope it doesn't grow to the extent that it is impossible to get around the whole fair in the two days that I can devote to it.