Amanda Barnes gets a taste of the future with VIVANT's new wine streaming platform.
I thought that perhaps last year we'd seen all the ways to do a virtual wine experience, but I was definitely wrong. My last virtual wine tasting in 2020 was one which will no doubt be relevant, memorable and exciting throughout 2021 and beyond the Covid era. VIVANT is a new wine education streaming platform launched by the team at Château de Pommard but very much involving and embracing producers around France.
Working as a quasi-members' club, you can choose between joining in for just one session or signing up for the whole year, and it's similarly flexible with wines — you can purchase individual tasting kits or the full wine bottles separately. But what's really innovative about the concept is the platform in which the experiences work: it's a Netflix for wine experiences. "Our ambition is to recreate the magic of visiting a wine region without the carbon footprint of stepping on an airplane," says Michael Baum, CEO & Founder. "We've assembled a team of wine educators, product designers, software engineers and media producers to immerse people in the world of wine like never before."
As a successful Silicon Valley entrepreneur, I was expecting Baum's new platform to be sophisticated. But VIVANT was quite unlike any online experience I've ever done before. Once my smartly boxed tasting kit of samples had arrived, I joined in for an evening to experience the 'Village Charm of the Cote de Beaune'. There were no awkward waiting rooms, but rather a slick countdown to the session which opened with exciting video teasers and music, and then an introduction by our live presenter (our guide for the evening).
The stream seamlessly dipped into other video clips with winemakers and wine families, as we were encouraged to taste the wines, while visiting their vineyards or wineries. Within moments you are brought back in for an interactive tasting with the guide again. With a leader board between all the other attendees, you have quiz questions, tasting sheets and interactive chat throughout the experience — which all makes sure you engage with the topic in hand. A fast pace and adrenaline-pumping music in the background makes it quite hard to keep up in fact, so there's no chance of drifting off. Quite a mean feat considering our digital fatigue after this long year.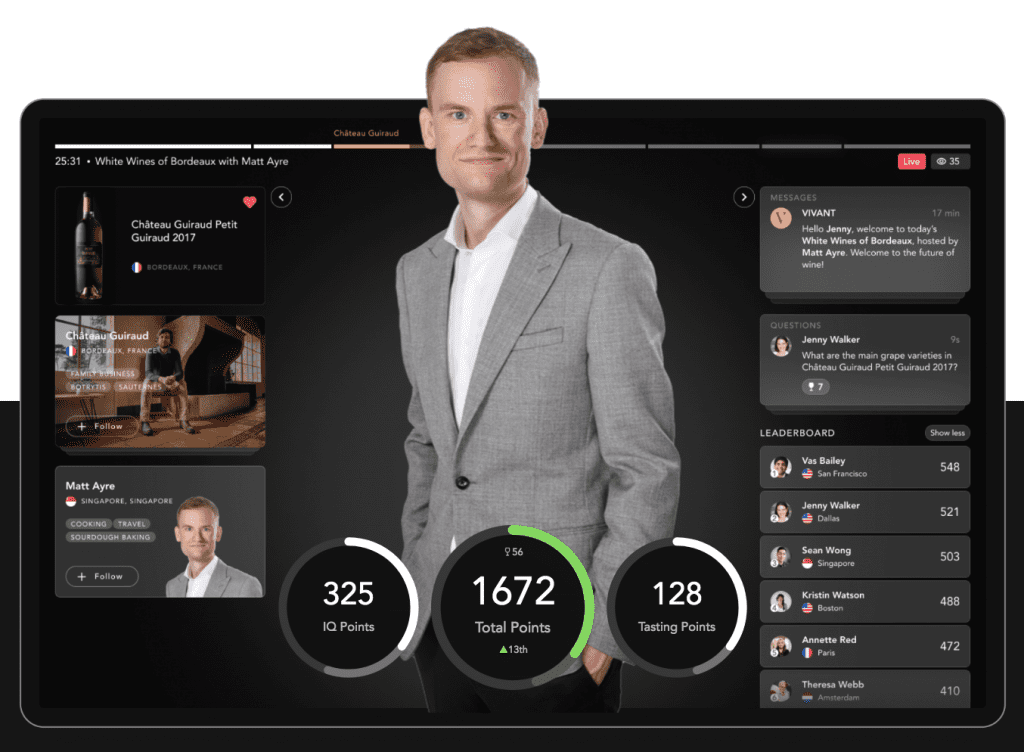 But VIVANT isn't just about smart streaming and impressive interactive and immersive experiences, there's also a rather more noble intention behind it: to embrace and promote sustainable wine production in France. All of the wineries and wines on show and for sale are selected for their sustainability credentials — either being certified by Demeter, Biodyvin, and AB, or meeting the 'responsible winemaking criteria' of VIVANT which includes using no chemical-based pesticides, not using any inputs or additives during winemaking, and promoting diversity and equality in the work place.
When Baum purchased Château de Pommard in 2014, becoming the first American to own an estate in Burgundy, eyebrows raised about what he would do to change the region. As made perfectly clear from VIVANT, the goal hasn't only been revitalising the historic estate of Château de Pommard but bringing Burgundy, and indeed France, up to speed with this new world of digital tastings that they are boldly taking a big leap into.