Keith Grainger zones in on beautiful Bardolino, with its myriad of soil types and mesoclimates, charting the key and ever-increasing role played by the classy Corvina in its well-known red blend. He also sips saline, crispy Chiarettos.
Let me begin this article at the bottom. I well remember the nadir of the wines of the Veneto and other northern Italian regions. In the 1970s and early 1980s, the whites shook off their image of being dull and frequently oxidised and replaced it with that of being fresh and clean — and nothing else. Many reds, including inexpensive generic Valpolicella, often marketed in litre bottles, resembled alcoholic cherry drink: dilute, lacking structure and with not a hint of complexity. There were, of course, some high quality producers, but generally the wines of the north of Italy were led by price and volume. 
Average yields had increased from 9 hl/ha in 1947 to 68 hl/ha in 1985. Then, in 1986, Italy was rocked by the methanol scandal, in which 23 people died, and others suffered blindness and nerve damage from drinking adulterated wines. Perhaps this was the moment that the re-birth of quality began. Indeed, in the last 35 years, Italian wine production has fallen by 38 per cent. Italian wine consumption per capita has also decreased considerably – back in 1970 it was 104 litres, whilst today it is 43 litres.    
Although I admit that I am fickle, in the last couple of decades I have fallen in love with north-eastern Italy and its wines. It's not just me getting older, but there has been a renaissance in quality wines (and food). Each of the regions has much to offer: the exhilaration of Alto Adige (Süd Tirol), the delicious traditional method sparklers from Trentino, the delights of Friuli-Venezia Giulia, including the fragrant reds from the Schioppettino variety and, of course, the rich cherry tones of the reds of Veneto, including the greatest appassimento wines of Valpolicella.  
But what of Bardolino? And in an era when rosés have never been more popular, what of Chiaretto di Bardolino? Earlier this year I received 50 samples of (mostly) 2021 Chiarettos, from some 43 of the district's 100 producers. These represented an exciting and refreshing collection, varying from pale onion-skin through salmon to strawberry in colour. None of the samples approached the colour intensity one would expect from Tavel. There was a delightful array of primary fruits on the nose, mostly red berries and citrus fruits. On the palate a notable salinity was apparent and, dare I say it, minerality. All the wines were dry, or just off-dry. If I had to pick one star wine from this collection, it would perhaps be the 2021 Cantina Caorsa Chiaretto di Bardolino Classico – all the fragrance of a melange of summer fruits but with some fascinating pink grapefruit notes. My interest in Chiaretto and Bardolino wasn't just stimulated – I wanted to explore, to discover and to be led down unknown byways.  
Luckily, the journey wasn't that far away, as in the last week of September I was able to take part in press trip to Bardolino (and also Asolo), together with Circle members Leone di Pasquale and Janet Wang, and some non-member wine and travel writers. Our guide, tutor, mentor, and bon viveur was the gregarious Angelo Peretti, director of Consorzio di Tutela Chiaretto e Bardolino. Angelo is not only a fount of all knowledge of the region and its wines; he's also a superb taster and an expert on olive oil!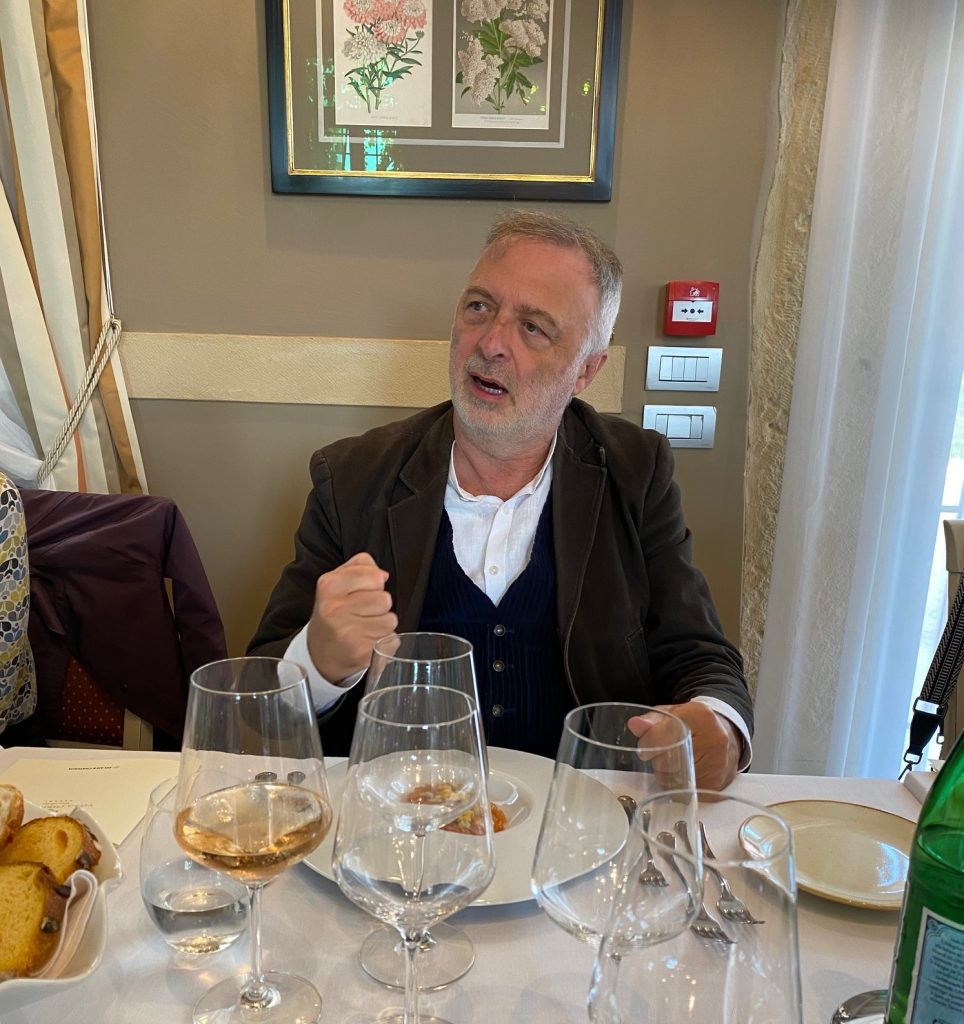 Bardolino and Lake Garda
Bardolino and Chiaretto di Bardolino are produced to the east of the southern part of Lake Garda which, at some 370 square kilometres, is the largest of the Italian lakes. Lake Garda can be divided into two distinct parts: the wide south, which is just 67 metres deep; and the narrow north, with a depth of some 300 metres. The northern part of the lake was part of Austria until 1919. It was only in 1929 that the road around Lake Garda was finished, prior to which one could only travel by boat!  The Bardolino area is surrounded by mountains but has a Mediterranean climate. There are palm trees, olives, chestnuts and oaks, rolling hills and streams, red-rooved houses and monastery ruins.  In the hills, there is a feeling of timelessness.
Walking in the village of Bardolino on a tranquil autumn evening, one has little perception of being in a wine region. The waters of the lake gently lap against the moored boats; high class restaurants rub shoulders with pizzeria; and locals and tourists happily wind down with their preferred tipple. It is easy to forget about vines; those vines on the hills just behind the village.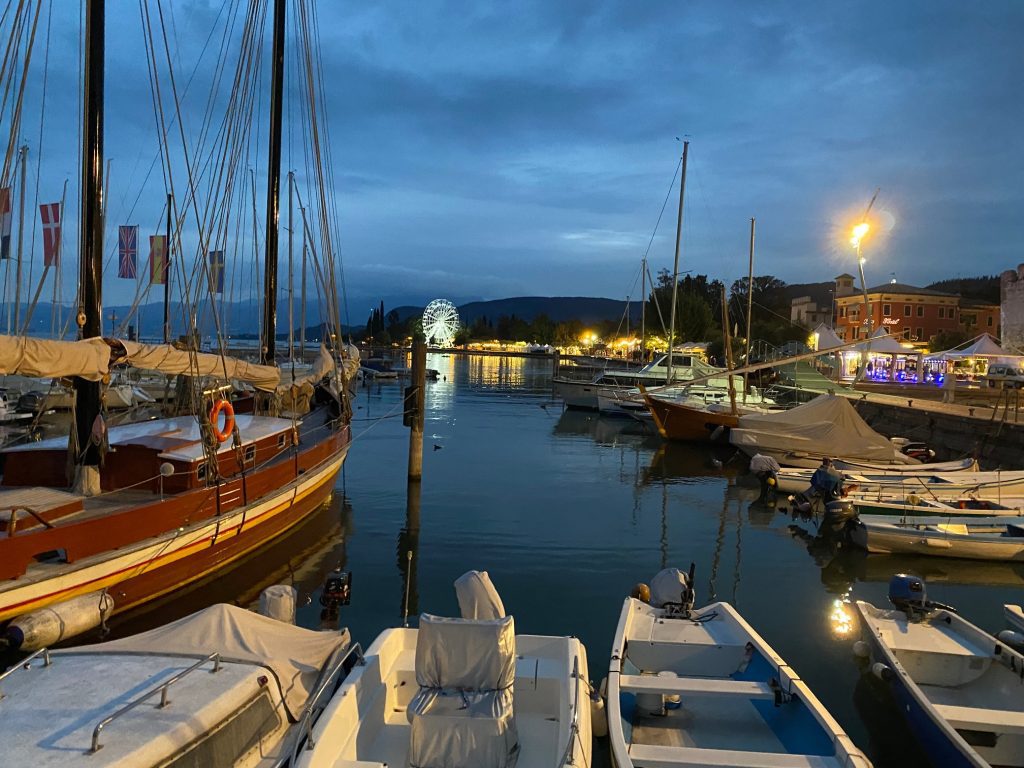 For better or worse, our visit was timed just ahead of the annual Festa dell'Uva e del Vino, although the group had something of its own festa on the first evening at the delightful restaurant Il Giardino delle Esperidi in Bardolino. Angelo recommended we match the range of Chiarettos with the lake fish courses and Asolo Proseccos with sea fish. Of course, looking inwards, one adventurous nutter also wanted to try these the other way round, but hey, there's no accounting for taste! Missing the festa didn't worry us, as the next day we had the opportunity to taste a range of Corvina-based wines from some 23 producers at a walkaround tasting at the 'Corvina Manifesto' event.
Wine basics
The Bardolino vineyards cover just under 2,600 hectares. Red Bardolinos range from simple everyday wines to fuller bodied, remarkably complex wines, with a gentle spiciness, often including notes of cinnamon, cloves and black pepper. Core fruit characteristics include both red and dark cherries, strawberries, raspberries and redcurrants. They are perhaps best drunk at a similar temperature to Crus Beaujolais – 14°-16°C. The Chiarettos are pale, crisp, saline, dry rosés and with modest alcohol, usually in the region of 12% abv. Many of the producers also make other Veronese wines, and some also Lugana – usually a dry white from the south of the lake, with the vineyards lying mostly in Lombardia.
As elsewhere in Northeast Italy, there has been a considerable move away from pergola training, onto vertical trellis, with Guyot training being the most popular. For Chiaretto, this is essential, as grapes grown on the pergola system would be high in green tannins. Using the pergola system planting density is approximately 3,000 vines per hectare, whilst for Guyot it is 5,000. With similar yields per hectare, the yield per vine is reduced. 
Grape varieties
The varieties planted are similar to those of Valpolicella: mainly Corvina, together with Rondinella and Molinara. Molinara is very much on the wane, although its inclusion in the blend was obligatory under the 1968 DOC regulations, but since 2010 this is not the case. However, unlike in Valpolicella, there is very little Corvinone, which produces fruit that is ideal for the appassimento process there. However, the regulations do permit up to 20 per cent of this variety in Bardolino production. Current regulations allow for up to 95 per cent of Corvina in the blend; previously it was a maximum of 80 per cent, and it might be argued that this single factor has accounted for a boost in quality.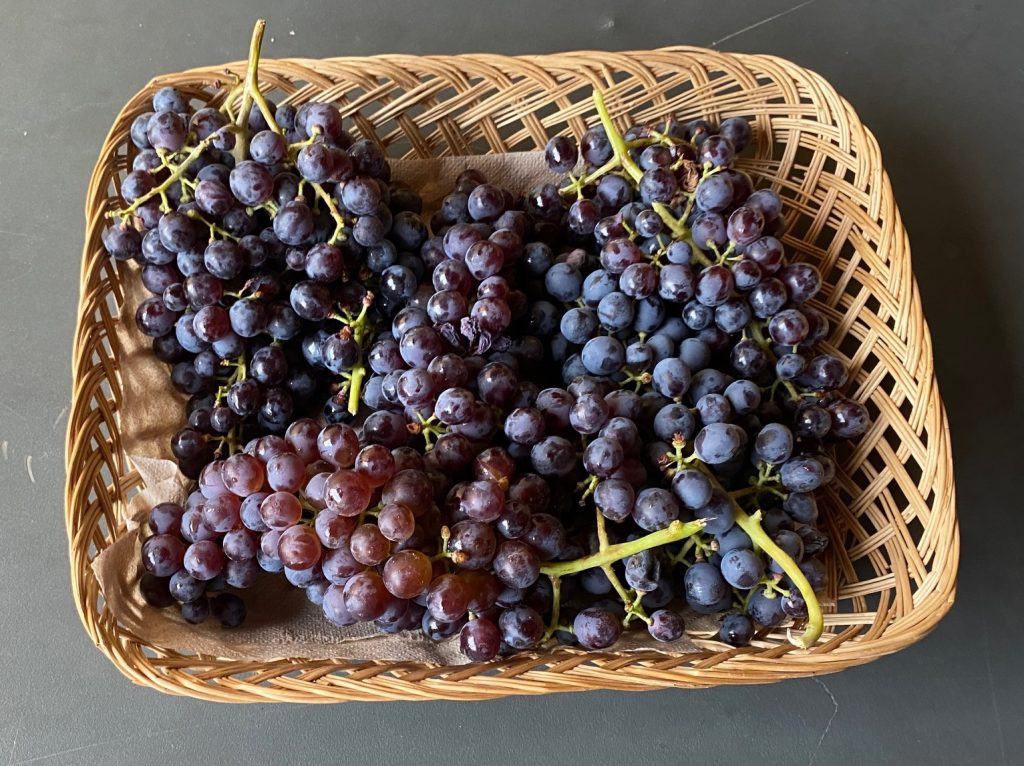 The subzones
There are now three recognised subzones of Bardolino:
La Rocca – near the eastern shores of Lake Garda.
Montebaldo – high altitude vineyards away from the lake, to the east.
Sommacampagna – also back from the lake to the south and southeast.
The identification of these three subzones dates back to the 19th Century. In 1900, La Provincia di Verona ed i suoi vini by Giovanni Battista Perez was published, and in this detailed, scholarly work, he notes that expert appraisers had identified the individual characteristics of three Bardolino zones.  These were also noted in Piccola enografia italiana by Pompeo Trentin, which was published in 1903. However, perhaps because the regulations were drawn up with the consultation of the 'factory' wineries, the DOC Regulations of 1968 did not recognise the subzones. Just a few years earlier, the writer Giuseppi Soliteo had noted that the wines of Bardolino 'compete with the finest in the country'.
The zoning was developed in the years from 2005 to 2015, and as from the 2018 vintage, the PDO regulations allow for the inclusion of the zone of production as part of the DOC. The permitted yield for wines from these subzones is 10 tonnes per hectare, for Bardolino and Chiaretto generally it is 12 tonnes, reduced from the previous 13 tonnes. The must for wines that will be labelled with the name of a subzone is not permitted to be enriched, the wines must have a maximum of 2 g/l of residual sugar, and can only be released for sale from the September following the harvest.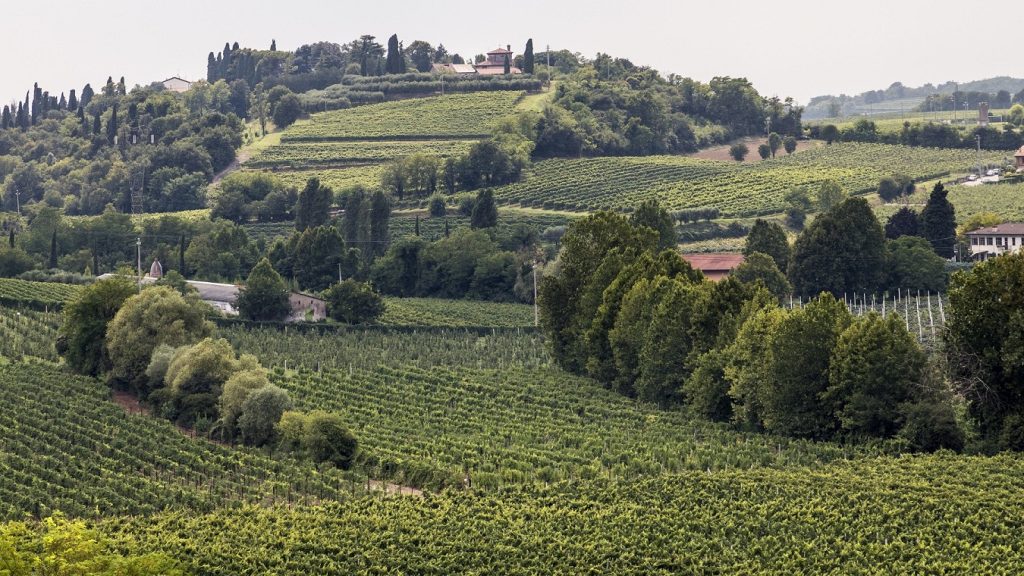 Geology, soils and climate
Bardolino has some 66 different soil types, the result of the actions of four glaciers, which were crucial for the formation of the Bardolino lands. A huge glaciation ended 600,000 years ago, and there were three further glaciations that ended 12,000 years ago. Materials deposited formed the Morainic hills. The glaciers eroded the sides of the hills – this was truly a land of ice. However, the top of Montebaldo was not covered by ice. Many of the soils have a high calcareous content – this is perhaps a reason for the perception of salinity in the wines. On the mountain of Montebaldo there are calcareous rocks. On the flatter land close to the lake, the soils are gravel, and some are rich in sand – Pinot Grigio is grown here. It might be noted that Lugana, to the south of the lake, has clay soils. 
There are two different mesoclimates: Amphitheatre (near the lake) – Mediterranean, cooled by winds from the Adige and breezes from Lake Garda; and Mountain – Alpine, continental but warmed by light breezes from the lake. Garda is very windswept. The altitude generally increases as we proceed from south to north, as does the rainfall. The south has higher temperatures, and less diurnal range. Montebaldo has an altitude reaching 1,800 metres, and of course this is cooler than the land near the eastern shores of Lake Garda, with a great diurnal temperature range, which helps lock fresh acidity into the wines. It is easy to see that the myriad of soils and mesoclimates results in tremendous differences in the characteristics of the grapes grown on individual plots. 
Before and during the 18th Century there was a hot period, with a gradual increase in temperatures.  Historically, vineyards were planted at higher altitudes on Montebaldo, but these have long been abandoned, although the remains of the terraces are still to be seen. During recent years, the rise in temperatures has been rapid, and perhaps a move to plant higher, and reclaim these old vineyards will be considered.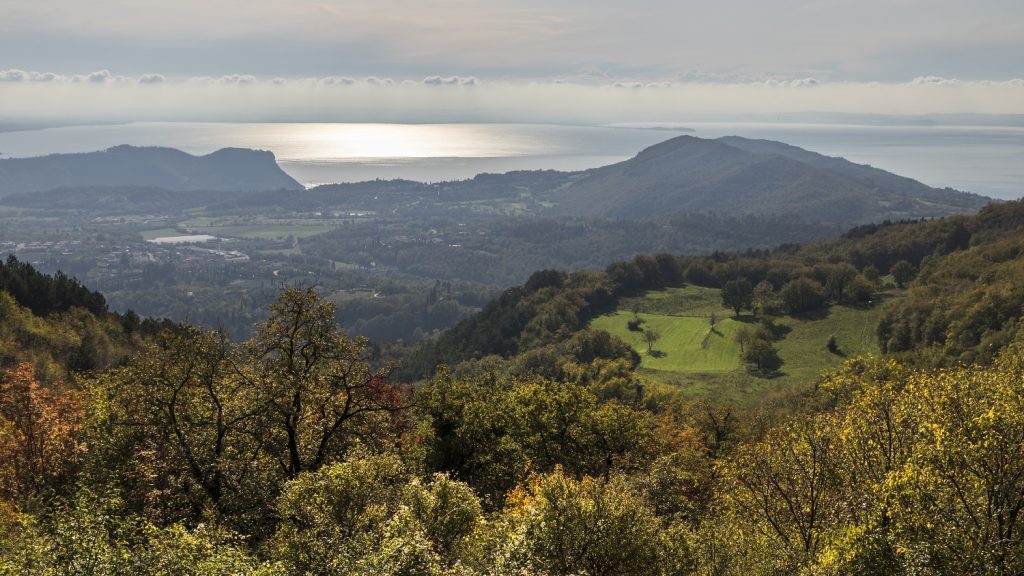 Chiaretto di Bardolino 
Annual production is now nearly 10 million bottles per annum. Whilst this is small compared with the rosé output of Provence (approximately 140 million bottles), Angelo is keen to stress that Chiaretto has its own styles, and is in no way trying to mimic France's most famous rosé. There is also a sparkling Chiaretto, made using the Martinotti method (second fermentation in tank). Colour is obtained by pressing the (red) grapes, sometimes with a few hours skin contact in the press. The Saignée method is not generally used. The finished wines are dry. Bag-in-box is not permitted.
Red Bardolino 
Production is approximately 14 million bottles a year. Most consumers' perceptions of red Bardolino is that it is a light, quaffing red, not dissimilar to young Beaujolais AOP. In truth, there is a huge array in styles, including fuller-bodied, complex wines that are really age-worthy. This was illustrated at a pre-dinner tasting of old wines at Taverna Kus, in San Zeno di Montagna, in the Montebaldo zone.  Red wines from the first decade of this century were still very much alive, and there were some stunning bottles from 2011, 2012 and 2014. Chiarettos too can age remarkably, and take on some savoury, tertiary notes. Incidentally, Taverna Kus has a stunning list of over 1,000 wines, all of which are European!  
History of viticulture
Seeds of the wild vine Vitis silvestris that date from the Bronze Age have been found in dwellings the area. The Romans introduced viticulture to the region, which was part of Cisalpine Gaul. It was they who introduced the press, which could be used to make lightly coloured wines, in a similar manner to the rosé wines of Provence. The Romans did not undertake the maceration of the grapes, and the resulting wines were very light: vinum clarum. In 1806, the term Chiaretto was introduced.
Bardolino, as a red wine, perhaps began being made in the 9th Century. The monks began keeping red wines in the crypt (caneva) of a small church at San Zeno. At the time, the Bardolino area was best known for figs, and vines began being substituted for fig trees. San Zeno, which used to be part of the Trentino region, is famous for its chestnuts, which provided great food for the local pigs.  Indeed territories used to be measured by the number of chestnut and oak trees. Today, the chestnuts have their own PDO: Marrone di San Zeno DOP. They make delicious soups! 
Producers visited
I will give but a brief snapshot of producers visited and particularly notable wines tasted:
Vigneti Villabella – Villa Cordevegio
Six wines from the 100-hectare Vigneti Villabella estate were tasted at its luxury Villa Cordevigo Wine Relais, at Cavaion Veronese. Twenty-three hectares of the vineyard are farmed organically, a figure that is a bit higher than the regional average of 15 – 20 per cent of organic vineyards. There are three biodynamic producers in the Bardolino area. Vigneti Villabella was founded in 1978, and now it has holdings in Lugana, Custoza, Soave and Valpolicella. The tasting included the 2012 Fracastoro, Amarone della Valpolicella Classico. The grapes for this wine are picked a little early and undergo a 120 day appassimento process at 65 per cent humidity. This brick red wine, aged for nine years before release, has notes of cherries soaked in spirit, plum jam, chocolate and a melange of spices. A great Amarone.
Monte Zovo
Monte Zovo is owned by the Cottini family, who very much focus on terroir-driven wines. The original company was founded in 1925, and the move to the current main winery site at Caprino Veronese was made in the early 1960s. There are now 140 hectares of vineyards, sited in the three main areas, including 50 hectares in Valpolicella. They are mostly located above 550 metres, with a plot reaching 950 metres above sea level. All are sustainably farmed, and the vineyards of the Caprino Estate are certified organic. The company only produces estate wines. There is a 5 hectare experimental vineyard that includes PIWI vines.
A particular delight was the 2018 Crocevonto Pinot Nero – Garda DOC, which accompanied some local cow's milk cheeses at lunch at the Caprino estate. The Pinot Noir vines are planted at 6,000 vines per hectare on a south-eastern exposure in an organic vineyard. The vineyard has been converted from an Alberello type of bush training, and now has a Guyot system. The yield is some 6-7 tonnes per hectare, which by my calculation equates to 40 – 50 hl/ha. After picking, there is a pre-fermentation maceration of 18 – 24 hours. The wine is aged in barrel for 12 months. The nose of this wine showed nuances of alpine cherries and other red fruits, with just a hint of sous-bois.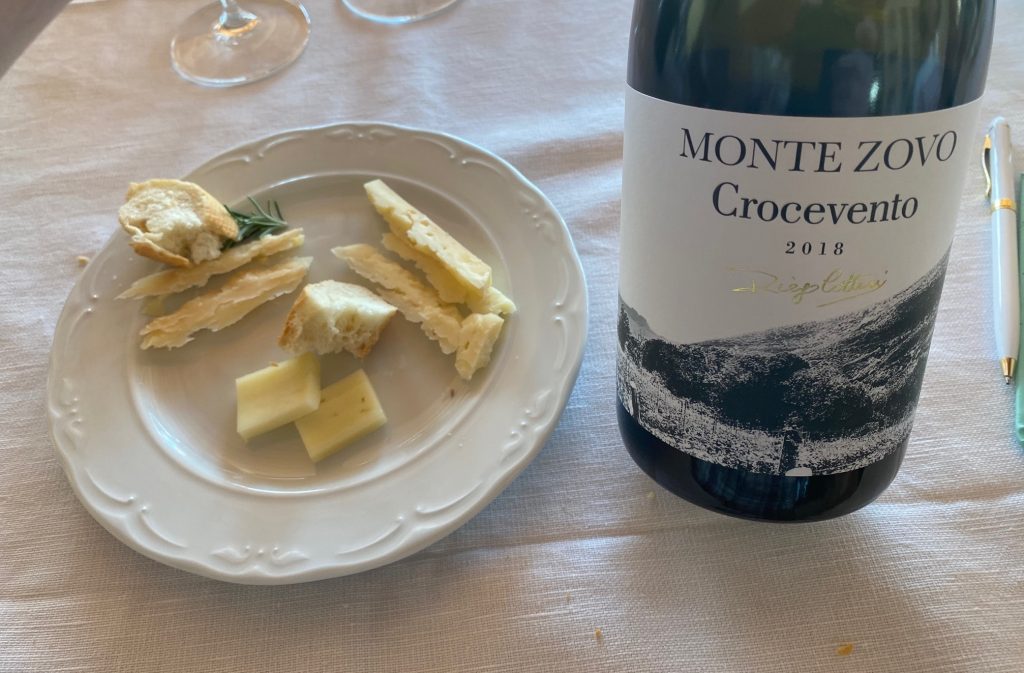 Le Fraghe
The company was started in 1984 by Matilde Poggi, with the aim of "making wines in the way I want". There are now 34 hectares of vineyards in five locations, certified organic since 1999. All fruit is harvested by hand. Although passionate about the traditions of the land, Matilde is following her own, carefully considered road. She has been using screwcaps since 2008, and she says that they enable her to use less sulfites. 
The estate is a proud member of FIVI, the Italian Federation of Independent Winegrowers, which was formed in 2008. I feel at this point I must repeat, and endorse, a statement from the FIVI website: 'Unfortunately, we must assert that neither our unions or the ministry or the Italian representatives in Brussels have defended our interests. The large merchant, distribution, wine-producing and wine industrialists lobbies (who now have multinational interests) usually predominate. It is clear that industry and trade have interests in disengaging themselves from their origins, from the territory, in order to be able to buy raw materials in one place or another, based on market convenience. But wine in Europe is not a raw material: it is instead an agricultural product tied to its territory of origin.'
The tasting began with 2021 Chiaretto Ròdon. This is made from 80 per cent Corvina and 20 per cent Rondinella, with skin contact of one night in the press. After pressing, the juice is pumped into stainless steel vats and cooled. There is a natural yeast fermentation at 16°C. Matilde doesn't want to use cultured yeasts as she feels they impart alien aromas. The beautiful strawberry fruit of this wine prevails; it is crisp, fresh, chalky yet saline.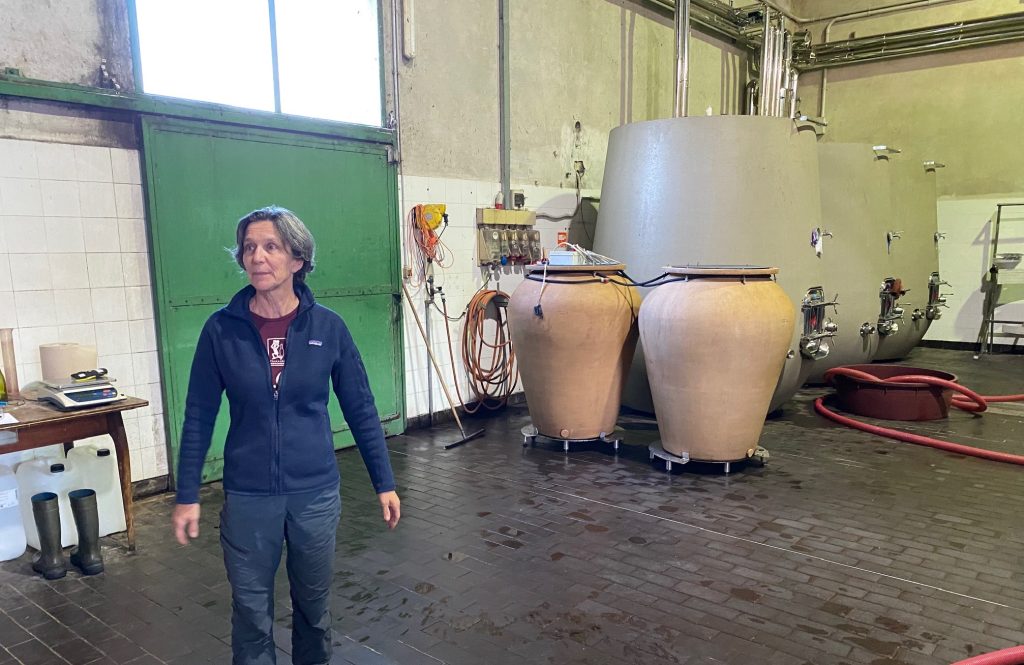 A highlight was a fascinating flight of Bardolino Classico 'Brol Grande' from the 2020, 2019, 2018 and 2016 vintages. The 2020 exuded delicious blueberry fruits but the wines really gained complexity with age, with the 2016 having hints of leather to add to the black pepper and spices.  
And so to dinner. Tomorrow its another early start – the road to Asolo beckons…
Some of these images are courtesy of Consorzio di Tutela Chiaretto e Bardolino. I wish to thank Angelo Peretti and all at Consorzio di Tutela Chiaretto e Bardolino, Emma Bentley, Beatrice Bianchi and all at Studio Cru, the producers who generously gave their time and hospitality, and my fellow travellers for putting up with my technical questions!
Next month we will be publishing Janet Z Wang's report on Asolo.