Filippo Magnani finds himself revelling in the new releases of Valpolicella's finest and shares his top tips both on what to taste and where to stay.
The Amarone Opera Prima took place this year on 4th and 5th February, majestically organized by the Valpolicella Wine Consortium, at the Gran Guardia Palace in the heart of Verona. The president of the consortium, Christian Marchesini, opened the event with a presentation on Amarone sales in Italy and abroad, based on data obtained by the Nomisma Wine Monitor. Interestingly, the value of Amarone has increased both in Italy and abroad, but the volume of sales went slightly down in 2022, following an exceptional year in 2021. However, the United States increased its imports of Amarone by 24%, making it now the biggest importer of the king of Valpolicella worldwide. 
Giambattista Tornielli, an associate professor of General Arboriculture and Arboreal Crops at the University of Verona, gave a special preview of the 2018 vintage, which he said expresses all the typical characteristics of Amarone and the Valpolicella area. Then, several distinguished professors and high-ranking officials were part of a special panel that discussed Amarone's candidacy to become a UNESCO Intangible Cultural Heritage site. A total of 64 wineries participated in the Amarone Opera Prima and each evening offered tastings open to the public.
The limestone, clay, and volcanic soils make the difference
The Valpolicella wine region is endowed not only with beautiful landscapes of rolling hills nestled against the Dolomite mountains and Lake Garda, but it also holds one of Italy's richest traditions in winemaking. Shielded to the north by the Monti Lessini plateau, which protects it against the cold currents from the Alps, the region also benefits from milder winters and good ventilation, thanks to Lake Garda, to the east. A longer growing season helps produce wines with good concentration and high acidity. For centuries these ideal conditions have attracted winemakers who developed the traditional method of 'appassimento', or drying of the grapes, to produce a unique style of wine, famously known as Amarone, which has become the flagship of the region. The classification of wines in the Valpolicella region can seem complex at first, because there are both wine styles and wine areas with similar names. The region produces four traditional wines: Amarone della Valpolicella DOCG, Valpolicella DOC, Valpolicella Ripasso DOC and Recioto della Valpolicella DOCG. These are classified according to how the wine is made. Then, all four of these wines can come from three distinct areas within the Valpolicella region: Valpolicella DOC, Valpolicella DOC Classico and Valpolicella DOC Valpatena.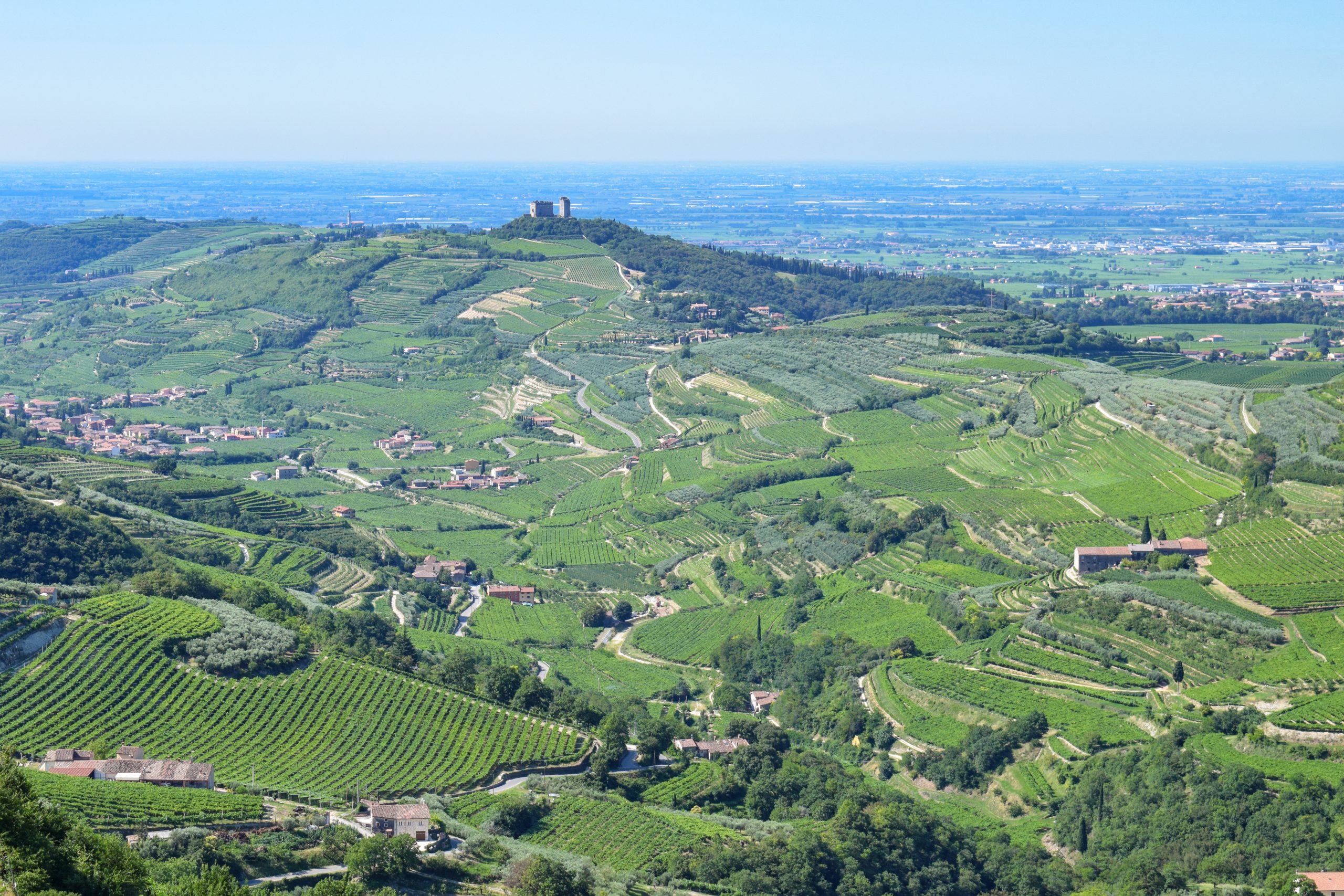 The dream destination for wine enthusiasts and connoisseurs
The long-standing tradition of Amarone and the special grape drying techniques used to make it are a fundamental part of the region's identity, which the Valpolicella community is trying to protect with its candidacy for UNESCO Intangible Heritage. It is meant to reflect the social, political and economic heritage of the area and how it will evolve in the future. As explained by the Valpolicella Consortium, UNESCO recognition is not needed for the success of Amarone, which already brings in more than €600 million in revenue, but rather as a means to safeguard the tradition for future generations. Preparation of the dossier has also worked to unify and strengthen the Valpolicella community, while respecting each producer's inclination towards tradition or innovation. 
For those who wish to experience this heritage first-hand, the region offers an abundance of natural beauty and authentic wine experiences. Less than half an hour north of Verona, the gentle plain of the River Adige valley gives way to the rolling hills of Valpolicella, a patchwork of vineyards, villages, farmhouses and Renaissance villas, many of which have been converted into family-run wineries and restaurants with accommodation. One can enjoy a variety of experiences, from intimate farmhouse tastings to magnificent Venetian villas replete with wine resort and spa facilities. I tasted some excellent wines at the Amarone Opera Prima. Here is a selection of my favourites that also make fantastic wineries to visit with memorable tasting experiences and many lodging options.
LA COLLINA DEI CILIEGI – www.lacollinadeiciliegi.it
The charming Collina dei Ciliegi is nestled in the hills of the Valpantena area. It is the dream of winemaker Massimo Gianolli, who got his start in 2005, with a small amount of grapes that would become the first Amarone produced in the small village of Erbin. Now, La Collina dei Cilliegi produces three collections (Classic, Riserve and Emporium) that are exported to over 20 countries worldwide. They have some of the highest vineyards in Valpolicella (750m) and with their chalky soils produce wines with excellent acidity and minerality. Their modern approach includes new blends that combine traditional and international varieties. A visit to the winery takes you on a memorable journey of the land, culture and flavours of Valpantena. Their beautifully restored farmhouse Ca' Del Moro welcomes visitors for tastings, vineyard walks and fine dining, along with six finely refurbished rooms, each named after symbolic wines of the region (Amarone, Valpolicella, Recioto, Ripasso, Garganega and Corvina).
AMARONE DELLA VALPOLICELLA DOCG 2018
Colour ranging from the ruby core to the light garnet rim. Intense flavour of ripe plum with balsamic notes of mint. A hint of vanilla. Rich in structure, with persistent ripe fruit, and well-balanced with soft tannins. Fresh, long finish. A great wine.
CA' LA BIONDA – www.calabionda.it
Located in the heart of Valpolicella Classico is Azienda Agricola Ca' La Bionda. It was founded in 1902 by Peitro Castellani, on the outskirts of the town of Marano di Valpolicella. The estate's vineyards extend over 29 hectares and it has been producing only organic wines since 2016. Now, it is run by the family's fourth generation of brothers – Alessandro (winemaker) and Nicola (viticulturist). They're carrying on their family's heritage by producing genuine examples of traditional Amarone, with a focus on the vineyards and the grapes. Tastings of their Valpolicella, Amarone and Ricioto are accompanied by small food pairings, and their villa provides elegant accommodation with modern amenities.
AMARONE DELLA VALPOLICELLA DOCG CLASSICO 'RAVAZZOL' 2018
The colour is medium ruby with a compact rim. Pronounced intensity of ripe red fruit mixed with notes of chocolate and tobacco. Medium-bodied with ripe red fruit and freshness. Moderately coarse tannins. Quite a long finish. I really appreciated it.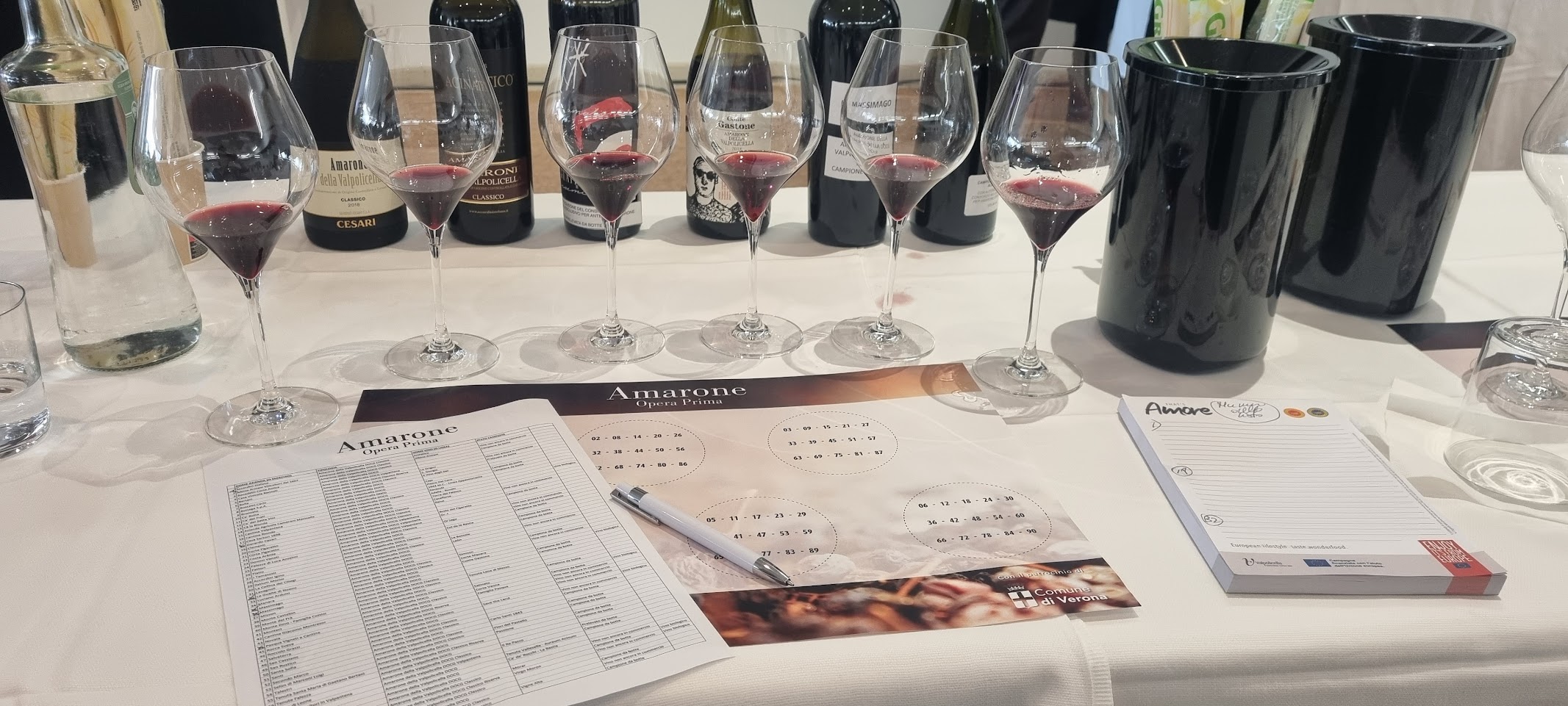 GIACOMO MONTRESOR – www.vinimontresor.com
The Giacomo Montresor cellar dates back to 1892 and continues today to produce wines with a unique identity and style. Hospitality has become an integral part of the winery's philosophy, so much so that they have created a wine museum in the winery that offers an immersive experience in history, culture and the region. Montresor produces an impressive range of Valpolicella wines that also includes a sparkling wine and an aperitivo. Their 'satin-finished' or frosted bottles of Amarone were patented at the beginning of the 1900s to protect the wine from the Atlantic sun during their first exports to North America. Winery tours are followed by a guided tasting paired with local salumi and cheese. All products are available for sale on site.
AMARONE DELLA VALPOLICELLA DOCG 'SATINATO' 2018
Deep ruby red with paler tints. Pronounced intensity of ripe red fruit mixed with notes of chocolate and tobacco. Smooth and delicious palate with delicate tannins and quite a long aftertaste.  A wonderful wine.
LUCIANO ARDUINI – www.arduinivini.it
Luciano Arduini is another remarkable winery in the 'classico' area of Valpolicella. Founded in the 1940s, it is now run by the third generation, Luciano with his wife, son, and daughter. Luciano has maintained the winemaking culture of his father, which was mostly focused on the vineyard, with minimal intervention in the cellar. However, he has added his own personal vision, which included taking innovative steps to create a new and modern winery in 2000. Their tastings offer the complete range of wines, together with older vintages of Amarone upon request and must be booked in advance.
AMARONE DELLA VALPOLICELLA DOCG CLASSICO 'Simison' 2018
Garnet red with a paler tinge. It displays an intense flavour of dark cherry and raspberry with light earthy overtones. Juicy and vibrant with a medium-bodied palate, firm tannins and a light smoky hint on the finish. I really enjoyed this wine.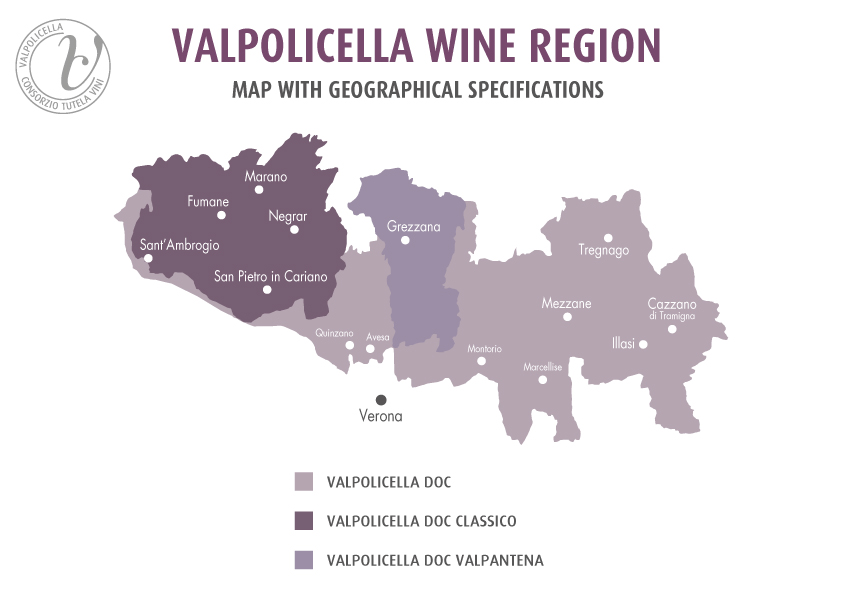 MASSIMAGO – www.massimago.com
Hidden in the valley of Mezzane in Valpolicella is the Massimago winery, which dates back to 1883. The name comes from Latin, meaning 'maximum wellness' and that is certainly what they have created here. Current owner and winemaker Camilla Rossi Chauvenet renovated the entire estate in 2003 expanding the cellars and creating a Wine Relais with seven elegant country-style suites, a pool, private spa and restaurant serving dishes created from ingredients grown on the property. Visitors can enjoy a variety of tasting experiences from a vineyard walk to a picnic or e-bike tour.
AMARONE DELLA VALPOLICELLA DOCG 2018
Ruby core with a narrow, light rim. Great nose with ripe plum, spicy notes of liquorice and rhubarb. Slight notes of leather. A full-bodied wine with good freshness. It has delicate tannins and quite a long aftertaste. I liked it.
NOVAIA – www.novaia.it
On the top of a gentle hill overlooking the Marano Valley in Valpolicella Classico sits a 15th century manor, which is home to the Novaia winery. The name means 'new farmyard', a place where the Vaona family settled in the 1800s to cultivate vines, olives, cherries, corn and silkworms. Here they found an ideal location with the right topography, soil, water and climate for growing grapes and the subsequent grape-drying process. Their vineyards are divided into three different 'Cru'. The family offers visitors a 'Woods and Wine Tour', which consists of a guided walk among the olive groves, forest and vineyards followed by a tour of the ancient cellar and a tasting of their wines and olive oil.
AMARONE DELLA VALPOLICELLA DOCG CLASSICO "CORTE VAONA" 2018
Brilliant, deep garnet colour with a compact rim. Various and intense aromas of ripe plum, blackberry and raisin. Full-bodied with restrained alcohol and soft tannins. A delicious wine with a long finish.
TORRE DI TERZOLAN – www.torrediterzolan.it
Torre di Terzolan rises up from an ancient stone cellar, built centuries ago by our ancestors who knew the geographical orientation there, encouraged the fresh breeze of the Squaranto Valley to flow through, providing favourable ventilation for a healthy vineyard and ideal conditions for the grape drying process. Entering the cellar through a small staircase and walking through the ancient portico will transport visitors back to an age-old world of stone and silence. Near the winery visitors are also welcomed into the historic residence of Cardinal Ridolfi which now houses four suites, decorated with glass, marble, and colourful furnishings. Tastings also include their Veneto Valpolicella DOP olive oil.
AMARONE DELLA VALPOLICELLA DOCG 2018
Bright with an intense core and a paler rim. The wine displays ripe red fruit and floral notes of violet with hearty overtones. Exuberant and full-bodied on the palate, with elegant fruit and velvety tannins. A long, fresh finish. A very good wine.
VALENTINA CUBI – www.valentinacubi.it
Valentina Cubi is a love story between Valentina and Giancarlo, who grew up and subsequently met each other in Valpolicella. In 1969, they invested their entire savings in seven hectares of land in Fumane, which is located in the heart of Valpolicella Classico and boasts the renowned Molina Falls and the Fumane cave that was inhabited since prehistoric times. All their wines are now organic which reflects their philosophy of 'great wines do not originate in wineries but in vineyards'. Their estate is also an agriturismo, with five rooms inspired by the traditional raw materials of the area.
AMARONE DELLA VALPOLICELLA DOCG CLASSICO "MORAR" 2018
Brilliant with a deep ruby core. Pronounced bouquet of black cherry, dried prune and fig. Overtones of coconut and the scent of tobacco. Good structure with firm, velvety tannins and long length. A wine with personality.
ZYME' – www.zyme.it
Last but certainly not least is Zýmē, a state-of-the-art winery ingeniously built on a 15th century sandstone quarry in the heart of Valpolicella Classico. The owner and winemaker, Celestino Gaspari, grew up in the fields outside of Verona and was deeply influenced by the soil and seasons. In his 20s, he studied with renowned winemaker Giuseppe Quintarelli, and through much hard work developed his own personal vision of the winegrower's profession. In 1999, he was ready to build his own winery that represented a synergy between tradition and innovation, as well as between man and nature. His wines are meant to be transparent to all, so that those who drink them can 'read in every sip' his connection with the land.
AMARONE DELLA VALPOLICELLA DOCG CLASSICO 2018
Medium garnet core, paler on the rim. The nose shows the beautiful flavour of blueberries. Spicy with a hint of anise. The palate is elegant with overtones of black cherry and fig. Dry, medium-plus body, silky tannins, and a long finish. An amazing wine.