Adam S. Montefiore reflects on the extraordinary life of Israeli vigneron Eli Ben-Zaken in this short extract from his recently published biography on Domaine du Castel. 
I picture Eli Ben-Zaken in the summer of 2021, standing on his own outside his house and winery at Ramat Razi'el as he defiantly fought against the fierce wildfires in the hills and forests that rise towards Jerusalem. The flames raged a mere 30 meters from his property. Told by the authorities to evacuate, he refused. He was a lone figure, holding a domestic hose against the might of the force of nature that confronted him. With his wire rim glasses and blue Covid mask smudged by ash, I thought the image symbolic.
Here was the man who twice built the most beautiful winery in Israel. He was the pioneer of the Judean Hills wine region. He taught Israeli wineries about the absolute pursuit of excellence, aesthetics, style and quality. Yet, at the age of 77, he was defending his family home alone and with great courage and fortitude. This is characteristic of the man: earnest, heroic, standing his ground and always involved in the nitty-gritty.
I first heard of Domaine du Castel in 1995, in the well-documented story involving Serena Sutcliffe MW of Sotheby's, the wife of David Peppercorn MW, a great specialist of the wines of Bordeaux. She had used phrases such as "absolutely terrific", "a tour de force", "brilliantly made" and "classic" to describe the Castel Grand Vin 1992. I pricked up my ears, but then I was working with the Golan Heights Winery and thought Yarden wines were the bee's knees of quality. It was only when I visited the new winery at Ramat Razi'el in 1997 that I first understood the seriousness of Castel and the unique passion of the owner-winemaker.
When Castel became the first Israeli winery to be awarded Wine of the Month in the prestigious Decanter magazine, it was third-party recognition on an international level from a place that had not previously complimented Israel. Uniquely, they had two wines, Castel Grand Vin and C Blanc du Castel, awarded in this way in the very same issue. That was the moment we, the onlookers, all sat up and took notice. Castel followed this with a third Wine of the Month soon after. Then in 2001 Decanter invited Domaine du Castel to its Fine Wine Encounter, dedicated to rising stars, and that is exactly what the winery was.
Like many great achievers, Eli Ben-Zaken is a complex personality. He is a loner, yet he has his family standing behind him, and in a beautiful way they are dependent on each other. He had reached the stars, yet, never satisfied, was driven to reach further and higher. He was new to wine when he planted his vineyard. He had no dream or grand plan, but did possess an obsessive, crazy perfectionism within, which pushed him to invest the time and finances to make the best wine possible. This hidden force has driven him all the way. Even though the 1992 harvest was all of two barrels, those two barrels were to have an extraordinary impact on the future of Israeli wine.
The paradox continues. Eli Ben-Zaken can be antisocial and does not suffer fools gladly, yet he is a master of public relations. Always noticeable, he stands out in a crowd with his dignity, quietness and modesty. He does not grandstand or shout about what he has achieved. The wine world came to know him often wearing a simple check shirt, corduroy trousers, a woollen sweater or a tweed jacket. He always dresses in character; less sartorial elegance, more shabby chic. Nearer home he has become known as the man in a straw hat. Initially, it was to provide protection in the vineyard from the unforgiving Israeli sun, but soon the person and the hat became inseparable. We began to appreciate that the man in a straw hat made pretty good wine. In his 70s, he was enterprising enough to become a master of social media, posting streams of photos, stories and information. You would think some 20-something whiz kid was responsible. He is on the ball, responsive and quick to show appreciation to others. To many who have known Eli for years, it is a surprise. He has mellowed, like one of his fine wines.
Domaine du Castel did not only gain notice because of quality; Eli Ben-Zaken also heralded a new direction. He was the first in Israel to mark the region of origin (appellation) on the wine label. Israeli wines were up until then mainly New World-style varietals, with a strong nod to California. Ben-Zaken did not name varieties on the front label at all and made the wines in a traditional European, Old-World way. His reds were Bordeaux in style and his white was very Burgundian. His influence was not only in quality, but also in orientation.
He is a stellar advocate for Israeli wine. Many times, I have listened to him and marvelled at his ability to give the right answer and the perfect soundbite, with the minimum preparation or coaching. He speaks from a common sense and intelligence that come from deep within. He thinks carefully and is sparing with words; what he says can be pithy and to the point. Admittedly, he sometimes finds it hard to hide his antipathy towards people he does not respect, and can be swift to show his disdain. This can extend to the wine press: on one occasion, he snapped at a bolshie, over-confident wine critic: "History will remember the wines and wineries, not the critics." Another time, I remember hearing him say in frustration: "One day the wineries will rate the critics, and give them scores." Nonetheless, he has schmoozed with the famous wine critics of his time, including Robert Parker and James Suckling from the US, Hugh Johnson, Jancis Robinson MW and Steven Spurrier from the UK, and Michel Bettane and Thierry Desseauve from France – not forgetting, of course, Serena Sutcliffe MW, who was the fairy godmother of the winery. They would find him charming, quietly spoken for an Israeli and cerebral. Each has given Domaine du Castel scores, ratings and recognition at the highest possible level, which has put the winery at the pinnacle of the Israeli wine scene.
In preparation for this book, we sat together for 14 hours. It did not seem a long time at all as Eli regaled me with stories and anecdotes from his much-travelled past. Some were relevant, many not, but all illustrated the fascinating person that is Eli Ben-Zaken. I did not have to interrupt much as we jumped from story to story. In honor of our shared British roots, we started the first meeting with a gin and tonic and followed with tea and biscuits each time. Of course, using real tea leaves instead of tea bags and warming the tea pot in the classic way lost to the current generation. This was so typical of the person. He is a purist and a traditionalist. If he does something, he is compelled to do it properly.
He is a storyteller who goes deep into the roots of every memory. Whilst he is trying to remember incidents and people, there are long pauses. You feel he is like a trawler with one of those big nets gathering material from the depths of the ocean. All are dragged up from the deepest recesses of his memory with detail, humor and affection. Each story is told with feeling and in a personal tone, and one anecdote leads to another. He is not a natural raconteur. He speaks slowly, almost as though it is an effort, with long pauses and many sighs. He can easily go off on a tangent, mixing stories, but he has a prodigious memory and names from his past litter each narrative.
One quality that strikes me is Eli's generosity. He is quick to give credit where it is due and does not claim achievements for himself which should be shared with others. He remembers exactly who helped him when he started on his wine adventure. Though there are one or two people who have fallen out of the bosom of the winery, Eli is still complimentary about the contributions they had made during the good times and encourages me to meet with them nonetheless.
He is extremely appreciative about his family, having learnt through experience to value their gifts. This is a family that has always worked as a team, but in the wine context in particular the abilities of the children turned out to contribute to and strengthen the whole operation. With Ariel as far-seeing chairman, Eytan as winemaker with a natural feel and superb instinct, and Ilana as the efficient and much-loved foreign minister, their skills complement Eli's. The passing of the baton, in effect the cutting of the umbilical cord, was thus smooth and without drama. One can't help feeling that the winery's future is in good hands.
Eli Ben-Zaken can appear detached from others, but he is a passionate Zionist, a dedicated supporter of Israel, and a keen advocate of Israeli wine internationally. He organized the very first tutored tasting of Israeli wine at Vinexpo in Bordeaux in 2003. When I founded Handcrafted Wines of Israel later the same year, Domaine du Castel was one of the first wineries to be supportive and join the project to advance Brand Israel. Eli was also actively involved. When I saw him at the Vinitaly exhibition, enthusiastically pouring and explaining about wines that had no right to be part of this elite consortium, he did so with energy and a smile in support of a shared cause. I always saw him with different eyes after that. When the Judean Hills Quartet was founded in 2017, Castel was equally happy to be part of that joint effort.
Being kosher is not the be-all and end-all of Israeli wineries: most want just to make great wine that 'happens also to be kosher', rather than Jewish wine. Domaine du Castel made its name as a non-kosher winery and was the main symbol of the small-winery revolution in Israel. In 2003, they decided to get a kosher certificate and after that watershed date, Castel wines received even greater international recognition than before. This slayed the myth that kosher wines were somehow inferior. Today, many experts believe that Domaine du Castel is the finest winery producing kosher wines in the world. As for Eli Ben-Zaken, he has not turned religious or seen the light, but he has always been both culturally Jewish and a committed Zionist. He explained, "I wanted to make a wine that all my people could enjoy." Though the kosher certificate is irrelevant to the quality of the winery, this move made Castel legendary not just in Israel, but also in the Jewish world.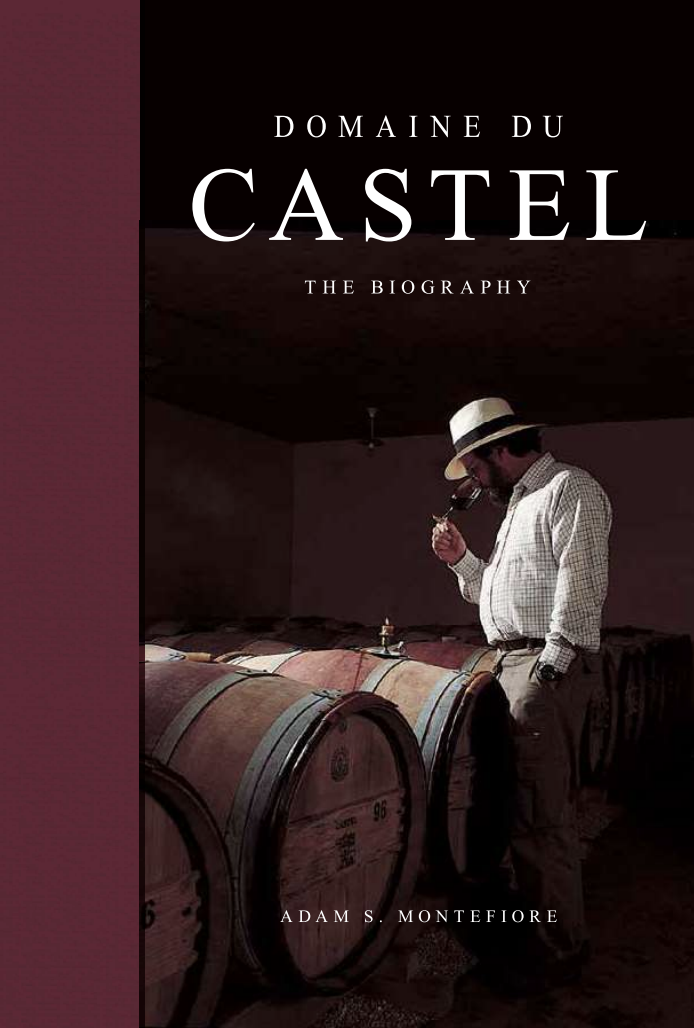 Today, Domaine du Castel is regarded as a world-class winery. It is ranked as the finest in Israel by many famous wine critics, and is also considered one of the best in the whole of the Eastern Mediterranean. Theirs is a Cinderella story of struggle, perseverance, triumph and an ongoing, unrelenting pursuit of excellence. They lost some valuable vineyards in the 2021 summer fires, but the winery collectively rolls up its sleeves and continues. The rollercoaster story of Eli Ben-Zaken is full of interest, but success did not come easy. Born in Egypt, he moved to Italy, went to school in England and to university in Switzerland. This most international of people, who speaks four languages fluently (Hebrew, French, English and Italian) and understands three more (Arabic, German and Spanish), came to Israel, put down roots, became a pioneer and built an Israeli icon.
This is the story of a man, a family and a winery.
Domaine du Castel, The Biography written by Adam S. Montefiore is available directly from the winery [email protected]