Robert Smyth finally frees the shackles of lockdown on his first post-Covid wine trip, and finds winemaking momentum building in the mountains around Miskolc, in north-eastern Hungary. A version of this article earlier appeared in the Budapest Business Journal.
It was a welcome change to return to Hungarian wine country in June, to witness a barely-known cum less prestigious wine region take strides forward in a bid to establish itself as a producer of fine wine. Almost two years ago, I enthusiastically reported on a talented band of winemakers in the Bükk (roughly pronounced 'buuke') region, making exciting wines that dramatically belied this north-eastern region's hitherto shaky reputation. Fast forward to today and the momentum of the Miskolc-massive is building unabated.
On June 12, Roland Hajdu, president of Terroir Bükk, the Bükk wine region association, and Pál Veres, the Mayor of Miskolc, signed an agreement to get the region's wines firmly established in the restaurants and bars of the city of Miskloc, as well as its popular environs, including Miskolctapolca, Diósgyőr and Lillafüred. This may sound like an obvious move, but how can a wine region truly exist without the local wines being available to locals and visitors alike? Imagine not being able to find a selection of Bordeaux wines in a regular restaurant in the city of Bordeaux?!?
The mayor, a former schoolmaster who ran for office as an Independent candidate, who appeared to know his wine, noted that the Bükk had suffered even more than most wine regions from phylloxera, and worse still – saw a subsequent lack of replanting. The region today has a mere 900 hectares of land under vine, spread across 24 winemaking settlements (Hungary has 64,000 hectares in total). Yet, it offers vast winemaking potential and opportunities for new investors, according to Hajdu, who said that his association will help new investors to set up wineries in the region. "They will not see competition but get assistance," said Hajdu, himself also a winemaker in the village of Bogács, in the west of the region, quite close to Eger. The assistance will include help in applying for development funds from the state.
The Terroir Bükk president referred to the 400-point Szőlő termőhelyi kataszter (Grape growing site cadastre), which evaluates the quality of each Hungarian wine region's used and potential grape growing land divided into blocks, in which the Bükk is listed in second place out of the 22 wine regions with an average score of 332 points. He added that only Balatonfüred-Csopak (on the northern side of Lake Balaton, Central Europe's largest lake) came in higher, with an average score of 333, with Tokaj, widely considered as Hungary's greatest wine region obtaining an average of 327 points. However, the price of Bükk land remains very cheap, added Hajdu, who founded the association together with fellow vintners Zsolt Sándor (Sándor Zsolt Organikus Szőlőbirtok és Pincészet) and Borbély Roland (Gallay Pince).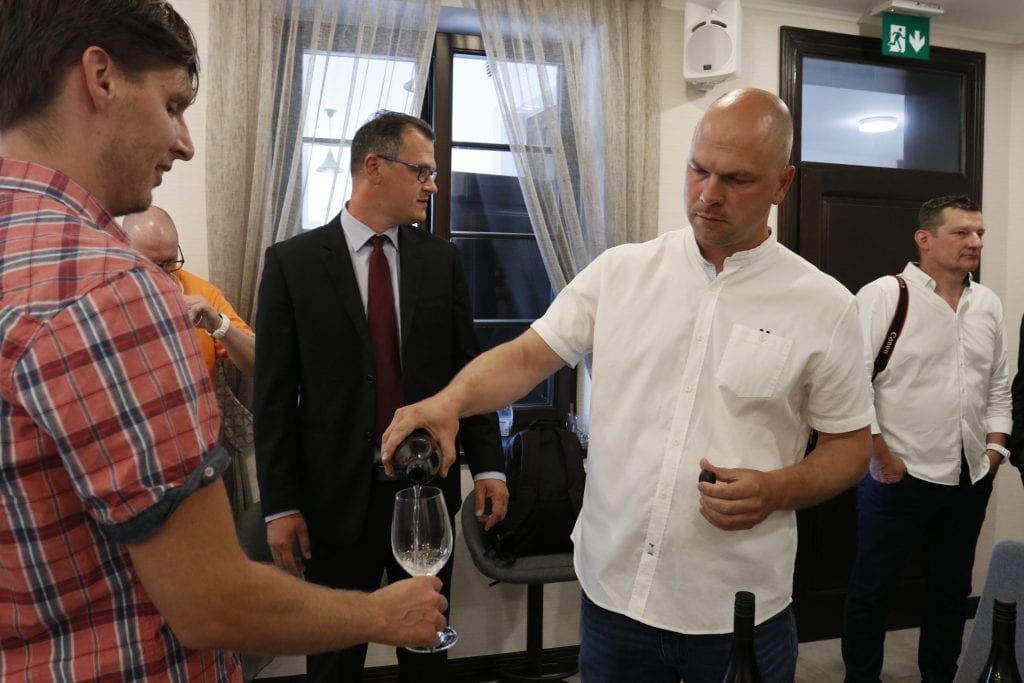 On the sidelines of the event, held at the lovely Avasi Présház (itself a wine producer and a member of the association), on the atmospheric hill of Kis-Avas close to the centre of Miskolc, Hajdu told me about a particular unplanted block in the Bükk of 20 hectares that had a rating of 385 points on the cadastre, and was one-third the price of unplanted land in Tokaj. He also mentioned the unlikelihood of finding 20 hectares of prime land in a single block elsewhere. Indeed, the Bükk, with its broad range of soils and nicely positioned vineyards that gain ideal exposure to the sun for ripening, is something of a hidden treasure.
The region that for long sat silently, and all but forgotten, between the rather famous and legendary regions of Eger (to the west) and Tokaj (to the east), was previously known in wine circles as a region to overlook, to put it mildly, for its paint-stripping and acid attack excuses for wines that were OK for quaffing in the heat of summer, or better in a fröccs (spritzer). This turbo-charged acidity may nevertheless in future be considered as a blessing rather than a curse, as rising temperatures comprise the ability of grapes to retain this all-important component of wine. A number of boutique producers have learned to temper that tearaway acidity and are now turning out some rather fine and subtle stuff, which often strikes a balance between vibrant aromas, ripeness of fruit and zesty (not bitingly sharp) acidity.

The Terroir Bükk event also witnessed the launch of the Balvány brand, whereby individual winemakers make and release a white wine that represents the region's best qualities. Balvány wines must all use the same combination of grapes (one third of each Chardonnay, Olaszrizling and Zenit), be made in stainless-steel tanks and be kept on the lees (and possibly stirred) – the latter method being utilised to soften acidity and to add a touch of round creaminess to the wine.
Olaszrizling is the same grape as Austria's Welschriesling and Croatia's Graševina, and is widely planted across Hungary (and Central Europe), although is not to be found in Tokaj. Zenit is a Hungarian grape variety that was created by Ferenc Király in 1951, when he crossed Ezerjó and Bouvier in the southern Hungarian city of Pécs, and is sometimes referred to as Badacsony 7, accordingly named after the wine region in which it was then developed in the vineyard. It is one of several grapes made by the crossing of these two varieties – the others being Zeus and Zengő. Incidentally, the fourth 'Z' of Hungarian white grapes – Zafir – is a crossing of Hárslevelű and Leányka. Meanwhile, the Ezerjó grape is associated in particular with the Hungarian region of Mór, where it can make some impressive wines, Bouvier (which has its origins in present-day Slovenia) has more pedigree as a parent of new grapes than as a variety in its own right – it was also crossed with Hárslevelű to bring Tokaj's exciting Kabar grape into being.
Local producers feel that Zenit is particularly well suited to the Bükk, as is the Austrian Zweigelt grape for red, the latter which can be considered 'almost local'. Gallay's spicy, floral, concentrated, creamy yet zesty Nyékládháza 2016 (Ft 3,610, or £9, from Wineloverswebshop.hu) is a great example of what the Zenit grape can do in Bükk. It comes from limestone and clay soils and was vinified in oak with the fermentation carried out spontaneously at a temperature of 16 degrees Celsius. It was kept on fine lees for 11 months, with a short period of battonage. Solid proof that you can make a big wine from an overlooked grape. Gallay winemaker Roland Borbély has worked at two wineries in Napa Valley, Pajzos in Tokaj, as well as serving as head winemaker for Nimród Kóvács in Eger, and has clearly brought back a wealth of winemaking knowledge to the Bükk.
Back to Bálvány – wines from six producers have made the grade from the 2019 vintage, and are all of a good standard and worth checking out, and the 5,300 bottles are set to be distributed around the country. The pick of the bunch for me were from Zsolt Sándor and Gallay Pince. Zsolt Sándor's organic Bálvány 2019 has floral and citrus aromas, with a touch of yeastiness from the lees on the round, but still zesty palate. "Bükk acidity is special and not just high," said Sándor. The Bálvány wines are named after the highest peak in the Bükk mountains (956 metres), but is also the Hungarian word for a cult image. The Bükk is not particularly high but is densely forested and treasured by Hungarians. Zsolt Sándor also showed that complex wine can be made from the Cserszegi fűszeres grape (a crossing of Irsai Olivér and Red Traminer), with his spontaneously fermented and lengthily lees-aged (14 months) Lou Lee 2018 (Ft 5,500), which comes from the Csattos vineyard. Also look out for his rich and nutty Ezerfürtű, a crossing of Hárslevelű and Tramini.
Gábor Galuska, formerly winemaker at Eger's Gajdos Pince, which has recently been sold, makes his living as the head of a couple of wine communities and makes wine in Bükk "as a hobby" for his Palmetta pincészet. When in Hungary, look out for Palmetta's nicely crafted Olaszrizling Orange wine 2017, which was given 30 days of skin contact. The other three Bálvány wines come from Roland Hajdu, Csáter Apó Pincéje (run by Roland's brother Ádám Hajdu) and K.T. Kézműves Pince.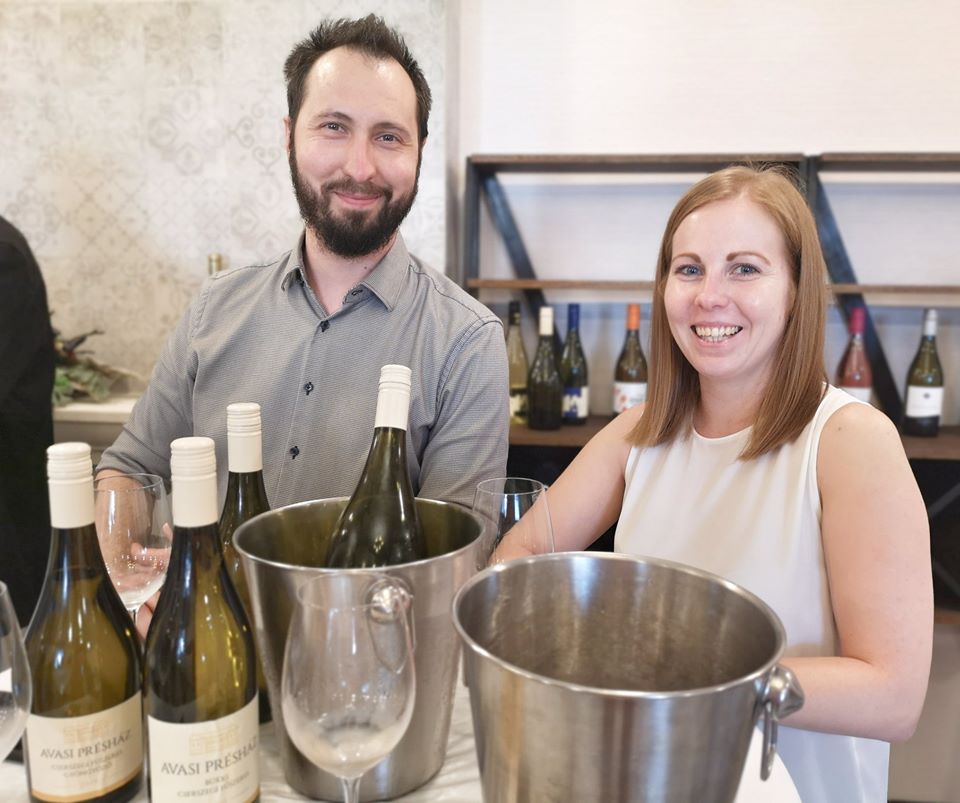 The main photo is of Lillafüred Palace by  Ádám Berkecz