From the comfort of home, Amanda Barnes gets to taste the latest releases of the 300-year-old Burgundy winery and to learn about how despite being highly tech savvy, it is lo-fi in the vineyards and well on the road to becoming certified biodynamic. 
We've all had the age-old argument about whether wine is more about art or science, but how much of it is tech? In today's fast-moving world, the importance of wineries navigating modern, global technologies has moved far beyond the cellar. Any producer hoping to survive pandemics and political wars while maintaining an international, far-reaching audience has to be prepared to move online, and fast.
Although it might seem like an unlikely candidate at first, one 300-year-old Burgundy producer is way ahead of the wine tech curve. Established in 1726, Château de Pommard has a long and fascinating history, two châteaux and a remarkable 20-hectare walled estate, Clos Marey-Monge. Within the walls and history of the Clos are stories of previous owners being noblemen, war heroes and psychoanalysts, while one was even sentenced to death by guillotine in the French Revolution. One of the most disruptive owners though in many ways is the latest owner, US tech entrepreneur Michael Baum, who purchased the estate in 2014.
The first North American to buy a wine-producing estate in Burgundy, Baum brings a very different vision to the Clos and his impressive career in founding, building and investing in several successful technology start-ups gives him a rather unique skillset, which he has used to bring this 18th century estate to the forefront of today's modern wine orb.
Ahead of the curve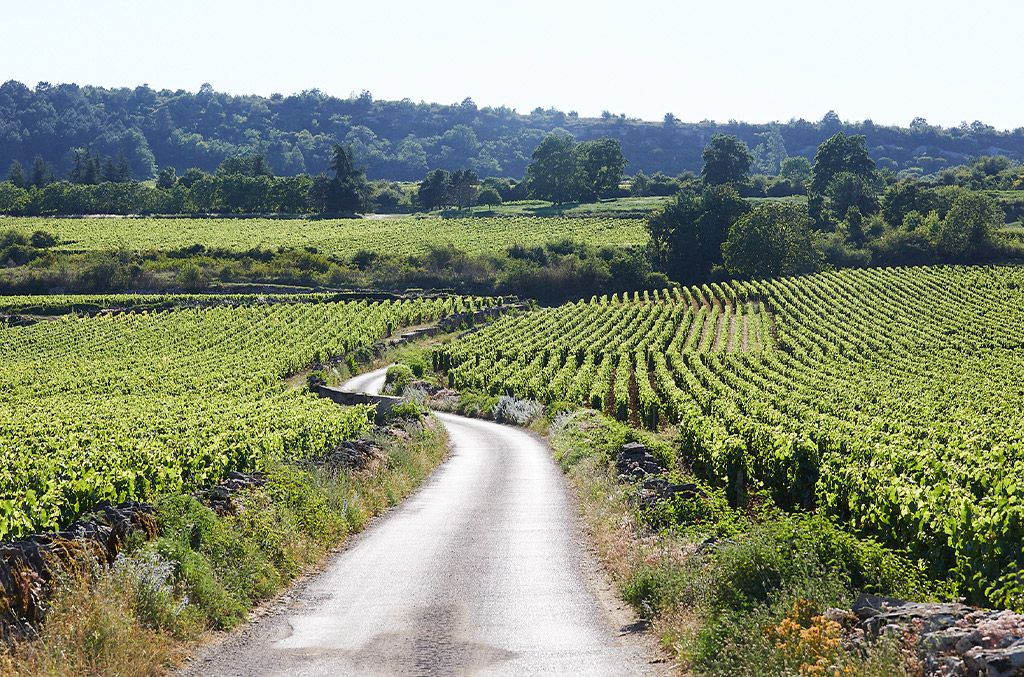 While most wineries have been grappling with how to respond to travel embargoes and the restricted lockdown life which Covid-19 thrust upon us this year, Château de Pommard was already planning a new sophisticated digital platform for experiencing its wine and estate at a distance.
"We were already in the process of converting to digital, we started 20 months ago to build our own digital platform for education and learning," Baum told me over a video call and seminar, while he was in lockdown in the château where he and a few colleagues are running the digital show from. "We had an advantage in that we were already quite far down that path already. We had already moved our sales online, and were also beginning to move our tourism visits online, shipping out the wines before tasting, and then giving our visitors a memorable online experience."
Château de Pommard is an anomaly in Burgundy in more ways than one, especially because almost all of its sales are direct to the consumer. Originally most of these sales were through a tourism footfall in the winery, but since 2018 they have been steadily pivoting from direct sales in person to direct sales online, and moving tourism visits online too — an ambition set out long before there was any knowledge of Covid-19.
The winery launched its online sales platform last November, which has grown in importance for the winery over the past couple of months. In March 2020, 13% of their total sales were online, which had increased to 33% by April.
In a normal year, the winery receives some 30,000 visitors a year. Although they are always keen to continue receiving visitors in person, plans had long been in the pipeline to develop virtual visits — the unveiling of which was hastened by the arrival of lockdown. Instead of stopping wine tourism completely, and rolling out their virtual visits in September this year as planned, they revealed the bones of their new digital platform early, beginning virtual visits in March.
The online tasting and tourism experience has been a bonafide success — receiving over 1,000 attendees within the first three weeks of launch. Even a tech entrepreneur with such pedigree as Baum admits that it would be hard to have transitioned this quickly in response to Covid-19 limitations if they hadn't been planning a digital rebirth beforehand. The virtual visits and tastings are a part of their greater mission to put wine education at the forefront of their message. The transition from physical to digital education has been a gradual evolution:
"When we bought the property, we wanted to turn Château de Pommard into a serious wine place, and so in addition to investment in the vineyard and wineries, we started our own WSET programme here," says Baum, of their programme which was the first in the Côte d'Or and has now expanded to Paris too. "Education is a big part of everything we do and when we welcome clients, if you spend three hours with us in our harvest experience, we always want to teach people something."
Although tourism visits were booming, Baum realised it wasn't sustainable: "We can't really welcome more than 20 to 30 clients here in the château every year, so we started taking it on the road — and we did more than 300 of those Château de Pommard education experiences last year. And then we realised if we want to scale this forward, we needed a different medium, because putting people on planes to visit clients is also not very eco-friendly… So we started thinking about online, and how we could give people unique experiences online too."
Baum himself has actually been in lockdown and stuck in France since March, when his wife and children had already returned to the US, and so has used their Château de Pommard wine experiences to connect with his own wider family too. "I did a private wine experience with my family a couple of nights ago, and it was just great to see them all come together — it was fabulous! Everyone really learned about Burgundy and everyone really learned about wine, and yet they all had different levels. This is the magic we want to create online in order to scale what we are doing. We like to say 'we bring burgundy to you!' And we really want to give them the experience of visiting Burgundy."
Experiences have involved private tastings, virtual tours of the vineyard and cellar, and themed presentations. Last month, I joined a preview tasting of the 2018 vintage where winemaker Emmanuel Sala presented what he describes as one of the hottest and driest recent summers, but one which was blessed with a cool spring and rainy winter with plenty of water stored in the soils.
Tasting in the comfort of our own homes, I joined several wine journalists who wouldn't be able to taste the new vintage otherwise. It was certainly a valuable and enlightening tasting, which showed Château de Pommard's own ethos and approach to the vintage: "Because of all the sun, there was a risk that these wines would be too heavy, but you can preserve the freshness by picking earlier — but only when the tannin is completely mature. The difficulty is having all the team there ready, because we pick it all by hand."
Mission accomplished it seems, because there was a great freshness to the wines while also showing the more flamboyant aromas of a sunny year in Burgundy without being at all heavy.
High tech in business, lo fi in wine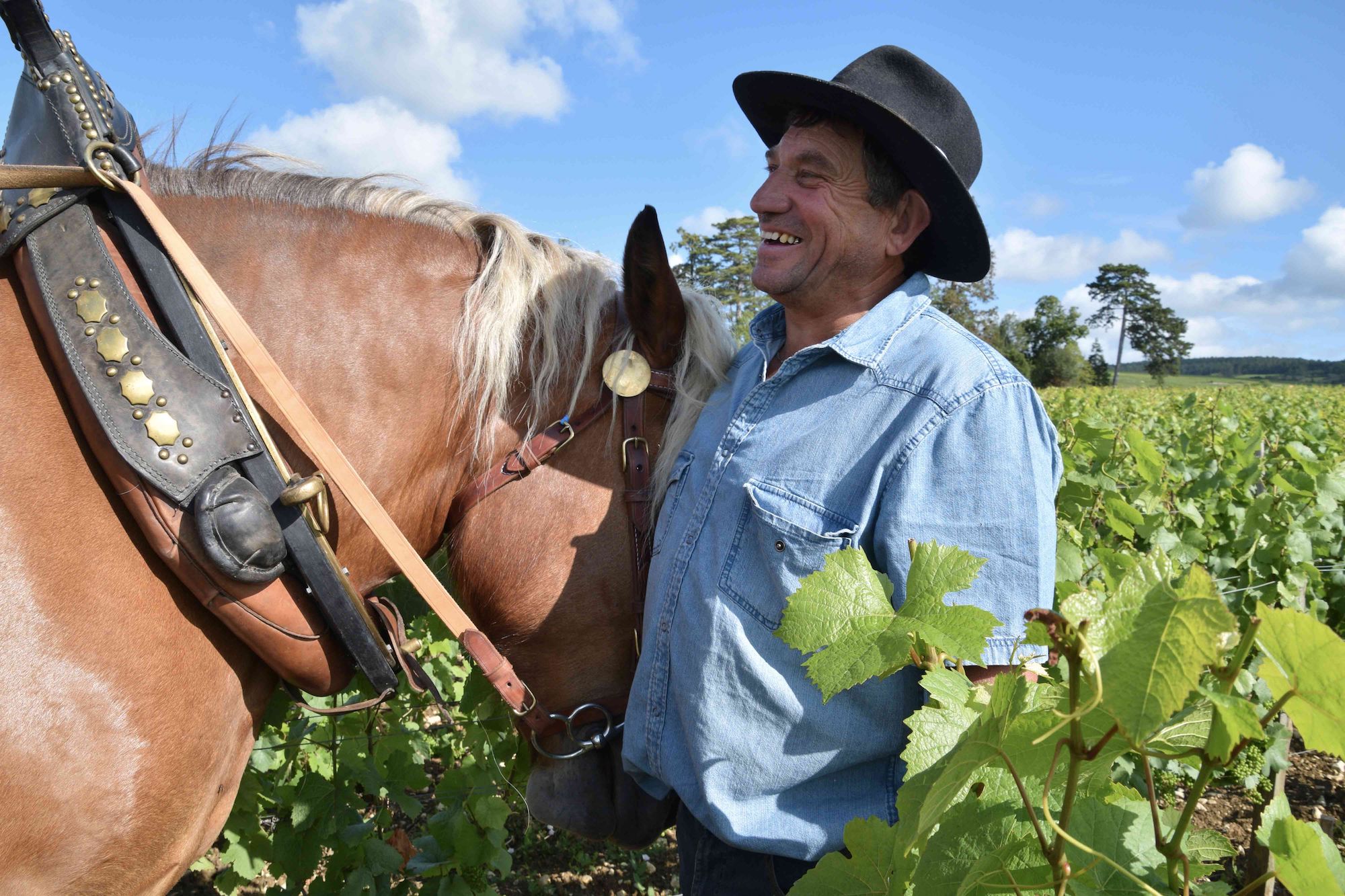 While Château de Pommard is keen to embrace these disruptive technologies and get ahead of the curve with communications innovation, one area in which it is eager to keep much more stripped back is in the vineyard and in the cellar.
One of the main missions of Baum and Sala has been to transition their entire vineyard estate to biodynamic farming, for which they are on track to achieve certification soon. "We are very full on with this," Baum said during the 2018 vintage online tasting. "We are now ploughing our entire Clos Marey-Monge by horse, we have five horses for the Clos, and although we occasionally spray copper with a caterpillar [it's really difficult to think of spraying it with a horse] all of the biodynamic preparations are done by hand."
Baum and Sala believe that their biodynamic and more artisanal, hands-on approach reaps great rewards, especially when facing climate change. "This is something magic within the Clos I think," says Sala. "I have tasted too many heavy 2018 vintage wines, and I think our biodynamics helped us to get more freshness."
Baum feels that the attention to detail in the vineyard has given them a greater awareness of their diversity within the Clos and a greater palate of flavours to play with and show the world: "We think we have a very special place because we have very diverse soils within our Clos, these different soil types allow us to make terroir-driven wines, and also educate on the different soils."

At the moment, Château de Pommard makes several different Pinot Noir cuvées from different plots in their Clos, and a blend of the Clos vineyards — the more complex and bolder Monopole. You can certainly taste the difference between these plots. From the 2018 Micaul, with the Clos' youngest vines planted 30 years ago on deep alluvial soils, which is the most black fruit-driven, juiciest and smoothest of the wines we tasted, compared to the 2018 Grands Esprits, which comes from their most limestone-rich plot and is a much tauter, linear wine with red fruit and spice. "It's like a playground as a winemaker," adds Sala, "it's a super fun place to be."
Sala looks like he is having fun, and with a new winery in the wings and a growing biodynamic farm, there's quite a revolution happening in the cellar and vineyard, which he has been a key part of orchestrating. Nevertheless, this revolution is a sensitive one which respects traditions of the region and aims to be as transparent to the terroir as possible.
Ultimately though, the proof is in the pudding. And it seems that the modern reinvention of Château de Pommard has already given them a sweet spot on the market. "Our problem at the moment is that we are running out of wines!" exclaims Baum. "We don't have enough for our private clients."
With some 100,000 private clients, the wines continue to sell quickly online. But it also seems that as the fog from the Covid-19 crisis begins to clear across Europe, in-person tourism will also see a recovery… On the first weekend they opened in June, they received over 200 visitors from all over Europe.
It looks like Château de Pommard might have figured out how to have the best of both worlds — both physical and digital, by together embracing the art of winemaking and the tech of getting it out there.
Join in on a 2018 vintage presentation with Château de Pommard on 7 July https://chateaudepommard.com/our-experiences/join-us-online/clos-marey-monge-2018-release-event-live-from-chateau-de-pommard
Originally published on Around the World in 80 Harvests