Sam Linter is a second-generation winemaker at her family vineyard and winery, Bolney Wine Estate, which was established in West Sussex, in the South Downs, by her parents, in 1972. Since 2019, she has been a director of Wine GB, responsible for helping drive British wine forward in both the local and export markets. Amanda Barnes interviews her about her own experiences as an English winegrower and winemaker, and the direction she sees British wine going in the coming years.
As a second-generation English wine producer, from your perspective how radical has the change in the British wine industry been? Can you pinpoint any pivotal moments or events which changed the industry and brought us to where we are with Wines GB today?
The change has been radical! When my family first started in 1972, there were just a handful of commercial vineyards, and when I say commercial I don't mean the sizes of today – there were just a few thousand vines in the ground. Back then, we were all planting Germanic varieties because it felt like they were the right thing to plant, but they didn't work well. There was no recent history of viticulture to look back on. It was really just about starting from scratch, being pioneers and seeing what worked and what didn't!
A pivotal moment for my family was the 1976 vintage, which was a really hot summer with drought, in which we produced disease-free grapes that ripened really well. My parents produced a really good wine, which won a Silver in the International Wines and Spirits Competition. And I think that's what showed my parents that even though they felt that most of the time it didn't work very well and we couldn't get the grapes to the condition we needed for really good wine, we had done it once! And if we had done it once, we could do it again.
In those days, the wines in the UK were actually quite shocking… no one really knew what they were making, it was a complete and utter lack of knowledge and naivety. But a few wins in these early days, like my parents had, actually showed us that you could make good wine if you worked hard and kept learning. It was really hard back then, there weren't very many books in English about winemaking that were relevant to us – so that was challenging.
In the early 80s, [my parents] saw that the Müller-Thurgau they had planted wasn't working too well on our soils, so they planted nine different varieties, and they saw that Pinot Noir and Chardonnay did work well, which was another life-changing moment for us.
Then, I think that learning and sharing all that information at the time with others really helped the industry. We weren't the only ones learning new things in those days, other people were too, but the industry was really collaborative and sharing this information really helped.
And then another key moment in the industry was when Nyetimber came along in the mid- to late-80s, and they had this French consultant going around and looking for the best soils, the best clones and rootstocks etc. And we discovered that the sandstone ridge where Nyetimber was, which is where we were, was the right land for quality grapes. And so we thought, "Oh, that was lucky! Mum and Dad rocked up without knowing anything and bought the right land!" That was quite an epiphany for my parents too.
But what Nyetimber did really well was to show the world that you could make award-winning sparkling wine in this country really relatively very quickly. They had brought these consultants in from Champagne, and had been learning how to do it, and no-one at the time was making sparkling wine but they began sharing that information and others started learning how to do it. And that really changed the English wine industry too.
We saw that we just needed to learn a lot more and faster, and everyone did! Everyone quickly caught up, and it changed very fast. For me growing up, it was a very slow curve of learning and improvements, and then from the 90s, it went really fast where everybody started thinking that they could do it – and it went from there!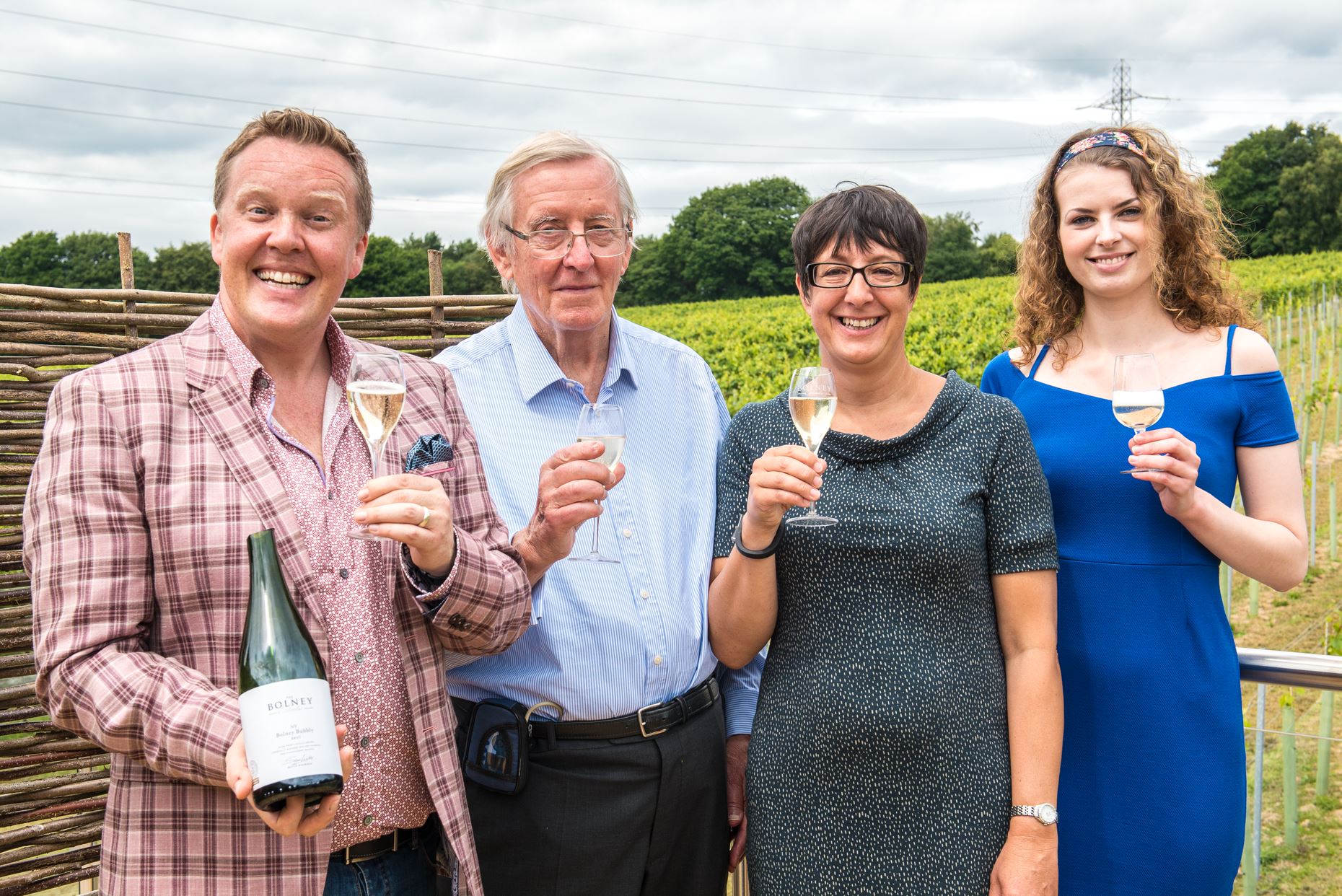 Bolney Wine Estate obviously produces sparkling wine too, but you are very much champions of still English wine. What varieties do you think have the greatest potential for still wine in England, and why?
I would say that Pinot Noir for red wines has the greatest potential. Pinot Noir, with the right clones, in this country makes a really pretty, elegant, light and fruitful red wine. I think there's a lot more we can do with this variety in this country. There are a few other good red varieties around, but if you want something that's really classy and elegant, I'd say Pinot Noir. I'll be interested to see how still Pinot Meunier goes, but Pinot Noir has really proven itself now.
For whites, it has to be Bacchus. It is really taking root here and there are some major international awards being won by Bacchus. And it's a style that people can really get behind and understand. And there's some really excellent Pinot Gris and some very good still Chardonnays. Also, if you want a more odd-ball variety, you can see Ortega [a crossing of Müller-Thurgau and Siegerrebe] as a white grape that actually does do really well in this country. There's less of it and it is less known, but that's a really exciting variety for here that probably gets a bit ignored, which is a shame.
Bacchus is perhaps known among wine circles here in the UK, but do you think it is limited in terms of wider appeal? Will it only ever be a local darling of British wine, or do you think it has export potential?
I think it's definitely got excellent export potential. I know we often say it's like an English Sauvignon Blanc, and it's not Sauvignon Blanc but it shares some characteristics, which make it recognisable in style: aromas of nettles, sometimes leaning towards gooseberry, floral and lime notes. But what makes it stand out is that while all English wines have this real fruit purity, with Bacchus there's a roundness to it. When people drink it, they get it. And that's why I think it has become so popular here, and can become popular abroad. It's an easy wine to understand.
I know Bolney as a wine estate has been very quick to innovative with picnics, virtual tastings and stay-at-home wine hampers during the pandemic. How do you see the British wine industry moving forward with tourism and tastings this summer in light of Covid-19 restrictions?
It's hard, but the industry and the association has actually done quite a lot of work to help prepare wineries. We had a webinar last week as Wine GB to look at the guidelines, health and safety rules and how to interpret them. Unfortunately, there's nothing out there that tells you exactly the rules, so it is all still very vague. It's still an interpretation and the situation is changing very quickly.
At Wine GB, we're giving clear guidance on how to enable social distancing, how to serve food, how to clean down areas, and think of the whole process. There's a lot of work being done and advice being given, but ultimately every vineyard has to think about it themselves and look at their facility – which are all different. The hardest thing for wineries is that even when we get tourism and tasting up and running, the groups will have to be much smaller and so making tourism financially viable is going to be more tricky.
At Bolney, we're just keen to get back up and running though – even if it isn't going to be commercially viable yet. We are just keen to show what we do. And it's been a glorious summer so far, and we want people to see that. We are in the peak of our vineyard season at the moment with beautiful green vines and it seems a shame not to have people here experiencing it.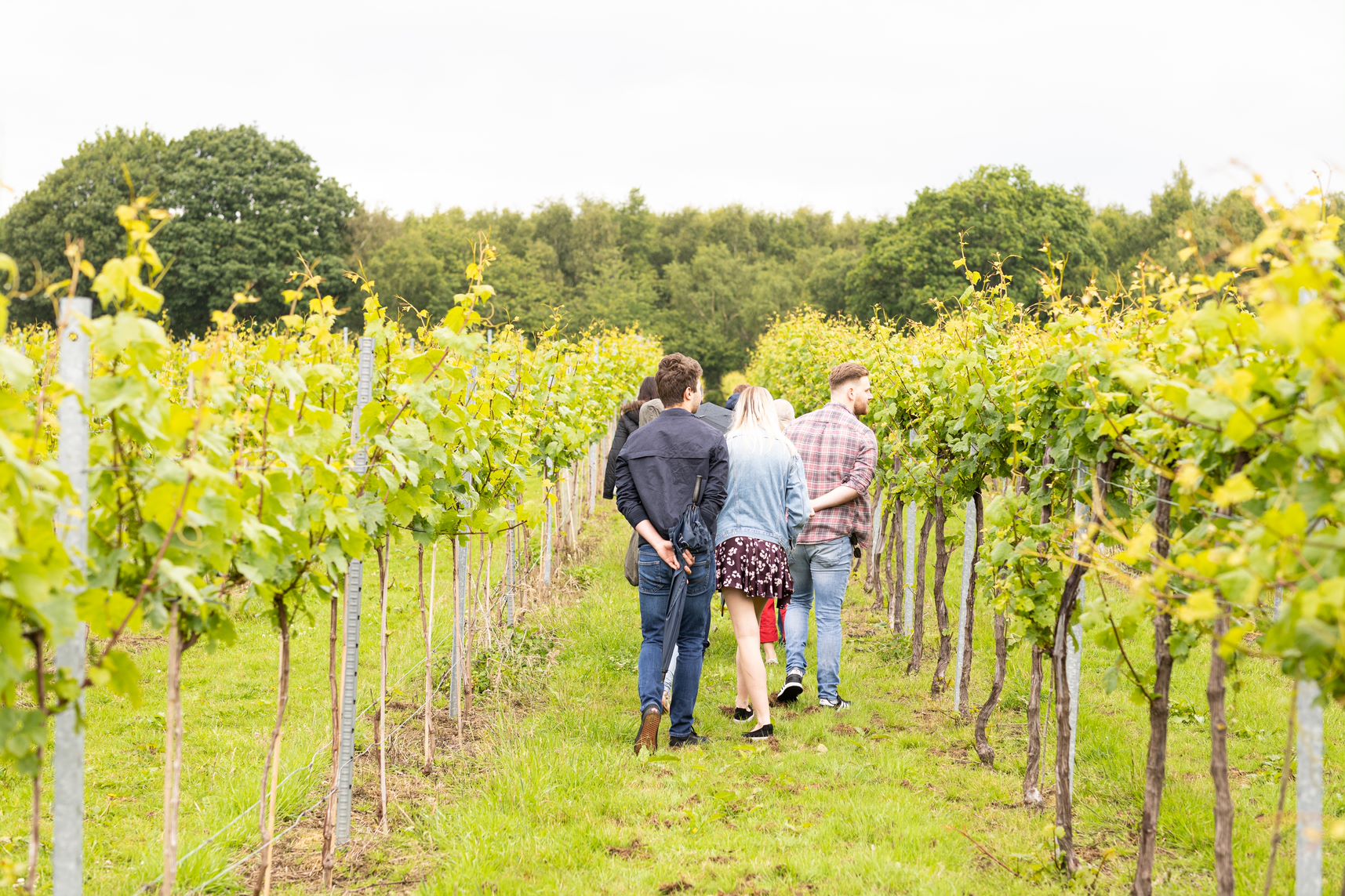 What do you think are the greatest challenges for the British wine industry that lie ahead in the years to come? And does Wine GB have any particular plans for confronting these challenges?
The main topic in the last couple of years has been the amount of vines and vineyards that have been planted. That big increase has been great, because we weren't producing enough for the high demand of English and British wine. However, the downside has been that there weren't enough wineries for the fruit!
So Wine GB has been working quite hard to encourage existing wineries, and bigger wineries, to work in a cooperative way with others. Wine GB has been trying to facilitate that happening and encourage people to expand wineries where they can. At Bolney, we also built a new winery two years ago to expand our own production and allow other wineries to use it.
The other big topic at the moment is looking at how we promote the quality of things that we do, and especially how we differentiate between the traditional method sparkling wine and Charmat method sparkling wine, for example. It's wonderful that the English wine industry is so innovative and pioneering, but also as an industry we need to make sure it is clear what the product is and so that it doesn't become confusing for the consumer. Charmat sparkling wines in Britain are less than 10% of sparkling wines at the moment, but it will grow undoubtedly, and so we need to see how that is interpreted and communicated. We are also seeing some Pet Nats and natural wines being made now, and the industry is really becoming quite mature very quickly. And so managing how this diversity is being promoted and communicated is really important.
Is it too early to comment on the way the vintage is looking? I don't want to jinx anything…
Well, it is early. But what I can say is that we've had an extraordinarily good fruit set this year. Normally we have our fruit set during Wimbledon, which would be this week, but this year it came about two to three weeks early, and the fruit set has almost finished now. So we have a very good fruit set with a slightly above average crop at the moment, which means it is looking good at the moment. If the sunshine carries on we will have an excellent year, but there's a long way to go as of yet… We still have two to three months until harvest, and anything can happen with a British summer in that time!
A tasting of Bolney Wine Estate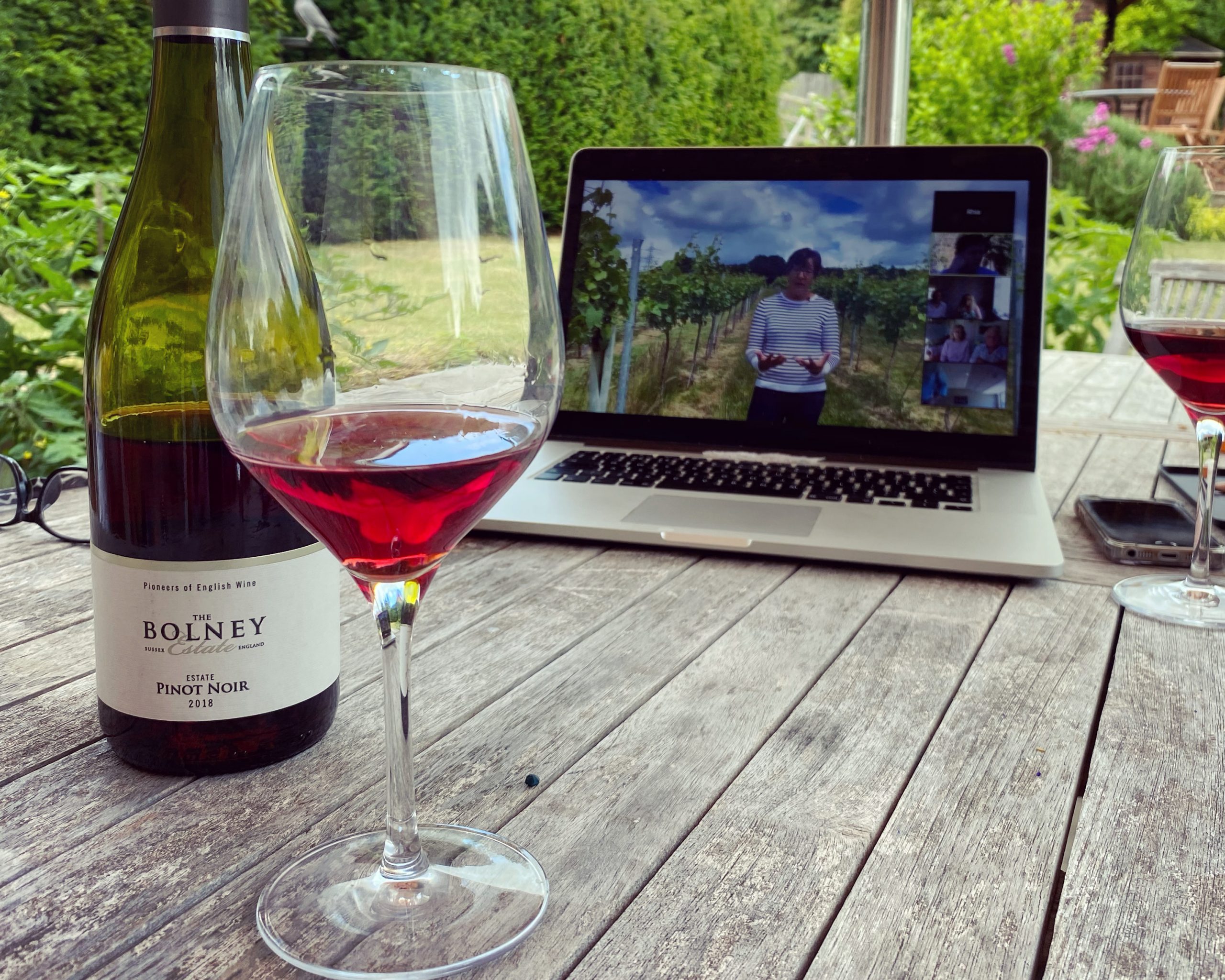 As part of Bolney's forward-thinking approach to continuing their wine tasting activities during the Covid-19 pandemic, the wine estate hosted several virtual wine tours and tastings during English Wine Week in June, as well as offering picnics in the grounds and 'dine-at-home' meals and hampers. I had the chance to join a virtual tour of the estate and taste three of the Bolney's flagship wines:
Estate Bacchus 2019
Attractive and ripe on the nose with aromas of elderflower cordial and white blossom, with a slightly savoury and spicy edge on the finish. This has more body than most Bacchus I've tried before but was lively and refreshing.
Estate Pinot Noir 2018
From the stellar 2018 vintage, on a blind taste I wouldn't have guessed this was English: filled with pretty aromas of ripe strawberry and red cherry, with a touch of pepper and cherry blossom. It's refreshing and light bodied, but had fine tannins and a smooth finish. Elegant rather than boney.
Cuvée Rose 2017
Although Bolney prides themselves on their still wines, their sparkling wines are also worth digging into. This Blanc de Noir made from Pinot Noir is filled with summer red fruit aromas and has a creamy body from extending time on the lees. Mouthfilling and complex.
To listen to Sam talk about English Still Wines in a recent Circle 'Let's talk about….' online seminar click here (https://youtu.be/zCWtNWz1BwM0 or read Liz Sagues' article in this issue