Nine CWW members headed to Switzerland and spent a week discovering the wine regions and wines of this high-altitude European country. In the first of a two-part report, our members report on the different wine varieties found in this unique wine country, an insight into how climate change might affect Swiss viticulture and some highlights from the trip including a visit to VINEA wine fair and a tasting with one of the World's Best Sommeliers Paolo Basso.
Thank you to Elisabeth Pasquier, Nathalie Franzé, Andrea Conconi, Alicia Mettler, VINEA and Swiss Wine for organising this spectacular trip. The group travelled from 31st August through to 5th September 2017.
Report written by members on the trip: Carol Brown, Linda Johnson-Bell, Sue Tolson, Marie Cheong-Thong, Timo Jokinen, Charles Byers, Donna Jackson, Sandy Leckie and Tanya Mann. Edited and compiled by Robert Smyth and Amanda Barnes.
An introduction to Switzerland and its changing climate

Linda Johnson-Bell introduces Switzerland's wine regions and highlights the group's takeaways from a trip that bombarded the receptive members' senses with mountain magic, as well as a plethora of vinous and gastronomic delights.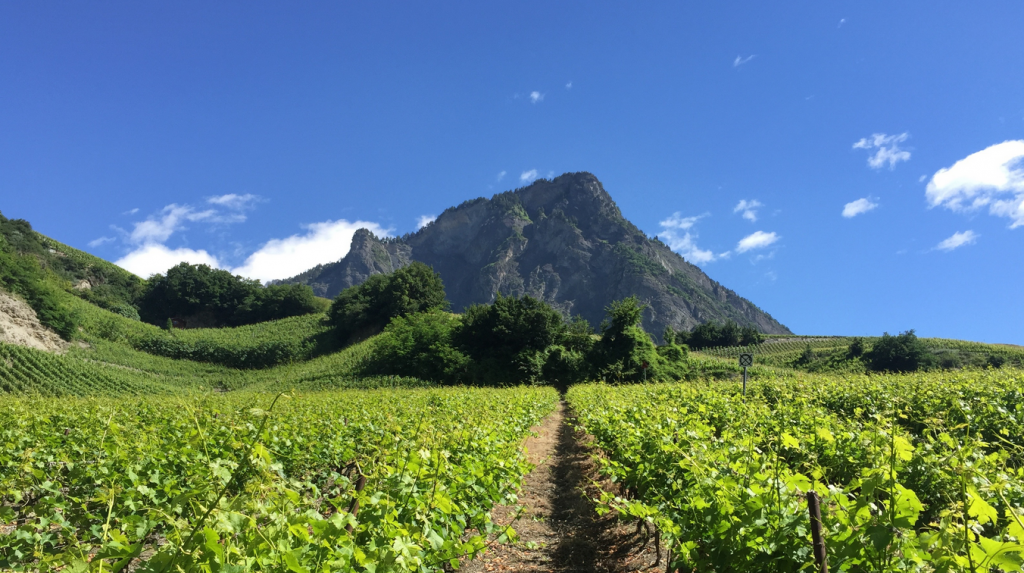 As you will gather from the forthcoming articles by the other trip members, this was a press trip with a difference: we were treated to an elegant gamut of gastronomic, scenic, cultural and viticultural splendours. For some, this was an introduction to Swiss wines, whilst for others, it was the opportunity to dig deeper into a region long-appreciated. There were a few major themes that we were encouraged to take away with us.
Firstly, that their wines continue to suffer from a lack of international exposure due to low production and small export figures. But with the warming climate, increased plantings may help towards solving that problem. Chuck touches upon this topic in his piece…
 Secondly, that the Swiss are posturing themselves as the next Rhône Valley and are making great strides with their Syrah, which were gorgeous. As one producer put it to us: "Forget France, the River Rhône starts here."
Thirdly, that they are also pinning their bets on Merlot as the star of the show in Ticino, which I personally think is missing a trick. They were some of the most structured and interesting Merlots any of us had ever had, but we all fell in love with their whites, both international and indigenous varieties (Sue will walk us through those). All were crisp, clean, complex, low-yield, personable and Swiss (Carol went mad for the Viogniers). Merlot, as original as their interpretation was, will still always be the 'sugar' in the Bordeaux recipe for me – it will never be a great mono-cépage. Even Petrus was always 20% Cabernet Franc until the market forces shaped by the American critics dominated the scene with their preference for sweeter, hotter wines and the quantity of Cabernet Franc was gradually decreased to nothing. Petrus has only been 100% Merlot since 2010. I feel that the Merlot is not a grape worthy of their enormous wine-making talent, experience and terroirs. Interestingly, when I collated our collective Top Ten wines, our favourite red variety was the Pinot Nero, followed by Syrah.
And this leads us onto the last point that was highlighted during the trip: the effect of climate change. While it is allowing greater maturation for the white varieties, the reds are already suffering. When Paolo Basso, and many others, tell us that they won't be able to grow Pinot Nero in ten years, where does that leave Merlot? It will be next in line. Already, many of the Merlot in Ticino we tasted were on the verge of being unbalanced and dominated by alcohol. I got a bit tired of feigning, politely, to producers, "Wow, it's 15.5 ABV and yet still so fresh and acidic. So balanced!" Perhaps this makes their Syrah initiative that much more viable.
Annoyingly, the irrigation debate is already raging in Switzerland. With the increasing temperatures many winemakers are starting to irrigate, despite having dry-farmed since the inception of their vineyards. When I challenged them on this, pointing out that they are lucky to be going into this warming climate with deep root systems, healthy soils and the resulting low yields – so why spoil it? – I was told that it was too hot to not! Yet, a greater majority of winemakers told me, scathingly, that their colleagues who irrigate only do so out of laziness and greed – that they want to increase their yields now that legislation is getting more lax. Apparently, there are some who are thrilled to be able to adopt more New World practices that will allow them to compete on a more international level. This never-ending debate over quality vs quantity saddened me – especially to hear it rage in this tranquil alpine paradise. But I was bolstered by the fact that this seemed to be the minority view amongst those I interviewed. And, more importantly, I was bolstered by the fact that the overwhelming message we brought home, and I think I can speak for the others, was one of passion, excellence and an inescapable frisson of excitement for their future.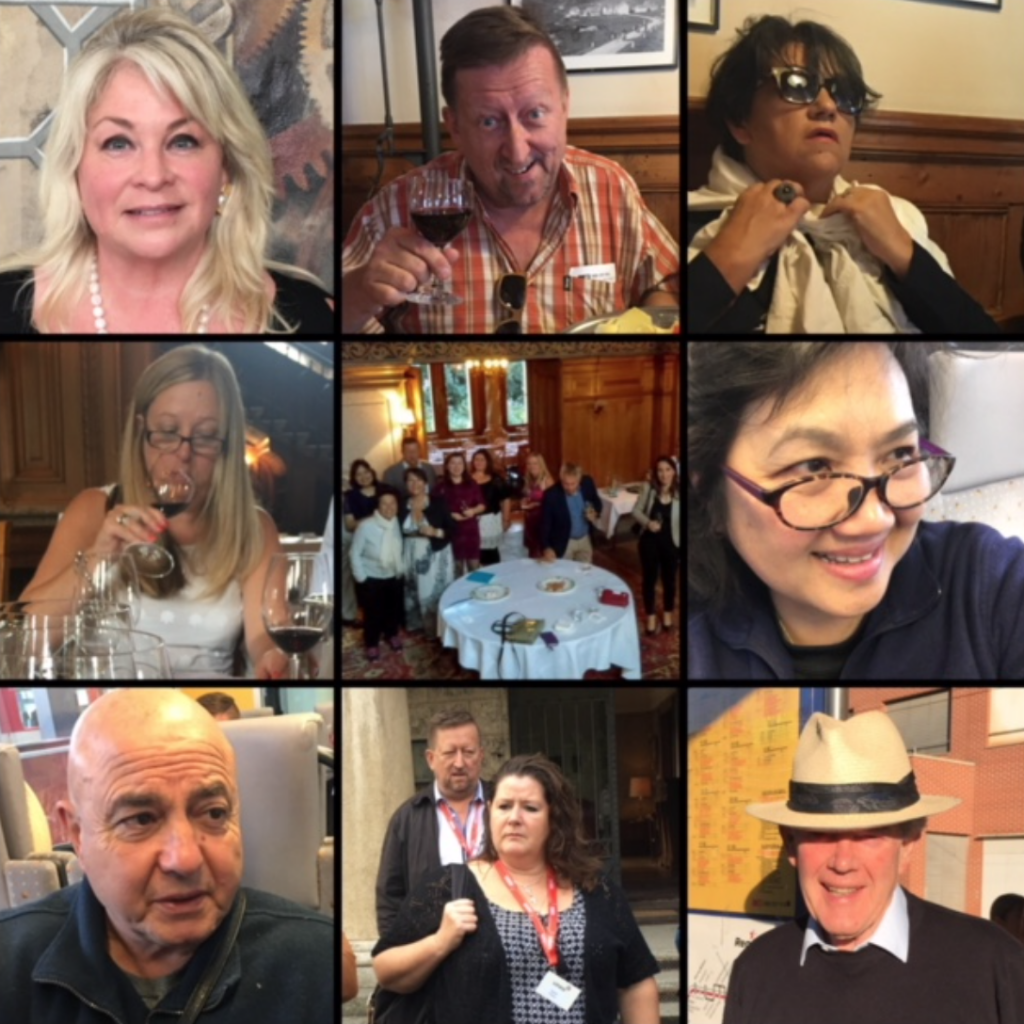 A land of many flavours: Indigenous and traditional varieties of Switzerland
Sue Tolson gets her head and palate around Switzerland's indigenous and traditional varieties.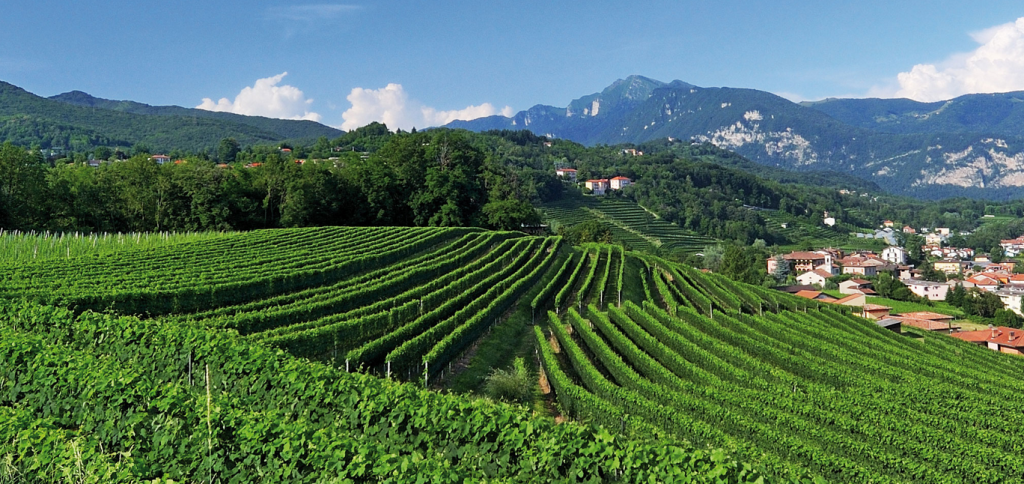 One of the joys of visiting a wine region is discovering its less explored treasures, whether it be unique terroir, winemaking techniques or grape varieties. Switzerland has all these. Vineyards nestled high in the Alps, enjoying the cooling influence of altitude or the tempering reflection of its lakes, ancient winemaking traditions of vin du glacier and a whole host of varieties under vine, including internationally known noble varieties, little-known crosses or varieties traditional or indigenous to Switzerland or one of its cantons.
Switzerland has a long winemaking tradition and well over 100 registered varieties, of which 90 or so have more than one hectare under wine. Like many countries, there are dominant varieties; in Switzerland's case, red Pinot Noir and white Chasselas occupy just under 30% of vineyard area each. Italian-speaking Ticino is planted over 80% with Merlot (7% of Swiss vineyards). This leaves not much more than a third for other varieties. Given Switzerland's long viticultural history, it naturally has some indigenous varieties of its own and some traditional varieties that have long made their home in the country. Unfortunately, like many other 'local' varieties around the world, they were driven practically to extinction following phylloxera and the replantings in the early and mid-twentieth century. Fortunately, a few pioneering winemakers have ensured that at least a few hectares of each of these are being rescued and, hopefully, expanded.
Valais, where we attended Vinea at the beginning of September, has its fair share of indigenous and traditional grapes – mostly whites, but also a handful of reds. Indigenous varieties featured high on the Valais whites masterclass some of us attended and some were also shown by Paolo Basso in his iconic Swiss wines masterclass, so we had the chance to try a handful here as well as at Vinea's stands.
Petite Arvine
One of the more widely planted, and some say finest, local varieties producing a range of wines from dry, nervy wines with flavours of grapefruit through to sweet flétri wines using partially dried grapes and loaded with exotic fruits. The wines generally had fresh acidity and a slightly salty touch. There around 170 hectares of the variety, almost all in Valais, so one of the most accessible Swiss varieties.
Savagnin Blanc (known as Heida in Haut-Valais or Païen in Bas-Valais)
Heida or Païen can be considered traditional in Switzerland as it has been cultivated there since the 16th century, first planted on the slopes near Vispertimen, up to 1,100m high – some of the highest vines in Switzerland. Relatively widely planted in Valais with 120 hectares in total, it gives powerful, well-structured wines with notes of citrus and exotic fruits with the capacity to age well. It is currently fashionable in Valais and can be found on most wine lists, although it was previously considered to be rustic. The variety presents lots of faces and styles, as well as its many names – it's also known as Traminer. It can be austere, lightly aromatic and spicy, or very heady and expressive, and like Petite Arvine, it also has a touch of salinity on the finish.
Across the French border, it is the grape used for Jura's famous dry wines as well as its Vin Jaune. Paolo Grasso thinks it could be the future of viticulture in Switzerland, since Chasselas, the most cultivated variety in Switzerland, is not really understood outside the country. He believes that if marketed with a different name linked to the region, so that it could not be directly compared with Jura wine, Savagnin Blanc could be successful.
Rèze
With just 2.5 hectares under vine now, Rèze used to be widespread in the Alps and was traditionally used to produce Vin du Glacier, a maderised wine aged oxidatively up on the glacier, with the family's barrel being topped up with new wine every year. It was a popular variety in Valais at the start of the 20th century with 400 hectares under vine, until it and many other Valais varieties were replaced by Fendant (the Valais name for Chasselas). Nowadays, it's generally produced as a light, refreshing dry wine, high in acidity with notes of gooseberry and green apple.
Gouais Blanc or Gwäss
Jokingly nicknamed 'Casanova of the grapes', the variety is one of Switzerland's oldest and most prolific grapes, thought to be parent to around 80 varieties, generally better known than it is itself. Gouais Blanc produces relatively simple crisp wines with citrus acidity and aromas of green apple and blossom. Less than a hectare remains now.
Lafnetscha A rare, old Swiss variety, Lafnetscha takes its name from the local dialect 'laff es nicht schon', which translates as 'don't drink too soon'. This alludes to the fact that the wine benefits from ageing because of its high acidity. Saved from extinction in the 1970s, only two or three wineries produce wine from the variety, it yields well-structured wines with aromas of pear, apple, elderflower and a long floral finish.
Amigne
An old, native grape from Valais, which also almost disappeared during the 20th century; it was only found in a few parcels around its native Vétroz at the beginning of the last century, although it's more widely planted now, with a total of 41 hectares. It can produce attractive sweet wines with great ageing potential, whose sweetness is indicated by between one and three bees in Vétroz. Nowadays, powerful dry wines are also often produced which display lime blossom aromas as well as sweet flétri wines with zesty acidity and orange, tangerine and almond notes.
Altesse
Originating from the other side of Lake Geneva in France, where it is known as Roussette, very few producers are working with it in Switzerland, but many believe it has unexploited potential. A late-ripening variety with high acidity, pungent mineral, herbal and lemony aromas, which ages well. It's often considered Savoie's finest grape with its exotic perfume, crisp acidity and flavours of almonds and honey.
Completer
An old variety found mainly around Malans in Graubünden, Italian monks most likely carried this grape to Switzerland, with the first written record of its existence in the 14th century. Considered Graubünden's indigenous white grape, it could be interesting as it is linked to Swiss tradition; Benedictine monks were traditionally allowed to drink a glass of wine in silence during the Completorium, evening office, from which the grape derives its name. A distinctive, pungent and powerful wine with notes of quince, greengage, ripe apple and honey which become more honeyed as it ages. Unfortunately, our sample was corked, so we didn't get to taste the wine here, so my description is based on Paolo Basso's words and the notes in Wine Grapes (Robinson, Harding and Vouillamez).
Humagne Blanc(he)
This ancient variety was widely planted until the 19th century, but had virtually disappeared by the start of the 20th. However, this long, subtle, elegant wine is now making a comeback with 29 hectares currently under vine. It was famed, wrongly, for its high iron content and is often called vin des accouchées, wine for new mothers, as it was doled out as a restorative to women who had just given birth. The restorative properties probably came from the herbs and honey added to the hot wine. It was also a celebratory drink drunk at weddings and christenings. Crisp, fruity and elegant with subtle hints of lime blossom.
Two traditional reds
Switzerland's two most common traditional reds inject a little confusion into the equation. What is known as Cornalin in the Valais, is not the same Cornalin as in the Valle d'Aosta, from where it originates. The Cornalin of Valais is officially called Rouge du Pays or Landroter. It is one of the most ancient grapes in Valais, dating back to the 14th century. Like many of its compatriots, it was practically extinct at the start of the 20th century, but several growers and winemakers are patiently resurrecting it again and there are now 135 hectares under vine. It can produce high-quality, deeply-coloured, spicy wines with silky tannins, notes of morello cherry, raspberry, violets and cloves, and a long, slightly bitter finish. Fruit-forward in its youth, it gains elegance and smoothness with age.
Humagne Rouge, totally unrelated to Humagne Blanc, is called officially Cornalin in Aosta and the rest of Switzerland and is the offspring of the Cornalin de Valais (officially Rouge du Pays). This is the second red variety considered to have great Valais identity and plantings now also stand at around 135 hectares. A well-structured variety with slightly rustic tannins, it gives wines with aromas of wild black fruits, smoke, pepper, undergrowth and violets.
Many other varieties are also being resurrected, often on a minute scale, such as Lafnetscha's half-sibling, Himbertscha, only cultivated by its discoverer Joseph-Marie Chanton on just 0.17ha near Visp. Chanton also cultivates the extremely rare red strawberry-scented Eyholzer Roter which produces a dry pale red, deep pink in colour not too dissimilar to a rosé along with a barrel-matured Eiswein. A handful of producers also produce the fine aromatic red Mondeuse around Geneva and the smoky, rustic Rouge de Fully, or Durize, around Fully in Valais.
Just to put things in perspective in terms of how much of an impact the key local varieties are having, according to Federal Office for Agriculture's vitivini statistics for 2016, Chasselas represents 62% of all whites, whilst Petite Arvine and Savagnin Blanc/Heida/Païen represent 3% and 2% respectively; Pinot Noir represents 49% of all reds, whereas Cornalin and Humagne Rouge both stand at around 2%.
Scouring the stands at the Vinea fair for these varieties, over 30 producers had a Petite Arvine, around 20 a Savagnin Blanc (under its variety of names) and/or a Cornalin, around 15 a Rouge Humagne, a handful had a Humagne Blanc or Amigne and just one had a Rèze, Gouias Blanc or Durize. So, just the four varieties mentioned above were relatively easy to track down as varietals, the others are still hiding their light under a bushel. Although we did taste an interesting white blend, Ass. Blanc Cuvée Mélèze, from Caves du Paradis (Sierre) of Petite Arvine and Humagne Blanche aged in larch barrels – autumnal fruits, touch floral, slight sappiness, giving depth.
Want to learn about the Swiss varieties? CWW member José Vouillamoz has just published a book on the Cépages Suisses.
Exploring VINEA and Château Mercier
Charles Byers is seduced by Switzerland and the incredible Château Mercier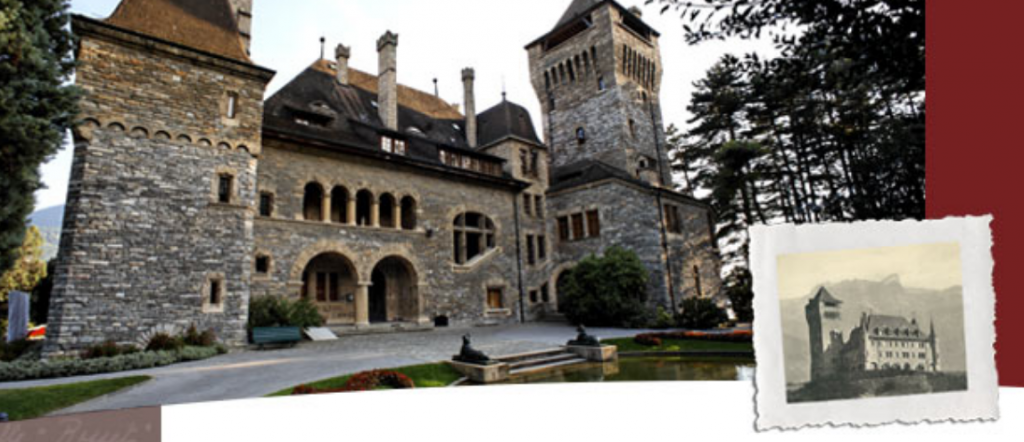 It was a long and tiring trip from Toronto, Canada, and I was somewhat apprehensive upon arriving in Geneva. However Alicia Mettler showed her lovely face at the gates to welcome me to Switzerland. Soon the rest of the Circle of Wine Writers appeared and off it was on the first of a number of train rides.
The train took us through some magnificent scenery of Canton Vaud and Lavaux, which is a UNESCO World Heritage Site. Names that I had known only through geography classes such as the Jura Mountains and the Alps were there before my eyes. The River Rhône, which we so associate with the South of France, showed its beginnings here. Everything was so surreal. Then of course there were the villages and the vineyards. Could anything get any better than this? It did!
Our final destination was to be the grand Château Mercier! Situated atop of Pradegg Hill, high above the town of Sierre in the Valais region of Switzerland, the turreted Château Mercier is an imposing building which seems more like a castle which easily could have come from an Alexander Dumas tale of The Three Musketeers in the Loire Valley.
It is over 115 years of age – being built sometime between 1906 and 1908 by the Mercier de Molin family. The family donated the Château to the Canton of Valais in 1991 and the management of the château was in turn entrusted to the Mercier Foundation in 1992. The mission of this foundation was to make the Château Mercier a cultural centre and meeting place. To that end, the part of the estate called Villa Ruffieux was established as an interdisciplinary residency for professional artists of all types as well as scientists and researchers working in the fields of conservation, natural heritage and wine!
Apparently Lausanne architect Francois Isoz was employed by Jean Jacques Mercier to design his Château D'Ouchy. I wonder if Isoz also designed Château Mercier. The château scale was grandiose in style that combined the finest of intricate architecture inside with superb English style flower and water gardens outside. Two large statues of what seemed to be Great Dane canines guard the massive pond in front of the arched Chateau entrance.
Our hosts guided us through the main entrance into an ultra spacious foyer which focuses on a massive fireplace and a 'Tara' southern plantation style staircase that climbed up four levels, each housing guest rooms and suites.
My spacious lodging (one of 22 rooms) featured a magnificent panoramic window view of the village below. A distant mountain provided the perfect backdrop. Next to the foyer were two dining areas separated by French style doors. These subsequently led back to main entrance which was large enough to easily encompass château guests wishing to sit and enjoy the evenings while having a drink or coffee. Just off the main dining room was an impeccably kept kitchen used for special occasions which included cultural, political and religious events and special presenters.
Château Mercier lends itself to many special events and seminars – two of which were attended by the Circle of Wine Writers. The first was with 2013 World's Best Sommelier Paolo Basso and his introduction of 15 iconic wines from Switzerland. The other was a dinner held at the château itself which included the writers plus several other travelling guests. In addition to the English style gardens, the château grounds feature a miniature aviary complete with pheasants and peacocks. Song birds fluttered through many of the four hectare estate's trees. Next to the aviary was another large room (one of four conference rooms) complete with technical equipment and used for group meetings. My brisk early morning walks never failed to find something new to see, whether it was a terraced vineyard, a stone bridge, magnificent flowers or interesting song birds. It was such a pleasure to be alive! Château Mercier definitely was one of my travel highlights but there was so much more to come!
The VINEA Foundation
VINEA was founded some 20 years ago with the intent of raising awareness of Swiss wines both nationally and internationally. It does so by organizing events such as the Swiss Wine Fair which was held recently, staging national and international competitions and disseminating information that raises awareness of Swiss wines everywhere. Its Mondial series of events, which features a specific wine variety such as Merlot and/or Pinot Noir competition from as many as 24 countries, is held in Sierre. This year they were held in April and August, respectively. The leading international wine competition in Switzerland is the six day Grand Prix Du Vin Suisse with some 3,000 wines from 550 producers.
The Circle of Wine Writers attended the Swiss Wine Fair, which featured over 80 exhibitors from Swiss wine regions in a two-day tasting affair. The one thing that amazed me in the Swiss Fair event and in all the tastings, such as the one in Ticino, was that the wines tasted were in the great to superb range. The Merlot, Syrah, Chasselas, Petite Arvine, Chardonnay, Savagnin Blanc, Pinot Noir and Cornalin, to name a few, were utterly amazing!
Discovery was also there since my knowledge of 'new' grape varieties and wines was greatly widened. Species such as Garanoir, Humagne/Cornalin and Diolinoir were unknown to me and that, plus the fact that the styles of 'traditional' varieties can be so unique, reinforced the reason why wine keeps me involved. It is a continuous learning process that does not stop. There is always something new around the corner. Thank you VINEA for that opportunity.
Sierre
Of course a by-product of VINEA's Swiss Wine Fair was the opportunity to see the Swiss Town of Sierre. Apart from the grandiose scenery and a powerful mountain backdrop, it has many attributes. Sierre is the capital of the district of Sierre within the canton of Valais. The quaint buildings lining impeccably kept floral draped streets certainly made sure that one knew he or she was not in 'Kansas' any more. The town has other things to offer, such as a wine museum and a museum dedicated to the memory of poet, novelist and philosopher, Rainer Maria Rilke! My thanks to Brigitte Duvillard, curator of the Rilke Foundation for the superb tour of the museum and for saving my pictorial life by giving me her camera memory card when mine refused to work! Sierre definitely left me with an impression and desire to return for more!
VINEA of course has to be given kudos for organizing so many events and workshops that publicized and promoted their product – Swiss Wine! From the initial welcoming experience to the wine fair to the special presentations and VINEA 'after party' at the Hotel de Ville garden, the main focus was on the exhibition of Switzerland's Wine.
VINEA Association
A meeting was held at Château Mercier between VINEA Director Elizabeth Pasquier and the Circle of Wine Writers' Group. At this meeting the main philosophy and mission of the association, which also houses the secretariat of VINOFED (World Federation of Major International Wine and Spirits Competitions), was discussed. As described previously and generally speaking VINEA is a multidisciplinary association specialised in the organisation of wine competitions and organises events to promote Swiss wines. It obviously will be successful when one takes into account the quality of wine that is available and also the huge amount of energy and funds that are being accounted to this venture.
I did have one question that still dogs me. It is well known that Switzerland consumes almost all of its wine production. This is quite evident when one takes into account the small amount of Swiss wine available to the Canadian public. The only province that has anything more than a meagre supply is Quebec. My question is if the World suddenly discovers the quality of Swiss wine will that not create a demand which will invariably result in higher prices? Will this not rebound onto the Swiss consumer? The answer was that the whole idea was to increase the level of reputation of Swiss wine but it should not affect prices. Somehow I am not certain, though I hope it is true! VINEA's new President David Genolet, who has much experience in the sector, will undoubtedly have that issue in mind when he deals with enhancing the reputation of Swiss wine even more.
Success of Swiss Fair
A media report mentions that the 24th VINEA Swiss Fair was a major success with over 6,350 people attending with a larger group of younger tasters and a very successful workshop attendance. At other VINEA sponsored tastings, Switzerland walked away with two-thirds of the Pinot Noir gold medals.
A train ride through the Alps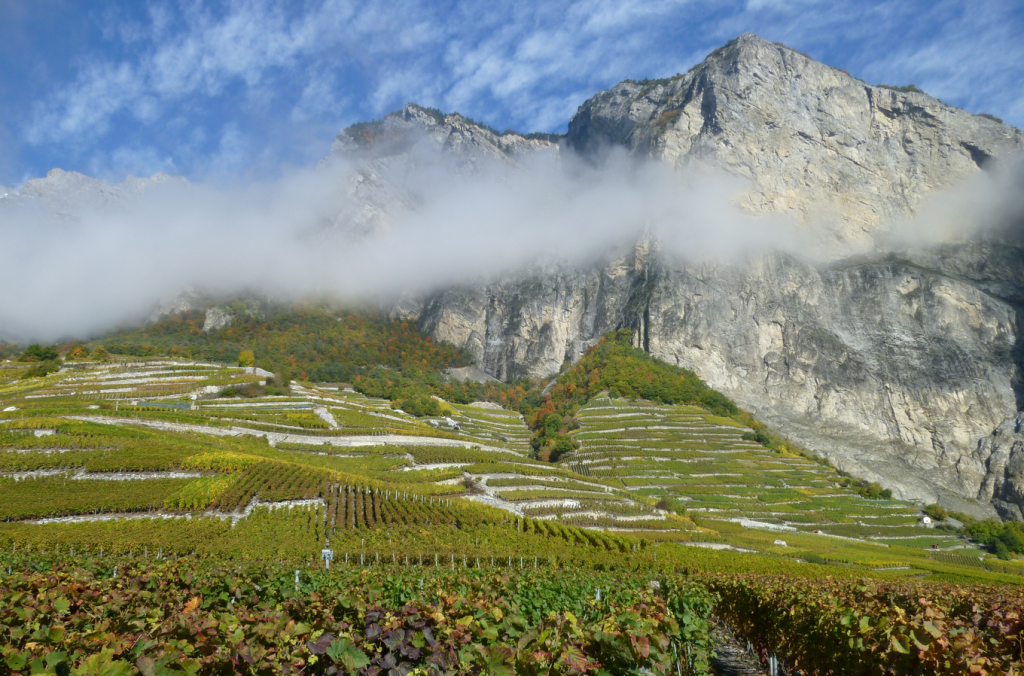 The Hogwarts Express had nothing on the steam locomotive that we were introduced to on our final venture through the Swiss Alps, on our way to Lugano in the Ticino Canton. The weather and sunshine seemed to cooperate, making the trip doubly enjoyable. On our way to the steam train, I noticed the village of Munster-Geschinen. I immediately thought of Munster Cheese.
The trip started in Oberwald where we boarded a restored 100-year-old steam locomotive and train. There were no modern conveniences and the vintage cars were as they were at the turn of the century. Seats were wood hard and windows could be opened. This meant that we could take some phenomenal pictures. Throughout the trip through the Central Alps, the names of unique towns and villages – some named for their products – came into view; Gletsch, Neiderwald, Muttbach-Belvedere and Tiefenbach. At Furka, whose name the steam train adopts, we stopped for a brief lunch and drink. There I tasted a very refreshing white Chasselas wine from the Vaud Canton. The fleshy village wine commemorated the Furka-Bergstrecke. Being a light bodied wine, it went well with the cheese, sausage and bread we enjoyed prior to our continuing the trip.
The train passed through some unbelievable scenery: snow covered mountains, deep green cow-filled valleys and hiker-friendly meadows. We did come across some areas where glaciers were supposed to be, but global warming has also affected their appearance or should I say their disappearance. Some bridges that we went over were so high that rivers looked like little streams of water upon a glass. The whole scene was majestic and breathtaking.
I can honestly say that I experienced different types of climate during the full day on the trip. The climb proceeded to a maximum of over 2,100 metres and while we started out with mild temps, they slowly became cool and then turned frosty as we approached the summit.
My excitement grew when I actually saw the beginnings of the Rhône and Rhine rivers, here in the Alps. So many times had I heard the names of these iconic rivers and never really thought about the fact that they originated in the high mountain Alps. Throughout this whole experience my mind played and replayed the haunting music from the film Harry Potter as one fabulous scene replaced another. It was a very apropos thing to imagine as the views unfolded.
The trip ended at Realp and soon we were off to the almost tropical area of Lugano in the Ticino Canton. However, the memories of this trip will keep it alive for many years to come. It was not just about wine or scenery but it was about the people that were with me and those friends that I had already made and was about to make! Most of all it was the time I had to share with a wonderful group of wine colleagues who proved to me that wine was more than just a beverage. It was a total style of life and a good life at that!
Post Script! My daughter recently signed up as a working student at a world-renowned horse stable. In a discussion with the stable manager the words 'travel' and 'Switzerland' came out.
"Have you heard of Sierre," he asked, "That's where I'm from!"
Switzerland Trip: A Circle Gallery
By Charles Byers
Tasting Switzerland's icons with Paolo Basso
Tanya Mann enjoys the discussion and the wines at Paolo Basso's Iconic Swiss Wines Tasting.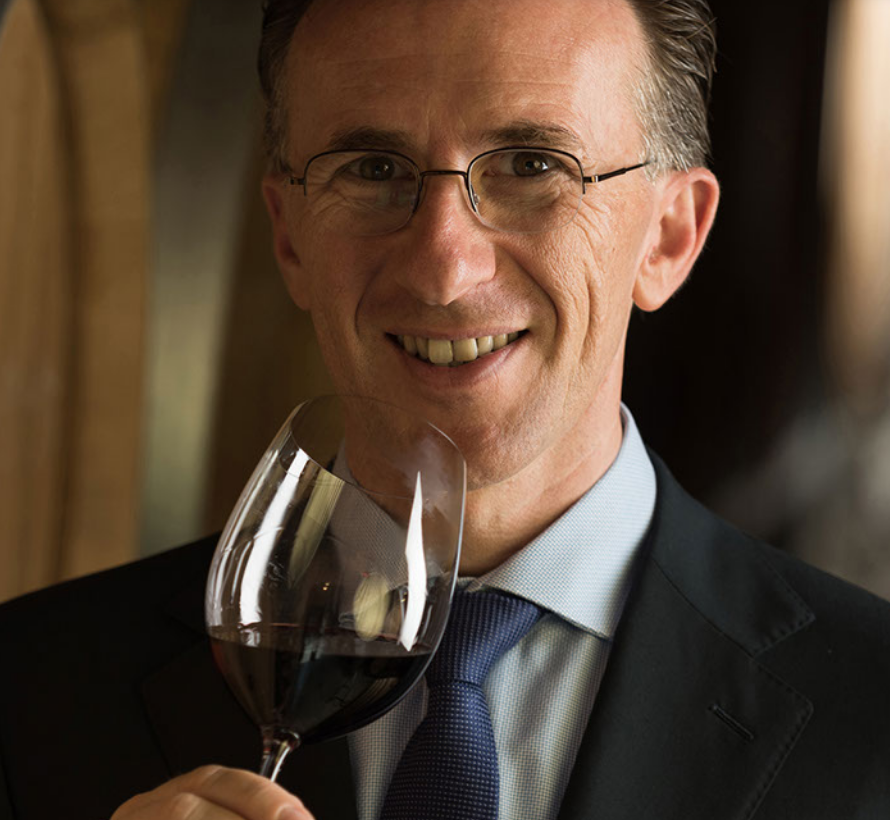 After two days of tastings at the Vinea exhibition in Switzerland, our group was ready to meet our distinguished main speaker. We had already discovered several interesting wines and been impressed beyond our expectations by the quality, character and style of the Swiss wines we had sampled with such pleasure.
Now we had the honour of hearing the famous Paolo Basso, ex-president of the Swiss Sommelier Association, presenting a tasting of Iconic Swiss Wines. Paulo Basso has the esteemed and rare title of Best Sommelier in the World and, in 2013, Best European Sommelier, so his judgement was surely to be trusted, especially as his specialisation these days is as wine consultant for buyers of collectable wines! He told us that his first own wine, Il Rosso Di Chiara, was named after his daughter.
The first lesson to absorb, as we looked at what seemed to be already used glasses, was never to present a wine in a dry glass, but to rinse it first with wine.
Then came a defence of Swiss products. "We are proud of our wines, but outside of our country we have no real reputation. Our wines deserve international recognition." To illustrate this, he points to the fact that 90% of the wines in front of us are no longer available; their exceptional quality means they are now sold out.
Climate change, he next tells us, is having a discernible effect felt by local growers. So much so that the warmer weather could soon be unsuitable for the growth of Pinot Noir in Switzerland.
Paulo presented 15 wines, explaining the flavour pattern of each, before moving on to some hot topics of the moment in the trade: from minerality to rare local wines,
especially Swiss, of course.
White wines
Some wines instantly focused my attention. Of the whites, I was mightily impressed by Altesse 2015, Henri Cruchon (Echichen Vaud). 2015 was a good vintage, with excellent maturity of fruits; lovely flavours of peaches, apricots – even over-ripe fruit – were concentrated in every glass. It is, for me, a very pure wine with a distinct personality, reminiscent of dried fields flowers and white stone fruits. It starts almost creamy on the tongue and in time shows its mineral characteristics on the palate. Very complex, very elegant.
Another superb white we sampled was Paien, Clos des Corbassieres, Domaine Cornulus 2010 (Saviese Valais).
This little known "pearl" has great potential to be recognised in foreign markets. Paien is its French name, but the variety is internationally known as Savagnin Blanc and here, in Valais as Heida. Paolo thinks that giving a wine its regionally specific appellation is a good way to promote wine internationally. This wine is ready now but has ageing potential and can wait another five years to further encourage its acidity level. It's a bright golden colour, has a distinctive note of petrol, which well balances the fruity character of the wine – all vibrant tropical fruits and golden apples with a background of cashew nuts and mushrooms. Its aftertaste is very long and pleasant, with spice notes. It is a delight to listen to Paolo describe this wine: its deepness on the middle palate, its very long consistency. It is a wine we would like to taste again, he says, and we all agree. With a 'short wine' you don't welcome another glass!
The owners-winemakers (Reynard, Stéphane & Varone, Dany) use barriques for fermentation and a long maturation process, and this provokes another discussion about the ageing of Swiss wine: in Switzerland, we were told, there is an establishment called the Swiss Wine Memory Organization. Older vintages are catalogued and kept carefully in cellars for later tastings. It's like a wine archive.
To truly understand these wines, says Paolo, we must look and taste with care and know about the great local terroir. This sets us off again – a good discussion ensuing about minerality in wine, how it comes close to saltiness and umami sensations, savoury flavours that seep from specific bacteria at the roots of the vines.
Other whites include Amedee, Raymond Paccot 2013 (Fechy Vaud) which comes from the Geneva area, from an ancient village, very well known for Chasselas. This blend of Savagnin Blanc and Chardonnay almost reminded me of Ganevat wines from Jura. From the very first complex aroma of dried meadow flowers you fall in love. Its most distinguishing characteristic is its smoky, almost salty, minerality. Delicious!
Another discovery was Completer, Martin Donatsch 2015 (Malans Grisons) from the eastern part of Valais. The Donatsch family has owned Ochsen in Malans for over 100 years and Martin has become the most important entrepreneur of this variety of grape. Inspired by Burgundy, he had already planted Chardonnay and Pinot Blanc in 1975, which, from a legal point of view, was not allowed at that time. In Switzerland he was the first to press a sparkling wine according to the traditional method and to cultivate Cabernet Sauvignon (1983) in the region. Further, when it comes to pressing methods, Thomas was the first in Switzerland to experiment with wooden barrels. He won the 2010 competition for Champion du Monde des Producteurs de Pinot Noir – the world champion among the Pinot Noir producers, a feat he accomplished again the next year.
Red wines
A lovely red was Pinot Noir, Jean-Pierre Pellegrin 2012 (Satigny Geneve). It's a very elegant, mineral style of wine with classic gentle aromas, quite sweet and smoky on the nose, with strawberry fruit, raspberry, liquorice and leatheriness. It's a complex wine, lively on the middle palate yet elegant, with the tannins well integrated, and half the price of a similar Burgundy. Not surprisingly, this wine has a waiting list of would-be buyers.
From the north of the country comes Pur Sang, Domaine Chambleau 2011 (Milvignes Neuchatel), one of Switzerland's most stylish Pinot Noirs. Here is a richer and more powerful wine with a long, beautiful finish.
Pinot Noir, Daniel Gantenbein 2014 (Flasch Grisons) comes from the Gantenbein Winery, where Martha and Daniel Gantenbein have been producing wine since 1982. This is a classy number, full of finesse and elegance even though the tannins are still young. A wine with a lot of smoky personality. The price is CHF105 and, with an ageing potential of 20 years, it is already sold out.
In contrast, Vite d'Oro, Ivo Monti 2013 (Cademario Tessin) Ticino comes from a small, family-run business with only four employees. It is a blend of 80% Merlot, with Sauvignon, Diolinoir, Carminoir. This is a young, astringent wine with more richness than Pinot Noir. Full of the aromas of plums, nutmeg, beeswax, this is a rounded big wine.
Trentasei, Gialdi Vini 2010 (Mendrisio Tessin) is a 100% Merlot. The 2010 we tasted was from a very warm growing season and the resulting wine is very rich and powerful, has good depth, supple tannins, and a savoury finish. It had 36 months in new French oak barriques with frequent racking from the lees, so it could be bottled without fining or filtration, etc.
For a change we sampled a Syrah, Denis Mercier 2013 (Sierre Valais). There were deep, intense aromas, with violet flower notes. I thought this wine very charming; surprisingly for Syrah there is a very silky structure of rounded tannins. My first impression was of a very young wine with blueberry, raspberries and some black pepper and an earthy aftertaste. Paolo calls this Mediterranean style, very warm and beguiling, and it is one of my favourite examples of Swiss Syrah – with elegance, class and complexity.
Another red was Cayas, JR Germanier 2005 (Vetroz Valais), another version of old style Syrah. This wine was born by accident from an over-ripened harvest. One grower had problems, so left the harvesting for one week more and found the grapes got better on the very special rocky soils, and 2005 was pretty good vintage. After 12 years it is still in very good condition and can easily age another seven to eight years. Reasonably priced, this kind of wine can occasionally be on sale in supermarkets.
Tsampehro rouge ed. II, Clos Tsampehro 2012 (Flanthey Valais). Normally this region is well known for its single variety wines so this blend is a new project for the winery. It is medium deep in colour with a garnet touch, a blend of Cornalin, Merlot, Cab Sauvignon and Cab Franc. It begins with an impression of ripeness and black fruits but finishes in refreshing style. Its earthy character gives personality to this wine, which again has good ageing potential.
*
Unfortunately, after a long tasting, my computer decided to take a break and go to sleep, and this gave me time just to enjoy the last wines without thinking too much and making notes. I could say this rarely happens nowadays! Wines for pure enjoyment were a special Electus by Valais Mundi 2011 and a rich and very juicy Chardonnay 2015 by Daniel Gantenbein.
Time went very fast, for the tasting was so detailed and intense. For Paolo it was not easy as he had to make his presentation in two languages. Many questions would have been voiced if the bus had not been waiting. With the sweet, warm feeling of the great dessert wine Marsanne Blanche, Marie-Therese Chappaz 2004 (Fully, Valais) on our palates from Paolo's own private collection we moved on to discover more Swiss wine.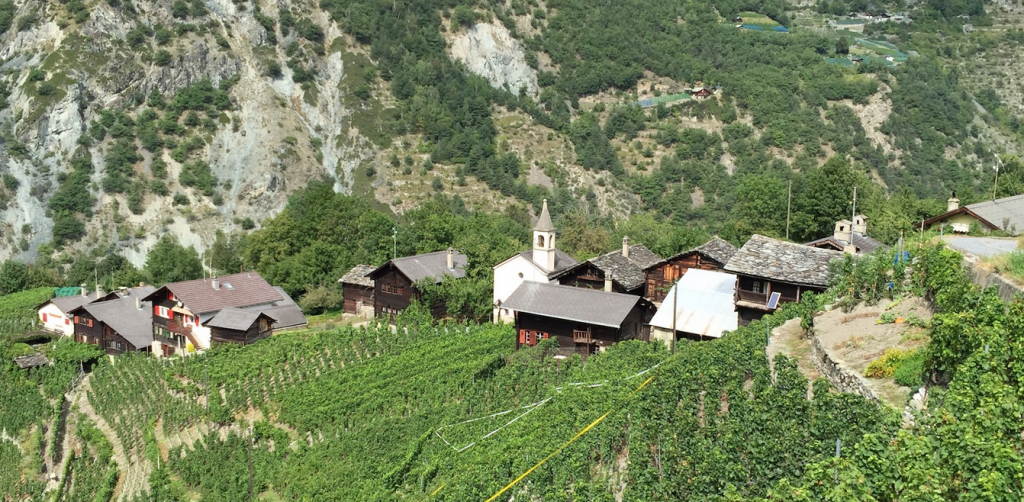 Next month we will publish the rest of the reports from the group's trip to Switzerland including the Top 10 wines tasted, as compiled by the members on tour.