Linda Johnson-Bell provides her takeaways from CWW's recent Franciacorta seminar, in which Franciacorta's UK brand ambassador, Tom Harrow, described how and why Franciacorta is forging its own identity. The event was held at The Naval Club, Hill St, Mayfair, London, on 3rd July, 2018.
This won't be a primer on the ABC's of Franciacorta – the region of land between Lake Iseo and Brescia, and one of the jewels set into that gilded necklace of Italy's most precious cities, threading across the north from Torino to Venezia. Journey along the A4 and you will be bedazzled. We know that Franciacorta is tired of being compared to Champagne… and who can blame it?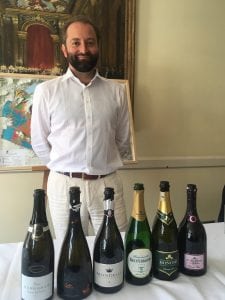 We know that Franciacorta uses the same traditional method (second fermentation in the bottle not vats) as Champagne, has the same dosage system, uses similar grapes (Chardonnay, Pinot Blanc, Pinot Nero and recently, the indigenous Erbamat) and that despite the region producing sparkling wine since at least the 1500s, 'Franciacorta' came into being only in the early 1960s, receiving DOC status in 1967 and DOCG in 1995. But it is so much more than an Italian version of Champagne. Nevertheless, it is interesting to note that the modern 'father' of Franciacorta, Franco Ziliani, winemaker for Guido Berlucchi, set out to do just that, explaining that he wanted to copy all that he had learned in France. What is so exciting about this region is that it is shaping a future that is bold, unique and innovative. Luckily, the Circle of Wine Writers had Franciacorta's UK brand ambassador, Tom Harrow, on hand at the Naval Club last month, to tell us exactly how and why Franciacorta is forging its own identity.
(Watch the full seminar on this link.)
| | | |
| --- | --- | --- |
| CATEGORY | SUR LIES (minimum) |   |
| Franciacorta NV | 18 months | Chardonnay, Pinot Nero, Pinot Bianco (permitted up to a maximum proportion of 50%) and Erbamat (in the maximum proportion of 10%) |
| Franciacorta Satèn NV & Vintage | 24 months | Only Brut and only Blanc de Blancs (Chardonnay with up to 50% Pinot Bianco) Apply a low bottle pressure of below 5 atmospheres. |
| Franciacorta Rosé | 24 months | Chardonnay, Pinot Bianco (max 50%), Pinot Nero (min 35%), Erbamat (max 10%). |
| Franciacorta Millesimato | 30 months | The wine comes from a single year (minimum 85%). |
| Franciacorta Riserva | 60 months | Only released at least 67 months (five and a half years) after harvest |
What I think we took away from the tasting, apart from a deepened appreciation for the wines, are three main themes: that their uniqueness lies in their strong and bold use of autolysis (sur lie); that they are banking on their new Satèn category, a Blanc de Blancs, which they are trending with 100% Chardonnay, to take them forward onto the world stage; their dislike of sugar, and thus, their minimum or non-use of dosage; and their strident dedication to do all of this in an ecologically sustainable manner.
The idea behind the use of extended periods of sur lie is to produce a creamier, less astringent wine with those textures and flavour profiles we get in aged Champagne. No other Italian sparkling wine works this way. (Note that NV Champagne requires at least 15 months, compared to Franciacorta's 18 month minimum; that vintage Champagne requires a minimum of 36 months, and that some Champagne houses extend the time for autolysis to seven or more years). To further aid the quest for creaminess, with the Satèn category, a trick is added via the lowering of the atmospheric pressure to a maximum of 5.0 atm, so to create a wine of subtlety and persistence.
What I most appreciate about the region is the combination of traditional vineyard and winemaking practices, as well as the commitment to sustainability, as the region is faced with the reality of climate change. Growers use high planting densities (5,000 plants and going higher); there's a lot of hand-riddling about; they don't irrigate as they are committed to lower, quality yields (average of 55 hl/ha); there is little or no oak; there's the new use of the indigenous Erbamat as part of the adaption strategy to climate change; and the fact that almost 60% of the producers are organic. Further, it's worth looking into the 'Terre della Franciacorta' project, launched in 2011 and initiated by the Consortium and the 18 municipalities of Franciacorta with the goal of land preservation. Read also Franciacorta's pesticide regulations and about Ita.Ca, the first Italian model for measuring carbon footprints in vineyards.
The 2,000 hectares of vines, nestled in a stunning topography and in mineral-rich soils over gravel and sand on a limestone bedrock, produce about 17.5 million bottles of Franciacorta per year – Veuve Clicquot makes 10 million in a year, Tom informed us – as opposed to Champagne's 300 million bottles and Prosecco's 411 million bottles. The only way to go with this region is niche and exclusive… and they very aptly live up to the monikers.
Tom brought us six delicious examples from the region: a Franciacorta NV, two Franciacorta Satèn, a Saten vintage, a Millesimato and a Millesimato Rosé. If anyone would like Tom's technical notes for the wine, please find them on Member Resources.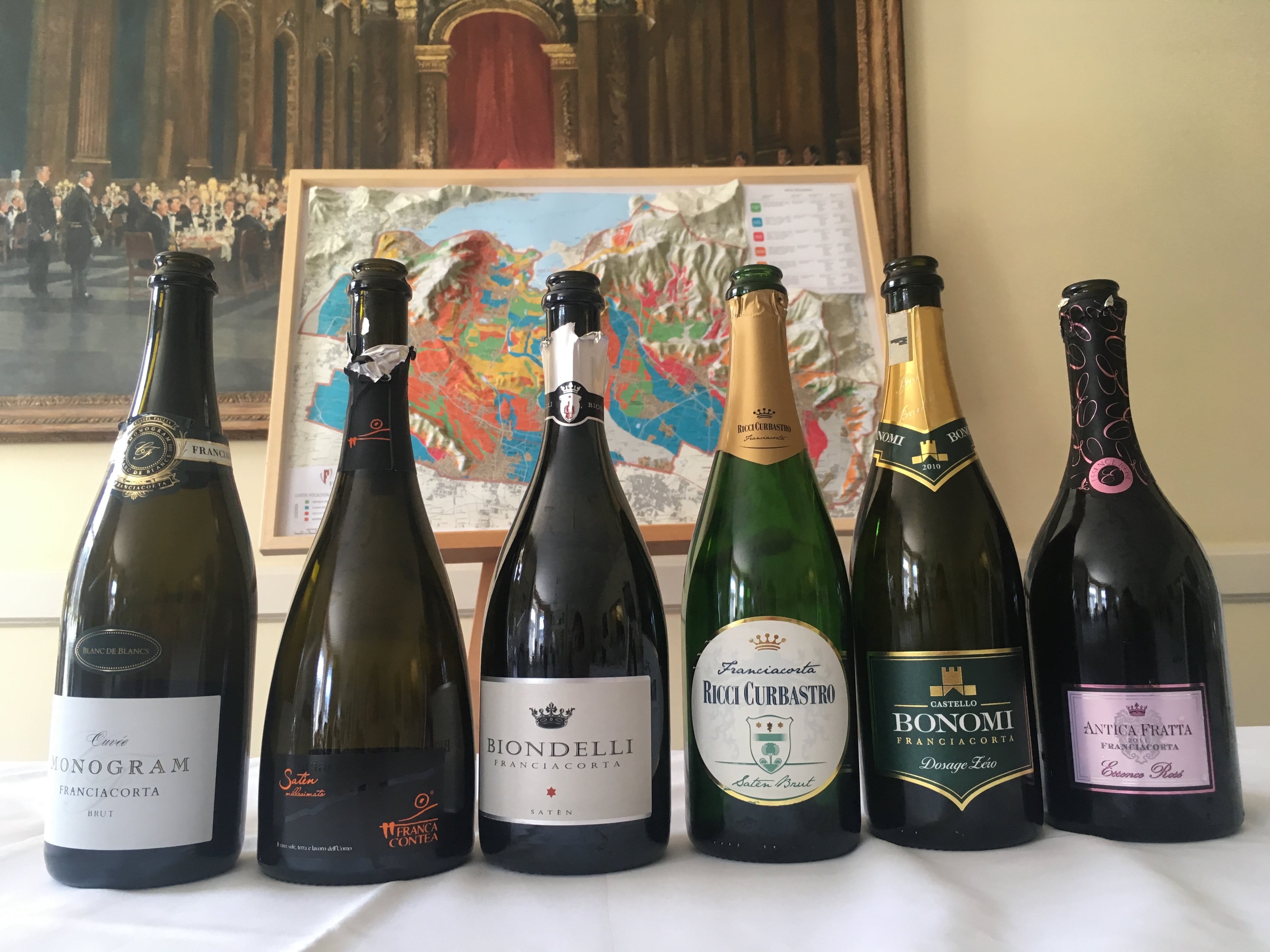 Castel Faglia, Monogram Brut

Biondelli Satèn

Franca Contea Satèn

Ricci Curbastro Satèn Vintage 2013

Castello Bonomi Tenute, Dossagio Zero, Millesimato 2010

Antica Fratta, Rosé Millesimato 2011
All of the wines were well-made, which is tricky as sur lie is a risky business and can go horribly wrong if the yeast caps grow too thick – perfect riddling is key. They were all fresh, mineral and tightly-constructed with well-integrated bubbles. I do wish more producers would use indigenous yeast, however. The Castel Faglia (80% Chardonnay, 20% Pinot Bianco) was all white flowers, clean and straightforward. The Biondelli Satèn was immediately creamier with a savoury finish, the Franca Contea had a closed nose on the day but had a restrained, elegant and clean palate. The Castello Bonomi Tenute (50% Chardonnay, 50% Pinot Nero) was savoury, creamy and yeasty with notes of its marine soils… a bit too confected for me, but delicious. The Antica Fratta stole the show. The 55% Pinot Nero gave it that body I crave, along with the spicy nose, the explosion of dry fruit, toasted almonds and the stunning extract leading to a long, clean finish. Tom explained that Franciacorta rosé comprises less than 5% of the total production. This may alter as the climate changes and Chardonnay and Pinot Bianco have to make way for more Pinot Nero. Also, in my opinion, the Satèns (all 100% Chardonnay) did not get interesting enough until they were vintage… then the wine had more personality – not surprisingly. All in all, it was an interesting and impressive tasting and gave us all a lot to look forward to.
Other producers to look out for
Barone Pizzini
Bellavista
Ca' del Bosco |
Contadi Castaldi
Lantieri de Paratico
Enrico Gatti (for Erbamat-based wines)
Guido Berlucchi
Written by Linda Johnson-Bell