Nathalie Spielmann dives into Nova Scotian traditional method sparkling wines, made from its signature hybrid grape variety.
Nova Scotia, a quaint Atlantic province of Canada, has many things going for it. The bustling harbour city of Halifax, the historic landmarks and villages, famous ships (like the Bluenose) and shipwrecks, undoubtedly the best lobster in the world, high tides, and picturesque rugged coastlines. But beneath the horizon of stunning attractions, there lies something unexpected: an outstanding selection of traditional method sparkling wines produced using hybrid grapes. Indeed, Nova Scotia sparkles with more than just its breath-taking views.
But first, some history. French settlers arrived in the 1600s, in what is now the Annapolis Valley, and they engaged in viticultural practices using Vitis vinifera vines they brought with them or the local Vitis ripaira and Vitis labrusca varieties. The Acadians were then deported to what is now Louisiana, and later settlers brought other vines, many of which became feral. The 1800s and early 1900s were defined by interest in wine grape research, certainly a by-product of the phylloxera crisis, experimentation (even Russian varieties were planted), and cultivating French hybrids, such as Vidal and Seyval. In 1960s, multi-year trials were conducted to establish the true viability of winegrowing in Nova Scotia, using 11 different cultivars, such as the Concord, Elvira, Seibel 9549, Niagara, etc. And the resounding conclusion was… no.
The concretization of the current Nova Scotian wine scene occurred in the 1980s, at the dawn of the cool climate viticulture movement. Undeniably, the 1960s was a very cold decade (the average minimum temperature in winter was -25°C and ranged from a staggering -31°C to -23°C). However, and since then, the climate has evolved significantly. The region has gained 40 growing days over the past century; spring frost risks end earlier in May and fall frosts can now be expected in mid-October. With this dramatic climate shift, the question was no longer "should we?" but "what should we plant?"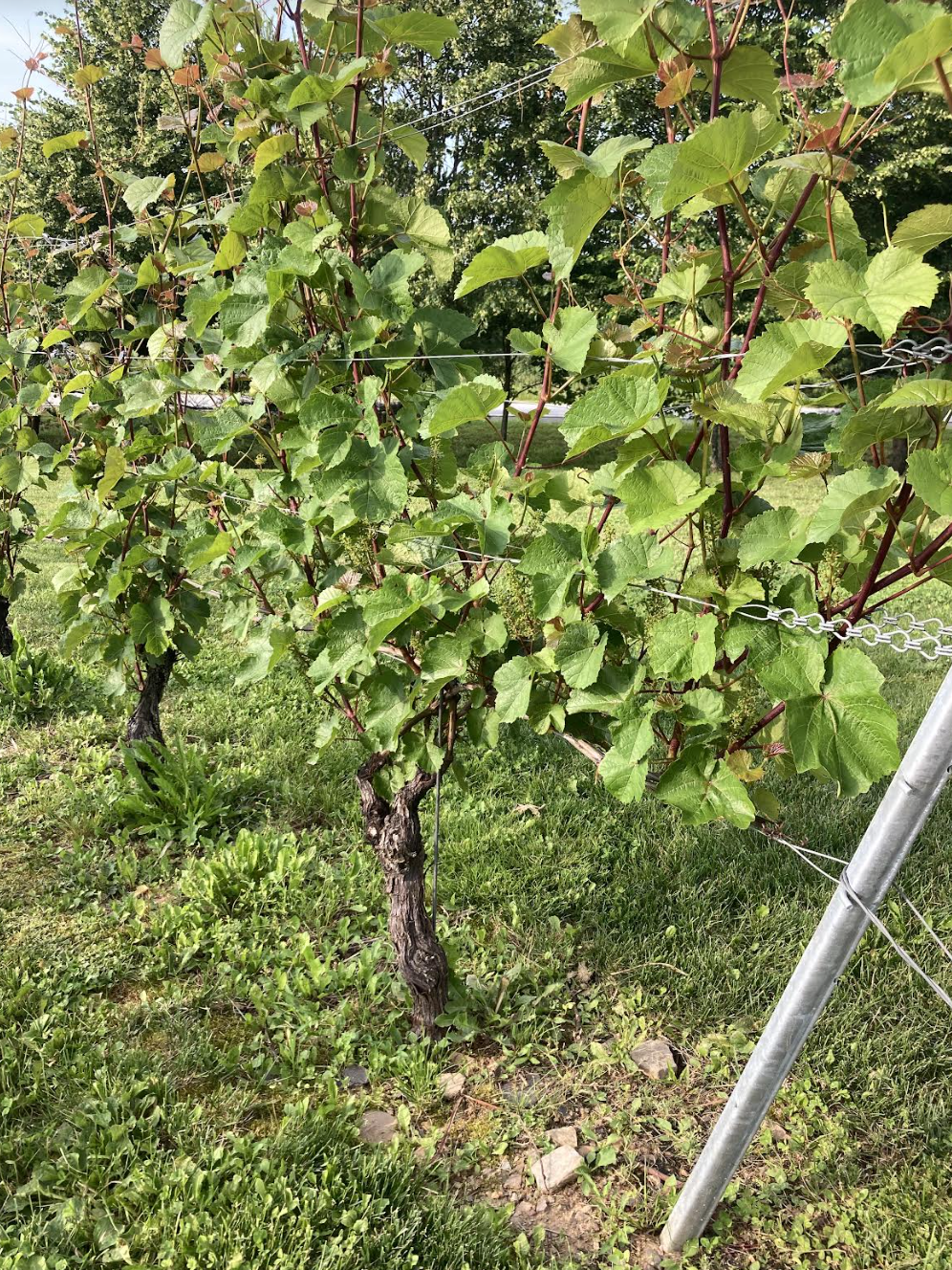 The answer was V53261, otherwise known as L'Acadie Blanc, an interspecies cross of a cross produced by the University of Guelph, in Ontario, in 1953. This variety accumulates moderate amounts of sugar and maintains an incisive acidity with a low pH. It is loose-bunched with medium-thick skins – making it ideal to grow and thrive in the humid Atlantic summer. The notoriously high tides also bring strong winds, which lowers disease pressure. L'Acadie Blanc is easily identified by its upright growth and very red stalks. Most importantly, it is a relatively neutral variety – making it ideal to produce sparkling wines from. And that is exactly what pioneering producers decided to do. Their only issue was tempering that acidity.
Realistically, there were few options. Nova Scotian wine producers were nascent small businesses, with few financial means to invest in a lot of barrels, tanks, and fancy machinery. What they did have, like most do in Canada, was space. Consequently, long lees ageing became the incontrovertible solution. Producers such as Domaine de Grand Pré, L'Acadie Vineyards, Luckett Vineyards, Blomidon, and the better-known Benjamin Bridge all started producing traditional method sparkling wines with lengthy periods on lees – the average hovering around three to four years, even for non-vintage wines. Not only does lees contact help alleviate the sensation of acidity but it contributes texture and depth, while also adding complexity to the wines. Over time, winemakers have also accumulated reserve wines to further enhance sensory intricacy.
Of course, Chardonnay, Pinot Noir, Pinot Meunier are also popular grapes in the region. But the climate remains extreme, as the polar vortex of February 2023 demonstrated, as temperatures of -26°C and cold winds are rarely compatible with agriculture of any kind. It is increasingly evident that winter hardy hybrids are the most reliable for ensuring future sparkling wine production.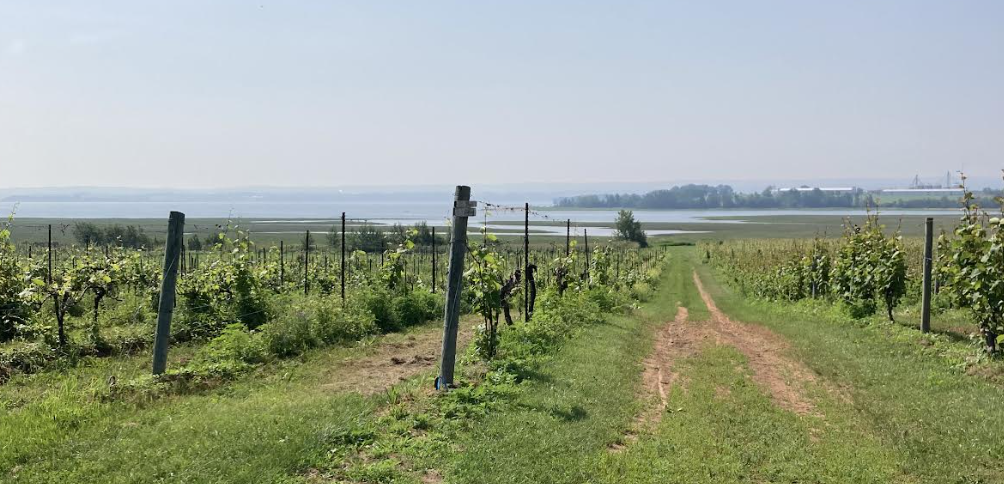 Making a splash
How good are these wines, you might ask? The Prestige Brut Estate from L'Acadie Vineyards, a single variety L'Acadie Blanc with 60 months on lees, recently garnered 95 points at the 2023 Decanter World Wine awards. And Blomidon's Cuvée L'Acadie, with its 34 months on lees and 30-40% of reserve wine, received 89 points from the same magazine. These successful results indicate that something is taking place in Nova Scotia to make the world of sparkling wine take notice. Unfortunately, these small production and limited-distribution wines are difficult to find outside of Canada, or sometimes even outside of the province. But consumers are drawn to niche wines, making Nova Scotian traditional method L'Acadie Blanc-based sparkling wines prime candidates for cult wine following.
The Nova Scotian success story is leading the way for other European traditional method sparkling regions to modernize their wine production and project into the future. Hybrid grapes, while taboo, did in part save European viticulture, until they were slowly outlawed by the INAO (Institut National des Appellations d'Origine) in the 1930s in France. Few remember that Baco Noir was a common grape in the Champagne region, which was used to make rosé. Yet, in response to climate change, the first plantings of a new hybrid variety, Voltis, have been authorised in Champagne this year. The use of hybrid grapes has allowed Nova Scotia to create a unique local tradition while still offering insight to other regions facing similar challenges due to climate change. Overall, it appears that new and ancient regions may indeed have things they can learn from each other.