Jon Wyand shows what to expect on bringing out a wine book with a French publisher as he goes under a hedonistic house arrest at Château du Clos de Vougeot.
One benefit of struggling through the production of a wine book with a French publisher is that you'll probably be invited to Livres en Vignes, when it has been published. It's a kind of house arrest at Château du Clos de Vougeot, where you spend 18 hours over a weekend either signing your book(s), inspecting the competition or chatting to your neighbour.
The likelihood is, if you can string a couple of sentences together in French, you will be assigned a seat on a debating panel for an hour. It's not arduous but a strain for those linguistically challenged, not so much in speaking but in following the argument. I have some conversational French, plus the usual gestures and expressions that save me from the necessity of actually responding verbally, but these don't work here apparently. There are meal breaks of course, a fine buffet lunch courtesy of the Vougeot kitchens and, on Saturday night the full chapitre experience, which is why you have hired your dinner suit.
You must get yourself to Paris and home again, but transport to Dijon, and thence to one of a selection of good hotels and the venue, is included. As is a welcoming Friday dinner in the company of that most cheery host, Alberic Bichot, in his Beaune cellars. A gentle ice-breaker the last time had me sat next to Gorbachov's one-time press secretary, Andrei Grachev, and his charming wife Alla.
One hundred of us are spread through three hotels and martialled kindly but firmly by the organiser, Evelyne Philippe, who has nurtured and run this event since 2008.
For our labours, the vinous and gastronomic are corralled in one room, while the intellectuals and comic book writers share a bigger room across the landing. Of course, the inmates are a mix of first timers and grizzled old hands, both deferring at the lunch table to the handful of the famous; the French intelligentsia, media types and the odd chef who puts in a brief appearance. Foreigners here are rare it seems, a Canadian perhaps, a Russian or even a Brit. That was in 2015.
In 2019, I was there again and this time decided to keep a diary.
27th September: Fresh from Eurostar and the RER, I met up with other authors travelling down from Gare de Lyon. I wondered how the bonding would go and who would make the first comment about Brexit. In fact, I passed the journey chatting spasmodically to a Paris journalist, Thierry Dussard, whose book La Chêne had won the Prix du Clos de Vougeot.
As I was not making use of the return ticket on Sunday but staying in Beaune with friends before visiting Chablis on Monday, I had hired a car from Dijon and made my own way to Hotel Le Vougeot, to find a pleasant room with a vineyard outside and view to Château de la Tour.
The inauguration was due to start at 5pm, so I smartened up for the dinner to follow and took the shortcut through the vines to Château du Clos de Vougeot and the expected 90 minutes of speeches and awarding of prizes. Thank goodness there were seats this year, plus the usual crémant and nibbles – that cuverie stone floor is cold and hard for standing on.
Then, onto buses to Bichots cellars. Again more crémant, but sadly no Alberic, to break the ice. Little groups had begun to form like impenetrable mini icebergs only to be fractured by the call to the table. Low and behold, I was sat opposite to my new friend, Thierry, and alongside a Spaniard living in France, who was responsible for half a book on the science of wine tasting. It was more fun than it sounds, but less memorable than the first time. Isn't that often the way…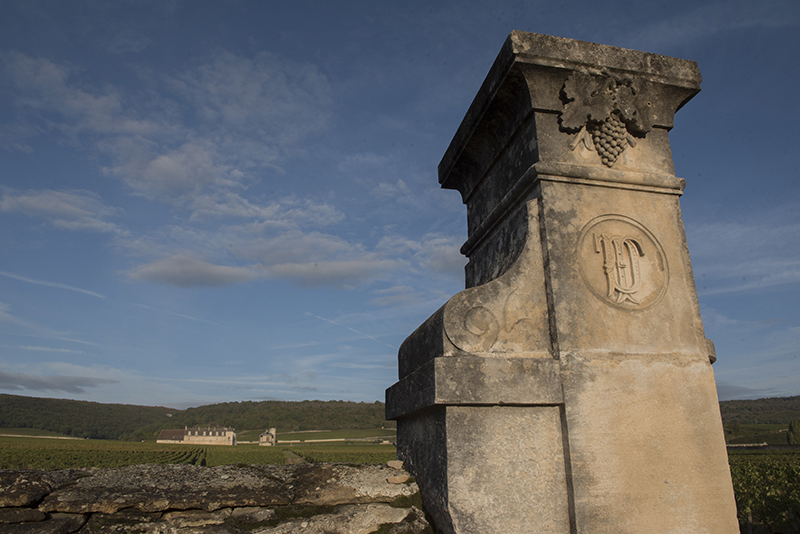 Saturday was a perfect morning with no need to rush. No bus to take, just a stroll alongside the Clos wall past Château de la Tour, where the remains of the harvest equipment were waiting to be hosed down and scrubbed before being hidden away until 2020. Traffic was beginning to arrive as I passed through the Vougeot shop and collected my badge amid the touristic temptations on sale. Bamboo editions and the City of Chalon had paid for 20 enlarged photographs from my book to hang under the courtyard's overhanging roof, so I could not resist the pleasure of inspecting them again. This, I thought, will help me get noticed this weekend. In fact, it was being seen in conversation with the likes of Jean-Robert Pitte, member of the Academy of French Wines and permanent secretary of the French Académie des Sciences, Morales et Politiques, that got me noticed. He sounds a formidable presence but has the demeanour of a benevolent uncle and obviously manages to suffer fools and photographers gladly.
I still don't know what a respectable score at a book signing is. It must depend on your reputation (zero) and the price of your book (€40). I was pleased that Athenaeum had also brought a few copies of my first effort, Un Année en Corton, as well as the Chalonnaise book I was primarily there to sign. Not so much modesty as embarrassment prevents me from divulging my success rate but I was stationed between Jacky Rigaux, the well-known local writer from Gevrey-Chambertin, with his dozen or so titles, and a salesman par excellence with his €60 tome on barrels. Next door to him was my prize-winning friend, Thierry, who's opening gambit seemed to be a bow and the kissing of any lady's hand within reach. At the end of our table sat 'uncle' Jean-Robert, with his range of books in front of him, leaning back as Santa might in his grotto with his kindly smile.
Sitting back with my smile at the other end was not doing me any good. If anyone lingered uncertainly in front of my shrink-wrapped pile for a second, the Barrel Man was engaging them before I could steel myself to utter a word. More often than not the fans around Jacky, on my left, and those rooted to the spot by Mr Tonneau, obliterated me from general view and all I could do was wave forlornly and give a Gallic shrug when the seas parted to allow visual contact with my Spanish tasting expert, in front of the large chimney on the other side of the room. I even started writing this article at one point but soon realised I had little to get me started.
At some point, a cup of coffee arrived, or a bottle of water reached me through the small, slow-moving crowd. I was trapped with no possibility of stretching my legs, other than at regular intervals opening a heavy wooden door in the wall behind me to allow a lady, carrying a carefully balanced but rather overloaded tray of coffee cups, to pass through to a seemingly less ornate other world.
Lunch. I was handed a timed ticket that I had to hand in to gain entry to the buffet dinner. Unless you were already palled up, you took your place where one was available and queued for the first of your four courses, served by catering staff replete with toques above either expressions of gentle friendliness or serious professionalism. The wines offered were a Pouilly-Fuissé, a Long-Depaquit Chablis, a delicious Mercurey Pinot Noir from Bichot and a foretaste of Gevrey Chambertin's cuvée for 2020's St Vincent celebrations. The Mercurey was obviously a hit as the next day I had to go without. The meal itself was passed with a young couple with a baby, both editors and keen to practice their English.
Back behind the table I was visited by some Gouges, a Charlopin, a Tremblay and several lovely Muzards, but it seems the Tonneau and La Chêne are the main attraction. It seems Glénat are now going into the cartoon book market. I managed to make my escape temporarily to improve morale by taking some pictures. One shot of the courtyard points me in the direction of L. S. Lowry.
The big night
Tonight is the big night, the Chevaliers du Tastevin chapter of the equinox, the pen and wine. And I am to be intronised!
Athenaeum let me out 15 minutes early to rush back to the hotel to change into my dinner jacket. I am hoping to cut an image of the eccentric Englishman with my red cricket ball cufflinks, but they defeat me and I fall back onto something easier to fit, in the available few moments before I have to rush back.
Having made it just in time to my seat among the postulants at the front of an alarming number of people already dangling their tastevins on red and yellow ribbons, Thierry 'La Chêne' taps me on the shoulder to suggest we agree to photograph each other's ordeal by varnished vine. In fact, it seems we are to be proceeded by a couple of dozen financiers and businessmen and I lack the French to find humour in their CVs, or maybe I cannot focus on anything other than not tripping on any of the three steps that lead to my face off with Vincent Barbier in his ermine, and with his sense of fun. Thierry and I are the last on the list and I manage to get video of his induction before it's my turn and I trip on the top step. Vincent's ermine cushions my impact amid a low level of mirth from the audience. I focus on him as if being hypnotised, not intronised, and manage the embrace without further embarrassment. Thierry manages to get a shot of me signing the Livre d'Or that is far better than the two seemingly competing professionals achieve.
So, it's over and I am left pondering if I have again joined a group I will not fit into. I take refuge in my camera and get my Lowryesque view of the courtyard with figures in black standing around at the other end of the scale from the great man's downtrodden figures.
Then to dinner, and I am ensconced on a table one in from the furthest, sat between Jean-Nicolas Meo's wife and that of the Mayor of Vougeot. Almost immediately, I put into action my survival plan formulated on the experience of previous paulées and chapitres. Always leave something on your plate and something in your glass. With my camera lodged between my knees, I have an excuse for apologetically leaving my seat to take some pictures (after I have got past the refugee smokers at the door to the courtyard and enjoyed the cool evening air). I have already introduced myself the previous evening to the kitchen staff who are happy to allow my interest in their unseen labours with no nonsense about image rights. They are humorously impressed by the ribbon and tastevin I wave at them as I enter. So, I happily commute between the two groups in order to fully celebrate the glory of a chapitre.
It is 1.20 am when I successfully negotiate my moonlight shortcut through the vines to my bed.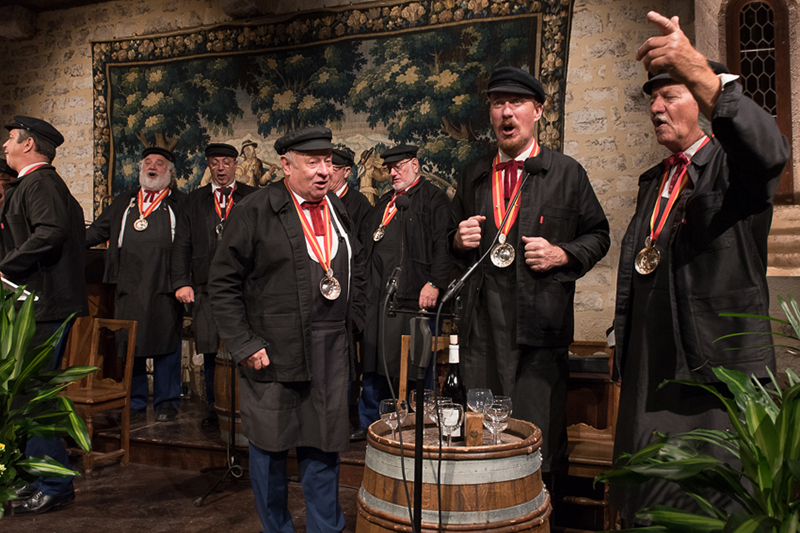 Sunday
Another breakfast under the gaze of the hotel's Labrador. But he could take a friendly hint, unlike a certain Boxer in a bar restaurant in Givry, who would rest his chin on my lap with a look that was less beseeching than intimidating. But we parted friends.
As I walked over the cobbles to the château entrance, I resolved to be either more proactive or at least to try to enjoy the last few hours. All unique experiences have lessons to offer and I was determined to make the most of this one, if not selling books then getting to know more of my fellow authors. It was, after all, another Burgundian experience, and if Jean-Robert Pitte wanted my opinion on Brexit, he should have it. I wonder if I'll get another chance?
Read more about Jon's book here.