Keith Grainger goes off the beaten track, not so far from Benidorm, but in other ways a world away, and is beguiled by Bobal, Moravia Agria, Garnacha Tintorera (Alicante-Bouschet) and Macabeo.
It's a source of endless fascination as to why some wine regions have become world famous, whilst others remain largely unknown. "Monsieur, c'est le terroir!" is an oft-heard response, when asking the winemaker at a domaine in Burgundy or at a Bordeaux château just what makes their wine so individual and so special. Even the oenologists seem to want to talk more about the place than the winemaking. And there can be little doubt that there are indeed some distinguished terroirs that give the architecture that creates the most distinctive of wines. 
Nevertheless, it's also true to say that there are areas in these esteemed regions where the location is not so kind, including parts with unbalanced and poorly drained soils, lacking in the desired structure and texture. Yet the wines from here still carry famous appellations and sell easily to the unaware.
There are many wine regions in the world, at first glance harsh and inhospitable, which have individual terroirs that can produce wines that excite, and represent value unheard of in the classic appellations. They remain little known and are largely neglected by wine writers. True, much of the product of these areas is destined for drinkers who know little and care even less about the source of the liquid in the bottle, or bag-in-box – drinkability and price is their only concern. But for such producers it's a long and hard road up, and there's always another producer or region ready to sell even cheaper. And the supermarket buyer is forever trying to squeeze the producers' wafer-thin margins, until there's nothing left for investment, and so quality suffers.
And so to Spain. Here too there are famous regions whose wines need no introduction from me: Rioja, Ribera del Duero and Priorat, to name but three. Yes, the top wines are stunning, and command stratospheric prices: a bottle of Alvaro Palacios L'Ermita Velles Vinyes 2020 (Priorat) will set you back over £1,000. When we head south though, we are often entering unfamiliar country. We move from the world dominated by Tempranillo, Garnacha and Cariñena, to country where Bobal is king and Macabeo queen. We move to the dry high plateaux. Old bush vines stand as proud sentries in the terracotta vineyard ground. Here, the over-the-top winery architecture of northern Spain hasn't yet intruded, and perhaps never will.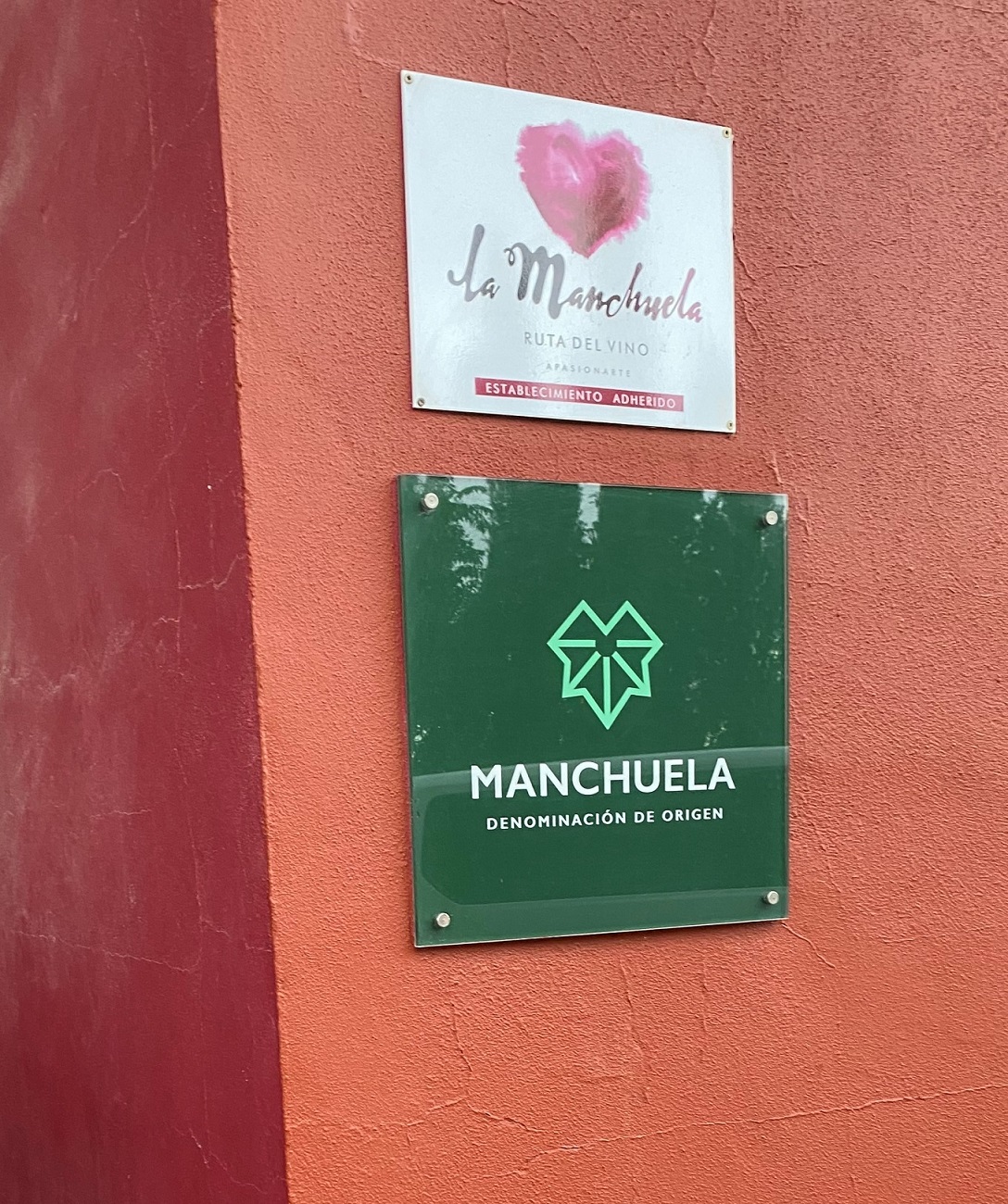 In the south-eastern corner of Castilla-La Mancha, between the valleys of the rivers Júcar and Cabriel, lie the vineyards of DO Manchuela. Here, you will find affordable, well-made wines that exude honesty and integrity, together with a sense of place. But here too there are passionate producers striving to go the extra mile, and who are making distinctive wines that are raising the quality ceiling. Indeed, Manchuela gained its own DO, separating itself from La Mancha in the year 2000, as many producers wanted to build a reputation based on quality – La Mancha had long held an image of cheap and bulk wine. However, much inexpensive bulk wine is produced in Manchuela, particularly by the region's cooperatives. Most of this is destined to be blended outside of the region: the wine, particularly that's made from old Bobal vines, adds body, character and quality to a blend.
I was delighted to have the opportunity to discover this remarkable region during a recent small group visit arranged by DO Manchela, together with Chinexita Events & Communication and Tradex Consultancy. Other group members included some wine merchants from Switzerland and two importers from Wales: Louise Bowness of ND John in Swansea, and Paul Grimwood of Ultracomida. I understand that Louise and Paul are now planning to import from some of the eight wineries we visited. It's great being with merchants on vineyard visits – these are the guys who really understand the challenges of selling the product, and how every wine has to warrant its place on their lists.
The most widely planted variety in Manchuela is the red Bobal. This is also the main variety in neighbouring Utiel-Requena and is, in fact, the third most widely planted variety in Spain. The grapes are thick skinned, with high levels of anthocyanins, giving deep coloured wines with, depending upon the extraction techniques, solid tannins.
One of the wineries I visited, the cooperative San Antonio Abad, utilises the 'Flash Detente' thermovinification process for some of the reds. This works by quickly heat-treating the grapes at a high temperature, then immediately cooling them by pressure reduction. The resulting wines are very deep in colour, but the tannins are ultra-soft. When utilised for Bobal grapes, the process highlights the dark fruit flavours: black cherry, blueberry and blackberry.
The vineyards of Manchuela are located on high plateaux, generally above 1,700 feet (600 metres), with some vineyards in the mountainous west as high as 3,300 feet (1,000 metres). Whilst this is a relatively hot region, the valleys of the east-flowing Júcar and Cabriel rivers funnel in winds from the sea, helping to moderate the climate. The breezes through the vines reduce the instances of mildews. Organic production is not difficult in this region, and six of the eight wineries I visited are organic for all or part of their production.
The soils have a clay surface, and are rich in lime, over a calcareous base. They retain moisture and are ideal for quality wine production. There are areas of gravel and sand.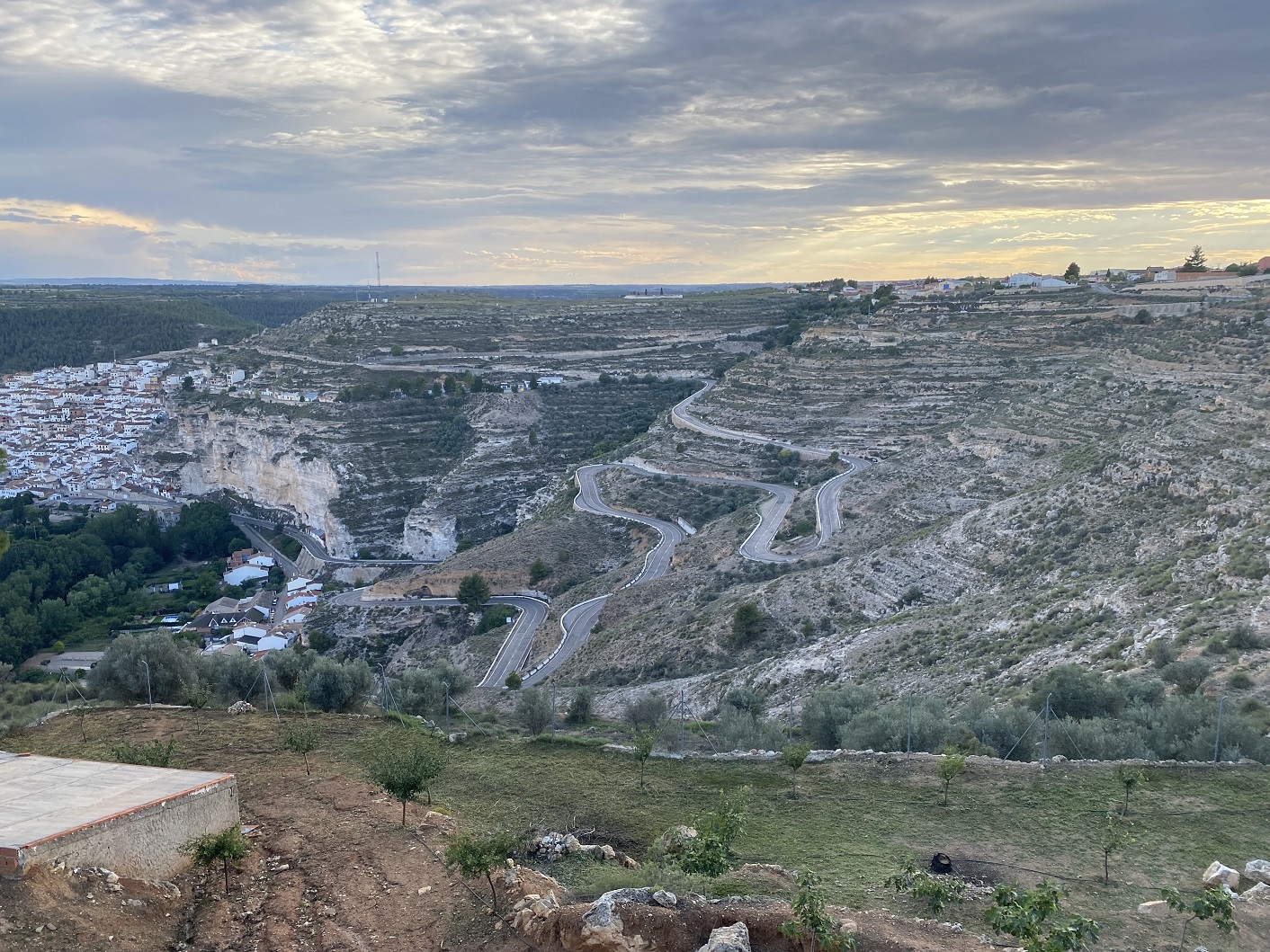 Alcalá del Júcar is an incredibly beautiful, small 13th-century town lying in the steep Júcar River gorge, in the south of the region. There are several hundred metres of caves bored into the mountain side, which date back for centuries. One is now a restaurant and bar that goes from one side of the mountain to the other! I was particularly impressed by five of the eight wineries I visited, and will write briefly about these.
Finca El Molar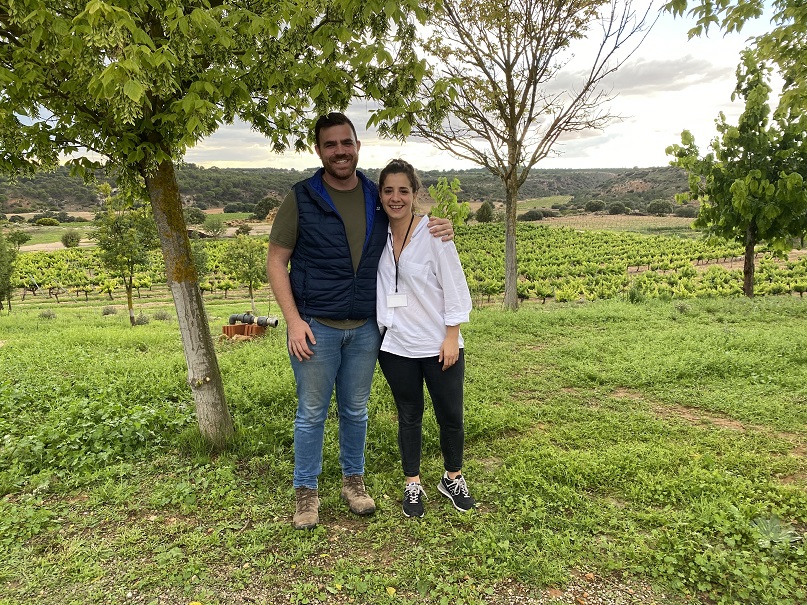 To reach this delightful vineyard and winery, run by Rus Jimenez, is reminiscent of a journey to Finisterre (the end of the earth) although, in fact, we are in the south-central part of Manchuela. The dirt road shakes the bones as it traverses the rocky terrain, inducing a sense of excitement, which is elevated further when I finally arrive in the pouring rain. Yes, it's summer in southern Spain and, for the second day, there are very heavy showers!
The estate has 30 hectares of vineyards, all organic, planted with an assortment of varieties, including Macabeo, Bobal, Graciano and the little seen, indigenous, Moravia Agria. This red variety has large berries with high acidity, and usually produces wines of modest alcohol. The vines are on calcareous soil at an altitude of between 2,132 and 2,460 feet, giving the wines astounding and outstanding minerality (this article is not the place to discuss the minerality/salinity controversy). Regenerative viticulture is to the fore. The estate also grows organic olives and pistachios.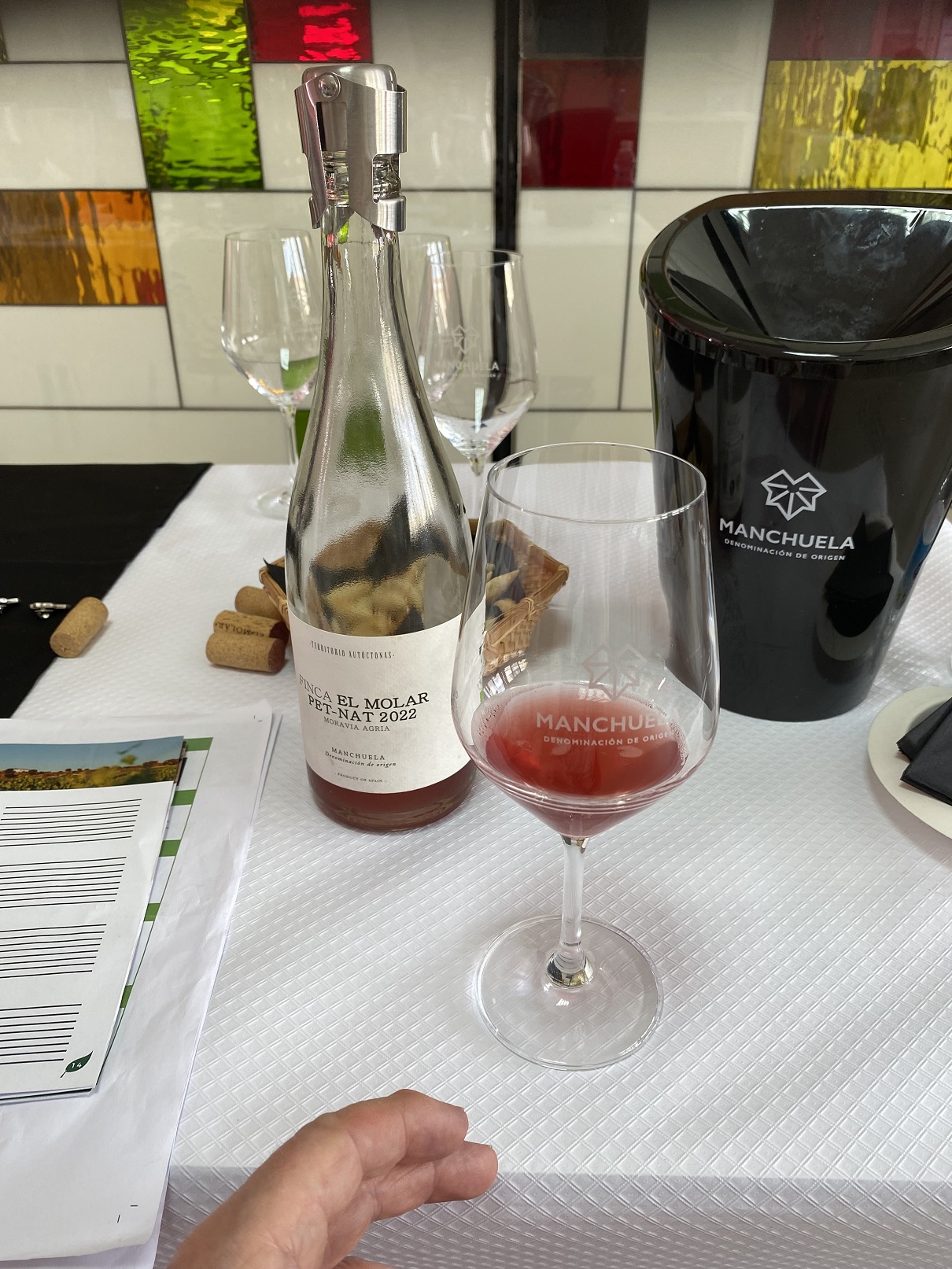 Winemaking is careful, thoughtful and generally with low intervention. For red wines, the crushed grapes usually undergo a cold soak at 4°C (39.2°F) to extract colour and aromas, but not hard tannins. Fermentation takes place with natural yeasts and, following draining of the free run wine, a basket press is used to extract the remaining juice. Maturation takes pace in French and American oak barrels for up to 12 months.
All the Finca El Molar the wines tasted were really good, but three warrant a special mention. The 2021 Macabeo is an orange wine (10 days skin contact) that is rich and full, but delightfully refreshing – no bitterness at all! The 2020 Selección is made with equal quantities of Merlot, Syrah, Bobal and Graciano. This is a seamless wine that gains complexity in the glass and is oh so drinkable, with such gentle tannins. However, the star wine for me is the Pét-Nat. Made from Moravia Agria, this delightfully vibrant sparkling rosé, in the brut style, shows a melange of soft red fruits and a hint of blackberry. There is just a little autolysis, and this is something that Rus will be developing in future vintages. Of course, the wine is naturally slightly cloudy having not been riddled and disgorged. I think this is the most exciting Pét-Nat from Spain that I have yet tasted!
Vega Tolosa
Vega Tolosa is a fourth-generation family winery that owns 220 hectares of organically farmed vineyards in the south-west of the region. The company does not buy in grapes. As well a large range of bottled wines, they package a range of wines in cans, and sell wine in bulk. They also produce Extra virgin olive oil and, surprisingly, lentils which are sold in boxes!
The vineyards are situated on a plateau 750 metres above sea level. As with other high vineyards in the region, cool winds come from the sea and temperatures at night drop, locking in acidity and helping achieve a slow ripening of the grapes. A new winery was built in 1998, and I was particularly impressed by the cleanliness and efficiency of the production facilities, and the bright and well-equipped tasting room.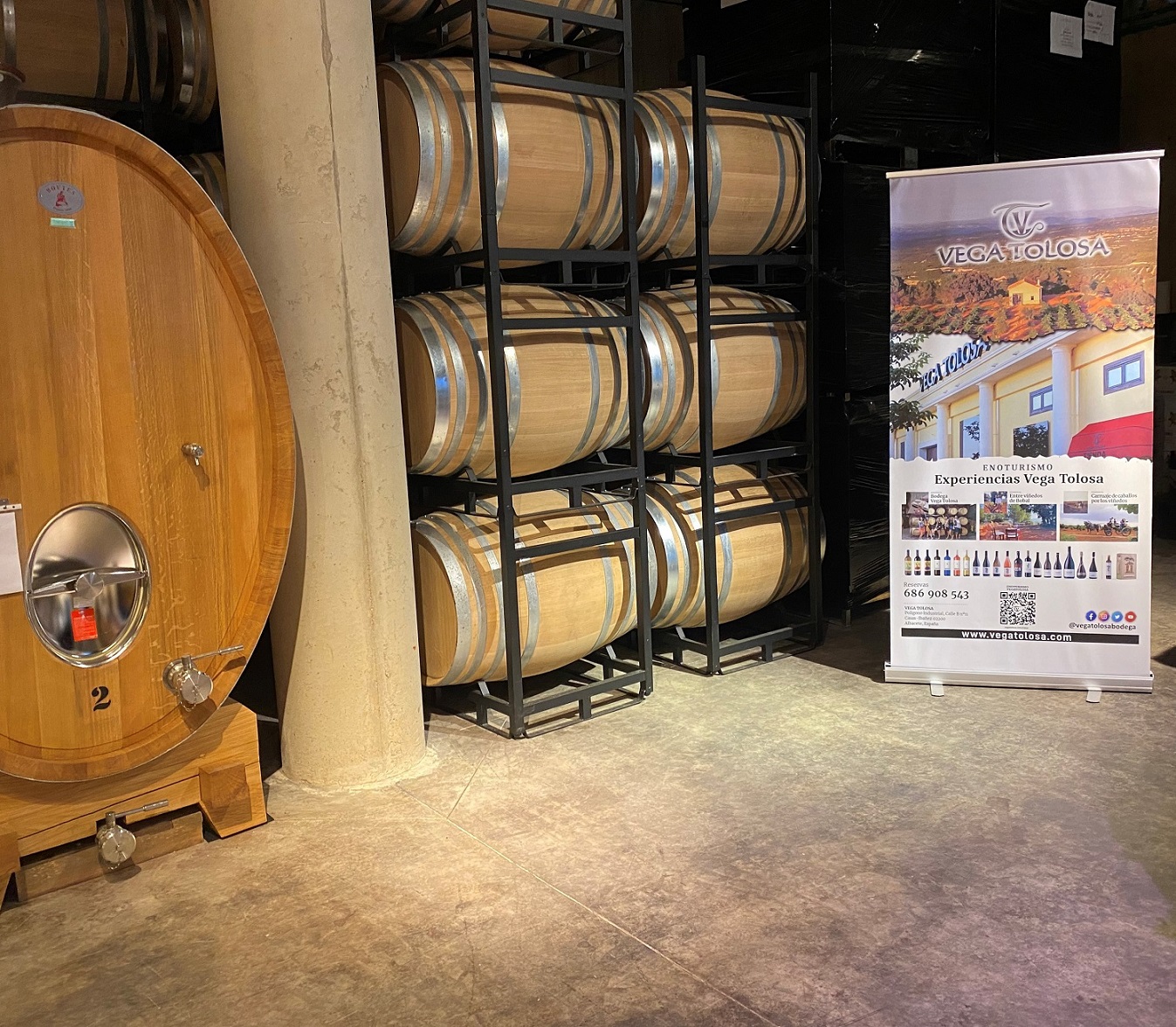 Vega Tolosa has some Bobal vineyards that were planted more than 80 years ago, together with some old Macabeo vines. There are also international varieties: Chardonnay, Sauvignon Blanc, Viognier and Muscat Blanc à Petits Grains, Syrah, Cabernet Sauvignon and Merlot. Tempranillo and Garnacha Tintorera (Alicante-Bouschet) are also planted.
Garnacha Tintorera is a red-fleshed (teinturier) grape. In other regions it's usually used in tiny quantities to add colour to a blend, but in Manchuela it's often used as a single varietal. The quality, individuality and structure of the top wines produced in the region from this variety came as a real surprise to me. The variety can also be a star performer in DO Almansa, which lies to the south-east. The variety's origins are in France – a crossing of Petit Bouschet and Garnacha, carried out in 1855 by Henri Bouschet. However, many in Manchuela believe that the grape has so acclimatised and adapted, that it might now be considered as indigenous.
I was impressed with the quality and value of the Vega Tolosa wines I tasted. Of particular note was the Finca Los Halcones Bobal Crianza 2019. Made with grapes from 100-year-old vines, and aged for 14 months in French oak, the wine shows classic Bobal characteristics, including raspberry and blueberry overlaid with some tobacco-like tertiary notes. The acidity is still lively, but the tannins are delightfully smooth.
The sparkling wines are very much hand-made. Of course, the traditional method is used, and they're disgorged by hand and topped up and stoppered bottle by bottle. The range represents great value – I particularly loved the Capricho Divino Brut Nature. This is made with 100% Chardonnay, and spends 18 months on the lees in the bottle: crisp and fresh, just a little bready and some lovely melon fruit tones.
Señorío del Júcar
Founded in 1973, and building its own winery in 1998, Señorío del Júcar aims to make wine in the same way as its ancestors, but adapted to current tastes. The aim is to transmit the essence of the grape and the terroirs into the glass, with minimal intervention, but maximum care.
Grapes are hand-picked into 20 kg boxes to avoid damage that might lead to oxidation or loss of quality. Fermentation is in small tanks – the reds at a relatively cool 25-28°C to maintain aromatics. Only natural yeasts are used. Minimal sulphites are added, and the wines are bottled without any filtration process "to maintain integrity and purity".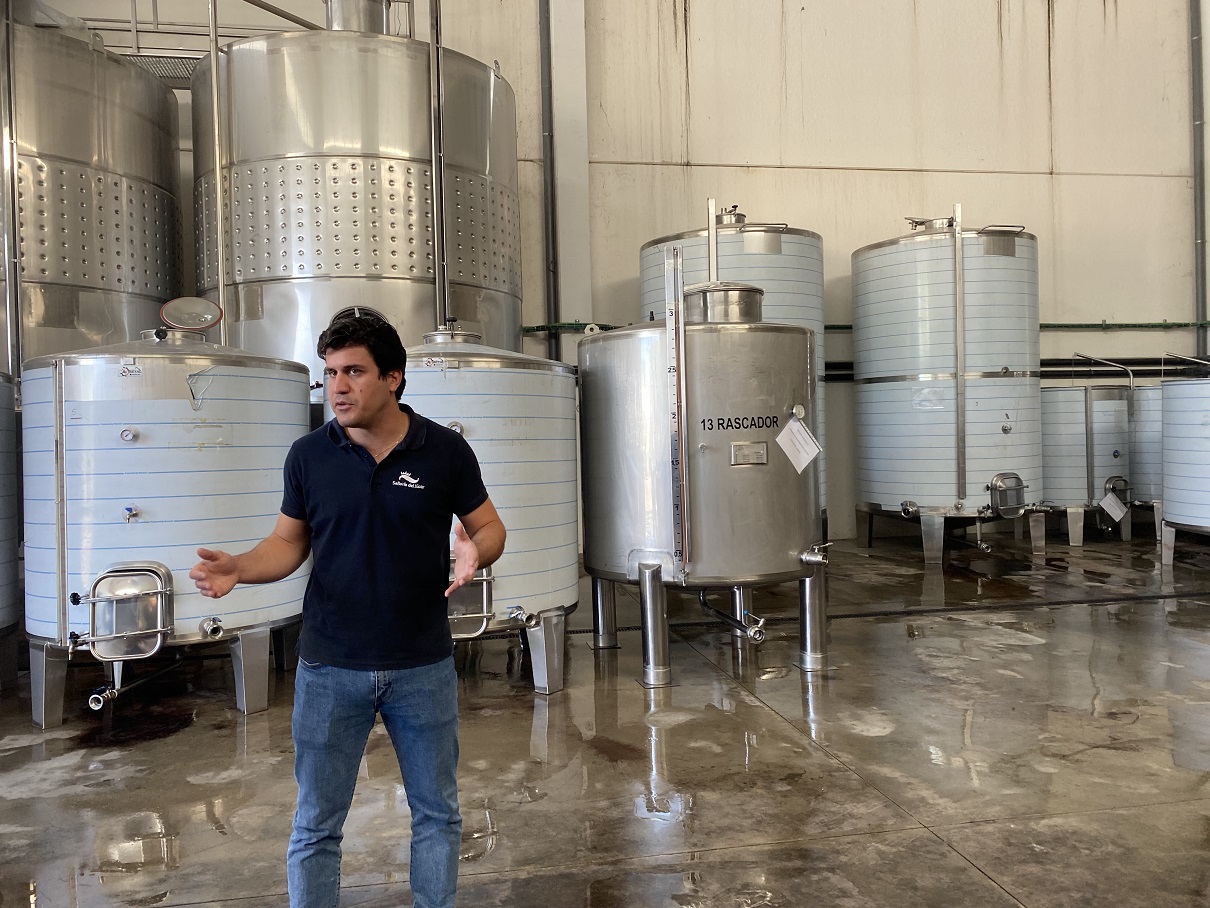 Of the very well-made wines I tasted, my favourite was the Tranco del Lobo Bobal 2019. The wine is named after a place on the River Júcar, which is said to have once been a pass used by the Iberian wolf to cross the river, since it's an area where the river narrows and it's possible to cross. It's a selection of the best old, deep-rooted Bobal vines (50-70 years old). The yield is kept low (3-4 tonnes/hectare) which, by my calculation, equates to just 20-27 hl/ha. The must is accordingly very concentrated with an intense flavour. Harvesting is carried out when the grapes are fully, but not over, ripe. The wine is fermented in 10,000-litre wooden vats, with regular pump-overs for extraction. It is aged in 225-litre French oak barriques for six months to soften the wine and add complexity. The result is an intense and original wine, a classic Bobal, very robust and yet polished, with complex tertiary notes after its four years of ageing.
Cien y Pico
Cien y Pico translates to 'a hundred and something'. The concept is extraordinary. There are four 'winemaker errant' equal partners: Luis Jiménez from Spain, Nicola Tucci from Italy, Elena Brooks from Bulgaria and Zar Brooks from Australia. Couple this quartet with some high, 100+-year-old Bobal and Garnacha Tintorera vineyards, and a recipe for something stunning is created. Based in the very east of Manchuela, with strong sea breezes refreshing the vines, the sites are magical.
Nicola Tucci is a winemaking consultant and flying winemaker, working in, amongst other regions, Calabria, Puglia and Moldova. He is very expressive and totally open. Luis Jiménez (pictured) expounded the intensity of flavours from these old, dry-farmed bush vines, giving tiny yields. Certainly, this has to be a labour of love, but the fruit from these vineyards, without comparison to anywhere else in the wine world, shows the exhilaration that is the best of Manchuela.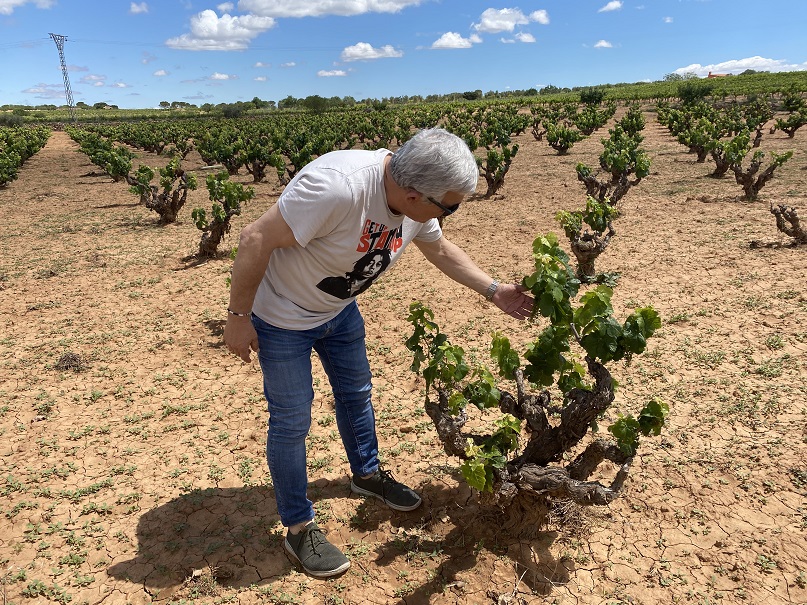 Only red wines are made, and what wonderful rich reds they are. The team believe that great fruit only needs a gentle helping hand to make quality wine. Only natural yeasts are used. The 2007 'Knights Errant' is an absolutely stunning wine. This is the maiden vintage of Cien y Pico, and what a year it was. The nose shows a melange of red and black fruits, with blueberries to the fore, overlaid with chocolate, cinnamon and other spices. The palate is both punchy and silky, oh so complex, with fantastic tertiary notes, including Romeo y Julieta Havana tobacco.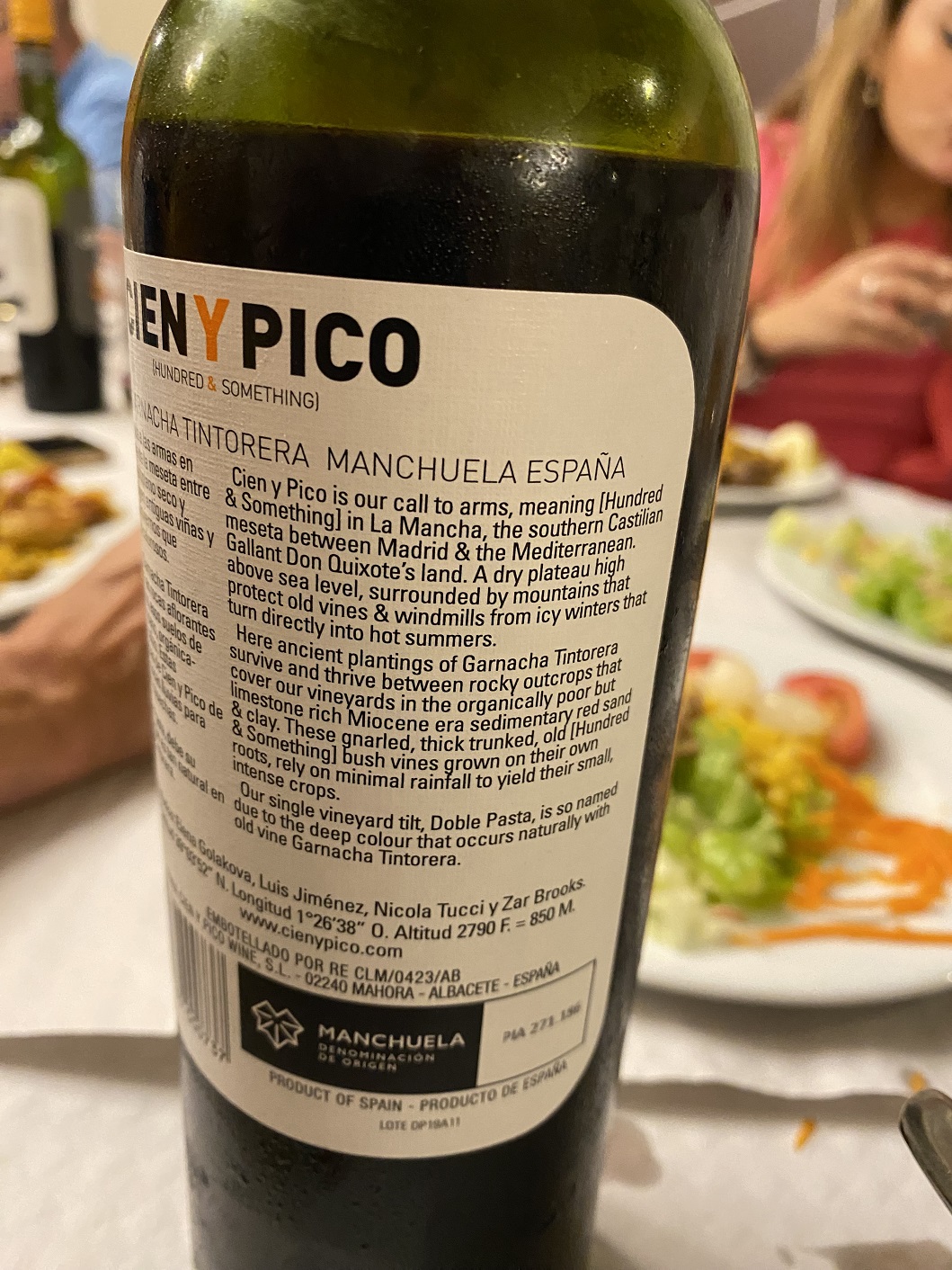 The wine is made from 100% Garnacha Tintorera (100+ year old vines) from a high, 2760 feet (841 metre) vineyard, and a yield of 3.3 tonnes (approximately 22 hectolitres) a hectare. I might point out here that in Australia, a yield of less than 4 tonnes an acre (0.4 hectares) is generally regarded as economically unviable! Indeed, many growers in the region were, with the incentive of EU subsidies, grubbing up these wonderful old vines. The four knights errant recognised the value of these ancient vines, leading to the birth of Cien y Pico.
What of Cien y Pico's other reds?
Viña La Ceja is a blend of 50% Bobal and 50% Garnacha Tintorera – the 2021 is especially vibrant. Doble Pasta is 100% Garnacha Tintorera. Doble Pasta refers to the addition of extra grape skins to the fermentation, building concentration. The 2019 is especially spicy, with intense blueberry fruit and touches of pencil lead. En Vaso Bobal is named after the low, bush vines. The 2015, 2019, and 2021 are all individual, with fresh acidity, brambles and chocolate notes being a common theme. I need more Jamón Ibérico for another glass! Some of the wines are available in the UK. The agent is Liberty Wines
Moratalla
This family-owned winery has 45 hectares of vineyards in the east of the Manchuela region. I very much liked the lively fruitiness of the El Buitre Garnacha Tintorera 2019 and La Casilla de Adrían Tinto Bobal 2020. However, I was overwhelmed with the Angel Brut Nature sparkling wine. This spends 48 months on the lees and shows delicious autolytic characteristics, notably fresh, artisan Grand Pain. The finish is really long – this wine is really an icon for the region's fizz.
Of course, Spain's famous sparkling wine is Cava, with most of it produced in the Penedès region in the northeast of the country. Cava has had something of a rocky ride in recent years – there are some excellent wines, but unfortunately to many its image is of a low-priced (and low-quality) supermarket fizz. I do hope that Manchuela can avoid going down the low budget road. The quality of the region's sparkling wines that I've tasted is generally high, and only a fair retail price can maintain this.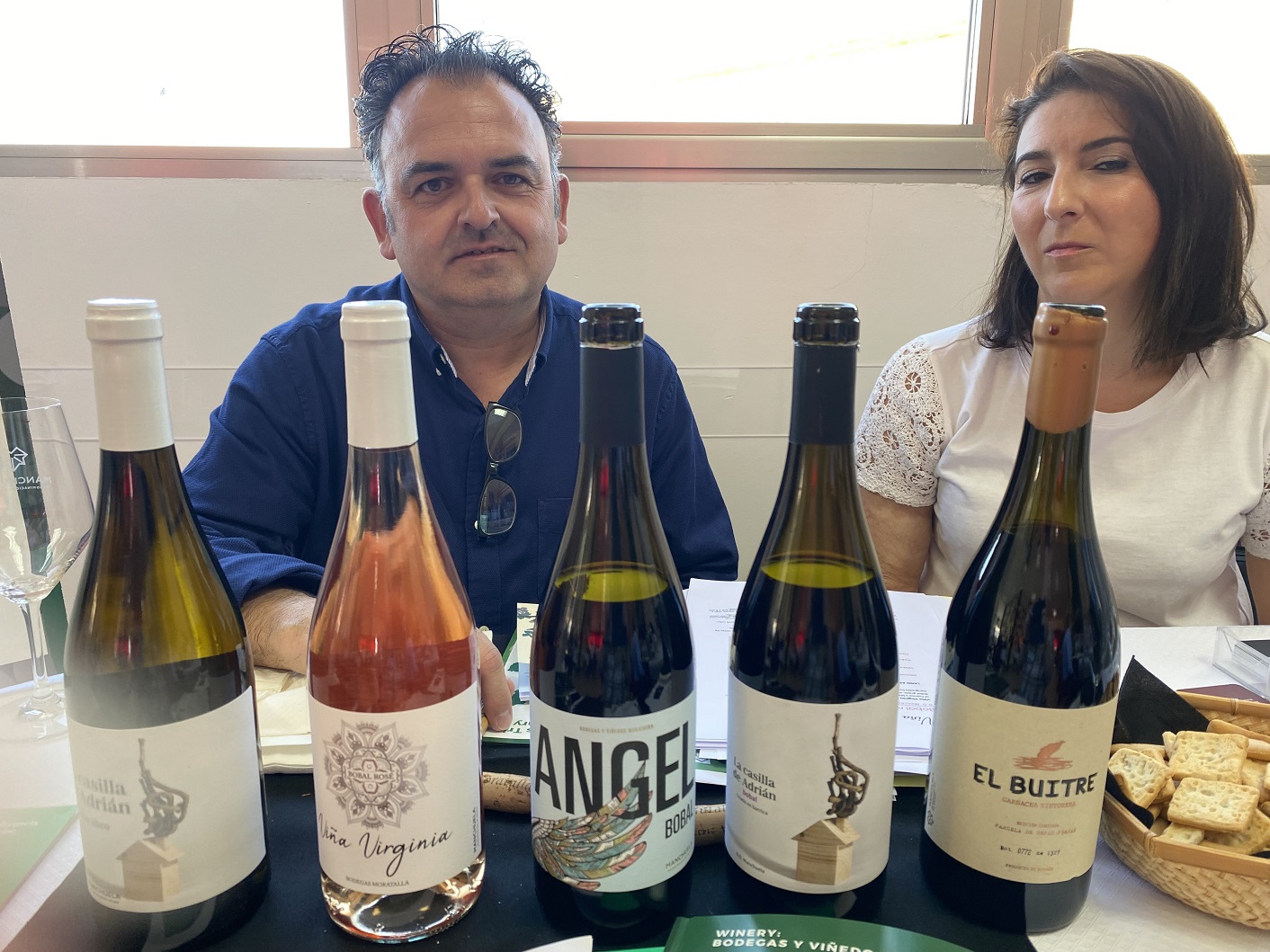 In this article, I have discussed the region's red wines, and sparkling wines. There are some really tasty whites that should also be mentioned – Macabeo is the most widely planted variety. The rosados (rosés) vary considerably in colour from the pale salmon pink, reminiscent of Provence, to deep strawberry. The colour usually comes from a rapid pressing of red grapes – usually Bobal, but other varieties may be used. They can be surprisingly fresh and delicately perfumed!
In 2022, over 16 million tourists from the United Kingdom headed to Spain, mostly to the beaches. No doubt few of the visitors to Benidorm are aware that not far inland is a fantastic wine region, built upon history but producing wines very much of today. And wine loving visitors are oh so welcome!