Continuing on from her introductory article in August's Circular on the Côtes d'Auvergne region in the Puy de Dôme department, within the volcanic part of France's Massif Central, Wink Lorch visits producers big and small, and finds plenty of potential in the region that has altitude and ash to its advantage.
With only about 400 hectares (ha), Côtes d'Auvergne inspired me to think once again about the influence of large (in relative terms) wine companies on the fortunes of any specific region. Jura, with just over 2,000ha under vine, has three companies (the Arbois Fruitière/co-operative, Maison de Vignerons, owned by Grands Chais de France, and Henri Maire), which between them account for over 50% of production. By comparison, Australia, with nearly 150,000ha under vine has similar jaw-dropping winery demographics (using statistics I found quickly, so please don't quote me): four companies vinify nearly 40% of total production and five account for over 85% of exports. Given that the 'other' wineries number in the hundreds (Jura) or thousands (Australia), the influence of those big companies cannot be underestimated. In Côtes d'Auvergne, which although part of the greater Loire region, I consider a region on its own, one single company, Desprat Saint-Verny, accounts for about half the production, and there are a further 35 wineries. The smaller the region the more vitally important it is that the quality of big players is reasonable, otherwise it brings down the whole region. Fortunately, that is the case here…
Desprat Saint-Verny
This former wine co-operative was originally created as Cave des Coteaux in 1950, later becoming Caves Saint-Verny. In 1990, when the region was still in the doldrums, and it was the last co-operative remaining, Caves Saint-Verny was effectively saved by the large Auvergne-based seed and cereals co-operative, Limagrain. Wanting to support the co-operative members, many of whom were mixed farmers, growing cereal crops as well as owning vines, Limagrain invested into modernising the cellar at just the time when de-stemmers and temperature-controlled stainless-steel tanks were revolutionising winemaking. Move on three decades, and Desprat Vins merged with Caves Saint-Verny in 2017. The family-owned Desprat wine and drinks wholesaler was established in 1885 in the neighbouring department of Cantal – it has distributed the co-operative's wines for many years and has been financially involved with several of the member vine-growers, notably Pierre Goigoux, see below. Today Desprat Vins is owned and run by Pierre Desprat; his daughter Léa, the fifth generation, has joined the firm on the commercial and export side, and other family members are also involved.
The Desprats refer to the former co-operative members as 'partners' and the 60-odd partners vary from families with a few rows of vines, through to vignerons with their own domaine, who deliver part of their production, and mixed farmers. One such is Gilles Vidal, currently president of the AOC Côtes d'Auvergne wine syndicate. He has 90ha of cereal crops and 7.3ha of vineyards, mainly in St-Georges-sur-Allier, much on pure basalt volcanic soil with some clay limestone on top. He explained that although he tries to work his vineyards in the most sustainable way, it has been hard to obtain any certification. For HVE, the latest sustainable certification for vineyards in France, he would have to apply their regulations to the whole of his farm including the cereals – others are in a similar situation. He explained how in the 1990s, the region was still working with yields of around 100hl/ha! Now the AOC requires a maximum of 55hl/ha (52hl/ha for crus) and the average for Saint-Verny recently has been just over 45hl/ha, with green harvesting widely used.
The Desprat Saint-Verny cellars are in the middle of the region in Veyre Monton. After the merger,  Léa explained that their priority was to invest in a new barrel cellar (see photo in the last report), not only to make better wine, but also for wine tourism reasons, something she believes is key to develop. In terms of winemaking equipment, she pointed out that most of the equipment installed in the early 1990s is still fine, but they bought a cross-flow filtration unit, as it saves money and helps with quality. Except for very old vines, often closely planted on steeper sites, most is machine-harvested, so carbonic maceration is not an option.
Desprat Saint-Verny's huge range is divided into three categories: FUSION, the easy-drinking wines; ERUPTION, crus or volcanic styles that represent best the terroir; and MAGMA, the top of the range and/or unusual wines. All ranges include IGP, as well as AOC wines, with Gamay representing about 60% of the plantings. Complicating things further, there are sub-ranges, for example 'Terre et Laves', the most exported label (exports are 15%-25%).
Among the dozen tasted, there were decent wines at every level, although those from the fine 2018 vintage (blessed with both quantity and quality) stood out particularly. With all colours, as with other producers, I detected a salty character on the finish, which may well be due to the volcanic soils, although it's hard to prove. The best wines showed freshness and stony character too, although high alcohol levels detracted from the wines sometimes. Côtes d'Auvergne Corent 2018, a rosé from 80% Gamay and 20% Pinot Noir, with a good component of older vines, stood out particularly, although the Terre & Laves Rosé 2019, a 50/50 blend and bought by the Wine Society, showed well too. I enjoyed the pure Pinot Noir from the Fusion range (also bought by the Wine Society) more than most of the Gamay blends. However, the most intriguing wines we tasted and possibly the most age-worthy were a red (50/50 Gamay and Pinot Noir) and white (Chardonnay) pair, named La Legendaire. These are aged in barrels for 12 months and then the bottles are taken up to a buron, a Salers cheese ageing cellar, at 1,200m altitude, to age underground for six months over the wine's second winter. Part tradition, part marketing gimmick, the cold air and humidity appear to confer extra quality to these wines, for which a good vineyard selection is used to begin with.
Staycationers save the day and the 2020 vintage looks promising
When we visited, COVID-19 had dealt Desprat Saint-Verny a heavy blow as sales to both locals and tourists are hugely important. However, checking with Léa Desprat just before going to press, it seems the influx of French tourists over the holiday season has helped mitigate some of the losses. And prospects for 2020 harvest are very positive, with no hail damage for once, and much-needed rain arriving just at the right time. The business experience of Pierre Desprat and the determination and vision of his daughter Léa should enable this winery to survive and progress: certainly, the wine region depends on it.
Organic progress
Our morning with Léa Desprat had begun in Pompignat near Châteaugay with a visit to Pierre Goigoux of Domaine de la Croix Arpin, a standard-bearer for Auvergne, part-owned by the Desprat family. We visited Pierre's vineyards, discussing the volcanic soils and climate (see previous article). Jim Budd reported what he said: "Here we are in a rain shadow formed by the chain of volcanoes to the west. We have less than 600mm of rain a year, which is similar to Nice or to Alsace. This means that mildew is much less of a threat here than it is in other parts of the Loire. There has been a big change in the image of organic viticulture over the past few years. Eight years ago or so, I wouldn't have considered going organic – I was certified Terra Vitis [WL: a sustainable label]. Last year, however, I started the conversion to become organic and I think it won't be long before all vineyards are organic." I am not sure about his optimism, but perhaps 'long' means a decade in Auvergne time…
With 18ha of vineyards, Pierre uses some grapes for his own estate wines, some for a négociant venture named Héritage Volcanic with Etienne Rachez, former winemaker for Cave de Saint-Verny, and provides grapes to Desprat Saint-Verny, too. A couple of the Héritage Volcanic wines we tried were good and so was Les Amandiers Châteaugay 2018, from a single parcel of Gamay. Most interesting was a delicious Syrah, named Damas Noir, considered to be a local strain of Syrah, identified by the ampelographer, Pierre Boursicot. Mass selections are being replanted by several other local vignerons. With a couple of meals on the trip, we also enjoyed a rare example of the cru Chanturgue – a Gamay/Pinot blend from Pierre Goigoux.
Our first visit had been to the idyllic hilltop village of Montpeyroux to see Yvan Bernard, who until 2019 was president of the AOC syndicate. He is a fine orator about his adopted wine region, adamant about its quality, as proven in his fine range of wines. The village of Montpeyroux supported him in establishing a cellar there in 2002 and now Yvan has built up 8ha of vineyards nearby. All except those a little further away in Boudes are farmed organically and certified, with some run biodynamically. Just over half is Gamay; there is 2ha of Pinot Noir, 1.2ha of Chardonnay and 0.5ha Syrah. We tasted through much of his range and the wines crackled with exuberance. An entry-level red (mainly Gamay) Les Dômes is eminently drinkable; a more intense and concentrated Gamay from old vines in Boudes, named Echalas, is one to age, with the 2019 at 14.5% still managing to demonstrate both a stony character and elegance.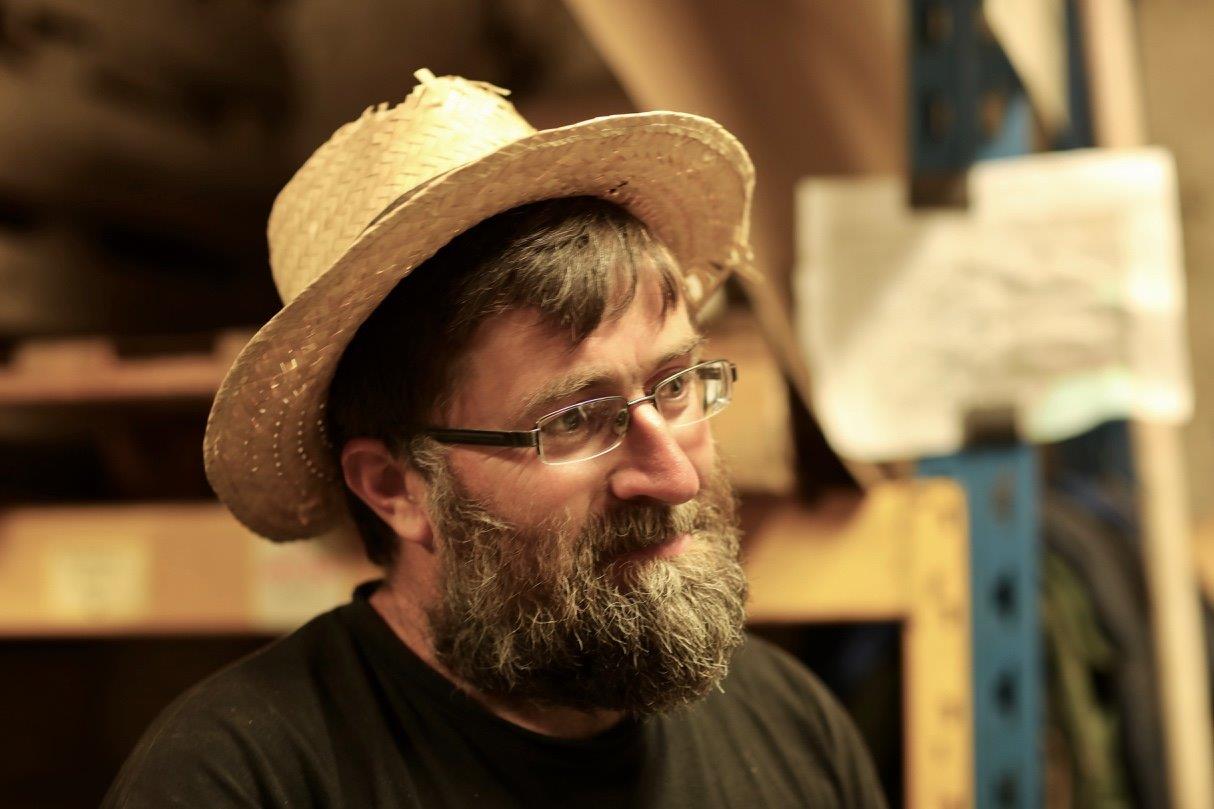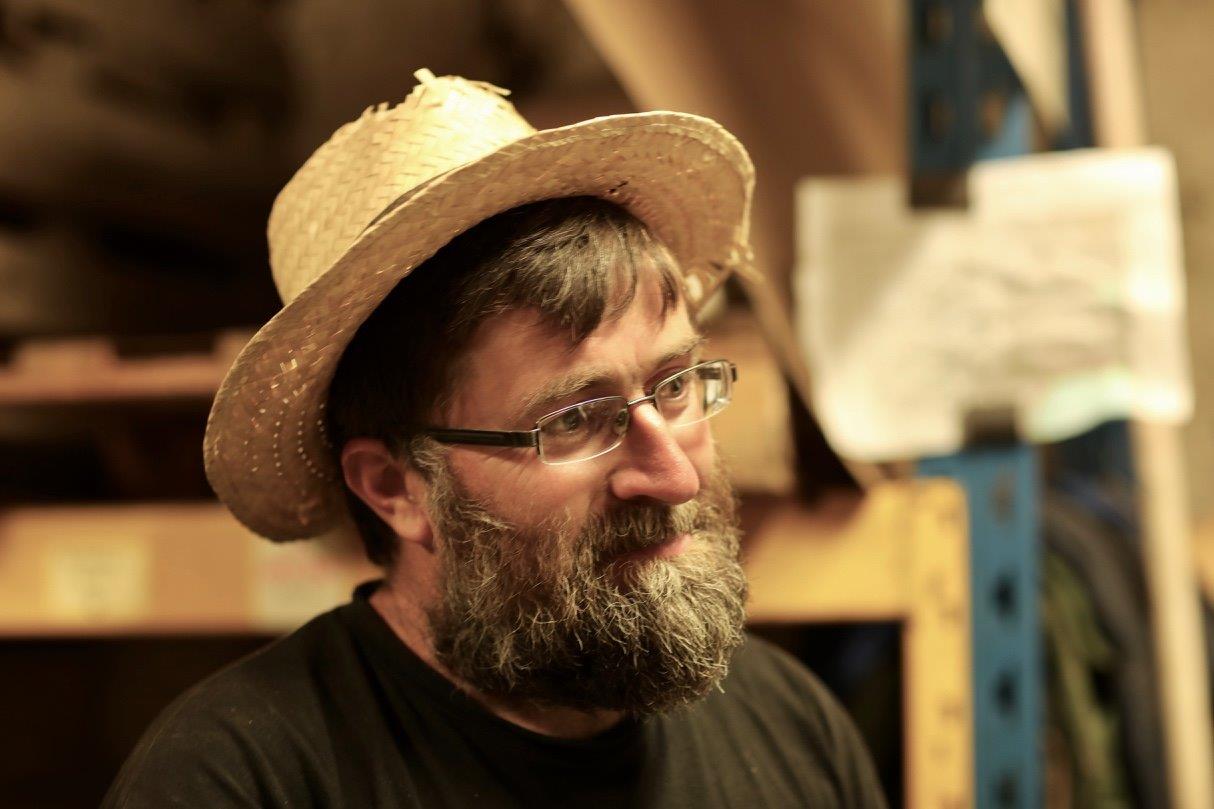 Yvan is also dabbling with a no-added-sulphur Gamay, Arkose, helped by the legendary Beaujolais consultant Jacques Néauport. More to my liking was a delicious Pinot Noir 2018, Petrosus, from vines grown on limestone, rather than volcanic soil – a serious wine with potential, as shown by a 2015 we also tasted. Yvan is a star in the volcanic firmament; his next project is to build a bigger winery, just outside of Montpeyroux, which will be good for wine tourism visits too. Hopefully, the increasingly dry summers won't hamper the progress of this estate – 2019 gave such a small yield that the downturn caused by the COVID-19 effect was not a problem for Yvan.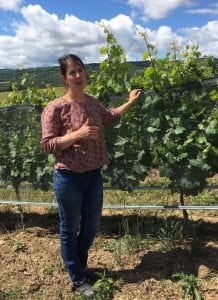 Another organic vigneron we visited was Domaine Miolanne, based in Neschers, created by the Miolanne family in 1990, and taken over in 2012 by Laure Cartier, daughter of the Provençal vignerons Mas de Gourgonnier, and her partner Jean-Baptiste Deroche, trained as an oenologist. They converted the vineyards to organic with certification in 2016, and built a practical winery in the vineyards, close to a main road, ideal to receive visitors – in summer they open a simple wine bar. Their 10ha are mainly split between Pinot Noir and Gamay (including some from old vines from the 1940s), with 1ha of Chardonnay, some Gewurztraminer, Syrah and Pinot Gris. This domaine is the only one in the Auvergne that has installed hail nets on 2ha of young vines (the cost is €15,000 per hectare), using a system that can be left in place through the season and simply rolled up when working in the vines. They can even use a machine harvester and have noted that the grapes ripen about two to three days later than in other vineyards.
Miolanne's vineyard soils include some on clay-limestone, others on basalt, and many covered in volcanic ash and light pumice, named pierre ponce. Even though the vineyards are at around 450m, summer days can reach 40°C, but there is a big drop at night. Miolanne also suffered from drought and some spring frost in 2019, losing 65% of its crop. The range of wines showed great potential and originality ranging from the 'D… Miolanne' 2019, an exotic Vin de France blend of Chardonnay with Gewurztraminer and a touch of Pinot Gris, through to a pink, crunchy, dry Pétillant Naturel Extra Brut 2018 from 100% Gamay. In between there were more traditional wines such as the salty and deliciously fresh La Volcane Rosé, a 50/50 Gamay/Pinot 2019, with some of the latter aged in old barriques and its equally tasty red partner. There's an intense 100% Pinot Noir, and an unusual 100% Gamay Vin de France named Hors Piste from two different volcanic soil types. This is a solid organic domaine with a future.
Boudes – a village apart
We spent an afternoon in the Côtes d'Auvergne cru and the attractive, old village of Boudes, starting with a tour of the vineyards kindly offered by Annie Sauvat of Domaine Sauvat, followed by a tasting of her wines. Boudes is set apart from the rest of the region to the south, and once had 800 residents, mainly living from what was once 450ha of vineyards. Today there are 250 residents, only 50ha of vineyards with just three full time vignerons including the two we visited. The vineyards stretch to above 500m altitude, many are quite steep and dotted with picturesque vineyard cabins, locally called tonnes. Soils are clay limestone with basalt once again. Traditionally all the vines were trained sur échalas, each vine tied to a single post, ideal to withstand mountain winds, but requiring mainly manual labour, unless you are prepared to use blanket herbicide, still practiced in several vineyards. This provides a dilemma between preserving traditions and the environment, one also faced by growers in the steepest vineyards of Savoie and Bugey. Many vignerons, including Domaine Sauvat have converted their vineyards to training along wires.
Annie Sauvat began in 1987 with 3.5ha taken on from her father and today has 10ha, including just over half Gamay, with Pinot Noir, a little Chardonnay and a tiny amount of Syrah and Viognier. Her husband was the winemaker but recently they divorced, so now she is looking for an employee and the domaine is up for sale. I found the range a little hit and miss and lacking in excitement, but once again a rosé – this time 100% Gamay, came up trumps, aptly named Irresistible. Unusual for the region, Annie only likes to make pure varietal wines, I preferred her Pinot Noirs to her Gamays.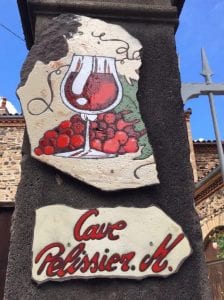 Annie's neighbour is David Pelissier, who is the fourth generation to run the family domaine, having taken over 23 years ago. He has 6ha, with 2ha Pinot Noir, 0.6ha Chardonnay and the rest Gamay. Tasting with his mother while he was preparing for a small local wine fair, we received only a little information, but I really enjoyed the wines, finding them very expressive, with that stony and salty edge showing through. Les Fesses Blanches 2019 was the best Chardonnay I tasted in the region, from very calcareous soil; the 50/50 Les Fesses Rosé was good too. David works sustainably and owns what he claims to be the oldest and highest vineyard in the Auvergne – Gamay grown sur échalas at 550m. The vines are 102- and 116-years-old on basalt rock and are used to make his delicious Volcanik Gamay.
Could this volcanic region explode onto external markets?
The region is aware that it has the volcanic card to play to its advantage. However, the big problem is marketing and there is internal strife between the vignerons as to how to promote themselves. Jim Budd wrote an excellent piece about the issues, explaining about the two recent groupings which have run wine fairs – Vinora and Loire Volcanique.
Côtes d'Auvergne has the advantage of altitude, so important in these days of climate change. Its wines combine the power of alcohol with fresh acidity and the twist of salty or mineral flavours that seem to emerge in the best reds and rosés in particular, possibly due to the volcanic soils. However, dry summers are a growing concern for what is an already dry region. A selection of natural vignerons not covered here already have a following in France. I hope that these more mainstream players who received us will break out and do well. I thank them for their hospitality.
Main photo: Old vines sur échalas in Boudes ©Wink Lorch