Simon Woolf has launched a Kickstarter to fund his new book on the renaissance of orange wine. Here are a couple excerpts and an introduction by Simon in order to whet your appetite for what's to come…
Wine used to be simple. It came in two colours, red and white – or possibly a third, rosé, but only if it was the summer and you were a girl. Now, the summer of brosé is history, and a fourth colour has joined the erstwhile trio – orange.
What on earth are orange wines? Are they made from oranges? Do they contain food colouring? No, but they do usually have an orange or amber colour. They're white wines made in a laissez-faire fashion as if they were red wines – that's to say, the grape skins are left on, and the whole lot ferments together, producing a unique beverage that not only has a surprising colour, but also profound if unfamiliar aromas and flavours. And, quelle horreur, the skin contact often results in tannins, just like you'd find in a red wine.
These wines have built a cult following over the last decade – there's an ever growing army of bearded sommeliers, Michelin starred restaurants and wine hipsters who love their thrilling uniqueness, even if you rarely see them on a supermarket shelf. For the fans, they're perhaps the most extreme manifestation of a "back to the roots" movement in wine which has coalesced around the term "Natural wine" or "vin natur".
There's one thing missing – there is no book about orange wines. However, I've been writing about their history and reviewing them for the last five years. My blog "The Morning Claret" is now one of the leading resources globally for this style.
Natural wine is partly a reaction against the traditionalism and snobbery that plagued the world of wine lovers and critics for decades – it's an attempt to reclaim wine as something living, fun and irreverent that has nothing to do with pretension or status. The scene has come of age in the last few years, striking a particular chord with millennials who attach more importance to the human story behind the wine, than whether it's a first growth, grand cru or 100-point Parker cuvée.
Witness the exponential growth in natural wine bars, first in Paris over a decade ago, then quickly spreading to New York, London, Berlin and beyond. Alongside the wine bars, a whole sub-culture of natural wine fairs, supportive critics, restaurants and niche importers has blossomed. Orange wines have a special place in this developing sector, to the point that an increasing number of fashionable restaurants now list them in their own category on wine lists. Even The Ritz, that bastion of conservatism and tradition listed an orange wine by the glass in 2016.
The ability of orange wines to polarise opinion puts them in the same "love/hate" category as Marmite, dry sherry or free jazz, with detractors finding the wide divergence from "conventional" white wines difficult to understand. Misunderstanding and hyperbole have escalated around the micro-niche. Many critics believe – mistakenly, as I'll argue – that orange wines must, from their appearance, be oxidised and spoiled. Some have suggested this is an "emperor's new clothes" phenomenon.
Perhaps the biggest myth is that the technique is somehow a modern invention, a new style dreamt up by crazed biodynamic reactionaries. The truth couldn't be more different – the technique of macerating white grapes to create a tastier or more stable wine has a vast body of history and culture behind it, taking in the once war-torn Adriatic region of Northern Italy, Slovenia and Croatia and ex-Soviet Georgia, a country which holds secrets about the very genesis of wine close to its chest.
This rich history has never been brought together under one cover, and there is no book for lovers of orange wines, or for professionals who want to understand them better. Amber revolution will be that book, additionally serving as a durable reference guide to the style and 180 of its best exponents.
Find out more, and buy your future copy, on the Kickstarter page.
Chapter Excerpts: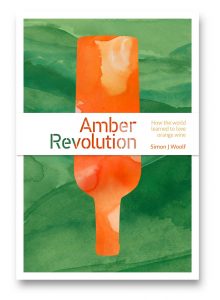 By the 1980s, Friuli was finding its identity once more, widely acclaimed across Italy as the "go to" region for its pure, star-bright white wines. And if Friuli was the source of this holy grail, Oslavian winemaker Francesco Joško Gravner was newly ordained as its high priest. Gravner took over his family's estate in 1975, aged 23, and rapidly perfected the emerging style of aromatic, youthful, cold-fermented wines from international varieties such as Chardonnay, Sauvignon Blanc and Pinot Grigio – all plentiful in Friuli Collio since the Napoleonic era.
A thoughtful, sometimes brooding intellectual character, Gravner was also ambitious and keen to push boundaries. He pioneered modern viticulture techniques such as green harvesting – removing some unripe grapes from the vine, to encourage it to produce a smaller but more concentrated higher quality yield. This was not popular with the elder generation in the village, who reportedly didn't speak to Joško for two years after he first tried the technique in 1982. Having lived through a long famine after WWII, they could not understand why anyone would be so deluded as to reduce their yields.
—
In 2004, a young wine importer from the UK travelled to Mount Etna in Sicily, to work as a "cellar rat" for radical Belgian winemaker Frank Cornelissen. The importer's name was David A. Harvey. Cornelissen had moved to the mountain to start making wine in 2000, abandoning previous lives as a financial trader, mountaineer and fine wine broker. His aim was to "make wine with nothing added", in other words nothing apart from grapes – no selected yeasts, no added acids, not even any added sulphur dioxide.
Cornelissen built a swift reputation as either a madman or a genius, depending on whether you liked his wines or not. Early bottlings were unpredictable, to say the least, sometimes refermenting in the bottle, sometimes prematurely oxidised – but also sometimes captivating. He produces a single white wine, fermented on its skins for 30 days, taking inspiration from Gravner, Radikon and their disciples. Cornelissen also followed Gravner's path to Georgia, likewise deciding that qvevri were the perfect fermentation vessel – a decision he would later revise.
Harvey and Cornelissen were well matched – both strong willed, and with a robust intellectual, geeky edge, just as happy with discourse as imbibement – or even better, both combined. Harvey recalls "Harvesting and selecting grapes for Munjebel Bianco, we talked/drank Gravner, Radikon, Vodopivec, when a conundrum became apparent: there was no name for this emerging genre".
Harvey coined the term "orange wine" by a process of elimination, as he later explained in World of Fine Wine magazine in 2011: "Candidates for names were macerated (technical), amber (obscure), yellow (taken), gold (pretentious), and orange, which delightfully is the same word in English, French and German.". He has since almost played down the importance of this decision: "I didn't set out to invent a word, I just used it naturally and it stuck."
Starting with Harvey's initial usage of "orange wine" as a descriptor in his sales newsletters and other writings, the orange wine moniker was gradually adopted by the industry and by consumers. Eric Asimov, wine critic for the New York Times, wrote about Gravner's wines and his move to Georgian qvevri in 2005. He had no catch-all term to press into service. But in 2009, when Asimov once again riffed on the subject, he was happy to accept "what Levi Dalton, the Convivio sommelier, called orange wines, which seems as good a term as any for an otherwise heterogeneous group of white wines linked together by the technique of leaving freshly crushed juice in contact with the grape skins for a prolonged period." Asimov's laboured attempt to summarise the definition is clear evidence of the need for a short and memorable name.