Nine CWW members headed to Switzerland and spent a week discovering the wine regions and wines of this high-altitude European country. In the second of a two-part report, our members chew over the rich Swiss culinary heritage, peruse Pinot Noir and visit prominent wineries – one in Valais and two in Ticino, as well as attend the presentation of the 2015 Ticino vintage.
The other DOs of Switzerland… A guide to the foods and flavours of Switzerland
Marie Cheong-Thong cuts through the many distinctive layers of Swiss cuisine.
Switzerland with its population of almost 8.4 million (2016) has a food culture based on regional influences from its proximity to France, Germany and Italy, and also its own Swiss cuisine. Fresh mountain air, harsh winters and hot summers lend a big hand to what the Swiss can produce and eat. As a nation, historically, it is a farming country of very healthy people (due to the mountainous terrain), and the Swiss rely on simple traditional ingredients consisting of potatoes and dairy products like cheese, milk, butter and cream. The cuisine relies heavily on fermented meats like salami, viande séchée, dry cured hams and such like, as well as cheeses to add to the main sources of protein. Pickled vegetables provide the fibre and there's good wine and preserved fruit to tide them through the snowy winters. Breads made from rye and flour that are 'baked to last' are also eaten throughout the winter months. They are sometimes so hard that they have to be soaked in wine and Eau de vie before eating. Pasta and polenta remain the main energy source until spring and the summer comes round again for the short growing season.
Food and drink Appellations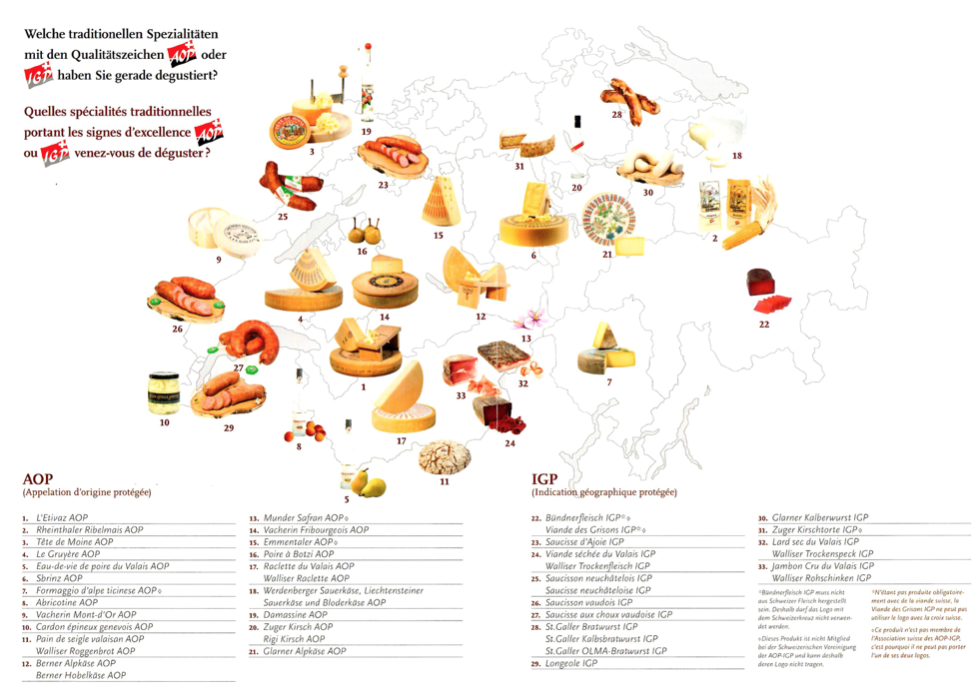 AOP and PGI are official quality trademarks reserved for traditional products with deep-rooted regional origins registered by the Swiss Federal Office of Agriculture. They may only be used for products that meet the specified requirements regarding origin, production and quality. Independent checks are made regularly to ensure that the standards are kept. It all began in 1997 when the Swiss parliament adapted the Agriculture Act resulting from the transition to quality oriented, ecological and multifunctional agriculture.
There are 21 different artisanal agricultural products that have the seal of quality 'AOP' or more internationally known 'PDO' status. These include 12 cheeses and four schnapps. There are seven products under consideration at the moment. The first AOP was L'Etivaz, awarded in 2000. Appellation d'Origin Protégée (AOP – protected designation of origin), which is celebrating its 20th anniversary, represents a guarantee of a high quality product obtained, manufactured and processed in its area of origin. Everything from the raw material through to processing the final product has to happen in the defined region according to its authentic artisanal recipe. The AOP label reassures consumers and acknowledges the craftsmanship and quality of Swiss produce – from Valaisian saffron, maize from the Rhine Valley, Botzi pears to the spiny cardoon from Geneva.
In the past, Appellation d'Origine Controlée (AOC) was used for both wine and food but in 2013 AOP was introduced by the European Union for agricultural products other than wine.
AOP Cheeses
The milk for AOP cheeses has to originate from a clearly defined region and the cheese has to be made, matured and aged in that region. The following cheeses have AOP status: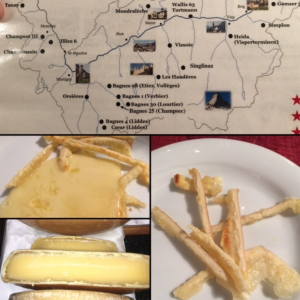 Berner Alp- und Hobelkäse

Emmentaler
L'Etivaz
Le Gruyere
Raclette du Valais
Sbrinz
Tessiner Alpkäse
Tête de Moine
Vacherin Fribourgeois
Vavherin Mont D'Or
Bloder-Sauerkäse
Glarner Alpkäse
Other AOP foods
Cardon épineux genevois

Munder safran
Rheintaler Ribelmais
Abricotine
Damassine
Eau-de-vie de poire du Valais
Zuger / Rigi Kirsch
Pain du seigle Valaisan
Poire a Botzi
PGI produce
Protected Geographical Indication (PGI) or in French, Indication Géographique Protegée (IGP) marks out traditional or typical products from a specifically defined region. To qualify, the product must be manufactured, prepared or processed in its area of origin. AOP and PGI products have the name of the region where they come from as part of their name. IGP products include:
Bündnerfleisch

Glarner Kalberwurst
Jambon cru du Valais
Longeole
Lard sec du Valais
St. Galler Bratwurst
Saucisse d'Ajoie
Saucisse aux choux vaudoise
Saucisson neuchatelois / saucisse neuchatelois
Saucisson vaudois
Viande sechee du Valais
Zuger kirschtorte
Typical Swiss traditional dishes
Some examples of typical Swiss dishes tasted during our trip included:
Rosti originated from Bern as a farmer's breakfast. This is a Swiss hash brown dish made with a base of grated potatoes. Depending on the region – apple, cheese, bacon, egg and onion can be added.
Raclette from Valais. Grilled cheese served with baby potatoes, gherkins and usually Bündnerfleisch. Remember to ask for extra 'a religieuse', which is the crispy grilled crust of the raclette cheese.
Zürcher Geschnetzeltes, the Zürich dish of sliced veal in a gravy of mushrooms, onion, cream and white wine. Traditionally served with rösti, rice or noodles.
Other popular dishes:
Swiss Fondue meaning literally 'melted', consists of a big pot of melted cheese, wine and garlic into which bread is dunked using long forks.
Nusstorte, a layered walnut cake from the Engadine region.
Basler Leckerli, a gingerbread that dates back about 600 years.
Älplermagronen is an Alpine Macaroni cheese with some potatoes, bacon and onions thrown in. Sometimes apples too! A hearty herdsman's meal to stave off the bitter winters.
Falling for Alpine Pinot Noir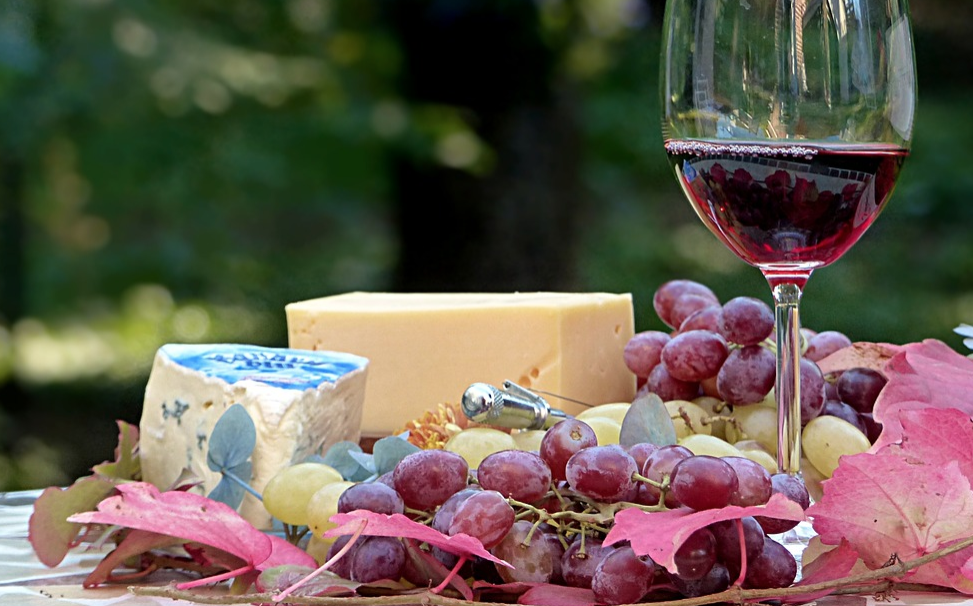 Donna Jackson delves into the intricacies of Swiss Pinot Noir.
Pinot Noir and Vinea go hand in glove and this year was no exception. As we assembled on the first night in Sierre at the Festival des Pinot Noir to taste the winning great Gold wines and meet the winemakers, there was a palpable excitement coming from our group.
Almost every Swiss canton produces some Pinot noir. Whilst Vaud is undoubtedly about Chasselas, the largest wine producing canton – Valais – whose vineyards have the River Rhône meandering through them, is decidedly Pinot Noir and Petite Arvine (lucky us) country. Every year throughout the season, under the expert lead of Elisabeth Pasquier, Vinea does an exceptional job of showcasing Swiss Pinot Noir on the world stage, as was the case last year when international Pinot Noir wines also entered the Mondial des Pinots competition.
This year, with nearly 1,300 wines from 25 countries registered, a record of six Great Gold medals were awarded on 31st August within the grounds of the splendid Château Mercier in Sierre. They were given to four Swiss wines, a New Zealand wine and one from Germany. An indication of the clear success of Swiss Pinot Noirs is that they carried away more than two-thirds of the gold medals.
The day before the opening of the Swiss Wine Fair, after the award ceremony of the Mondial des Pinots, 31 producers attended the first edition of the Festival des Award-Winning Pinots where they poured their medal-winning wines. More than 300 fans of this grape variety attended the event which, given its success, will be held again in 2018.
As we tasted our way through the wines from the diverse vineyards of Fully to Neuchâtel, the carefully made, beloved Pinot Noir wines shone. Switzerland's total area under Pinot Noir is 4,430 hectares, out of a total of just under 15,000 hectares, making Pinot Noir the most planted variety. The quality and freshness of the Swiss Pinot Noirs are really notable. The standouts of the week were too numerous to be covered here but allow this Pinot Noir lover to mention a few.
Caves de Chambleau Colombier NE | Pur Sang 2014 AOC Neuchâtel

Cuvée Charlotte 2015 AOC Neuchâtel
Les Trois Terres Morges | Servagnin Morges 2015 AOC La Côte
Pinot Barrique 2014 AOC Bonvillars
Jean Rene Germainer wines grown on the steep banks of the Rhône are exceptional and his Pinot Noir is no exception.
Jean-René Germanier Balavaud. 
We were also privileged to have a dedicated older vintage tasting from master sommelier Paolo Basso which included some really great Pinot Noir, too.
Recent vintages have to stand up to the past vintages. The 2011 vintage gave rich and healthy wines with power, intensity and length with some over-ripeness but this is rather a question of style than of quality. The 2012 vintage was much more difficult due to rain, hail and mildew yet the wines have transparency and raciness but often lack the intensity and power of great wine. 2013 shows good concentration and vibrant, bright raspberry notes – the kind that Pinot Noir drinkers look for.
Photos inset are Donna's own
A visit to Domaines Chevaliers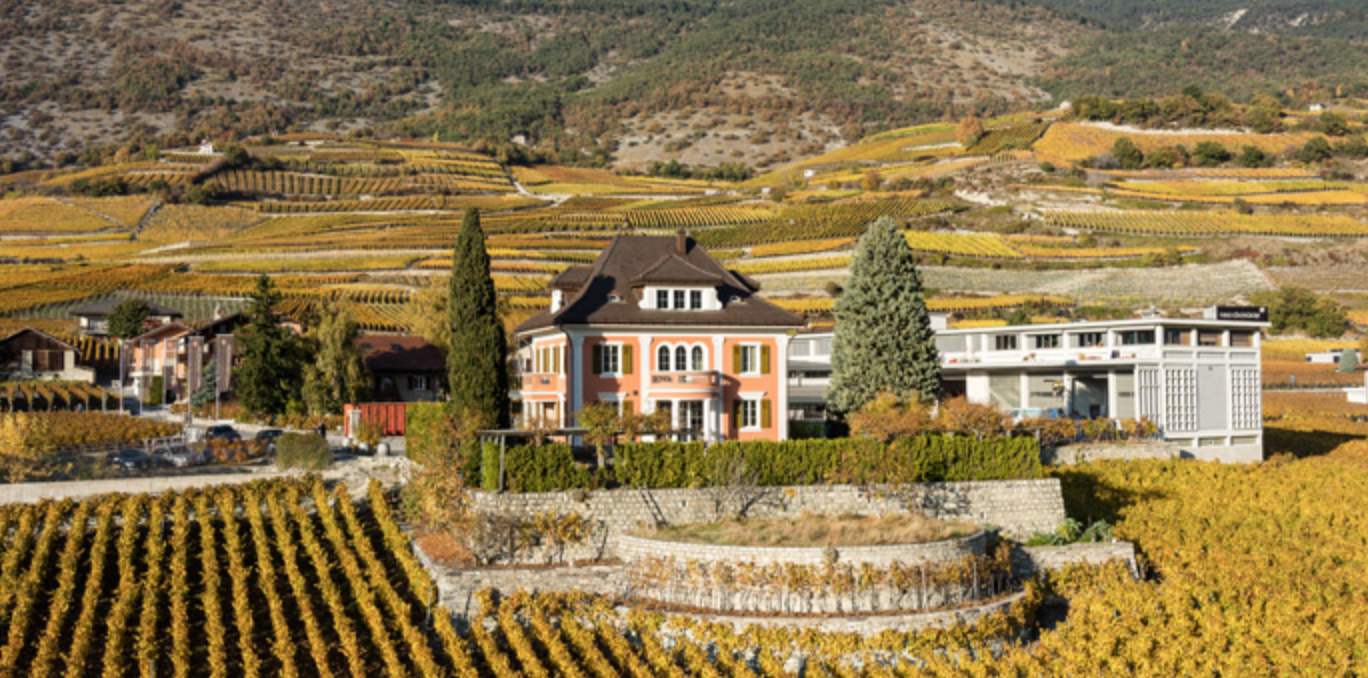 Timo Jokinen grapples with Sherpas and the Maltese Cross at Domaines Chevaliers.
It was a great pleasure to visit Domaines Chevaliers, in the heart of the Salgesch vineyards a few kilometres from the city of Sierre. Vins des Chevaliers was founded by the well-known and innovative Oswald Mathier in 1936. He introduced the idea of aseptic cold bottle filling as well as the new Guyot pruning technique.
The estate was taken over by Patrick Z'Brun in 2008. This passionate mountaineer had the idea of combining oenological traditions and advanced technologies to make the best wine possible. Domaines Chevaliers has 30 hectares of vineyards and produces 250,000 bottles a year. Patrick´s approach was rewarded many times over and the estate's wines were selected by Swiss Air to accompany its passengers' in-flight meals.
Patrick Z´Brun is an experienced mountain climber and there's an amazing story behind his Sherpa range of wines. Nepalese porters – Sherpas – helped Patrick to climb the highest peaks in the world in the Himalayas. On his way down, he decided to offer something to these men who made his dream come true. Without Sherpas, his Himalayan experience would never have become reality.
Domaines Chevaliers have the Sherpa collection blends, which pay tribute to those men of the Himalayas who guide and support mountaineers in their ascent of Mount Everest. Patrick, who is also the founder of the Swiss Sherpa Foundation, donates two Swiss francs from each Sherpa wine sold to support real Sherpas in the Himalayas. Domaines Chevaliers top wines are the Lux Vina range, which oenologist Christian Gfeller is very proud of.
Patrick's mother, born on the Day of Light, was baptised with the powerful first name of Lux. This new brand from Chevaliers is also a tribute to this elegant woman. Patrick's younger son, Vital, is responsible for the design of the labels. The creative head of the family, together with his graphic professor, have designed the packaging of the seven new wines. When entering Domaines Chevaliers, I focused my interest immediately on their Vins des Chevaliers range.
Being an active member of various Internationale Confréries Bachiques – for decades, I noticed the Z´Brun team's enthusiasm for Wine Brotherhoods. The Maltese Cross is a perfect sign to recognise and to delve back into history with as the Knights of Malta were always known for their love of food and wine. This chance to get to know Domaines Chevaliers and its fantastic wines came at an opportune moment, since we are organising the International Wine Brotherhood Conference (F.I.C.B.) and wine competition in Tampere, Finland, in July 2019.
Fine wine in Ticino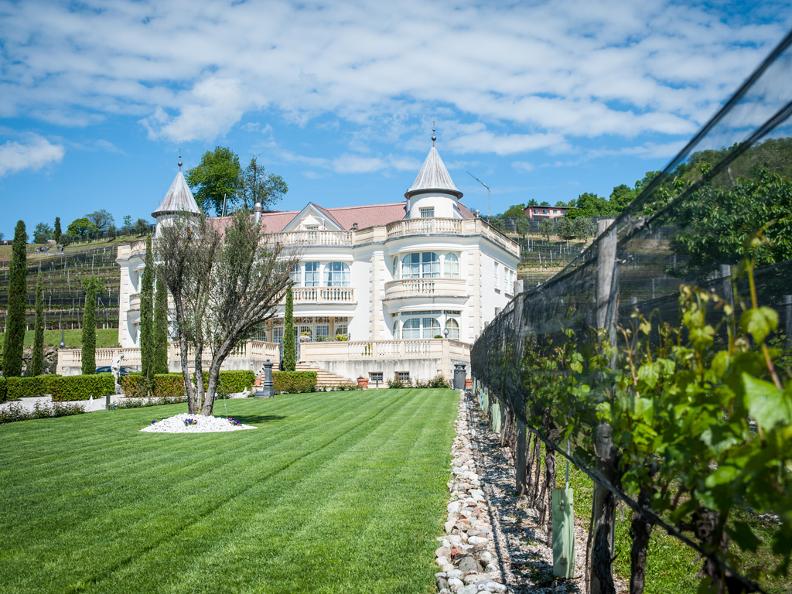 Alexander 'Sandy' Leckie winds down what was a wonderful trip and takes in a titan of Ticino.
The grand finale of our short stay in Ticino was a visit to the two wineries of the Zanini family in the southern part of the region, just a few kilometres short of the border with Italy.
The family firm was founded by Luigi Zanini, who came to Ticino as a young man in 1957 with a passion for wine and an ambition to raise the profile of fine Italian wine in Switzerland's hotels and restaurants. Through hard work and determination, he prospered, setting up a wholesaling business with his wife in 1964.
Fifty years on, the business – now trading as Zanini L'Aristocrazia dei Vini – is one of the leading wholesalers and retailers of fine wine in Switzerland, with its headquarters and distribution depot in Zurich, fine wine shops in six cities and a thriving online business.
The acquisition of vineyards and the making of wine was a natural extension of the merchant business and in 1985 he joined forces with his son, Luigi Zanini Jnr, to set up Vinattieri, a grape growing, winemaking and marketing company, and it was to the Vinattieri winery, where most of the Zanini wines are now made, that we were taken first.
Located on the valley floor, just off the main road south, its low, white-painted buildings, tiled roofs and modest tower were distinctly Italian in style and blended in easily with the landscape. As we were soon to discover, the modest exterior was deceptive. As we were taken on the usual tour of the facilities on our way to the tasting room, it was clear that this was a very well equipped and organised winery. The reception area was spotlessly clean and on stand-by for the beginning of the harvest with sorting tables very much in evidence, as well as the usual array of conveyor belts, crushers and presses. For fermentation, conical wooden vats were the choice, with stainless steel storage tanks in a variety of sizes and a state-of-the-art bottling line. The tasting room was a subterranean space, big enough for a banquet. But hold on a minute, haven't we missed something? What about the barrel store? And then with a flick of a switch…Ta Da! A flood-lit amphitheatre of barriques was revealed behind a plate glass screen. We could have been in Bordeaux!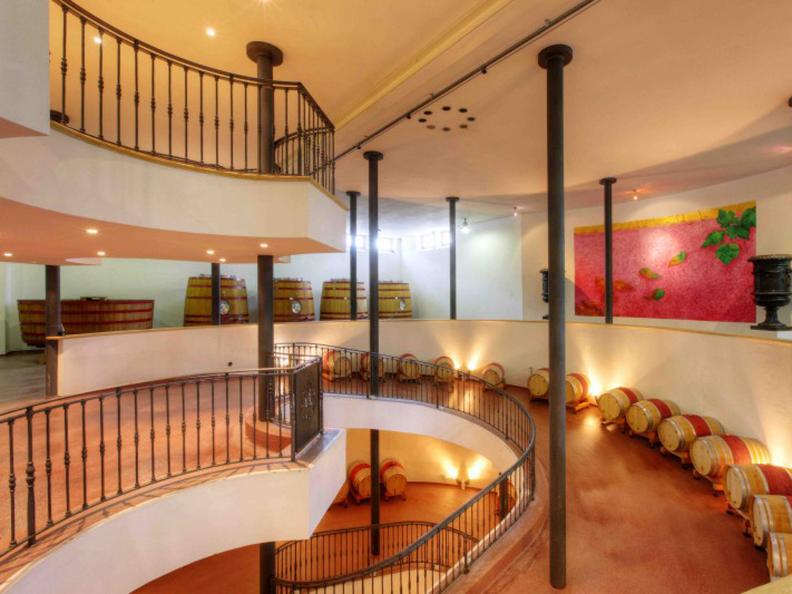 We tasted four of Vinattieri's top wines. All of these are made from a careful selection of the best bunches from vines pruned hard to give low yields:-
Vinattieri Bianco, 2016 – DOC Bianco del Ticino, 70% Chardonnay, 27% Sauvignon Blanc, 3% Semillon, 13% Vol. (CHF 25)
Fermentation and ageing 2/3 in wooden vats and 1/3 in stainless steel for 7 months. Although much of the white wine in Ticino is made from the gently pressed white juice of Merlot, the preference here is for a more distinctive style, using the relatively neutral Sauvignon Blanc and Semillon produced in the region to provide the acidity required to balance the ripe Chardonnay. The result was an attractively rich and fruity wine with great balance and, notably, unencumbered by oak.
Roncaia Riserva, 2014 – DOC Ticino Merlot, 100% Merlot, 13% Vol. (CHF 25)
Fermentation and ageing in wooden vats or stainless steel for 17 months. A delightfully soft and fruity wine and already at its peak. Ripe fruit, ripe tannins and just enough acidity to excite the palate.
Ligornetto, 2013 – DOC Ticino Merlot, 100% Merlot, 13.5% Vol. (CHF 45)
Fermentation in wooden vats, ageing for 18 months in new and second fill barriques for 18 

months. 

Wonderful concentration of ripe fruit, ripe tannins and gentle acidity. This wine was already beginning to shrug off its mantle of oak and reveal a complexity of secondary aromas and a rich, savoury character. Still youthful but already good to drink, it should continue to develop, rewarding patience for some years to come.
Vinattieri Reserva, 2013 – DOC Ticino Merlot, 100% Merlot, 14% Vol. (CHF 139)
Only made in the best vintages. Fermentation in wooden vats, ageing for 19 months mainly in new barriques. One serious wine! Huge concentration of fruit, powerful tannins and plenty of oak still present, this was a sleeping giant. If you can afford the asking price, it would probably be wise to buy a case, forget about it for at least five years and then try a bottle to see how it is evolving.
What a great tasting!  But there was more to come. It was back on the coach for the short drive to Castello Luigi, the family's flagship winery.
In 1989, Luigi bought an old farm on a hillside, a short distance above the Vinattieri winery. The land faced south across the Lombardy plain, was well-drained and had a shallow layer of topsoil on a base of clay and limestone. The plan was to create a 'Grand Cru' vineyard and winery complete with a prestigious house on the site. The site was cleared and prepared and planting got underway. His ambitious plans for the winery and house didn't win the immediate approval of the planning authorities, however, and it wasn't until 1997 that a design was approved and work on these could commence. The winery was constructed as an 18.5 metre deep spiral cellar to allow wine to be passed from stage to stage by gravity. The prestigious house, a replica of Château Palmer, with its four towers, was built on top of the winery (as shown at the beginning of this column).
Only two wines are made here – a Chardonnay and a Merlot-dominated red. As in the case of the Vinattieri wines, these are made from a careful selection of the best bunches from vines pruned rigorously to give low yields. We tasted a recent vintage of each wine:-
Castello Luigi Blanco, 2013 – DOC Blanco del Ticino, 100% Chardonnay, 14% Vol. (CHF

119)
Fermentation and ageing for 12 months in new French oak barriques and in bottle for another 12 months before release. Attractive aromas of white flowers and ripe peach with a hint of spice from the new oak still present. Rich and creamy in the mouth, with good balancing acidity. Drinking beautifully now but with plenty of potential for further development in the bottle.
Castello Luigi Rosso, 2013 – DOC Rosso del Ticino, 90% Merlot, 5% Cabernet Sauvignon, 5% Cabernet Franc, 14% Vol. (CHF 139)
Fermentation in wooden vats, ageing for 20 months in new French oak barriques and in bottle for a further 12 months before release. Complex aromas of black fruit and spice. Rich and round in the mouth with soft tannins and a long finish. Still very youthful, of course, but everything is in place to ensure further development in the bottle. A great wine in the making.
The fine Zanini wines we tasted were, without doubt, among the aristocrazie dei vini ticinese and provided a memorable end to a formidably well organised and stimulating tour of this trans-alpine branch of the Swiss wine industry.
Tasting through the 2015 Ticino vintage

Carol Brown shares her impressions and highlights of the 2015 Ticino vintage following a tasting of over 200 wines.
The Palazzo dei Congressi in the centre of Lugano was the venue for the 'Presentation of the 2015 Vintage' organised by Ticino Wine. This one-day event is attended by both trade and media as well as the general public later in the day.
Fifty-nine wineries were showing more than 200 wines during event so it was a chance to speak with some of the producers who we had met at the Ticino Media and Partners dinner at La Casa Del Vino Ticino in Morbio Inferiore the previous evening as well as meet with other producers.
With so many wines and just two and a half hours to discover them, Team CWW worked well steering each other in the direction of their discoveries and 'must tries'.
The 2015 vintage is described as not abundant, but a high-quality vintage. The month of September was decisive for the 2015 grape harvest. We came from a hot and dry August which allowed bringing the grapes to an early phenological maturation. Almost all of the harvested grapes were of excellent quality with a sugar-rich Cantonal average of 88.8 Oechsle degrees, equivalent to about 12.3-12.5% of natural alcohol.
Merlot accounts for 82% of plantings in Ticino and 20-25% of them are vinified white so the grape dominated the stands but it was also the chance to showcase other white varieties such as Chardonnay, Sauvignon Blanc, Viognier and Sauvignon Gris.
I've cherry-picked some of my highlights:
We had spoken with Guido Brivio of Brivio Vini the evening before so in a room full of many wines, this was a good place to start.
Brivio Vini 'Vigna d'Antan' Rosso Del Ticino DOC 2015 is 70% Merlot and 30% Cabernet Sauvignon. It's fragrant with spice and plum notes and very approachable with cherry, raspberry and ripe tannins. Their Riflessi d'Epoca Merlot Ticino DOC 2015 is made from a selection of grapes from vineyards that are more than 35 years old. With ripe structure and notes of blackcurrant, black cherry and liquorice, it's expressive and elegant.
Sylvain Klausener from Famiglia Klausener presented the family's wines including Gran Risavier Merlot Svizzera Italiana IGT 2015 – Rich, ripe and plummy with integrated tannins and a balanced acidity. Nottambulo Bianco Svizzera Italiana IGT is a blend of Sauvignon Gris and Liliorilla from vines at around 720 metres. Following in a very familiar Swiss theme, only two barrels are produced. It's lightly toasty with white flowers. There's a lifting fresh acidity, subtle oak, peach and grapefruit tanginess.
Tasting with Ezio De Bernardi of Valsangiacomo provided the opportunity to understand the influence of the different soils. Roncobello Merlot Ticino DOC is from a single vineyard on limestone which gives a fruitiness that doesn't require oak age. It's a classical style, full-bodied and structured tannin. Rubro Merlot Ticino DOC is from chalk (giving elegance/complexity). It has a lovely dark berry intensity and is indeed elegant.
Miriam Herman-Gaudio showed Gaudio Merlot Ticino DOC, perfumed and balanced with good structure and plenty of underlying dark berry and bramble and Pinea Ticino DOC 2105, a fragrant Pinot Nero with raisin and prune notes, textured with subtle oak and a lift of acidity.
Finally, unexpected and memorable was Centoquindici 2016 shown by Ettore Biraghi of Tenuta Agricola Luigina – an amphora Viognier which has spent 115 days on skins. Just 400 bottles were made and the result is fabulously intense with the subtlest of tannin, fresh acidity, beautiful concentration and a long finish. I had already really enjoyed his Millepetali Viognier 2016 Svizzera Italiana IGT the evening before but this was a revelation.
I have to admit that Merlot isn't usually top of my list when choosing red wine but Ticino has converted me and as with many of my Swiss tasting notes, elegance, balance and freshness shine through.
Top Ten Swiss wines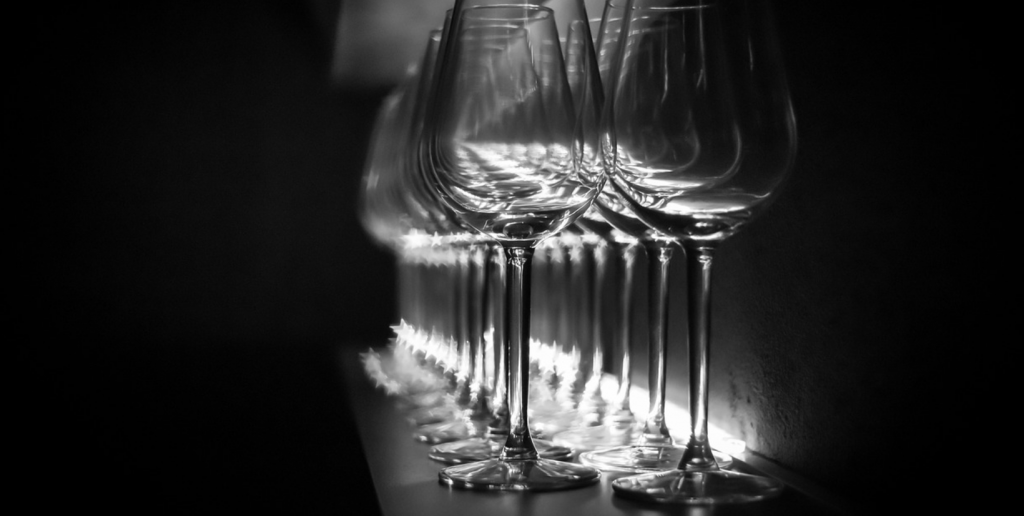 Having tasted through hundreds of wines during the trip, the members compiled their Top 10 wines tasted (1 being the group's favourite):
1. Altesse, Henri Cruchon 2015
2. Lux Vina Rhone 'Saga' Syrah 2015
3. Clos de Tsampéhro 2012
4. Marsanne, Marie-Thérèse Chappaz 2004
5. Paien, Clos Corbassieres 2010
6. Viognier, Tenuta Agricola Luigina 'Centoquindici' 2016
7. Domaine Chambleau Pur Sang 2011
8. Chardonnay, Daniel Gantenbein 2015
9. Pinot Nero, Miriam Hermann-Gaudio 2015
10. Pinot Noir, Jean-Pierre Pellegrin 2012
Thank you to Elisabeth Pasquier, Nathalie Franzé, Andrea Conconi, Alicia Mettler, VINEA and Swiss Wine for organising this spectacular trip. The group travelled from 31st August through to 5th September 2017.
Report written by members on the trip: Carol Brown, Linda Johnson-Bell, Sue Tolson, Marie Cheong-Thong, Timo Jokinen, Charles Byers, Donna Jackson, Sandy Leckie and Tanya Mann. Edited and compiled by Robert Smyth and Amanda Barnes.
The first part of the report is available here: Part 1.