From Burgundy to Southern France, vine growers are grappling with the catastrophe of precocious budding cut short by sub-zero temperatures from April 5-8, reports L.M. Archer.
"C'est reparti (Here we go again)," posted Véronique Drouhin-Boss on Instagram April 5 Her image, of a hazy night sky punctuated by hundreds of smudge pots flickering amidst frozen vineyards, foretold the unfolding guerre de gel (war on frost) in early April between Mother Nature and French vignerons. Estimated vine losses range from 50% to 100%, with final assessments still weeks away. Here, regional winegrowers share their impressions from the trenches.
Black Frost in Burgundy
Frost arrived on April 5, hitting Chablis hard. "The frost destroyed 80% of the crop, on average, with some parcels at 100%," reports Julien Brocard of Domaine Jean-Marc Brocard in Préhy.
Throughout Bourgogne, financial impacts prove difficult to estimate. "My president François Labet [BIVB] told AFP (Agence France-Presse)… that we may have lost more than 50% of the average production, but, frankly, we don't know," says Cécile Mathiaud, head of PR for Bourgogne Wine Board (BIVB).
However, early indications show Chardonnay may have suffered more than Pinot Noir. "It seems that Chardonnay is more damaged than Pinot Noir, but it is too early to have a precise view of the situation," says Jean-Luc Vitoux, director of Domaine Belleville in Rully, and Clos de la Commaraine in Pommard.

Unfortunately, precocious early budding, which some attribute to climate change, aggravated the situation. "Episodes of frost still arrive at the same time, in April, which would have no consequences if the vegetation had not started to grow so early," says Véronique Drouhin-Boss of Maison Joseph Drouhin in Beaune. "Sadly, as the vegetation will start to grow again, we will know the extent of the damage."
Locals refer to this frost by an ominous name. "This was definitely what is known as a 'black frost', or winter frost, when the cold air is all encompassing," explains Jasper Morris of Inside Burgundy, "As opposed to a 'white spring frost,' which affects individual pockets, and thus can be countered relatively effectively by the warming effects of the smudge pots (bougies)."
Morris describes the three days as an ensuing "perfect storm of snowfall, humidity, and a bank of frozen air throughout Bourgogne. Thus, typical remedies like smudge pots, wind machines and sprinklers proved ineffective." As a result, a few producers in the Côte de Nuits got creative. "Three producers clubbed together to fund a helicopter [flying] over their sector of Clos de Vougeot," says Morris. "Etienne Grivot [one of the three along with François Labet and Jean-Nicolas Méo] thinks that this will have been more effective, as well as less expensive overall, than other solutions."
Ultimately, more questions than answers remain. But resolve remains strong. "Here we have some kind of Gueule de Bois (bad taste), but the producers have resilience in them," insists Mathiaud. "It was a hard week, but they know this is one of the risks. We will see. The good news is that we had a lovely harvest last year, so we have some wines in the cellars. Some people have an insurance against frost, but it seems hard to get. As all France is concerned, the government may help but we are not sure yet."
Beaujolais
In Beaujolais, frost first struck Moulin-à-Vent in the early morning of April 7, with temperatures of -2°C. According to Edouard Parinet of Château du Moulin-à-Vent, temperatures dropped even lower (to -4°C) on April 8. In total, Parinet estimates his losses at 70%-100% in his lieux-dits planted at under 250 meters, such as 'Champ de Cour' and 'Thorins.' By contrast, his higher altitude sites like 'Rochelle', 'Caves' and 'Vérillats' averaged only 20%-30% losses. Anecdotally, Parinet also reports "someone working in a domain in Morgon, 5km to the south of us, who told me they had been affected only 10%-20%."
Parinet warns of secondary flower and leaf growth, which may yet yield 20% or more additional losses. "What is sure is that vineyards which have been pruned later are less affected," he says. "We prune the vineyards with our own team of ten people, and we need three months from December to February to have the 70 acres pruned by hand… We still have the frightening period of 'Saints de glace' (Feast of Ice Saints) in early May, which can be very cold also here."
Most harrowing of all, Parinet notes disturbing, biennial climatic trends, namely 2017 hail, 2019 frost, and 2021 frost. "I cannot speak for the vignerons, but just for myself." He says: "What this frost makes me think is that we need to stock wines to be able to continuously sell, even when we are hit by the climate… This has a huge economic consequence."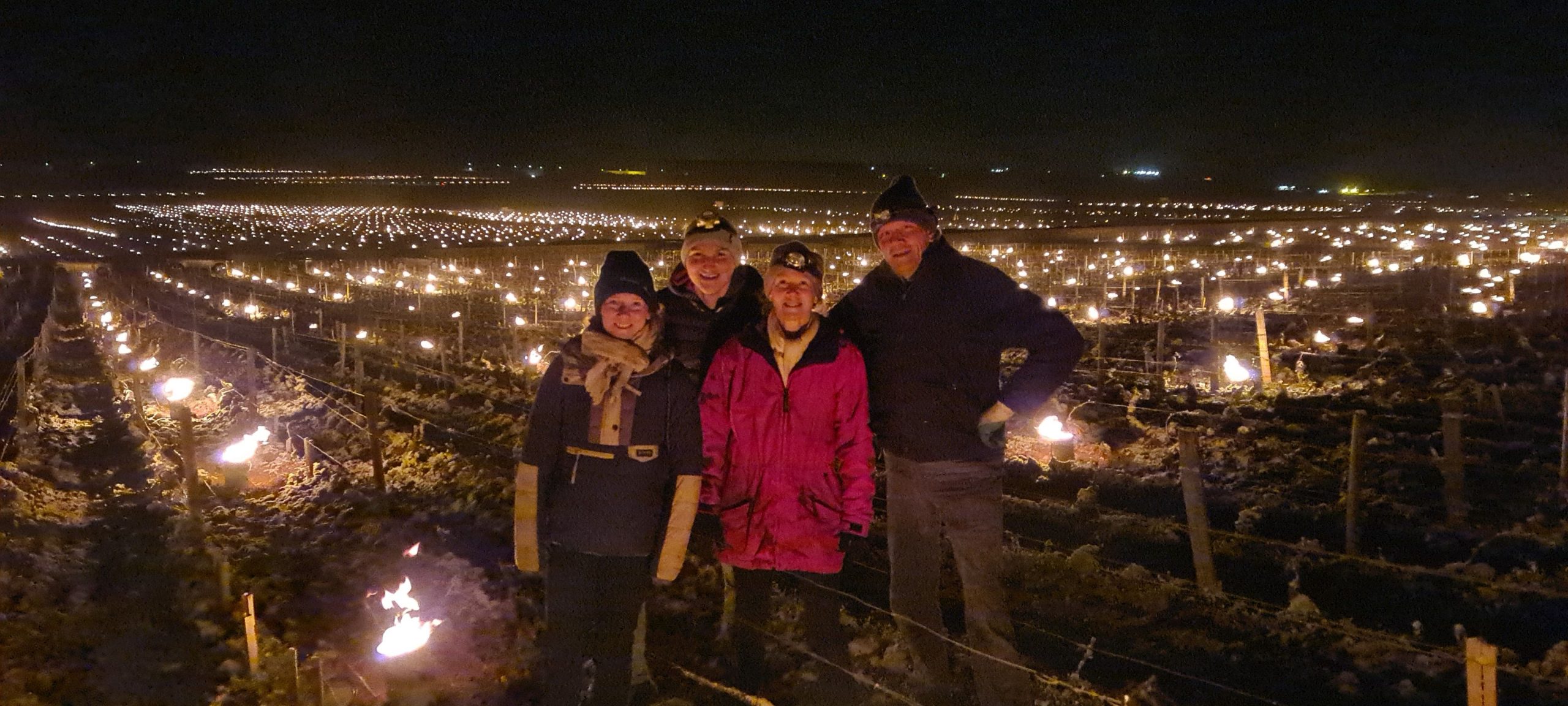 Jura
In Jura, a warm southern anticyclone encouraged early budding, followed by a polar northern anticyclone on the evening of April 5. Snow and frost continued on April 6, along with rising humidity. "The frost temperature is different based on the humidity level," says Olivier Badoureaux, director of Jura-Vins (CIVJ). "The combination of those three events destroyed our vines… All plots have been affected the same, [there's] no difference if on the top or at the bottom, no difference between north and south of the vineyard."
Statistically, 2021 may trump all previous frost events in Jura. "[It's] still hard to say for now, but we know it has been massive," says Badoureaux. "A sampling of plots, however, shows that it will be most likely be worse than the frost of 2017, where we had over 70% destruction."
Badoureaux also references the biennial frost crises of 2017, 2019 and 2021. "Hence, we do not have any stocks that could have been used to compensate," he says. "From a financial perspective, it will be very hard for the upcoming years. Please bear in mind that some wines from Jura have… very long maturing, so potential sales for the next two to six years will be affected."
But the toll isn't just financial. "The turmoil is emotional for now," says Badoureaux. "Brexit, Trump tax on 25% Ad Valorem in the OMC dispute, COVID [restaurants and bars have been closed since October, tourism has stopped as well] and now severe frost. It is very difficult for the Jura winemakers."

Bordeaux
In Bordeaux, glimmers of hope appear. "We are not very affected by the frost compared to other Bordeaux appellations, or other regions in France," says Nicolas Mestre, communication & wine tourism manager for Château de Sales. "[It is] mainly thanks to the forest next to the estate, which protects our vines." Nonetheless, as a precaution, the domaine burned bales of hay in the vineyard on April 7, 8 and 13 to create protective smokescreens.
Elsewhere, the fate of organic producers like Dawn Jones-Cooper of Château de Monfaucon, in Génissac, remain uncertain. A British winemaker living in France but on a visit to the UK, Jones-Cooper watched in horror as frost arrived in Bordeaux. "I did spray with PE102 just before we left," she says. "It's an organic product which raises the sugar levels in the leaves, and can give the vines up to 25% extra strength against the frost, but it [the frost] was so severe, and so long, it obliterated our vineyard, and all the neighboring vineyards too."
Jones-Cooper, too, must await until second bud before tallying losses. "Our Chardonnay flowers, although tightly closed, were formed, so there will be only vegetative growth for them. The Sauvignon Blanc and Sémillon… the first leaves had only just opened, so there is a slim, very slim chance that when the second bud arrives in approximately 21 days, they might still flower, which would result in some grapes. We are just keeping our fingers crossed."
Another organic producer, Nea Berglund of Château Carsin and Charivari Wines, in Cadillac Côtes de Bordeaux, fared better. "Our vines were very mildly affected… probably due to our location on top of a hill. We have some frost damage here and there, but all in all… it will probably have no effect on the crop size at all – so far so good!. One parcel was touched much more than others, it's next to a forest so the air doesn't move much, [so] there was 30% to 50% crop loss."
Berglund does recount hard-hit areas in Bordeaux, including Graves and Sauternes, plus bits around Entre-Deux-Mers & Saint-Émilion. "I haven't read estimation on total crop losses yet," says Berglund, "But there are winemakers who have lost everything from 2021. I already heard from one of my neighbors that he decided to quit this year.  It's too hard. The atmosphere is devastating, and terribly sad. I'm keeping my positive attitude of course, but obviously, it's easier with no damages."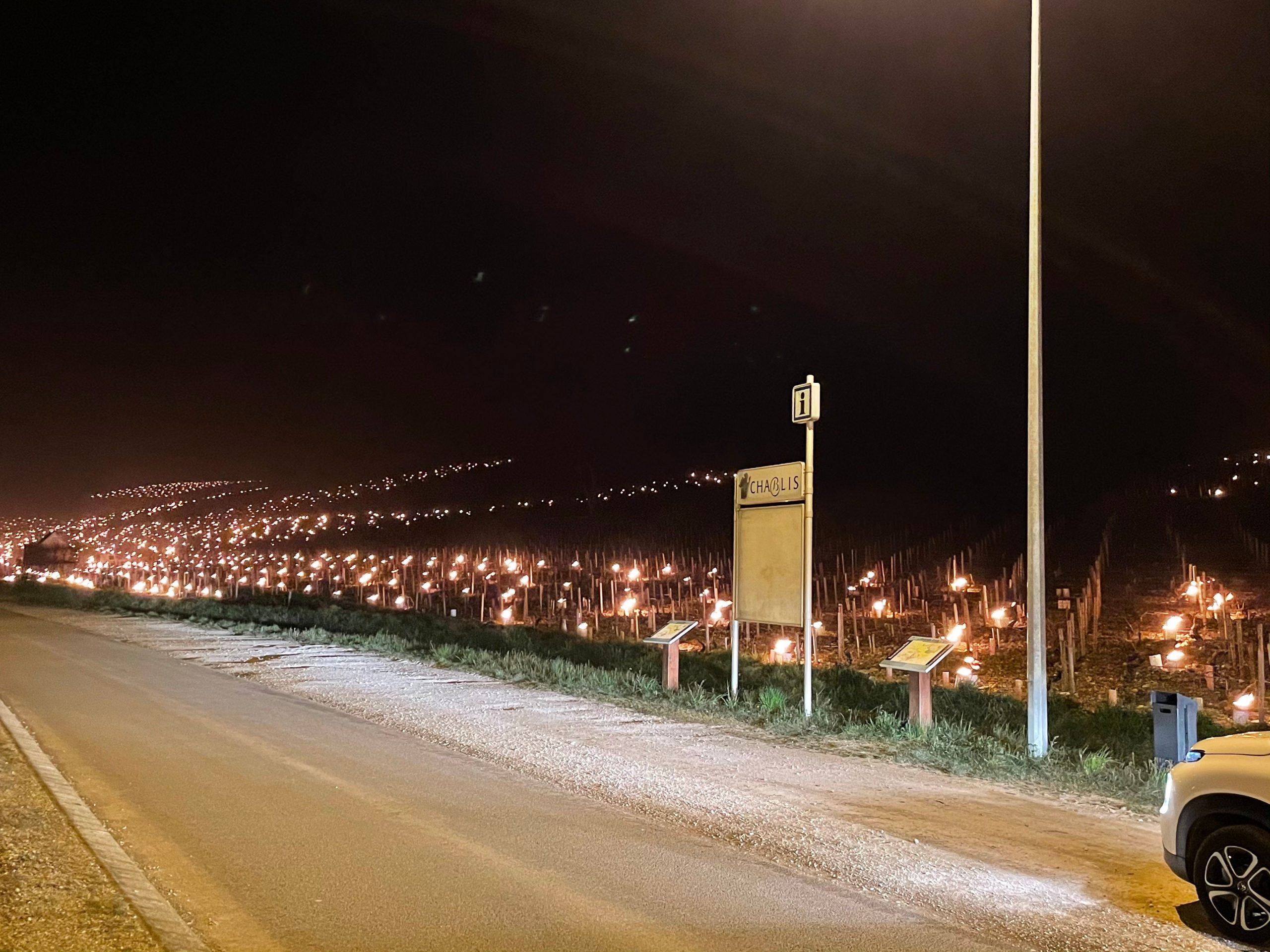 Sud de France
In Languedoc, the region suffered an episode of frost April 7-8, with temperatures dropping between -2°C to -5°C. "Despite all our efforts, our team mobilizing all night long, ventilating the vineyards and lighting straw fires, the cold has won this battle," admits Jean-Claude Mas of Domaines Paul Mas in Languedoc. "It is obvious that such an event will have an impact on the 2021 harvest, on our yield and on the cost, but we will do anything in our power to harvest exceptional quality."
Mas harkens back to a similar year, that of 1990-1991, which he recalls as "a very good harvest year, followed by an exceptional frost episode." Regardless, Mas resolves to tend to his vines in 2021 with an eye towards the future. "We must respect Mother Nature, and support her as best we can."