John Downes MW reflects on the changing face of South African Chardonnay and how winemakers are searching for cooling climates for this demanding variety. He reports on the Circle's special wine tasting presented by Bouchard Finlayson, Paul Cluver and De Morgenzon Estate at this year's London Wine Fair.
There was a first day buzz as Lia Poveda, the global ambassador for Bouchard Finlayson; Andries Burger, cellarmaster at Paul Cluver Wines; and Carl van der Merwe, chief executive and cellarmaster at De Morgenzon Estate took to the London Wine Fair stage for a masterclass on South African Chardonnay. The presentation majored on Hemel-en-Aarde valley (Walker Bay), Elgin and Stellenbosch, three regions that provided the audience with an insight into the progress of this classic grape in these beautiful vineyards. 
South Africa's vineyards have made headlines recently with news of drought, reduced harvests and the associated export dent, not to mention challenging exchange rates, but the panel were upbeat as they each poured three Chardonnays. Aware that the UK represents South Africa's biggest export market in terms of both volume and value it was a smart move for Wines of South Africa and the panel to bring a flight of wines that spanned 2009 to 2017 to show how Chardonnay has developed. "In the old days we had way too much wood; today South Africa has moved to a fresher, more refined style," Andries Burger explained.
As an ex. Cape Town resident who, before my interest in wine, roamed the vineyards for a good day out, I remember South Africa's big mouthfilling Chardonnays…. with some affection I must confess but things have moved on. "If you want this quality from France you'll pay a far higher price," Lia Poveda insisted. 
Some South African winemakers, before the birth of the Rainbow Nation, advocated that they were making some of the best wines in the world so it was pleasing to see that the talented panel showed humility throughout in noting that South African Chardonnay has come a very long way but still has a long way to go. They're right, for the potential is enormous. Lia Proveda started the humble ball rolling by observing that "battonage may have been overdone on our 2013 vintage but we're improving and are looking to improve with every vintage". This openness was very well received by a knowledgeable Circle audience.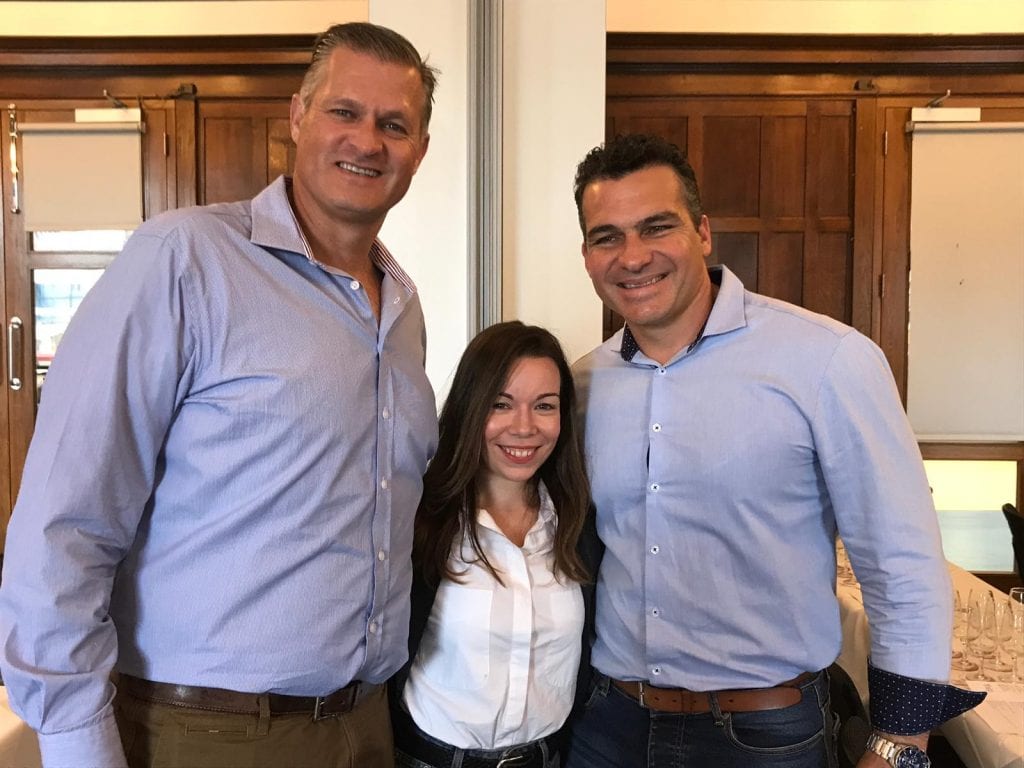 Back in the day, many South African winemakers considered their vineyards as 'New World and hot'. The new generation has long realised that the Cape is more akin to a Mediterranean climate being located between the Atlantic and Indian Oceans, neither ever far away, one cold and one warm, each playing a tempering role to fine tune their fine wines. Add the amazing mountains that produce microclimates for beneficial wind and fog, together with myriad soils and South Africa's potential is plain to see. "Oceans, mountains and soils shape South Africa's vineyards and wines," noted Wines of South Africa's Jo Wehring.
Coastal Chardonnay in the Cape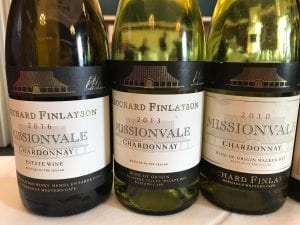 Hemel-en-Aarde, located around the fishing (and whale watching) town of Hermanus was once simply known as Walker Bay but now has three different districts, all with different climates and soils. The first, and nearest to the coast is the Hemel-en-Aarde valley, home to Bouchard-Finlayson, where "the soils are 60 per cent clay," confirmed Lia Poveda. For the record, driving inland, the second district is the Upper Hemel-en-Aarde Valley, the third is the Hemel-en-Aarde Ridge.
Bouchard-Finlayson's first Chardonnay was planted in 1989, vines which produced their first Chardonnay wine in 1995. "Our vineyards generally achieve between 13-13.5% alcohol", added Poveda.
Lia Poveda poured Bouchard-Finlayson's Missionvale Chardonnay 2016 (Retail £25), 2013 and 2010, all of which come from vineyards in the Hemel-en-Aarde Valley overlooking the Atlantic Ocean. "The sea breezes helped to combat the hot 2016 vintage, retaining the acidity to balance the ripe fruit," explained Poveda. The Missionvale 2016 showed that crisp citrus edge with a touch of oak, the result of 8 months barrel ageing in 30% new French oak, adding light toasty overtones to a pleasing finish. 
"2013 was one of the best vintages for me," smiled Lia Poveda as she explained that a long hanging time improved the fruit-acid balance of the Missionvale Chardonnay 2013. The 2010 Missionvale Chardonnay was aged for 10 months in French oak barrels, "a cool, wetter vintage characterised by a lot of wind across the valley," added Poveda. "We lost about 25% of the yield that year".
New fruit for Elgin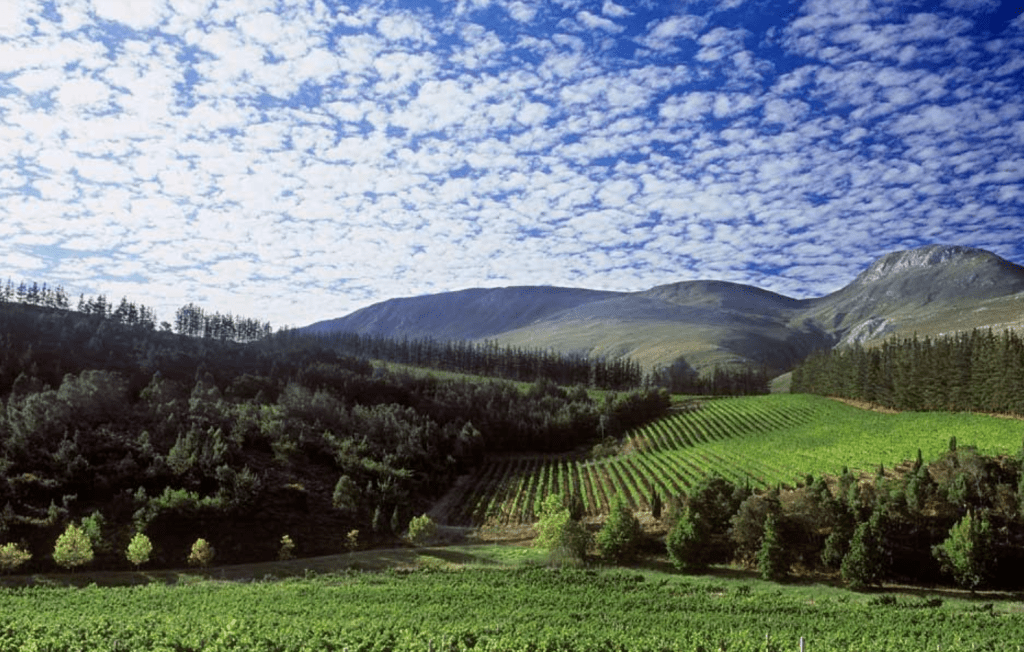 Andries Burger poured three Paul Cluver Wines; the 2017 (Retail £46) and 2015 Seven Flags Chardonnay together with the 2009 Estate Chardonnay from their Elgin vineyards. Elgin is an apple growing area so the vineyard has fierce competition. "As a consequence we've only taken Chardonnay very seriously for about 20 years; our first vineyards were planted in 1987; our first Chardonnay wine was 1997," Burger explained.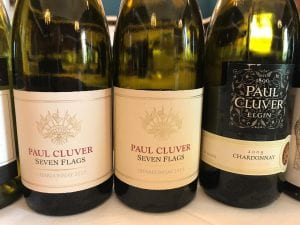 The Elgin vineyards are surrounded by mountains that encourage a regular cloud base so important for vine protection in hot summers. "We often have cloud when it's sunny in Cape Town," smiled Burger. The famous 'Black South Easter' wind and marked day-night temperature differentials also chip in to maintain Elgin Chardonnay's fresh acidity. 
Paul Cluver's 2017 Seven Flags Chardonnay, a restrained crisp, citrus style with 9 months barrel ageing, was created from vines planted on Table Mountain sandstone soils, did not undergo malolactic and had minimum battonage to retain freshness and elegance. The 2015 and the 2009 were well received by an audience that kept the panel on their toes with regular questions.  Burger described the 2015 vintage as "incredible". For the anoraks, Paul Cluver Chardonnay is not inoculated. "We use natural yeast," confirmed Burger.
The domestic market is still the biggest for Paul Cluver Wines but as the world discovers the ever improving quality of South African wine "exports are growing well; Japan is fast becoming important for us," Burger revealed.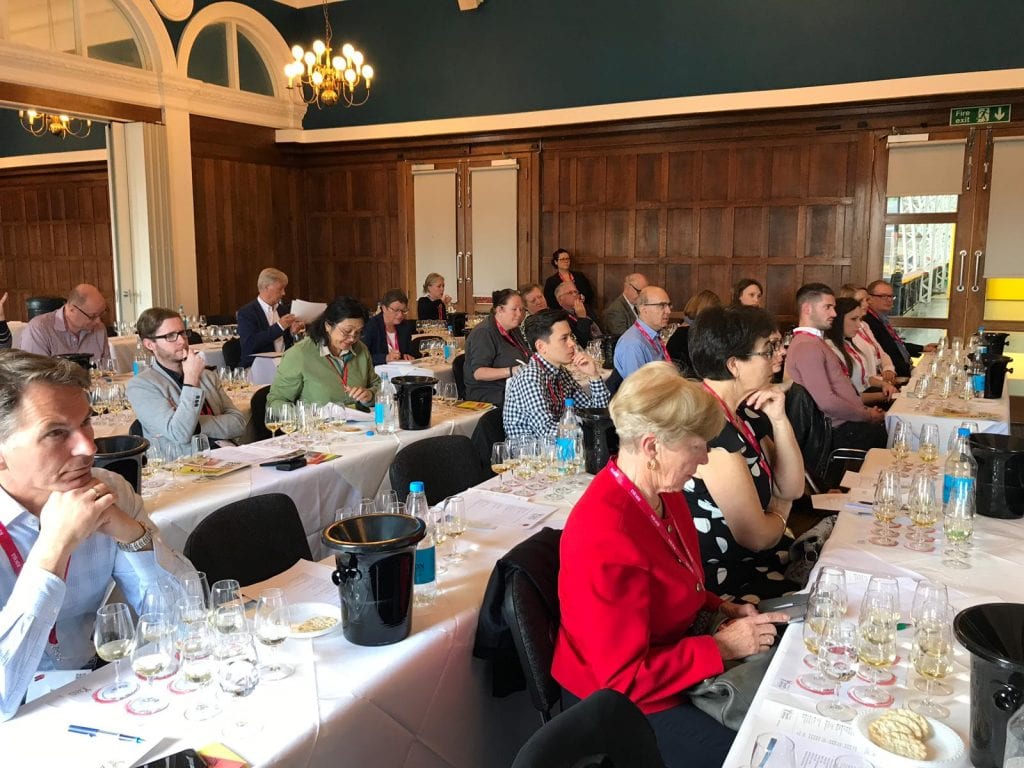 Making fresh whites in Stellenbosch
Carl van de Merwe, who had flown in that morning to be with the Circle, poured De Morgenzon Reserve Chardonnay 2017, 2015 and 2013 (Retail £32) vintages.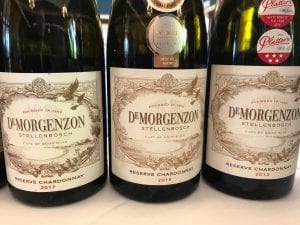 With summer temperatures hovering between 28-35 degrees centigrade the cooler Stellenbosch evening temperatures play a critical role in the region's ripening pattern. Chardonnay needs good soils and protected vineyards, "the weathered granitic soils hit the spot at De Morgenzon and whereas our vineyards enjoy the warm morning sun after about 2 o'clock the afternoon sun disappears behind the mountain to provide a unique microclimate. It gives precision to our wines," van de Merwe noted.   
It was a recurring theme throughout the presentation; savvy winemakers searching out cooler microclimates. "That's really important as we look for freshness, crispness, elegance and length in our new breed of Chardonnays," added van de Merwe.
De Morgenzon 2017 Reserve Chardonnay with its ripe yet mouthwatering citrus fruit was the result of this warm Stellenbosch vintage whilst the 2015 with its full promising lemon toast nose and lingering layered  finish, reflected this 'good quality, early harvest' vintage. Each of De Morgenzon's wines were aged in French oak, generally about 25% new French oak, supported by one and two year old barrels. 
A healthy diversity of styles and adapting to the future
There were healthy differences of opinion within the panel when it came to wine styles and ageing. Lia Poveda thought that the consumer was looking for a 'ready to drink' style whilst Andries Burger, reflecting on his time with Paul Pontallier at Chateau Margaux is looking to create wines that are "delicious when young but that become interesting with age".
The panel were in accord however when it came to the 2019 vintage … "difficult"…. was the cry. It was so difficult that some individual vines were picked over 6-8 weeks due to ripeness variations! It may have been the lowest yield since 2005 but the general view from the Cape is that "quality still shines through".
The South African winemakers are adapting to climate change thanks to gaining a greater understanding of their grapes and vineyards over the past 25 years. "Our research has shown that the Cape's eastern vineyards are now getting more rain whilst the vineyards to the west are becoming drier," Andres Burger explained. When it comes to Chardonnay and the changing climate, the panel agreed that picking times are critical. "Picking on Monday and not Saturday can mean an additional degree of alcohol," Carl van de Merwe added.
The Rainbow Nation was created only 25 years ago. Since then, South Africa's new generation of winemakers are turning heads around the world as their wines improve year on year but, still not satisfied, the talented panel saw their excellent Chardonnays as 'work in progress'. The wines tasted confirmed that all is progressing beautifully. As I left the room, I thought I heard someone singing, "the best is yet to come won't it be fine". I think it was one of the Wines of South Africa Team! I joined in!
By John Downes MW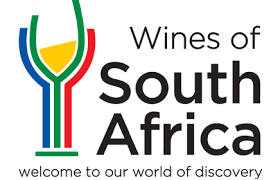 Thanks to Jo Wehring (WOSA) and Winnie Bowman (Circle's Hon Secretary) for their efforts in putting this event together.
Also thank you very much to Carl van de Merwe, Andries Burger and Lia Poveda for attending with their wines and sharing their expertise on South African wine.