Twelve members of the Circle of Wine Writers (CWW) travelled to the Veneto from 30th August to 3rd September, to visit two Veneto appellations. Colli Berici DOC, a smaller and lesser-known appellation which lies close to Vicenza, was covered in October's Circular, and now the focus turns to the extremely well known Soave and in particular the prestigious DOCG zone. The CWW would like to especially thank Chiara Mattiello, marketing manager of the Consorzio Tutela Vini Soave e Recioto di Soave, and Patrizia Licciardi (who was also with us in Colli Berici), for not only providing us with valuable insight into the region, but for also tirelessly driving us around. The CWW would also like to say a big thank you to the Soave winemakers who extended wonderful hospitality to our group.
An introduction to Soave
Michele Shah introduces the region to put it in perspective: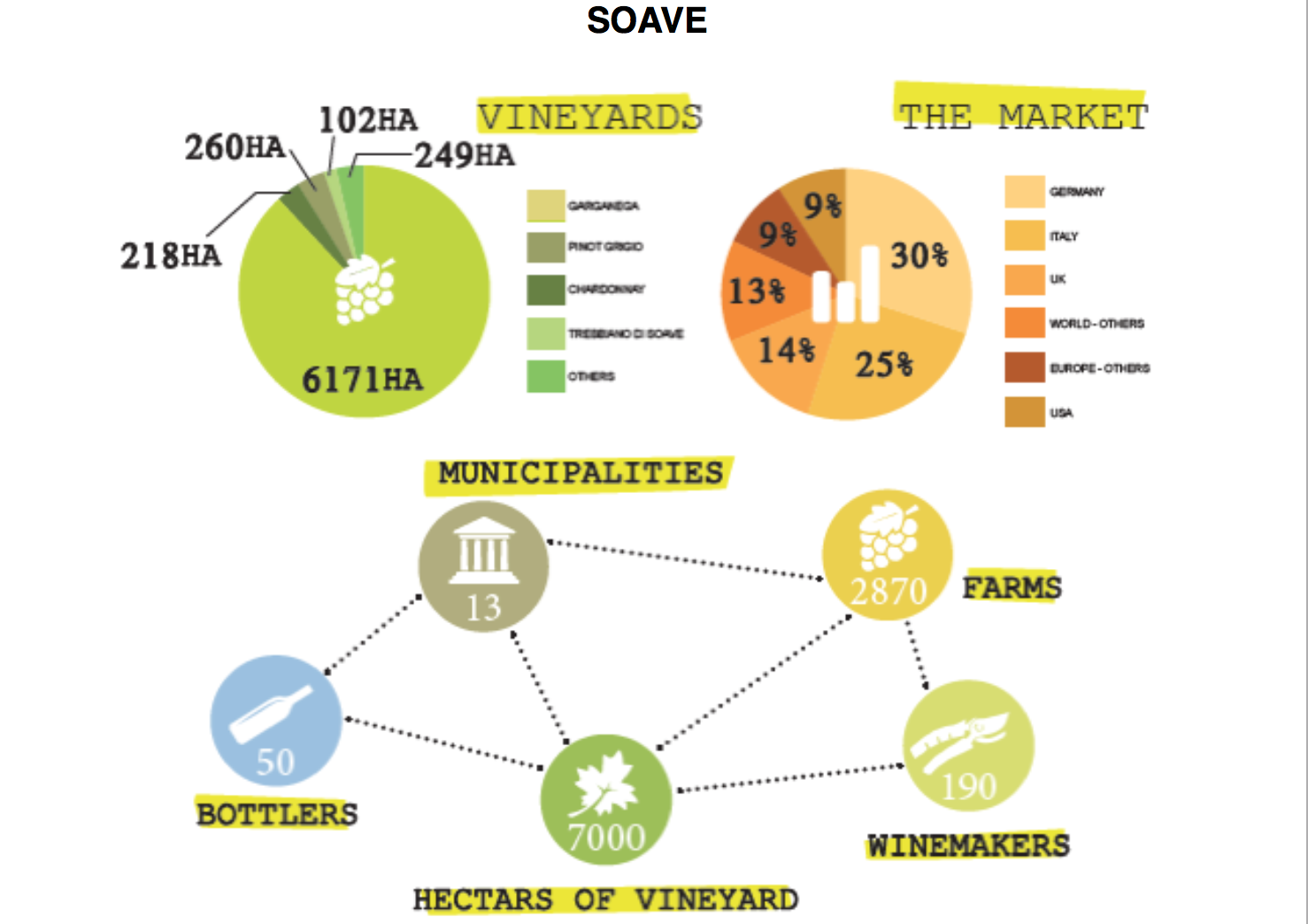 All the essential figures of production and export are shown in the slide above.
Soave received its DOC status in 1968. In recent years, its production has transited from a high yield production to a far more qualitative low yield production and in 2001 it received its DOCG status. 
Over the past decades there has been a return to traditional pergola vineyards which had been replaced with Guyot vines in the 1980s to make mechanisation easier. Most producers today prefer the pergola system, which especially with global warming, they say gives better protection to the grapes. Yet there are still a number of producers that prefer a mix of pergola and Guyot vines depending on the exposure and terrain.
The best Soave vineyards are planted in the Classico area in the surrounding hills above the quaint historic town of Soave and its imposing castle which is a landmark of the area. The terrain of the classic area is dramatically beautiful with steep hills and ancient pergola vines planted with the traditional grapes of the appellation, which are predominantly Garganega and Trebbiano di Soave.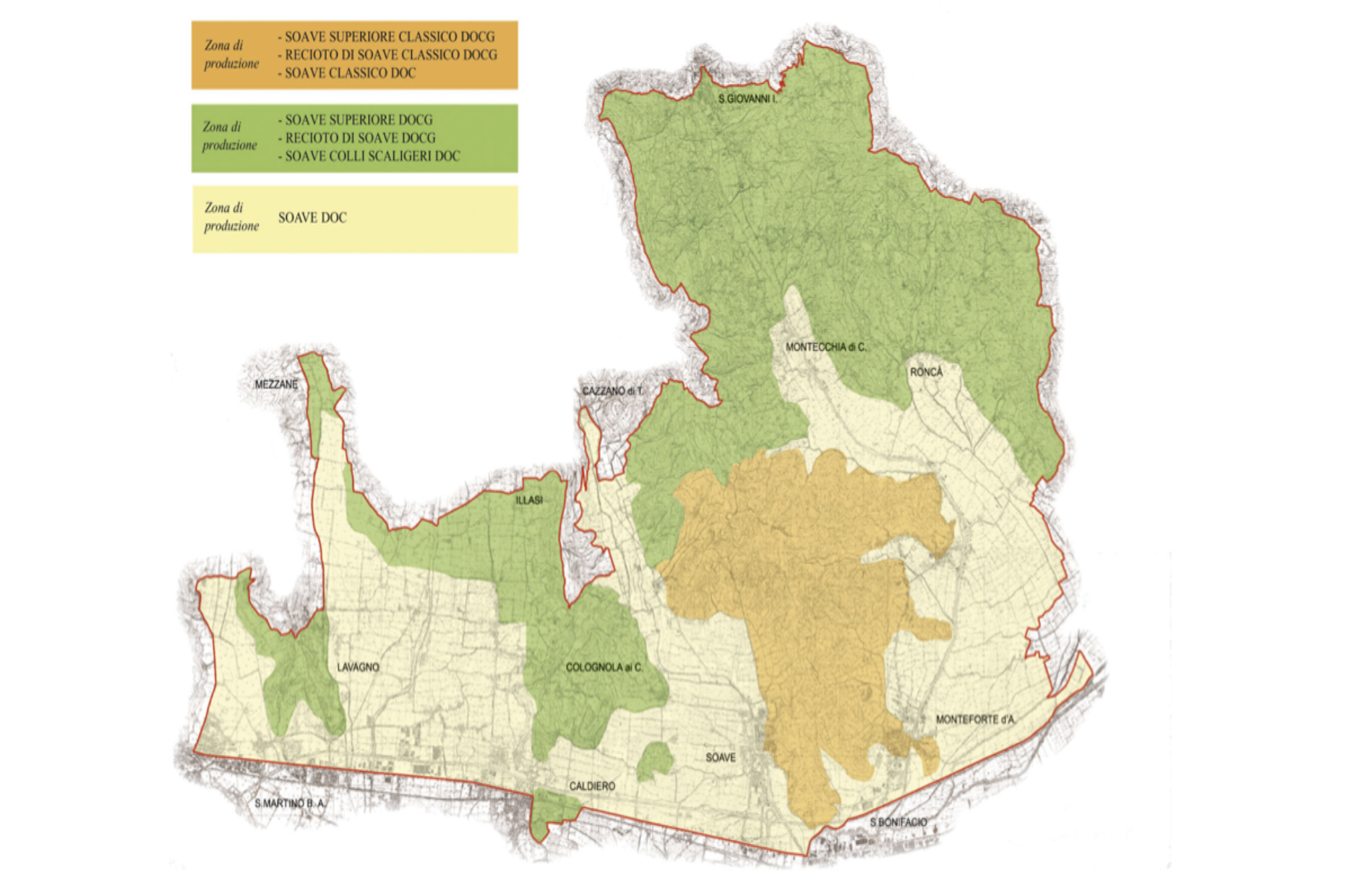 Over recent years the Consorzio of Soave has carried out meticulous research into the origins of its soils and terrain reconstructing a highly complex Cru system which is best shown in the slide attached, showing the diversity of its terrain and soils.
Coffele Viticoltori – at the heart of the old city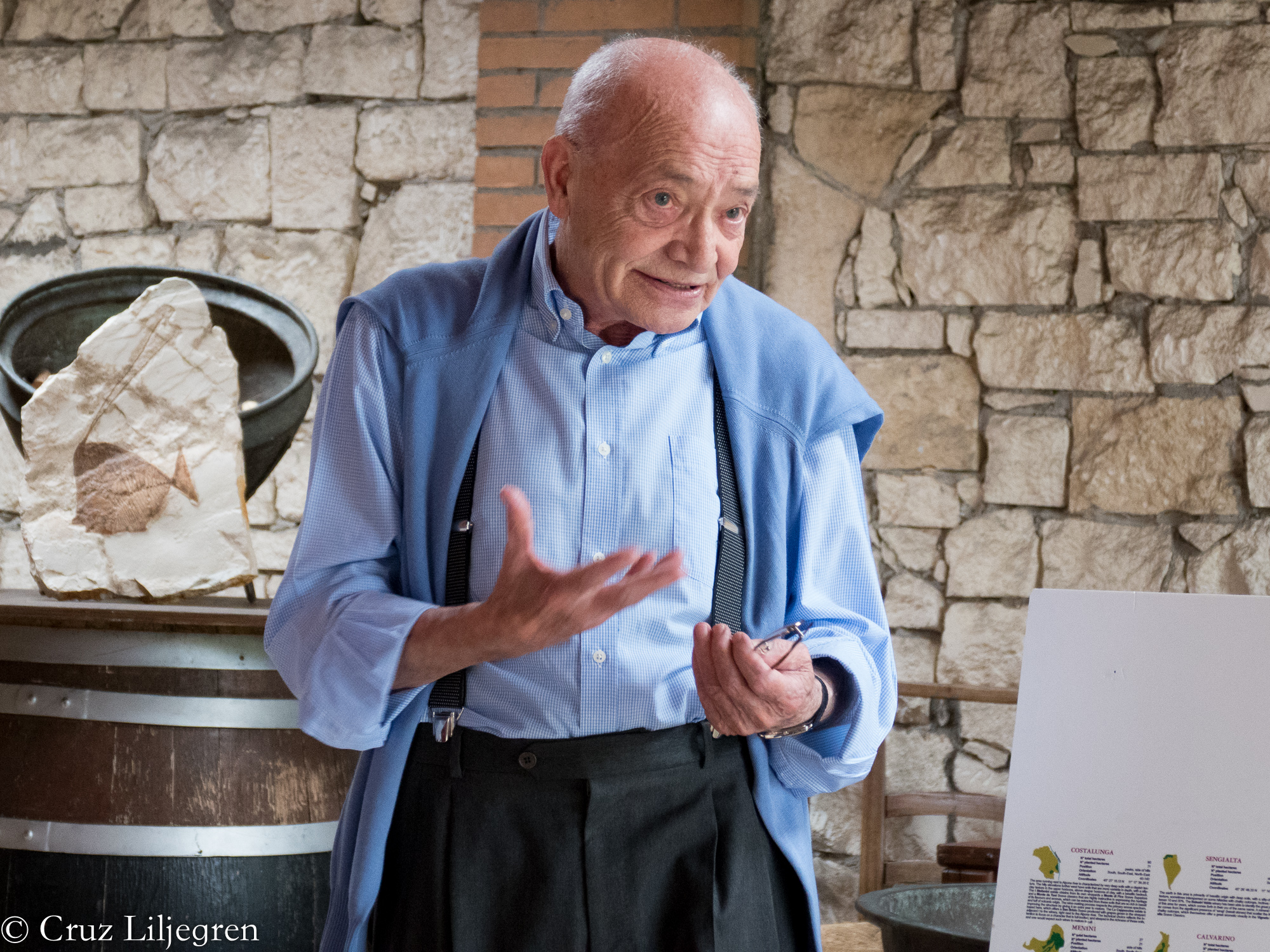 Jochen Erler is seduced by the stunning setting of Coffele Viticoltori as well as its wines, and also provides some key stats.
A short walk from our hotel through one of the city wall's gates brought our group downtown to Coffele Viticoltori, one of the four wineries still in existence within the old protective walls. The entrance to the building was a visual delight, as was the beautiful open-air tasting room upstairs. As this tasting was the first one for us in the region, Chiara Mattiello, our knowledgeable guide from the Soave Consorzio, gave us a detailed overview.
Soave has 180 wineries cultivating 16,000 hectares of vineyards, mostly planted with the Garganega variety. The traditional Soave Classico is a blend of this grape with the other local grape, Trebbiano, which has often been planted alongside Garganega, and in the past it was always grown on the pergola training system. Interesting was Chiara's comment that in the 1980s many producers replaced Trebbiano with Chardonnay to obtain higher yields and also because it requires less work as it is always trained on the Guyot system. As we learned later from Giuseppe Coffele, our host for this tasting and the owner of the winery, this trend has been on the reverse. Trebbiano grapes now fetch a higher price than Chardonnay since Trebbiano is better suited for the blend with Garganega, and because producers are now more interested in quality than quantity. In my opinion, a lot of damage has been done to the reputation of Soave wines.
Giuseppe is the senior of this family and despite his advanced age, he is still fully in charge of all activities here. He calls Soave the white wine of Italy, which is not without reason in view of history and the volume of production. As in most wineries visited, the tasting started with a sparkling wine. Giuseppe offered a Charmat Brut made from Garganega; a very pleasant and well-balanced example for a reasonable local retail price of 10.50 euros. Thanks to early picking of the grapes, the high acidity of the fruit makes this grape ideal for producing sparkling wine.
However, still wines from Garganega require late picking to achieve full phenolic ripeness. Such wines are always elegant, and they typically have a touch of almond flavour on the finish, which is often supported by a sensation of minerality. Coffele's Garganega varietal wine called Cerino is a fine example, but its Soave Classico is even more attractive on the palate and finish, thanks to the traditional blend with Trebbiano. For friends of oaked wines, Coffele also produces an oaked version of Garganega, labelled Alzari.
Giuseppe explained why in Soave's climate that the traditional labour-intensive pergola training of the vines is more suitable than the modern Guyot training. We could later see this in the vineyards ourselves when a thunderstorm with hail beat down on the vines, whereby the thick canopy gave protection to the ripe bunches under it. Normally, it is the intense impact of the sun that needs to be avoided. He also mentioned that Coffele is working on a social-agricultural project.
Then, Giuseppe offered us one of his winery's best wines, if not the best: a DOCG Recioto named Le Sponde. For this wine style, the best bunches of Garganega grapes are selected and dried for about six months. In the Coffele winery, the grapes are not dried on tables, or in boxes or crates, as is done by most producers. Coffele hangs them up in a room with computerized temperature control. After pressing and fermentation, the sweet must is put into small oak barrels for ageing for about one year. The product is like nectar, a most delicate desert wine full of local and exotic fruit flavours. Despite its sweetness, it is not sticky and maintains its crispiness. With a price tag of 26.50 euros for a 0.5 litre bottle, it is certainly an attractive alternative to the TBAs of other provenance.
A taste of Italy's largest cooperative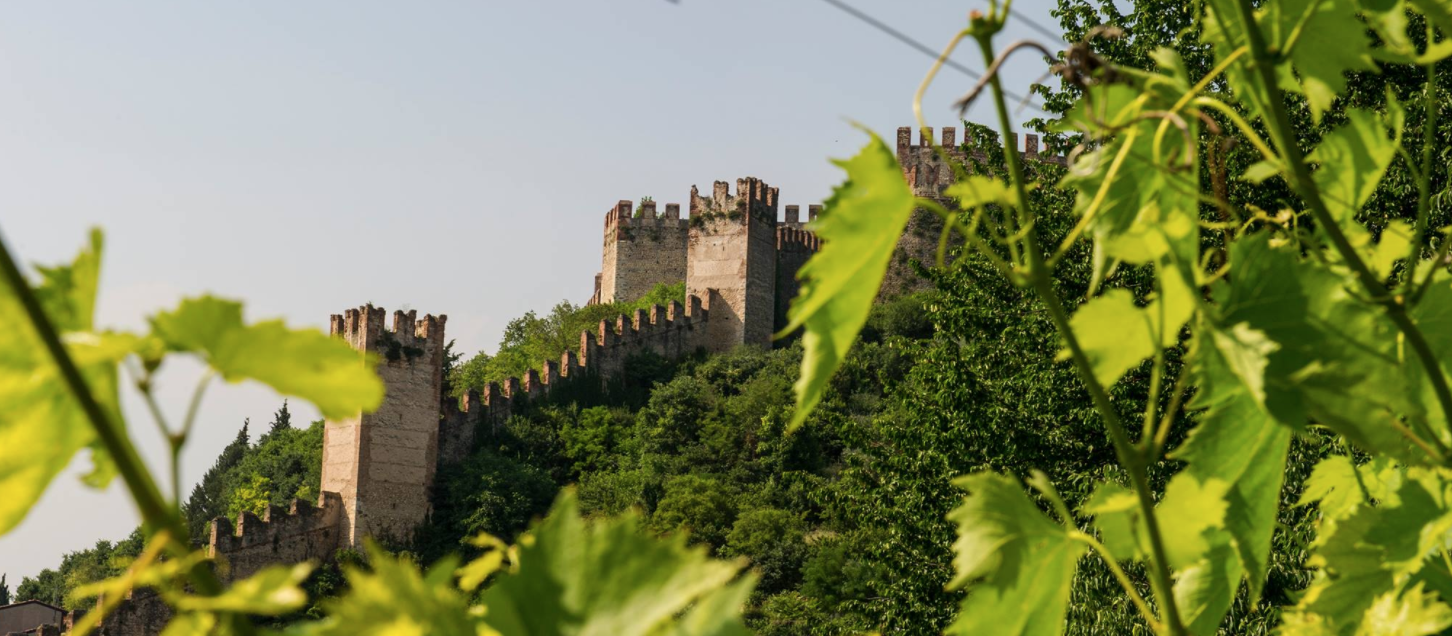 Jane Clare takes in the region's largest player, Borgo Rocca Sveva – Cantina di Soave, also the biggest cooperative in the country, and is impressed at what she finds
The Cantina di Soave is the largest wine cooperative in Italy and here, nestling under the gaze of the ancient castle at Soave, it has its own place in history for the wine producers of this region. The cantina was founded in 1898 and is now very much looking to the future. It moved to its purpose-built headquarters just outside the city walls in 2003, a former family villa in the courtyard being a clue to its previous life.
The villa has now been converted into a restaurant and on the opposite side of the courtyard a new complex houses a wine shop and a first floor conference centre which can seat up to 6,000 people. A stroll through the complex opens up a world mingling with the old and the new. One of the original visions in the acquisition of the site was the potential for a vast underground cellar hewn into the rock of the hill, Monte Tenda, upon which sits the castle high above. This cellar was originally a war bunker, now extended to a 100-metre long corridor holding 1,000 barriques. A fascinating walk through this network takes you past historic photographs donated by members of the cooperative, a glimpse into the bottling section and finally a display which perfectly illustrates the different soils to be found across the region.
The cooperative has up to 2,200 members and it exports 60 per cent of its wines to about 60 countries, with Germany and the UK being its biggest customers. It embraces five valleys, in the eastern Verona area, manages 48 per cent of the vineyards in the Soave DOC zone, and 43 per cent in the Soave Classico zone. The cantina also loops in 49 per cent of the Valpolicella DOC vineyards and 70 per cent of the vineyards in Durella DOC. 
Winemaker Giancarlo Piubelli led us through a tasting of some of the cantina's ultra-premium wines, including those under the Rocca Sveva label. Giancarlo was 'on call' waiting for grapes to arrive from the Classico hillsides to begin their wine production journey at the centre, from sorting, fermentation, ageing and finally bottling. Once or twice his phone rang, but he expertly took us through the challenge in hand; tasting the excellent wines, with the support from a very welcoming team.
The lively tradition of Cantina del Castello

Quentin Sadler relishes being among the very first group of tasters at Cantina del Castello's renewed ancient tasting room, which even has a secret passage to the castle
Cantina del Castello is housed in a delightfully atmospheric old building in a little, cobbled alleyway just below Soave castle. Once inside, we headed down worn stairs to the ancient cellars. It had just been refurbished and been turned into a tasting room and our little group was the first to use it. It really was like going back in time. It was peaceful, cool and like a film set for a castle dungeon – it even has a secret passage into the castle!
Although the winery has been here for hundreds of years, it only really got going as a quality producer from the 1980s, when it was taken over by Arturo Stocchetti. He is the current owner and also President of the Soave Consorzio. In recent years he has worked closely with his daughter Giulia, passing on his passion and his knowledge to the next generation.
Like most producers we visited in Soave, they only grow two grape varieties, chiefly Garganega with Trebbiano di Soave (aka Turbiana and Verdicchio) making up some 20 per cent of the vineyards and their wines. They farm 13 hectares in total, primarily 12 hectares in Pressoni. This Cru, which is 1km or so northeast of the town of Soave, sits at 200-250 metres above sea level and has basalt volcanic soils. Their remaining hectare is in Carniga, a southwest-facing Cru with calcareous soils at 150 metres above sea level that is about a 1 km north of Soave itself. Their vines are planted with a mixture of pergola and Guyot training.
Giulia told us that she wanted nothing to obscure the purity of the fruit and the expression of the terroir, so they do not use any oak at all. They want the wines to be drinkable, which is something we kept hearing everywhere we went in Soave. It is certainly true that Soave has a softness about it that does indeed make the wines very drinkable.
Arturo and Giulia produce three different Soaves. Their very approachable Castello Soave Classico is a blend of vineyards, the real interest though comes with their two Cru wines. Soave DOC Classico Pressoni has 20 per cent Trebbiano di Soave blended in and ages for seven months on the lees. I found the 2016 to be lightly mineral, poised and elegant, just as I like my white wines. We were fortunate enough to taste the 2000 Pressoni as well, and that was amazingly developed with a rich caramelised orange note. Personally, I much preferred the younger wine, but it was fascinating. We tasted the 2014 of their other Cru, the Soave DOC Classico Carniga. Aged 12 months on the lees this time, it was richer and broader with concentrated fruit, especially pear, and a creamy, salty tang.
For a finale we were treated to their Recioto di Soave DOCG Classico Ardens 'cosi com'è nato'. This  translates as 'lively as tradition'. This wine is made from 100 per cent Garganega grapes from the Pressoni site – that volcanic soil helps with the acidity in a sweet wine. The grapes are picked quite early in order to retain the fresh acidity, so all the sweetness comes from drying the grapes to concentrate the sugars. The grapes are then dried indoors from late September until February. The intensely sweet juice is then fermented in stainless steel and bottled after just a light filtering that enables a natural second fermentation to occur once it has been bottled, on the full moon – so rather like the Méthode Ancestrale. This, of course, means that the wine is lightly sparkling, which makes it seem very refreshing, yet it has that underlying richness, concentration and sweetness that is in tension with the bright acidity and freshness.
A family affair at Monte Tondo

Quentin Sadler continues at Monte Tondo, where he was so impressed that he had to buy a bottle.
I really enjoyed visiting Monte Tondo. It is a real family affair, originally created by Aldo Magnabosco who bought three hectares and a small house and winery here in 1970. Soon his son Guido joined him and expanded the vineyard holdings and over time his children came into the business, too.
Today they farm around 25 hectares in Soave and another 15 in neighbouring Valpolicella.
Guido remains the viticulturist while his son Luca is the winemaker. Our hostess for the day was Marta, Luca's diminutive, but energetic, sister. Marta is something of a force of nature, jumping about, endearingly happy and constantly smiling and laughing. Intriguingly, Marta explained that the bottle shape for Soave has always been variable since 1937 when the tall Germanic bottle was adopted for some Soave wines. In those days people could apparently ask for Soave tipo Reino (Rhine) or Tipo Chablis and the bottle shapes reflected these styles, just as a Rioja Clarete bottle was a different shape from a Rioja Borgoño in my youth.
The focus here is almost entirely on Garganega, indeed only one of their wines contains any Trebbiano di Soave. Their vines are in small blocks dotted about, but are mainly all within three areas; Foscarino a kilometre or so north of the winery; Monte Tenda; and neighbouring Monte Tondo – from which they get their name – and both Montes are just behind the winery building.
I enjoyed their light and fresh Soave Brut made by the Charmat method, they also have a new traditional method sparkling too, but it was not ready for us to taste. Of the still wines, we did not try their basic Soave DOC called Mito, or Myth, but started with their 2016 Monte Rondo Soave Classico DOC and I was impressed. It was aromatic, fresh, mineral, saline even and had a touch of something nutty on the finish.
My favourite wine here though was the 2015 Casette Foscarin Soave Classico DOC. This is a Cru and has 10 per cent of Trebbiano di Soave – personally I think the blend gives a little more focus to the wines, tension even – and is aged on the lees in a mixture of used barriques and tonneau for around eight months. The aromas were pure and floral, jasmine, the oak was delicate, just adding complexity and a little spice, while the concentration was remarkable giving an exotic combination of lemongrass, lime and tangerine. I loved this wine – indeed I bought some.
They also produce two different types of Recioto; a sparkling and a still. The sparkling is the 2015 Monte Tondo Recioto di Soave Spumante DOC and the grapes are dried for two months to concentrate the sugars, but not too much as they want to retain freshness. It is a fascinating style as in the UK we get so few sweet sparkling wines. The combination of a sparkling wine with butterscotch and caramelised orange flavours is intriguing. It is made by the Charmat method to prevent autolysis masking the freshness. The still version is their 2015 Nettare di Bacco for which the fruit is dried for four months, so the final wine is more concentrated with a deep barley sugar flavour. Again it is picked pretty early to retain the acidity, so the wine is fresh and well balanced rather than cloying.
A walk through the vineyards of Vicentini Agostino
Robert Smyth gets his shoes dirty and enjoys a stroll through the low-yielding vineyards of Vicentini Agostino before tasting the tense, focused wines of the family winery.
One of our minibuses picked up a puncture in the vineyards as we approached the estate. Could it have been from a chunk of limestone sticking out from the Terre Lunghe vineyard? The soils are more limestone-based out here in the western part of Soave, and the winery is also situated very close to Valpolicella, where Vicentini Agostino also has vineyards.
We checked out the grapes growing on the Pergoletta and Guyot trained vines of good age and they looked and tasted in rude health, before we sat down to hear the story of the winery and taste the wine in a beautiful al fresco setting, surrounded by the vines.
Agostino inherited the winery from his father and has worked together with his wife Teresa for years. The couple has been joined their son Manuel, who accompanies his father in both the cellar and the vineyards, and daughter Francesca, who takes care of marketing. Agostino, Teresa and Francesca were our gracious hosts. The Vicentini Agostino family winery has 20 hectares in Soave and Valpolicella with around two-thirds in the former and a third in the latter. Some 35 per cent of the wine is exported. 
Terre Lunghe Soave DOC 2016, a blend of Garganega and Trebbiano di Soave, certainly served to wake our palates up on this fine morning with the kind of pronounced acidity often associated with limestone. It gave the wine impressive structure, but thankfully it wasn't only about the acidity thanks to some citrusy, floral, herbal and nutty notes. This wine provided firm evidence that excellent wine can be made in the Soave DOC zone. It was made from Pergoletta trained grapes. Il Casale Soave Superiore DOCG 2015 comes from volcanic soils and is made solely from Garganega. It was rounder, fuller and more elegant than its DOC predecessor. Both of the whites saw no oak with the emphasis on preserving the freshness.
We then moved on to a Valpolicella DOC Superiore from the 2012 vintage, which was harvested from 400 metres above sea level in late October. It struck an excellent balance between fruitiness and spiciness. We also enjoyed a Recioto di Souve DOCG for which the Garganega grapes were picked at the beginning of September, put into cases and left to dry. It was also made only in stainless steel. It has 100g/l of residual sugar and saw no oak.
We were also presented with a bottle of olive oil to take away, which had that spiciness typical of cooler climate oils. The minibus had already had the punctured tyre replaced and we sped off to the next winery.
Gini in a bottle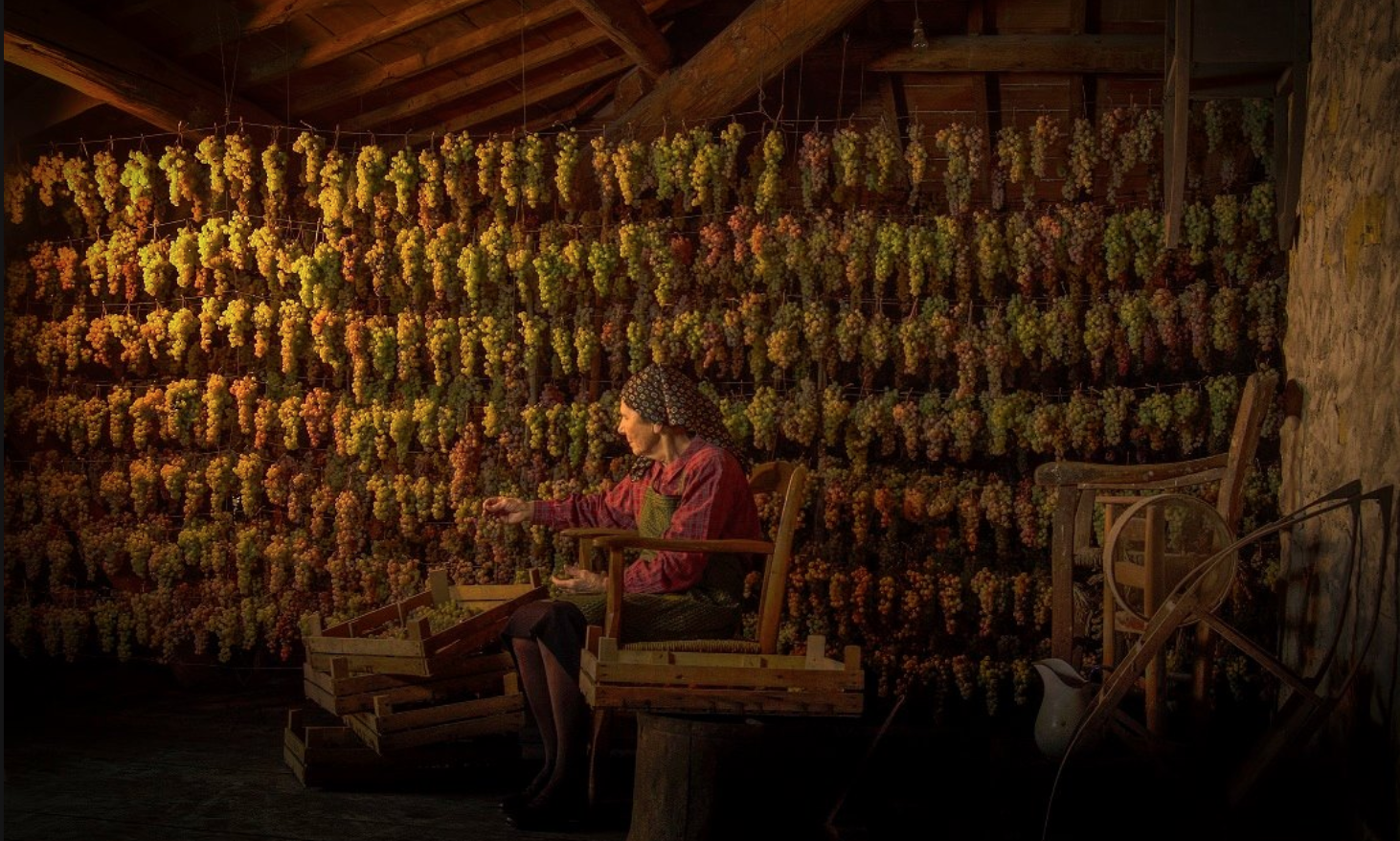 Julia Kostadinova finds her wishes come true when she finds a 'Gini' in the bottle
I must admit, I owe this title to the group of wine writers on this trip, who were in high spirits after the tasting in Gini's. It was a remarkable visit, especially when you know only a few facts about a producer such as Gini and basically you are not prepared.
So what is Gini? It is a family business since the 1600s in Soave (which makes it one of the first wineries in the region, though back then it made domestic, homemade wine of course), but not only that; Gini was the pioneer in organic viticulture and winemaking since the mid-80s. Gini's first wine without SO2, vinified in the 1985 vintage, marked a revolution and since then Gini has been moving closer and closer to the concept of 'integrated viticulture' or maybe better to say, sustainable agriculture.
The family has been entirely involved in the wine business for the last 40 years. Now Gini comprises two brothers – Claudio and Sandro, and their four children: Barbara, Leticia, Mateo and little Andrea. The whole estate is 55 hectares, 35 of which are in Monteforte, in the very south-eastern end of the Soave Classico DOC zone. "Eighty percent of the soils are volcanic, 20 per cent are limestone, and we have very old vines in the vineyards, some of them pre-phylloxera. That's a rare and important combination because these kinds of soils are like a sponge and an advantage in hot years like 2017", explained Claudio Gini.
What was also unusual and very interesting for me was the fact that they travel a lot, especially to Burgundy and Germany, and that's how they decided to plant some Riesling, Chardonnay, Pinot Blanc and Pinot Noir (the last at an altitude of 500-600 metres so don't worry!) That led to the tasting of the best sparkling wine during this trip for me – Grand Cuvee Brut Millesimato 2008 (one-third of each Chardonnay, Pinot Noir and Garganega). Certainly, Garganega is the main variety for Gini.
It was unfortunate that on this day it was impossible to go into their vineyards and to see the grapes live. But the results in the bottles were… extraordinary! I know how wrong it can be to compare one region to another, but I can't stop thinking about the similarities between their Soaves (all Classico DOC, all 100 per cent or almost 100 per cent Garganega) and Chablis Grand Cru. The richness and the power put in a satin wrapping, plus the delicate aromas of Linden blossom (lime) are irresistible. And the potential of ageing of those wines is remarkable; we also had the pleasure to have a vertical tasting from 2016, 2015, 2014, trough 2007, 2004 and 2002 (the last one in magnum)! Maybe not a 'Genie', but certainly liquid rock in the bottle.
Discovering Dal Cero
Robert Smyth stays on his feet at Dal Cero for the final winery visit of a memorable trip.
It was a vertical tasting with a difference as we stood around a table to taste wines in the chic tasting room at Dal Cero, whose bold style of wines kept us firmly on our feet to round off a memorable trip. Dal Cero was founded in 1934 by Augusto Dal Cero, who was followed by his sons Dario and Giuseppe, who in the 1980s expanded the family's footprint to Tuscany. Today, the third generation of Alberto, Davide, Nico and Francesca rule the roost. They were behind the acquisition of a third wine estate, this time in neighbouring Valpolicella, a growing area that they consider 'utterly distinctive in its geological formation'. Dal Cero has 40 hectares of vineyards in the Veneto.
The family's Soave interests centre on Tenuta di Corte Giacobbe, which is surrounded by vineyards planted on the slopes of two extinct volcanoes, Calvarina and Crochetta, with the soils comprising black basalt lava and tuff. Francesca was our host to guide us through the wines. Cuvée Augusto is a traditional method sparkler made from Chardonnay and Durella, and spent 50 months on the lees. It was waxy and rich on the nose, with nice freshness on the palate.
We tasted two vintages of the Soave DOC – the 2015 and 2016 – both were aged in stainless steel for four months. Both exuded something of a minty character and had vibrant acidity rounded out by a few grams of residual sugar, while 2016 had more body and overall roundness. The step up in concentration and intensity was clear when we moved onto three vintages of the barrel fermented and aged Vigneto Runcata Soave Superiore DOCG wine, with the 2014 and 2015 versions aged in Austrian oak. The Superiore comes from 400 metres above sea level from old pergola-trained vines and some Guyot.
Dal Cero, which exports a whopping 75 per cent of its overall production, has a further 60 hectares in Tuscany where it makes wine at the Tenuta Montecchiesi estate, which was established in 1980. It was a novel approach to step outside of Soave for the final wine of our tasting flight and also a pleasant surprise to sample a vibrantly floral and spicy Syrah from Tuscany – called Klanis, from Cortona DOC. Tenuta Montecchiesi is reintroducing the age-old alberello training method, an ancient form of bush training giving total exposure to sunlight. The family feels this enables the vines to grow more spontaneously and naturally, with the ground worked by hand and no chemicals added.
We then thanked our hosts and headed off for a well-deserved rest before making our way to Verona to continue digging out some other producers at the epic Soave Versus event in the evening.
Photography by Cruz Liljegren (unless otherwise stated). More photos from the trip available in the first part of the trip report.