Amanda Barnes gets to grips with three different coastal terroirs in Chile that Viña Ventisquero is producing Pinot Noir in, with a special Zoom tasting with the winemaker Alejandro Galaz during the time of Coronavirus. Originally published on SouthAmericaWineGuide.com
"Pinot Noir without terroir is the most boring variety you can taste", says Chilean winemaker Alejandro Galaz, paraphrasing a winemaker he met while visiting the mecca of Pinot Noir, Burgundy, in order to learn more about this coy and demanding variety. "So for us, expressing the place the grapes come from has become the most important thing today."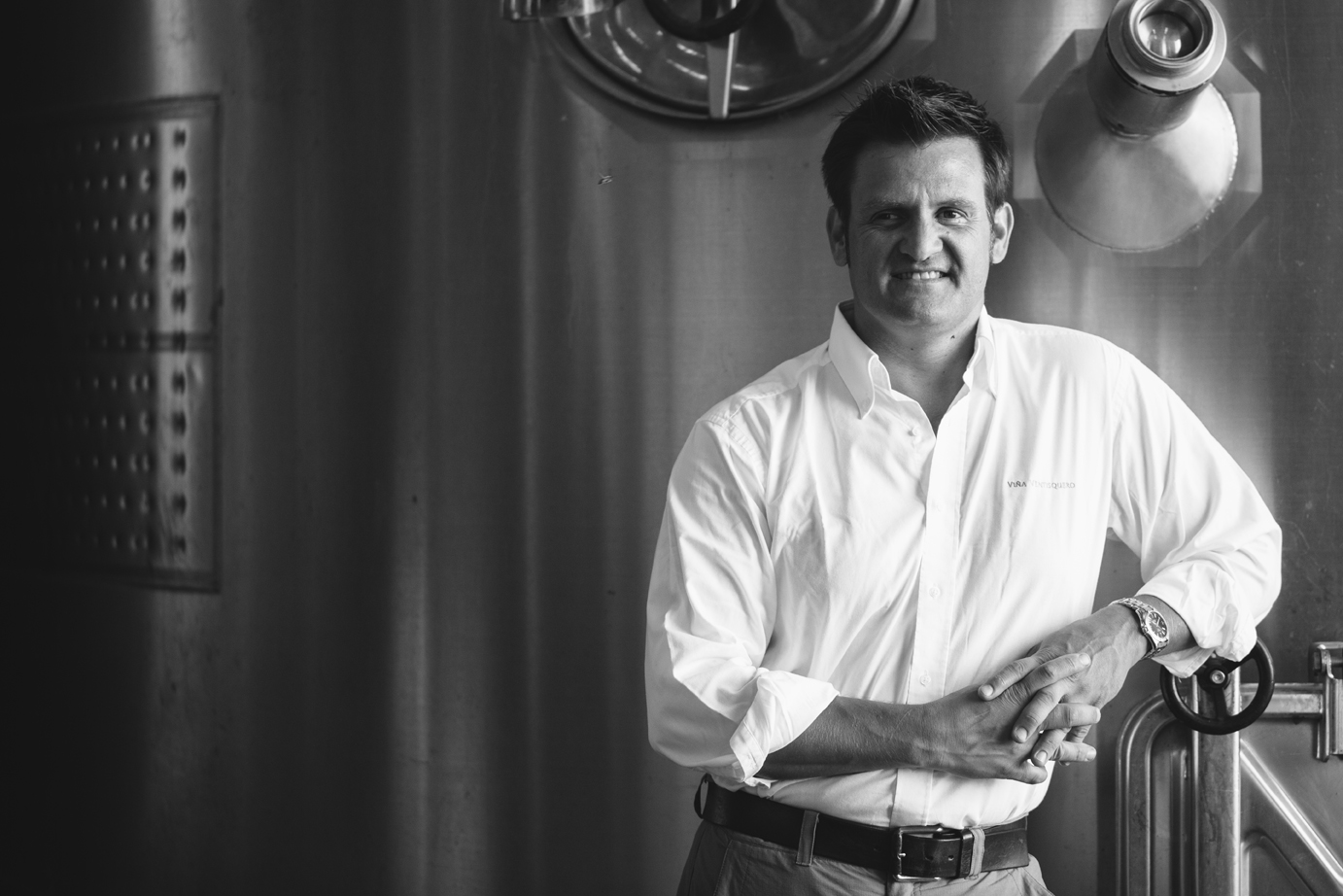 He's talking about Viña Ventisquero's mission to make Pinot Noir in three very different coastal climates of Chile — an adventure which has taken almost two decades to unfold ever since the winery was first established in 1998.
One of Chile's modern and large players today, Ventisquero makes wine all over the country — from some of the northernmost territories in the Atacama region down to Colchagua. "The philosophy of the owner from the beginning has been to deliver the best quality for the final consumer, and so we've had to plant the variety in the best places in Chile," explained Alejandro. "We are constantly exploring!"
Having made wine with Ventisquero since 2001 (with a brief spell elsewhere in the middle), Alejandro has earned the title of the winery's 'cool climate specialist' and he takes charge of most of the coastal wines, which includes all of their Pinot Noir production.
Ventisquero's hunt for perfect Pinot territory has taken them to three different coastal regions in Chile, which is what I tasted with Alejandro on a Zoom tasting last week (Covid-19 style):
Casablanca: The original coastal Pinot
When Pablo Morandé first planted Pinot Noir in Casablanca, two dozen kilometres from the coast, in the 1980s, it was seen as madness to go somewhere so cold. Within two decades, however, the region boomed as Chile's first cool coastal wine region and this is where Ventisquero started their search for coastal Pinot Noir.
Planting their vineyard in 2000, using a massal selection available at the time, these are their oldest Pinot Noir vines, and the age of the vines is what makes this vineyard stand out in Alejandro's eyes. "Herú is our icon Pinot Noir because it comes from our oldest vines, which are 20 years old now — whereas all our others are less than 10 years old," explains Alejandro.
The quality of fruit from vines, especially Pinot Noir, tends to improve with age and become more concentrated, and this concentration is certainly evident in Herú: the most full-bodied of all their Pinot Noir wines with very pretty aromas of ripe red cherry, dried flowers and plenty of sweet barrel spice notes of vanilla and cinnamon.
It's a bold Pinot Noir, which reflects the warmer temperatures of Casablanca — today recognised as one of Chile's warmer 'cool coast' regions. "The main difference between Casablanca and Leyda is not the soils [both are granite-based] but the temperatures, our vineyard in Casablanca is 25 kilometres from the coast, whereas Leyda is just 7 kilometres from the coast, and so it is 2 to 3°C warmer."
This silkier style of Pinot Noir suits meatier dishes and bolder cheeses. But I confess, it didn't go amiss with an orange-almond cake smothered in pistachio and dark chocolate ganache I scoffed that lockdown evening, either.
Leyda: the cooler Central coast frontier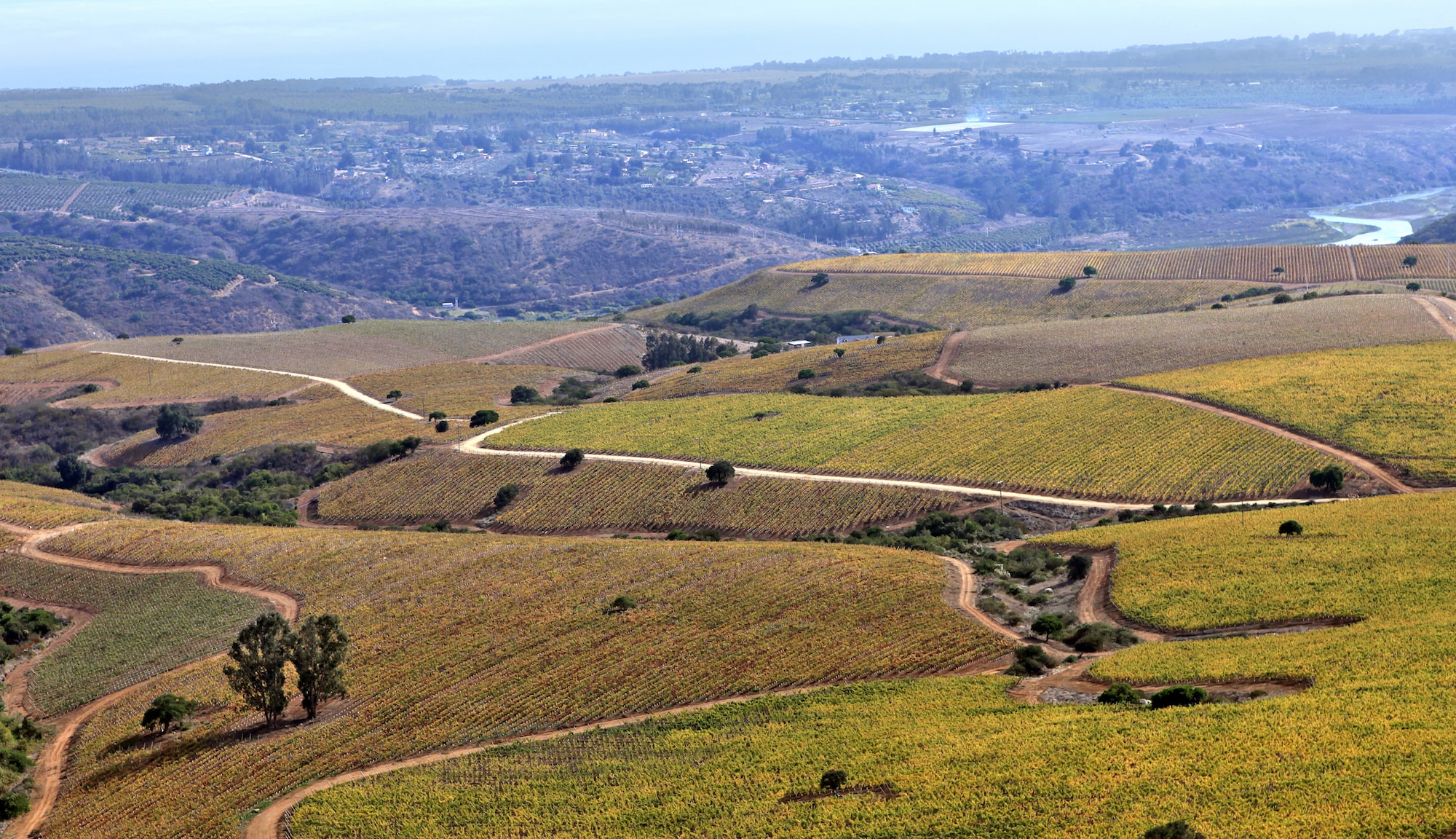 The next location Ventisquero's coastal Pinot hunt took them to was not too far from Casablanca, in their neighbouring region of San Antonio. However it is a particular sub-region within San Antonio that the winery chose to plant vineyards — in Leyda, in 2010 with select Pinot Noir clones. Leyda has rather overtaken Casablanca in reputation for its cool, coastal climate, as it is much closer to the coast and ergo cooler. This vineyard is just a few kilometres from the sea, benefitting even more from the cooling effect of the Humboldt Current and the daily morning sea fogs.
"Leyda is extreme for its climate because it always has fog and cool temperatures, as well as the Pacific wind which gives us much lower yields," says Alejandro, who has worked quite significantly in the region, being instrumental in setting up Amayna winery there too before coming back to Ventisquero full-time.
We had two Ventisquero wines from Leyda to taste, which are located in two different plots of the same vineyard, just a kilometre apart. The main difference is that the first, Kalfu Kuda, comes from the fourth terrace which is mainly granite soils with lots of quartz and decomposed red clay, while the second wine, Grey Single Block, comes from the second terrace, which is entirely alluvial soil.
Although the winemaking was rather similar, the different soil profile does play an important role in the different styles of wine. Both were much fresher, more linear and direct than the rounder, softer Casablanca wine, but Grey (from alluvial soils) was much more balanced and smooth than the much tangier, more saline Kuda (from granite soils). Although cheaper in price and more simple in production, both had much cooler aromas of graphite and black fruit and a much more more chiselled finish than Herú from Casablanca.
I was curious how Alejandro sees the potential of Leyda compared to Casablanca… "The vines here are still very young but we are trialling making top quality Pinot Noir [such as their icon-level Herú] in the future. I think that Leyda does have a bigger potential for the future."
It will be a case of waiting to see how the vines mature in this slightly more extreme and cooler region. However none of Ventisquero's vineyards require quite as much patience as the last terroir they've not only planted in, but pioneered…
The final frontier? The cool coast Atacama desert
I've always seen Viña Ventisquero as quite a traditional brand in Chile, until Tara came along. On a road trip up the northern coast of Chile, Ventisquero's winemakers happened across a large chalk bank near the coast in the Atacama region.
"We saw this white calcium carbonate and combined with the cool climate, we thought this limestone soil was a real treasure!" Alejandro shares the initial enthusiasm, which encouraged them to plant the first commercial vineyard of any significant size in the Atacama region. "What we didn't notice at the time was all the salt!"
Although most people might assume that the greatest challenge of planting in the Atacama region — which is synonymous with the Atacama Desert, the heart of which is 950 kilometres further north from the vineyard and considered the driest desert in the world — is going to be the heat or water, it is actually the incredibly salty soils. This region is blessed with the Camanchaca fog, which rolls in every morning and every afternoon for around an hour at a time bringing humidity and cool temperatures, which mitigates the heat and drought of the desert. Irrigation with pure mountain water from the Huasco river does the rest.
What the team at Ventisquero have found slightly harder to conquer, however, is the incredible salt levels in the soil: "There are 20 to 30 times more sodium in the soil than is recommended as suitable growing conditions for vines!" admits Alejandro. This unprecedented salinity means that they have actually had to replant the vineyard, twice. With a change of rootstocks and irrigation system, the third time seems to be lucky so far.
"We actually do an extended irrigation now for over 20 hours to clear out the salt in the soil and then allow the vines to take some water, but within a few days the salt covers the vines again — and we have to do the prolonged irrigation again."
It sounds like perhaps more effort than it is worth, but it isn't only the vineyard that is rather remarkable but the wines are incredibly distinctive. And it is this which has pushed them to keep investing and innovating in order to produce these unique wines.
"It is an extreme place, and the most challenging for us," says Alejandro. "Millions of years ago the Atacama Desert was all below the Pacific Ocean, so the salt all comes from the soil. But this salt in the soil gives the wines a very special complexity."
The Pinot Noir, vintage 2016, that we tried certainly does have a special complexity. Although relatively light in body, it has an intriguing nose of fresh forest berries, cacao and wild herbs with an electric acidity and a tangy, saline finish. I find saltier wines like this (which are common in the saline soils of Mexico's coast too, for example) are often incredible in food pairings — and over a three night tasting period at home, I didn't manage to eat anything it didn't taste good with!
Chile's road to Pinot Noir domination
Much like Ventisquero's own journey with Pinot Noir, Chile's winemakers are still discovering the sweet spots for this Goldilocks variety (which doesn't like it too hot or too cold). Vast improvements in genetic material available in Chile and the great advances in knowledge and experience of Chilean winemakers, who have been travelling more widely and learning from other regions for the past two decades, have advanced Chilean Pinot Noir by leaps and bounds.
Alejandro's paraphrasing of the Burgundian phrase that Pinot is nothing without terroir is true. But Chile certainly doesn't lack terroir, and now as its winemakers get better grips on how to best express those terroirs, there are some very exciting Pinot Noir wines coming out of the woodwork.
Where to buy Ventisquero's Pinot Noir wines in the UK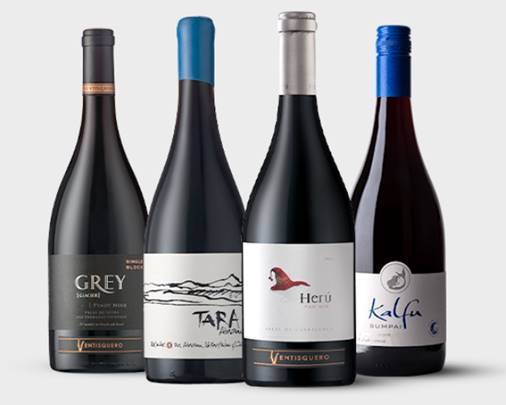 Kuda Kalfu Pinot Noir 2018
£13 – £14: Frontier Fine Wines, Baythorne Wines, Cambridge Wine Merchants
Grey Single Block Pinot Noir 2018
£16 – £17: Flagship Wines, Village Wines
Herú Pinot Noir 2017
£24: Soho Wines
Tara Pinot Noir 2016
£35 – £46: The Wine Treasury, Museum Wines, The Wine Reserve, Hedonism, Field & Fawcett