Robert Smyth finds that good things to tempt the palate come in threes, and even fours, on the Adriatic's largest peninsula – wine, truffles, olive oil, and then there's biska. A version of this article was also published (in Hungarian) in Hungary's VinCE magazine.
Heart-shaped Istria, the largest peninsula in the Adriatic, is not only a superb seaside holiday destination, it also produces some of Croatia's classiest wines, with indigenous Malvazija Istarska making white wines of considerable consistency and versatility, and Teran turning out increasingly impressive, spicy reds.
After three hours on the road from Zagreb, it wasn't a fresh glass of Malvazija that greeted us but snifters of rakija, the local firewater, made from various ingredients growing in the nearby forest. It wasn't Christmas but I couldn't resist the mistletoe (biska) spirit, an Istrian classic, while the truffle-based tipple just had to be tried – since our first port of call was not a winery, but rather a truffle hunter. Rejuvenated by the rakija, we set off with Miro Kotiga and his excited dogs – Bela and Nera – for the forest to find truffles for lunch.
With an enchanting view of the hilltop village of Motovun in front of us, we watched the dogs scuttle around until bingo – a solitary truffle was uncovered. Then it was back for an orgy of tasty truffles titbits while Miro's wife Mirjana cooked up scrambled eggs with, you guessed it, truffles – all washed down by an agreeable but unnamed Malvazija. The couple have built up an impressive gastro business around Istria's world-class truffles, under the name of Miro Tartufi (Miro-tartufi.com) in the northern part of central Istria, overlooking the Mirna River Valley.
It was then time to check-in and chill at the nearby Roxanich Wine and Heritage Hotel (roxanich.hr), a striking looking designer building that also houses a winery, and is pretty much surrounded by vineyards. Roxanich itself has 26 hectares of vineyards. The hotel's swimming pool that almost allows you to swim among the vines will be a great attraction in summer. The Roxanich hotel is a must for wine lovers and indeed all adventurous lovers, with its bedrooms that give a nod to the designer excesses of the 60s and 70s with four-poster beds replete with leather panels, with mirrors bearing down on you, and even ladders! From a wine lover's perspective, the Roxanich wines are less ostentatious and have nothing to do with instant gratification – they are not rushed onto the market and given plenty of time to age, as well as made according to biodynamic principles. All wines are spontaneously fermented and bottled with low amounts of sulphur.
Roxanich's traditional method sparkling rosé, Les Petitis Bulles Istriennes, made from the Borgonja Istarska grape variety (the same grape as Austria's Blaufränkisch and Hungary's Kékfrankos), spent a lengthy four and half years on the lees during its second fermentation in the bottle. It hit a tasty balance between red berry fruitiness and more complex yeasty notes. Rožica 2017 has a deep cherry colour and is far from a typical fruity rosé. The Borgonja Istarska grapes saw three to five hours of skin contact, and it is a rosé with good depth and substance. Malvazijica (lit. little Malvazija) 2017 was far from a little wine – very round and smooth. It underwent 'just' 15-17 hours of skin contact, while Antica 2009 is a full-on orange wine – spending 150 days on the skins, initially in large oak fermenters. This spicy wine exudes a cloudy orange colour and has a welcome touch of tannic grip on the palate, meaning you can really sense the skins. Malvazija clearly enjoys time on the skins and other examples tasted later would also show that bitter phenolics from the skins are not extracted.
The Roxanich hotel is located at the foot of Motovun – a brisk walk up to the atmospheric upper town, with its ancient walls, and back is a delightful way to clear morning cobwebs. The only people I encountered on the warm March morning in early March were fellow wine writers. Motovun is very Venetian in style and the influence of Italy is all around in Istria (part of Istria is actually in Italy and the other part in Slovenia), but it also has its own identity. Indeed, the locals will often tell you proudly that they are Istrian, before they mention Croatian.
A tasting of 18 Malvazijas at the hotel the following morning saw hardly a bad wine poured. While the name Fakin on the tasting sheet produced sniggers, I seriously rated both Fakin wines. The entry-level Malvazija 2018, made solely in steel tank, which was lemon-coloured limey, citrusy and grassy with fabulous freshness and crispy acidity. Then later came Fakin's bright yellow-coloured La Prima 2017, which was aged in acacia barrels and had higher alcohol of 14.5% that didn't stick out whatsoever, and was ripe, round and full of juicy tropical fruit notes. Fakin good wines indeed, as most of us subsequently uttered, and two wines that show the scope of what this grape is capable of. Fakin is also based in Motovun. 
Stopping by for a fix of sea air and a coffee at the pretty seaside town of Novigrad, it was then off to the Coronica Winery (coronica.eu), where the cooling influence of the Adriatic Sea, some 2.5 km away is apparent. "In August it's not possible to sleep with the window open," says Moreno Coronica, as we examine the bright red clay soils of vineyards close to the winery – a patchwork of plots in different shades of red, including one with very wide rows and vines of over 90 years old. The acidity that the cool evenings help to maintain enables these wines to age very well – one dry, golden-coloured Malvazija, called Berba, was from the 2003 vintage and was still very much alive with delicious developed notes. Below the red clay is white limestone bedrock which is common to all of Istria and continues south into Dalmatia. It too helps the acidity, as does the Bora wind that blows through the vineyards. "The vineyard is more important than the winery," Moreno asserts, adding that balance comes from the grapes harvested.
Here we got to learn about and taste great examples of how ageing on the lees brings complexity to Malvazija. Coronica also makes an accomplished traditional method sparkling Malvazija that spent 36 months on the lees for the second fermentation, from grapes harvested at the end of August.
Meanwhile, the black grape Teran needs as much sun as possible, according to Moreno. He worked out how to make better and more concentrated wines out of thin-skinned Teran by visiting Barolo in Piemonte Italy, and came back and cut off a portion of the forming grapes in order to reduce the yield. "My father didn't speak to me for 10 days," he recalls. While very modest, laid-back and despite his obvious winemaking talent, Moreno does make one barbed comment. "The new generation's all about money, you can't make these wines in five years," he opines.
The cutting-edge design of the Kozlović winery (Kozlovic.hr), 10km from the coast, contrasts dramatically with the medieval ruins of Momjam castle opposite. It has done much to raise the quality bar and consistency of Malvazija in Istria, which accounts for 75% of the winery's 30 hectares, with the almost 60-year old Malvazija vines of the Santa Lucia vineyard, with its flysch, limestone and clay soils, located at 240 metres above sea level, making a very complex spontaneously fermented wine that was aged for 12 months in 32 hectolitre oak barrels that were made from Istrian oak. "Everything has to come from Istria," says winemaker/owner Gianfranco Kozlović, who runs the winery with his wife Antonella. Kozlović also makes Malvazija in acacia, including a very honeyed, waxy and rich wine from the 2001 vintage. Note that Kozlović is also renowned for another Istrian speciality beyond wine – olive oil!
Gianfranco is now looking to raise the profile of the tricky but rewarding Teran grape, which he refers to as part of the region's heritage. "It's a challenging grape but it can rise up with something really special. I hope we'll be talking more in the next five years about Teran. We need to invest more in research, but I think it will be very good," he says. The 2018 has a lovely purple colour and exudes sour cherry, while the single vineyard Santa Lucia 2017 is really spicy yet subtle, and has distinctive place of growth character.
More fine Teran and Malvazija flowed at the Benvenuti winery (benvenutivina.com), run by brothers Albert and Nikola Benvenuti, which is well away from the sea and close to Motovun. The grapes from the 12-hectare Santa Elisabetta vineyard are grown at up to 350 metres retain sufficient acidity to make age-worthy wines. The late-ripening Teran can ripen slowly but surely up here and favours the fleisch soils. The brothers also made a delectable sweet wine – the now (almost) unfortunately named Corona Grande 2015 – out of mainly Malvazija (75%), Muscat (15%) and 10% of aromatic Ulovina, a neglected Istrian variety, from grapes that were dried out for two months.
Ipša, an olive oil producer from next to the Slovenian border and close to the medieval village of Oprtalj, which added wine to its offering just a decade ago, is a must for orange wine fanatics and vinifies its white grapes – mostly from Malvazija – only in that style. "We started making wine as we needed it for our olive oil tastings," says Ivan, as his father, Klaudio, kept carving wafer-thin, melt-in-your-mouth slices of cured ham. Ipša produces olive oil from the autochthonous Istarska Bjelica, and the Italian Frantoio and Leccino varieties, with the Frantoio having made the world Top 20 list in the Flos Olei world olive oil guide. The same guide named Istria as the world's top olive oil region in 2019.
Istria has as many hectares of olive groves as it has vineyards (5,000) and the produce of each, as well as its truffles, are well worth getting to know.
A snapshot of Istria's two top native varieties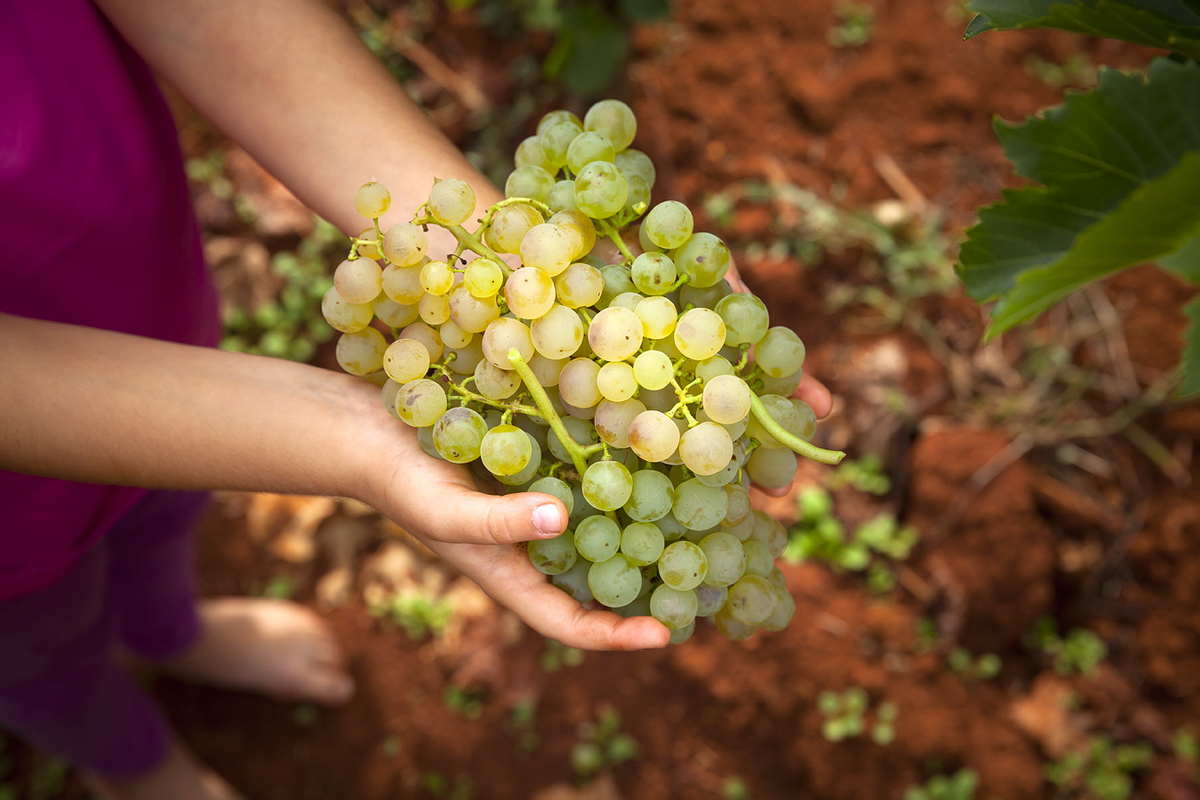 Malvazija Istarska
Croatia's second most planted grape is indigenous to Istria where the vast majority of it is planted (first documented in 1385). It is genetically different to the various Malvasia varieties of Greece and Italy, and Dalmatia's Malvasija Dubrovačka. It can also be found in the northern Italian region of Fruili, where it is called Malavasia Istriana. Always made as a single varietal wine, it often has a greenish hue and a floral note. Wines from the grape claimed a remarkable 27 silver and gold medals at Decanter World Wine Awards 2019. Incidentally, Graševina (the same grape as Austria's Welschriesling and Hungary's Olaszrizling) is Croatia's most planted grape.
Teran
A member of the Refosco family of grape varieties that is considered native to Istria and Slovenia (where it is known as Refošk and Terrano), and Italy (Terrano) – but is unrelated to Refosco dal Peduncolo Rosso. Teran thrives in the iron-rich, red clay soils (terra rossa) that can be found especially in Istria's northwest, where it is widely planted. It is made both as a single varietal wine, as well as blended with the Bordeaux varieties. It is typically high in acidity.