Greg Dillon is clearly a whisky fiend. And he is also, clearly, a brand consultant. As he launches into his guide to the tales and stories of Scottish whisky houses, Dillon first shares his thoughts on branding. Why, you might ask? Because as Dillon details, whisky was one of the first branded products in the world. It's the image of a certain whisky which sells it today – far more so than the liquid inside.
This might feel a bit disappointing to read within the first few pages of a book on whisky, but actually, it just sets you up for the gravity of the stories surrounding the distilleries. While this book has minimal tasting notes it doesn't fall short in great tales.
Each distillery is introduced with an insight into its history and the legends and myths that surround its past. Dillon details the fame, and often notoriety, of different distillers and brands and shares his own experience of visiting the distillery as he traversed Scotland writing the book. Several photos from Dillon's own travels to Scotland give a visual element to the storytelling.
However Dillon suggests that your consumption of this book isn't only through the words and visuals, but also through the liquid.'I like nothing better than sitting in a comfortable chair with a hearty measure of an appropriate whisky, and I thought you might like to get in on the act, too,' he writes, suggesting a whisky pairing for each chapter. The whisky suggestion is often accompanied by his own tasting notes and there is space left so you can write down your own thoughts on the whisky, after you've tasted it alongside the accompanying story. Dillon's book certainly encourages you to make this a personal journey into the Great Drams of Scotland.
Review by Amanda Barnes
Greg Dillon's The Great Drams of Scotland is available online.
Excerpt from Great Drams of Scotland:
Laphroaig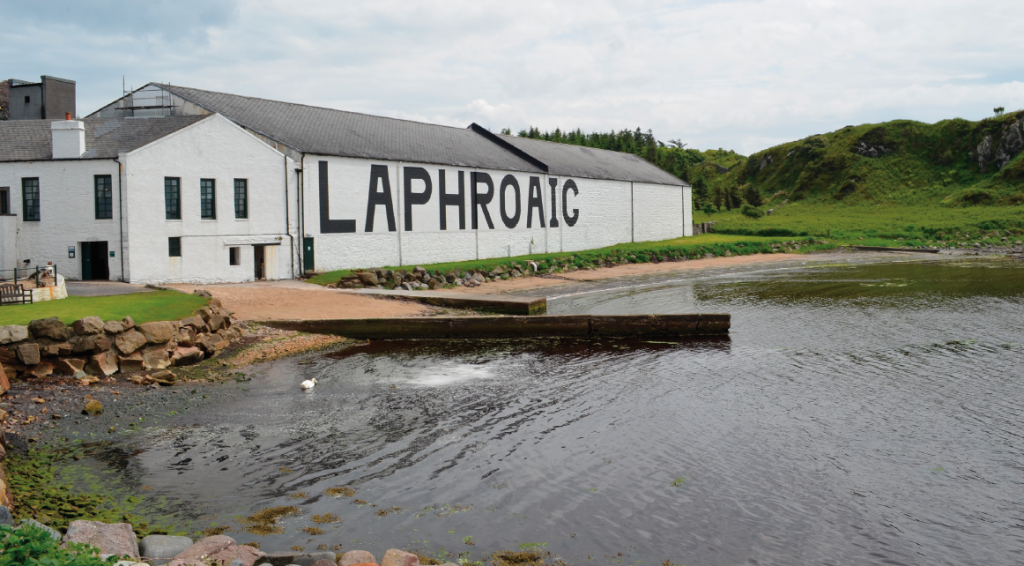 "… Laphroaig itself is Gaelic for 'the beautiful hollow by the broad bay'. Having been to the distillery a few times now, I have heard many stories, but my favourite fact is that Laphroaig was one of the only, if not the only, Scotch that was allowed to be sold in America during the 1920–1933 prohibition on alcohol. This was made possible by the ever-inventive whisky folk who managed to get the Surgeon General to list it as 'medicinal spirit' after deciding that 'no one would drink this stuff for pleasure'. Clearly not a peat-head.
Ahead of being sold to Long John Distillers in the early 1960s, the distillery was owned by the Johnston family for well over a century. In the 1920s the final family member made their most significant hiring in someone now regarded as not only an innovator within the industry but a true whisky legend: Bessie Williamson.
Bessie originally came to work in the distillery for just one summer, as a receptionist, but ended up staying for forty years, becoming instrumental in the expansion of the business, and the building of the brand we know and love today.
What led to a summer secretary becoming such a prominent figure in what is now the biggest of the Islay single malts? She was a thinker, both practically and creatively. Her work ethic and curiosity about distilling, not only at the distillery but as assistant to her predecessor-to-be Ian Hunter after he had a stroke, led to her not only being promoted to distillery manager but being left the distillery in the final Johnston's final will. Years later, and not only was her Laphroaig brand building revered but also her charity work, which lead to her being awarded the Order of St. John by The Queen in recognition of all she did.
…
One of my favourite stories about Laphroaig is a tale told in bars around Islay from the time when HRH Prince Charles awarded the company a Royal Warrant in 1994. He was apparently a tad embarrassed having piloted and then crashed into the peat bog the plane in which he arrived, although the distillery tries to assure all they tell that he had not yet sampled Laphroaig's peaty goodness yet that day… You have to wonder.
Turns out that Laphroaig is Prince Charles's favourite whisky, hence the Royal Warrant, and he even bottles his own Laphroaig for charity events under his Highgrove brand.
Further into the production process, the brand uses stainless steel washbacks (these are the vessels where the fermentation stage takes place, turning the raw inputs into an alcoholic solution akin to beer) – like most distilleries they moved from wooden washbacks to stainless steel as they are easier to maintain and clean. The move is especially poignant given the old washbacks were rumoured to have the presence of the ghost of one of the Johnston family members, who leaned in too far and ended up drowning in the mash. Not a bad way to go, but not a great way either."
Written by Greg Dillon in The Great Drams of Scotland