As a teaser to the upcoming second edition of his book on Austrian wine, Stephen Brook assesses where Austrian wine is currently at, and is impressed at its consistent high quality.
I was taken aback when I was asked recently to deliver a second edition of my 2016 book The Wines of Austria (Infinite Ideas), since although these wines have long had a good reputation, they remain fairly 'niche'. You'll have to search hard to find any in supermarkets or large retail chains. Yet there are few top wine lists in the UK or US that do not feature a selection of the best names from Austria. They certainly have a strong following and it's not hard to see why.
In my view, few countries in Europe can offer a more consistently high-quality range of wines. I don't deny that there are individual wines from France or Italy that still surpass the best that Austria can offer, especially when it comes to red wines, but both those prestigious countries also produce wines of abysmal quality. You'll find dull or humdrum wines in Austria but few poor ones.
The explanation for this is that most estates are family properties: farmers and winemakers are the same people, so there is a direct connection with the land. There are few cooperatives in Austria, and those that exist, notably Domäne Wachau, are capable of producing wines at the highest level. In addition, most wine is sold within Austria's borders, especially at the rustic wine inns known as Heurigen. The Austrian population is small but discerning, benefitting from a prosperity that means that consumers are not always searching for the cheapest options.
Austria has been slow to recognise the quality of its indigenous varieties, but the vogue for over-oaked Merlots or Syrahs has mercifully passed. Grüner Veltliner is now widely accepted as a first-rate variety, whether made in a simple quaffable style or as a more powerful and concentrated white that can age for decades. The more exotic Roter Veltliner or Rotgipfler can be equally exciting, but production is minimal. As for reds, Blaufränkisch rules the roost, again with a range of styles from the upfront and cherry-fruited to more structured wines with exemplary acidity and ageing potential. The lesser-known St Laurent can also be exceptional, and more often so than its distant cousin Pinot Noir, a grape that still struggles to achieve greatness in Austria's relatively warm vineyards.
Some international varieties have been in Austria for so long that they have shed their foreign identities. Dry Riesling from the Wachau or Kremstal can be world-class, and it's not always easy to tell a good Sancerre apart from a top Styrian Sauvignon Blanc. And finally, there are the great sweet wines of the Burgenland, such as the botrytis-infused offerings from Kracher or Helmut Lang.
The robust acidity of Austria's wines, whether red or white, means that they are food-friendly and this, in turn, has attracted the attention of sommeliers who increasingly appreciate their appetising and succulent character. Wide demand means that the best wines are far from cheap, but they almost always deliver what they promise.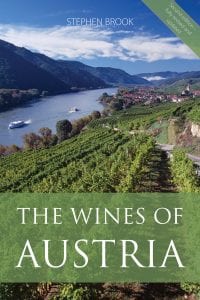 The new edition of Stephen Brook's Wines of Austria is coming out later this year, published by Infinite Ideas.
(The previous edition is pictured right).