Nina Caplan makes a pitstop in Sicily to discover this island's connection between the great empires and its pivotal role in wine history, in this extract from her new book The Wandering Vine: Wine, the Romans and Me.
Before the Italian mainland, almost opposite ancient Carthage, is an island so fertile, and so strategically placed, that it has been visited by virtually everyone.
Poets, heroes, soldiers and slaves sailed to Italy when Rome was the centre of the world, and if they arrived from the west they found Sicily in their way. Aeneas, founder of Rome, paused here. The Phoenicians, the Greeks, Normans, Arabs and even, briefly, the Spanish have laid claim, so it's hardly surprising that the Romans, just barely across the water, did the same.
And the wines are amazing …
Sicily has had geological shocks to match the cultural ones. This enormous island – 25,000sq. km, a tenth the size of Great Britain – has suffered volcanic eruptions and earthquakes. It is easy to see why the inhabitants believe that a giant is trapped under their island, writhing in his bonds and shooting flames through his mouth.
The north has Etna, the volcano that disgorged molten rock just months before my visit; in the south, the earthquakes. If towns such as Scicli and Ragusa are gorgeously decked with curlicues and monsters in elegant pale stone, if their innumerable churches rise in flowing scrolls, their innards white and gold in gorgeous celebration of God's glory and man's, it is because a tremor in 1693 brought these buildings' predecessors crashing down. A sad postscript: in 1968, a series of quakes in the western Belice Valley did similar damage but the rebuilding was much more pragmatic, and to this day some inhabitants will leave their new, relocated homes on a Sunday afternoon for a picnic on the land where their families once lived – their terroir.
The land remembers, too. There is sand in the southern vineyards and ancient lava in the north. Local grape varieties cling timorously to the soil they know – and that soil seems to change every few miles. "We have 55 grape varieties and 12 different soils: it's Disneyland for winemakers!" Patricia, who is one of them, tells me. There are international varieties, too, but fewer than there were, as the ever-shrinking world starts to realise the value of difference. 'For in fact,' wrote Pliny of the Eugenia vine, which had been imported from the hills of Taormina, below Mount Etna, to Alba in northern Italy, and thrived there as nowhere else, 'some vines have so strong an affection for certain localities that they leave all their reputation behind there and cannot be transplanted elsewhere in their full vigour'.
There is evidence of early winemaking all over, from the Phoenician, or possibly earlier, pigiatoia (outdoor press) carved into a hilltop above Planeta's Ullmo winery, on the west coast between Palermo and Sciacca, to the writings of Strabo, who tells us that the district around Messina 'abounds in wine' called Mamertine which 'vies with the best produced in Italy'.
Caesar drank Mamertine, claims Alessio Planeta, a loquacious man with kindly, bespectacled eyes who is principal winemaker of the family business – one of the biggest producers of quality wine on the island. Planeta have five wineries dotted around Sicily on different kinds of soil, including one on northern Etna, where they are trying to revive the Mamertine. These were, according to Alessio, the only vines permitted at one point in Roman Sicily, the Mammettini having helped Rome beat Carthage (their name comes from Mars, god of war). Other varieties were forbidden, in an attempt to repress Sicilian culture: the Romans, says Alessio, were a little bit Fascist – not a casual term when used by a man whose parents were for a time subjects of Mussolini.
We are at dinner at Alessio's house. He lives just by the coast, surrounded by olives but with no vines in sight – presumably, the winemaker equivalent of leaving the office. The jasmine and frangipani in his garden are so strong it is hard to smell the wines … but they, in particular a 2007 Merlot, with its balsamic piquancy, green pepperiness and depth, are lovely.
Alessio is a man at ease with history. "Baroque?" he snorts, of the southern Sicilian towns beautifully rebuilt after the 1693 earthquake: "Baroque is new. Palermo and Syracuse are Sicily's most beautiful towns, and Palermo is a disaster." We eat a soup of zucchini leaves and drink a Chardonnay that will, by the end of the warm evening, taste like the salty liquor in an oyster.
We talk of the Odyssey. The Sicilians might, according to Homer, have lacked culture – a word that originally referred to having the skills to cultivate the soil – but then their earth was so abundant it barely needed any assistance:
Surely the earth, giver of grain, provides
The Cyclops with fine wine, and rain from Zeus
Does swell our clustered vines. But this is better –
A wine as fragrant as ambrosia and nectar.
That's Polyphemus the Sicilian Cyclops, given Greek wine by his captive, Odysseus. The implication is clear: the Greeks use skill to craft great wine while the lazy Sicilians take advantage of nature's generosity, with satisfactory but never ambrosial results. They are, in every sense, uncultivated.
It's a nice parable of the introduction of wine culture: the Greeks getting the Cyclops drunk on civilisation. (They would then take advantage of his inebriation to spear him in his single eye, and escape). The Cyclops, says Alessio, were actually native Sicilians, who wore elephant skulls as helmets: the single eye was the trunk hole.
There is no way to know if this is true, but, drunk on heady jasmine and good wine, I am prepared to believe it.
By Nina Caplan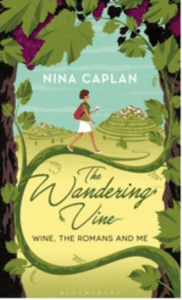 This is an extract from Nina Caplan's new book, released March 2018, The Wandering Vine: Wine, the Romans and Me. Impelled by a dual thirst, for wine and for knowledge, Nina Caplan follows the vine into the past, wandering from Champagne's ancient chalk to the mountains of Campania, via the crumbling Roman ruins that flank the river Rhône and the remote slopes of Priorat in Catalonia. Find out more about the book on Bloomsbury's website.